Colorado 14ers: Handies Peak
Solitude rules on this remote trek through wildflower meadows to a skyscraping post above the rugged backcountry of the San Juan Mountains.
Heading out the door? Read this article on the new Outside+ app available now on iOS devices for members! Download the app.
Pity the fools who traverse Handies during the annual Hardrock Hundred sado-marathon: By the time many runners reach the summit, it's pitch dark and they miss a peak-filled panorama that our local experts voted No. 1 in the state, beating out Pikes Peak and other well-known lookouts. This remote point scrapes the sky near Lake City (pop. 375) in the heart of the northern San Juans.
Four more Fourteeners are close at hand, and on a clear day a sharp-eyed climber can pick out at least a dozen others, from lonely Mt. Sneffels in the west to the Sangre de Cristo Range peaks in the east; from the sharp Needles in the south to the pyramids of the Elk Range, far to the north. Apart from abandoned mining roads, there's no sign of humans—the view might as well be in the Yukon, not crowded Colorado. For maximum impact, go in July when legendary wildflower display is peaking; above, cornices still cling to the leeward edges of high ridges and white snow dapples the tundra slopes. And, for the love of Mr. T, go during daytime.
-Text by Dougal MacDonald
-Mapped by Kim Phillips and Patsy Fellman
©Kim Phillips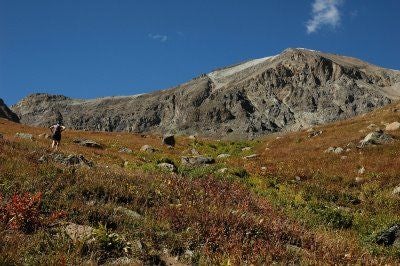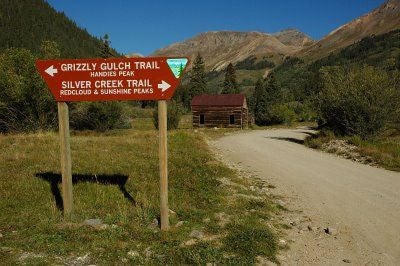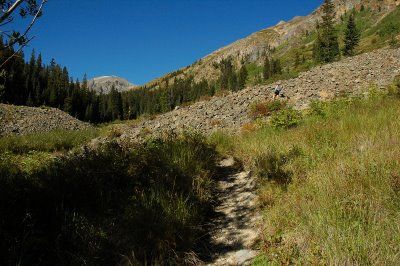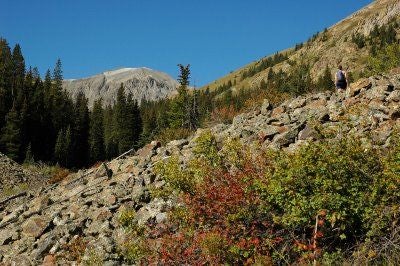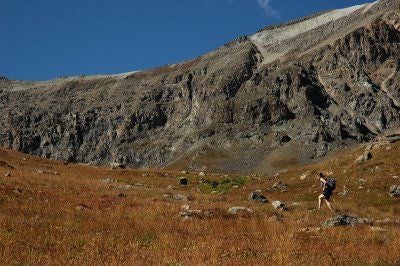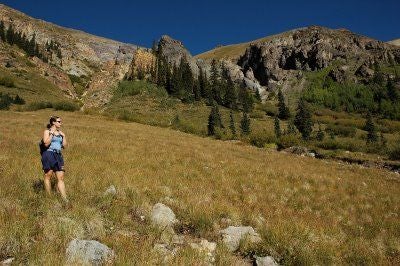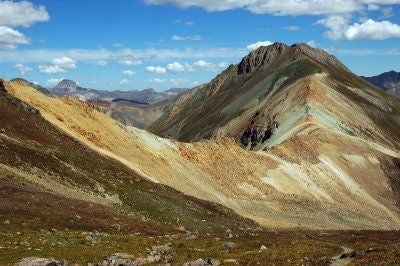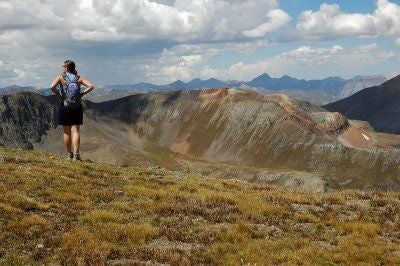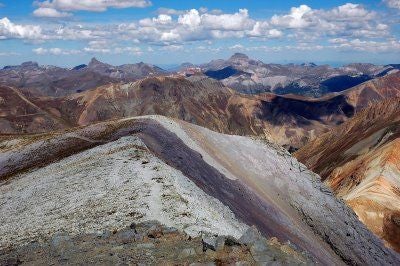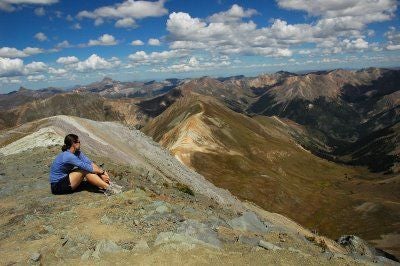 Trail Facts
Waypoints
GGT001
Location: 37.936985, -107.460968
Head SW on Grizzly Gulch Trailhead. In 200 ft., cross stream on bridge and follow narrow dirt path as it ascends through fragrant spruce and aspen
GGT002
Location: 37.9342499, -107.4657822
Steady ascent on dirt trail with views of a small waterfall on L; travel through pockets of aspen
GGT003
Location: 37.9320679, -107.4732513
Head SW through a meadow flanked with tall grasses and willows; the rushing of the stream can be heard from the trail
GGT004
Location: 37.9293726, -107.4785936
Follow switchbacks to ascend a small boulder field
GGT005
Location: 37.9248505, -107.4838486
Leave shaded forest for grassy, alpine tundra; unobstructed views of Whitecross Mtn. to the N and Handies to the SW
GGT006
Location: 37.9221497, -107.4893341
Rock hop across a small stream; continue SW
GGT007
Location: 37.9192657, -107.4946518
Turn R and swing N at trail sign; cross a narrow, shallow stream on a small log
GGT008
Location: 37.922184, -107.4990463
Trail curves to the SW, cutting through a boulder and scree field
GGT009
Location: 37.918251, -107.5037537
Head S on steep dirt trail to begin summit ascent; rocky at times
GGT010
Location: 37.9130592, -107.5044479
Handies Peak (14,048 ft.): Bird's eye views of American Basin to the SW and Grizzly Gulch to the NE. Neighboring 14ers: Sunshine and Redcloud Peaks form a single ridgeline to the NE; Uncompahgre Peak's distinct, flat top summit is silhouetted to the NNE
Handies Peak
Location: 37.9212988, -107.4914038
©Kim Phillips
Grizzly Gulch Trailhead
Location: 37.9369621, -107.4610062
©Kim Phillips
Hiking into Grizzly Gulch
Location: 37.9299988, -107.4779606
©Kim Phillips
Distant View of Handies
Location: 37.9296688, -107.4781215
A small boulder with Handies Peak in the background
©Kim Phillips
Alpine Tundra
Location: 37.9205117, -107.4925196
©Kim Phillips
Grizzly Gulch
Location: 37.9195892, -107.4937105
©Kim Phillips
Whitecross Mountain
Location: 37.922196, -107.4988925
©Kim Phillips
San Juans
Location: 37.9165001, -107.5051727
©Kim Phillips
Summit Views
Location: 37.9131241, -107.5043793
©Kim Phillips
Handies Peak Summit
Location: 37.9130592, -107.5044479
©Kim Phillips