Colorado 14ers: Capitol Peak
Rocky scrambles and a knife-edge ridge lead up one of the most challenging Fourteeners. Stellar views over the untamed Elk Range are endless.
Heading out the door? Read this article on the new Outside+ app available now on iOS devices for members! Download the app.
Some Fourteeners are about as eye-catching as anthills, but not Capitol. It's a mountain's mountain, all granite precipices and soaring arêtes. If you're like most aspiring Capitolists, you'll hike 6.5 miles to a campsite at 11,600 feet beneath the mighty ramparts of the north face, where the daunting view will have you tossing on your Therm-a-Rest all night long. Fortunately, summit day begins easily enough, with switchbacks up grassy slopes to 12,480-foot Daly Pass. After a brief descent, you'll climb a bump on the northeast ridge ominously called K2. The much-dreaded Knife Edge lies just ahead. This razorback catwalk at 13,600 feet is less than 50 yards long, but it's a circus act without a net. Experienced scramblers will hand-traverse with fingers gripping the edge (tip: Stay left). Beginners should rope up and scoot across à cheval, riding the beast like a horse. Show-offs will walk across.There's more scrambling after the Knife Edge, but now at least the exposure won't make you whimper. At the top, admire the icy Pierre Lakes, neighboring Snowmass Mountain (another Fourteener), and the craggy redrock peaks to the east. But don't dillydally: The Knife Edge is even dicier in a thunderstorm.-Text by Dougald MacDonald-Mapped by Lisa Heckel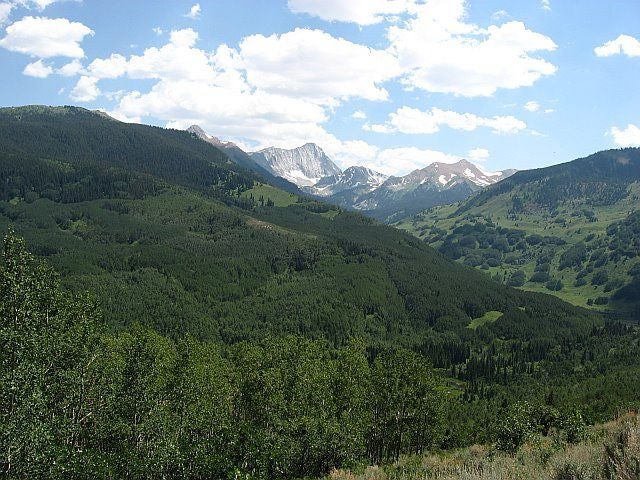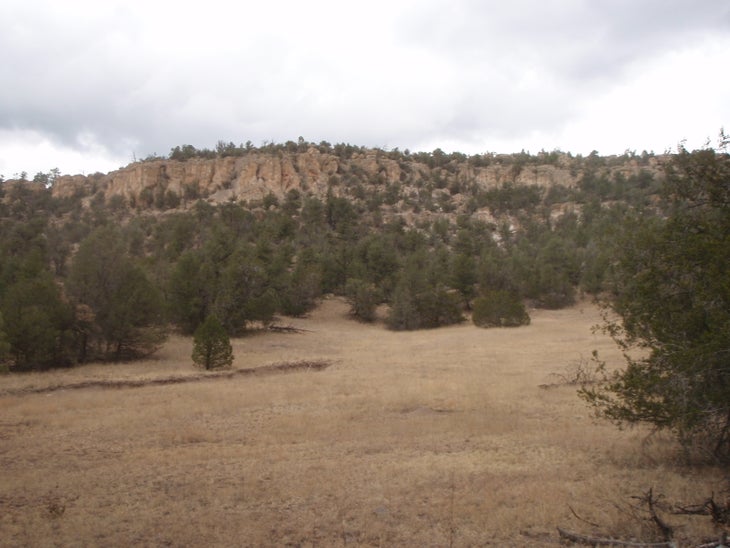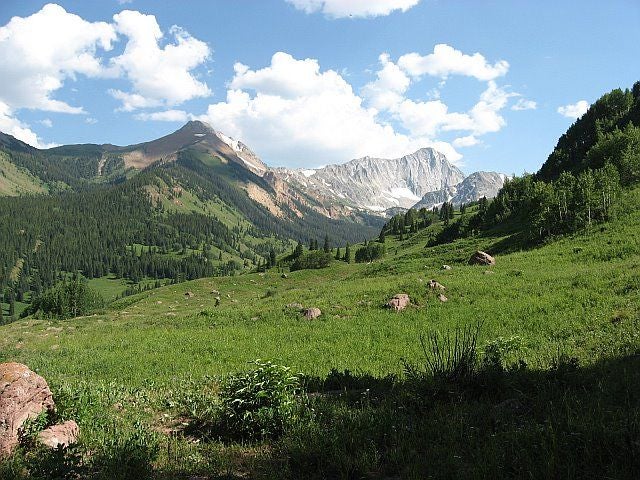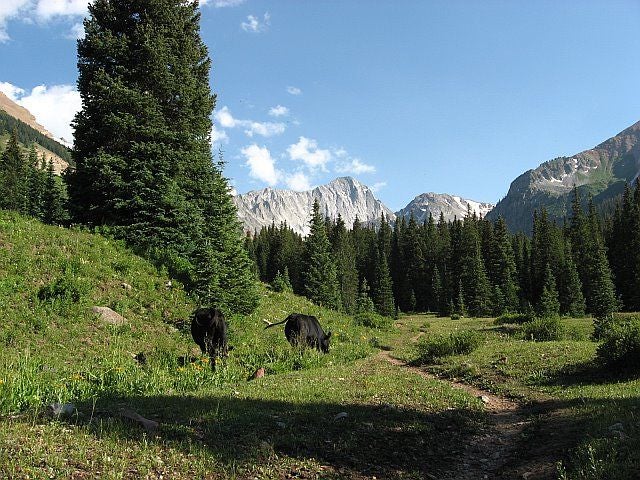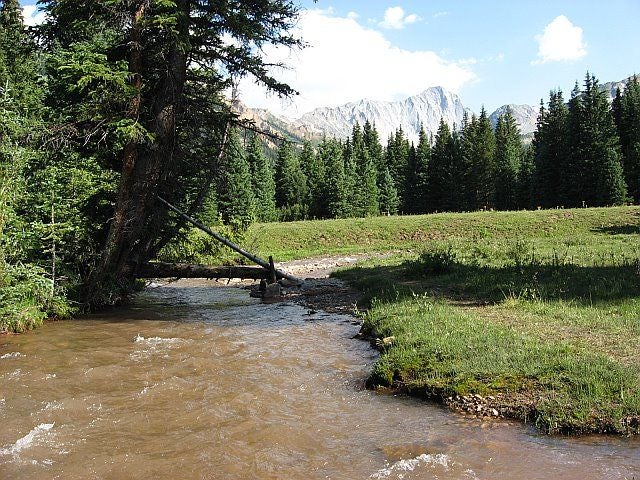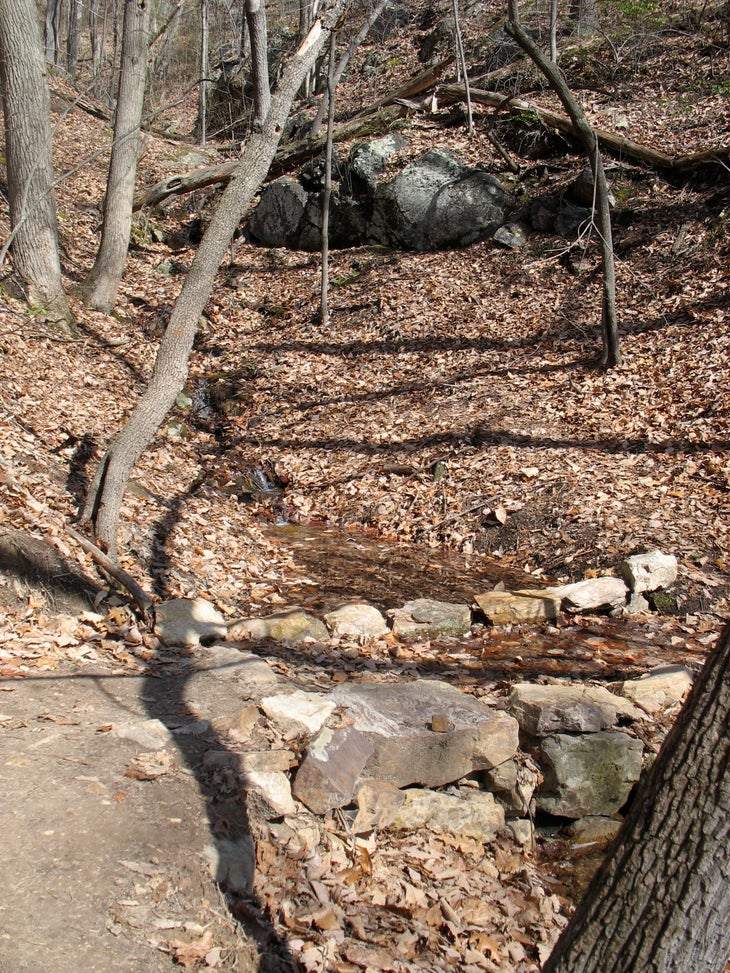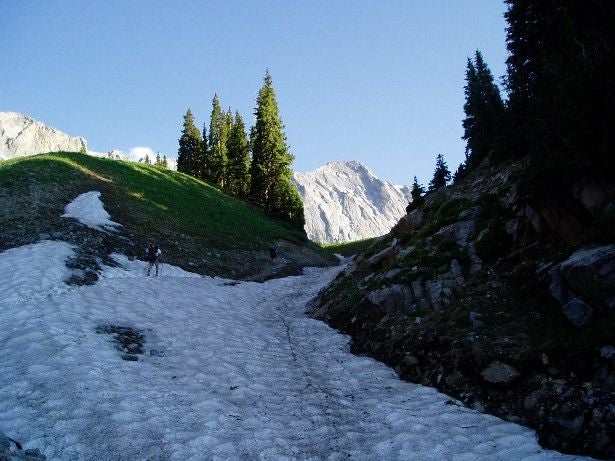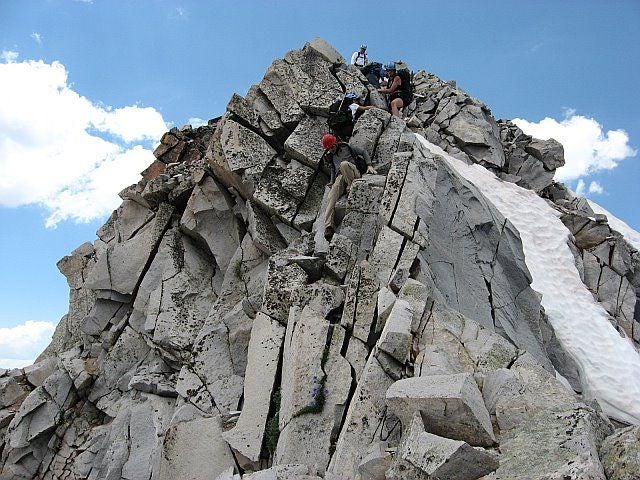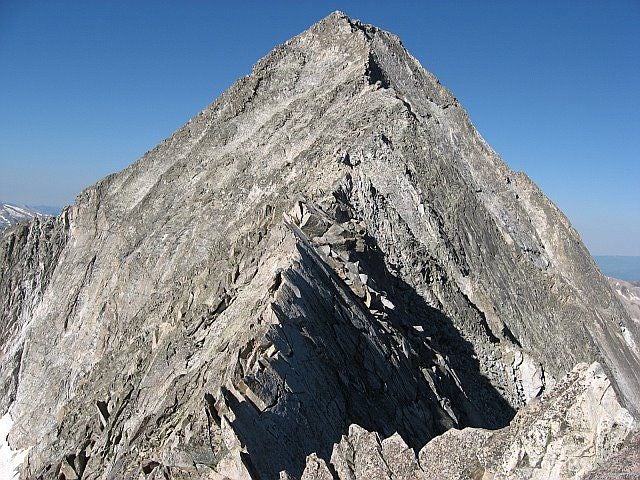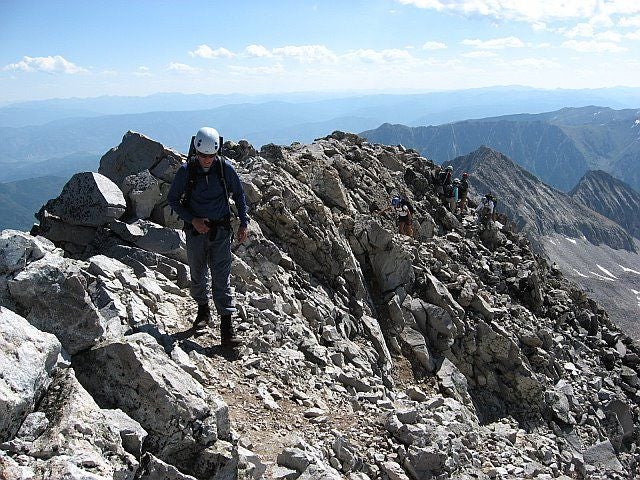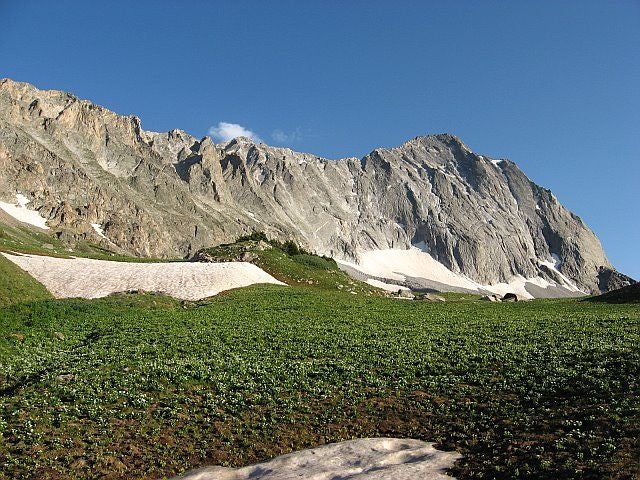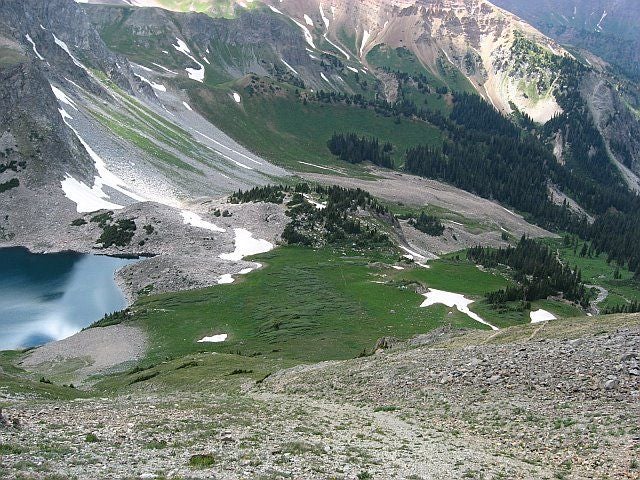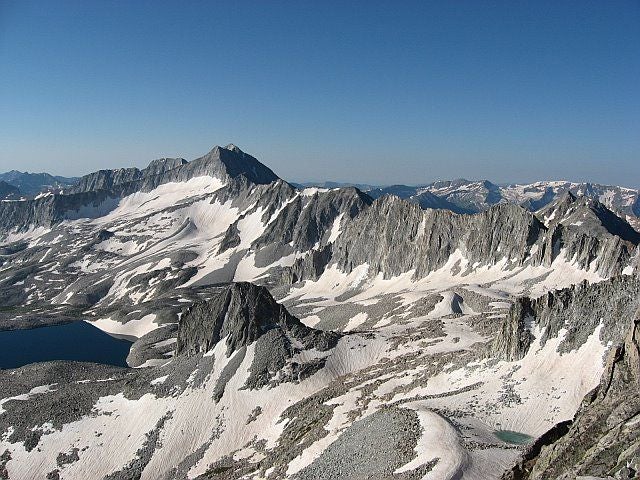 Trail Facts
Waypoints
Capitol Peak from the trailhead
Location: 39.2333564758301, -107.083183288574
©Lisa Heckel
Meadow
Location: 39.219539642334, -107.095397949219
Looking south across the meadow just before entering the Maroon Bells-Snowmass Wilderness Area.
©Lisa Heckel
Capitol Peak
Location: 39.2078094482422, -107.090896606445
Views from the grassy bench
©Lisa Heckel
Cows
Location: 39.1907806396484, -107.085433959961
Cows grazing along the trail.
©Lisa Heckel
Capitol Creek crossing
Location: 39.198169708252, -107.087844848633
©Lisa Heckel
Creek crossing
Location: 39.173267364502, -107.086242675781
©Lisa Heckel
Gully with seasonal snow
Location: 39.1676445007324, -107.079490661621
©Lisa Heckel
K2 Summit
Location: 39.154468536377, -107.075958251953
©Lisa Heckel
The Knife Edge
Location: 39.1515769958496, -107.080131530762
©Lisa Heckel
Hikers on the final summit ridge
Location: 39.1506118774414, -107.082221984863
©Lisa Heckel
Gully with seasonal snow
Location: 39.1676445007324, -107.079490661621
©Lisa Heckel
Capitol Peak from Capitol Lake
Location: 39.1655540466309, -107.081100463867
©Lisa Heckel
Capitol Lake from the Daly-Capitol saddle
Location: 39.1631469726562, -107.073707580566
©Lisa Heckel
Views from the K2 Summit
Location: 39.1539878845215, -107.076919555664
©Lisa Heckel
CAP001
Location: 39.2342681884766, -107.080596923828
Follow Capitol Creek Trail as it travels SW through sun-dappled aspen groves; Capitol Peak's impressive granite form is silhouetted in the distance
CAP002
Location: 39.2249298095703, -107.093803405762
Stay straight, heading S
CAP003
Location: 39.2211799621582, -107.09529876709
Cross creek that runs across the trail, then follow dirt path through a grassy meadow
CAP004
Location: 39.219841003418, -107.095397949219
Head S into the Maroon Bells-Snowmass Wilderness; trail begins to climb
CAP005
Location: 39.2079887390137, -107.091102600098
Traverse a grassy meadow spotted with lone boulders; striking views of Capitol Peak lead the way
CAP006
Location: 39.1992301940918, -107.087303161621
Trail enters on the L; 2nd creek crossing ahead
CAP007
Location: 39.1985511779785, -107.088096618652
Cross Capitol Creek, then continue S
CAP008
Location: 39.1910705566406, -107.08570098877
Continue straight @ West Maroon Trail jct.; forest opens up allowing for more spectacular views of Capitol's jagged peak; cattle graze along the trail
CAP009
Location: 39.1737480163574, -107.086242675781
Cross 2 more creeks in the next .2 mi.
CAP010
Location: 39.1676445007324, -107.079650878906
Ascend a small pine-speckled gully with seasonal snow
CAP011
Location: 39.1654510498047, -107.081001281738
Set up camp on knoll N of Capitol Lake. To begin Capitol climb, turn L @ T; head SE for steep ascent to Mt. Daly-K2 saddle
CAP012
Location: 39.1632804870606, -107.073699951172
Cross over Mt. Daly-K2 saddle, then head S on climber's trail, traversing several gullies
CAP013
Location: 39.153980255127, -107.076797485352
K2's summit (13,664 ft.) offers intimate views of Capitol's rocky peak. Begin SW scramble on the ridge connecting K2 and Capitol Peak
CAP014
Location: 39.1528511047363, -107.078796386719
Use your hands to traverse the infamous Knife Edge, a tricky, 100-ft. serrated section of ridge below the summit
CAP015
Location: 39.150260925293, -107.082901000977
Capitol Peak (14,130 ft.): A sea of craggy, snow-covered peaks surround. Savor the rare perspectives from this elusive peak