Coastal: Nootka Trail, British Columbia
Hike Canada's Pacific Coast harbor on this British Columbia trail.
Heading out the door? Read this article on the new Outside+ app available now on iOS devices for members! Download the app.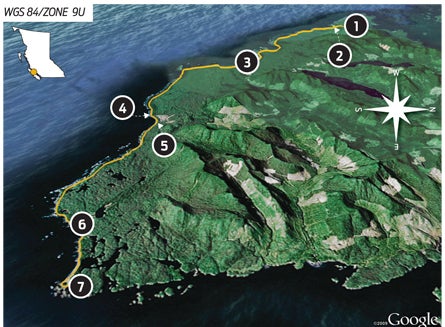 The rugged and rain-lashed shores of Canada's Pacific Coast harbor some of the continent's most remote seaside wilderness. On these 22 southbound miles, you'll see black bears and bald eagles as old-growth stands of red cedar open onto seaweed- and rock-studded beaches. If not for buoys and metal tags tacked onto tree trunks, the trail would be indistinguishable from the many wildlife paths that crisscross this coastal paradise.
INFO Trailhead access by floatplane from Gold River ($435 for 3 people on a Cessna 185; airnootka.com). $40/person to cross Mowachaht tribal land. Trip data: backpacker.com/hikes/612286
1. Splash down

0649022E 5509997N; mile 0

Wade from the floatplane to southern tip of Louie Bay Lagoon.
2. Leaving Third Beach

0648711E 5509323N; mile .7

Camp above the driftwood- and starfish-filled tide pools, follow hanging buoys to use trail through forest during high tide. Low tide: Check tide chart and take the beach.
3. Calvin Falls

0655789E 5502796N; mile 7.7

Cross creek below waterfall at low tide. Camp on sandy beach.
4. Beano Creek

0662444E 5497242N; mile 14.6

Wait for low tide for a waist-deep wade through this 100-foot-wide, wave-lapped drainage. Camp on the opposite (eastern)bank. If water rises overnight, the western shore will flood first.
5. Impassable headlands

0663696E 5497255N; mile 15.6

Take fixed-rope climb over wet, mossy rocks to forest and use trail. Haul water to clifftop campsite, south of Callicum Creek.
6. Deep water crossing

0669638E 5495648N; mile 20

Cross chilly waters 150 feet upstream from the creek's mouth at low tide—or face powerful tidewaters funneling upstream into lagoon Tsa'tsil (translation: "Where the tide comes and goes").
7. Yuquot Point

0671941E 5495850N; mile 21.6

A fallen totem pole marks the site of this old Mowachaht summer village. Friendly Cove and a ferry ride back to Gold River are .4 mile ahead ($40, Maxi's Water Taxi; 250-283-2282).
*Google Earth providers DigitalGlobe, State of Oregon, SIO, NOAA, U.S. Navy, NGA, GEBCO, Terrametrics, Data Living Oceans Society, USDA Farm Service Agency.

Hike the Coast

See more shoreline hikes.