Climbing Mount Kilimanjaro
The roof of Africa has it all: monkeys, sunsets, wildflowers, and yes, a spectacular summit. Here are just a few of the highlights from the Kili Family Climb.
Heading out the door? Read this article on the new Outside+ app available now on iOS devices for members! Download the app.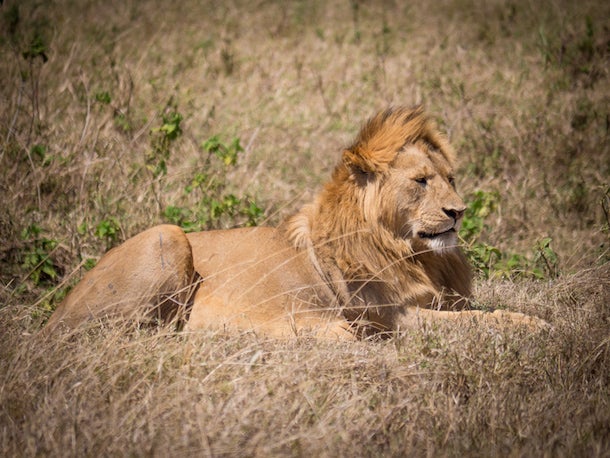 Spanning 100 square miles, Tanzania's Ngorogoro Crater is the world's largest unfilled caldera. Its grasslands and forests protect large herds of zebra, wildebeest, gazelle, and other grazing species, along with hippos, hyenas, elephants, and numerous lions—like this male, who copulated with a lioness only 150 feet from our Land Rover shortly after this image was captured.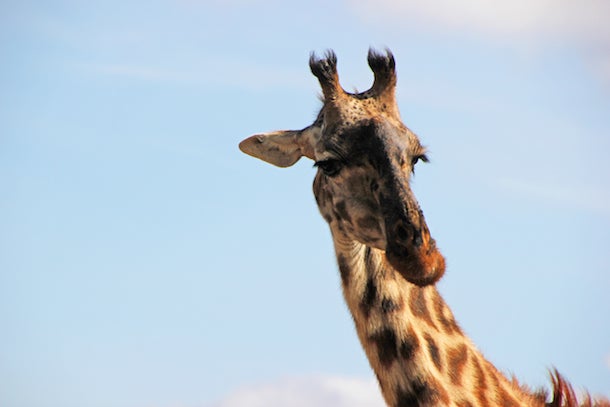 Among the giraffe's many unique adaptations: Lacking tear ducts, they use their 20-inch-long tongues to clean their eyes and ears.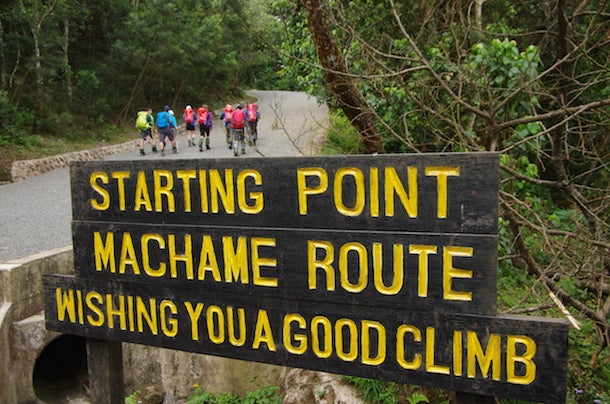 Day 1 starts at the Machame Gate after rangers conduct an official weigh-in to make sure no porter is carrying more than the allotted 25 kilograms. The trail soon turns narrow, rooted, and muddy as it climbs through tropical rainforest.
Kilimanjaro National Park requires visitors to employ local porters to carry their gear, which makes the climb easier – but also fills the day with Swahili songs and scenes of heavily laden men with everything from coolers to camp chairs to propane tanks balanced atop their heads.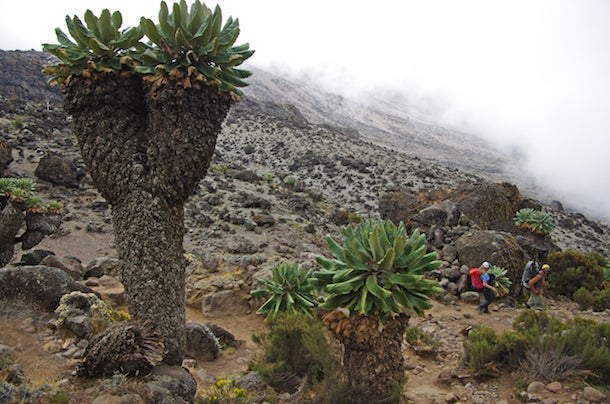 A common tableau on the sparsely vegetated alpine slopes above 10,000 feet: giant candelabra-like groundsels, clusters of volcanic boulders, and a thick, swirling mist that boils up out of the lower rainforests most afternoons.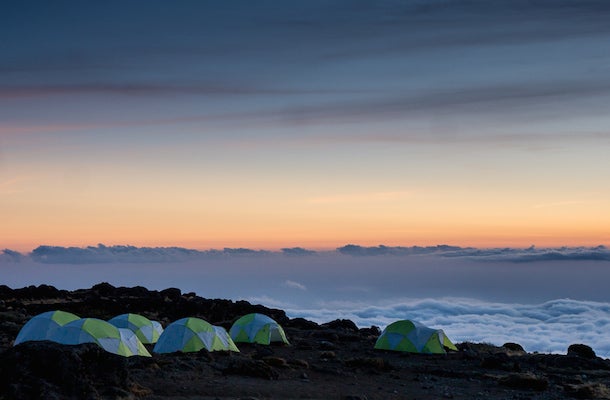 On day 2, we pitched our First Ascent tents at Shira Camp, which sits on a broad plateau that resembles a Scottish moorland, complete with tussocks and dense stands of heather.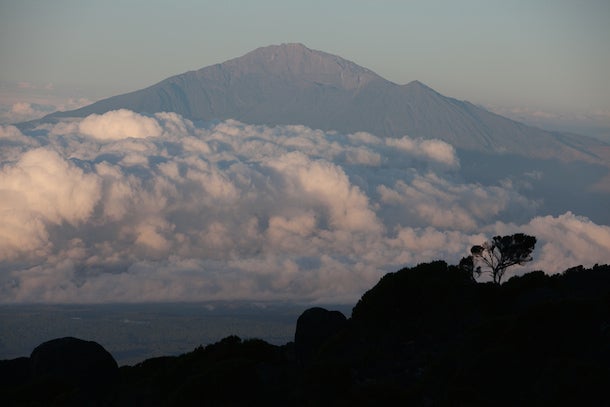 About 50 miles from Kilimanjaro, 14,977-foot Mt. Meru (now called Socialist Peak by the Tanzanian government) is a constant presence during your first three days on the Machame Route. This active volcano is a worthy destination of its own for the wildlife-rich walking safaris that begin your climb there.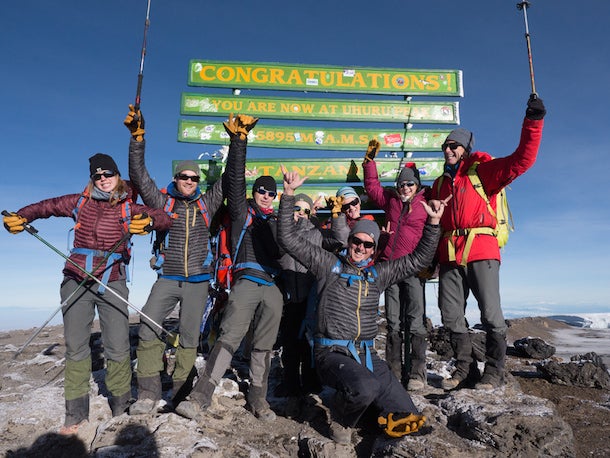 Guided by Peter Whittaker (far right), our team put three dads, three daughters, and one pair of twins on the summit – a 100-percent success rate, thanks to extensive fitness training beforehand and a conservative pace on the mountain.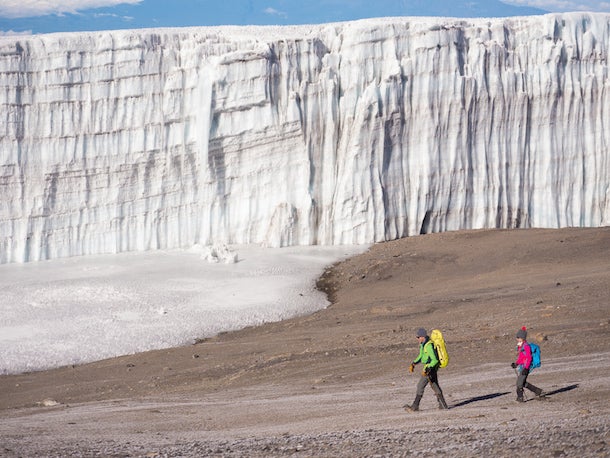 Lead guide Peter Whittaker and his daughter Gabriella are dwarfed by the Rebmann Glacier, once part of an ice cap that covered Kilimanjaro's slopes down to the 10,000-foot level. More than 80 percent of the Rebmann has melted in the last century.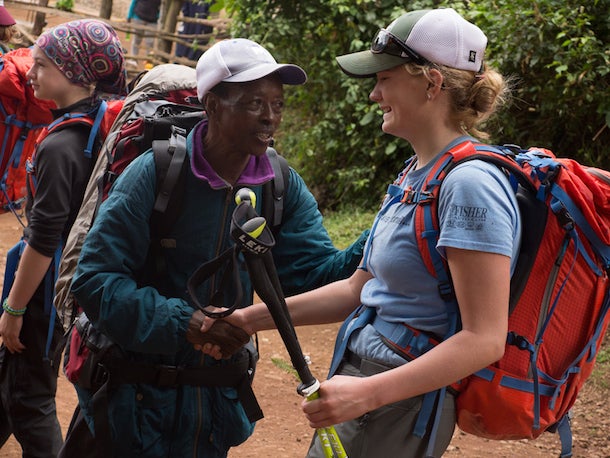 Clement, our assistant chief porter, congratulates Hadley Dorn, the author's daughter, upon her arrival at the Mweka Gate.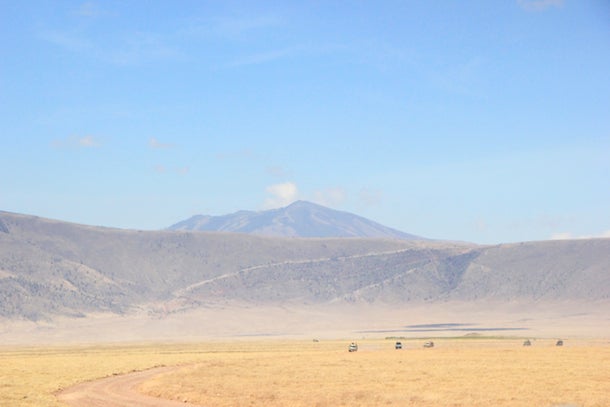 Safari vehicles trace the Ngorogoro Crater's broad savannah, 2,000 feet below the caldera rim.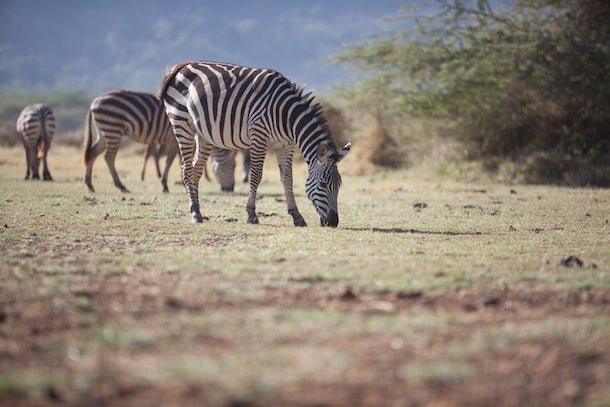 Contrary to long-held opinion, zebras have black skin with white stripes—not black stripes on a white background. This plains zebra was one of hundreds we spotted in Lake Manyara National Park.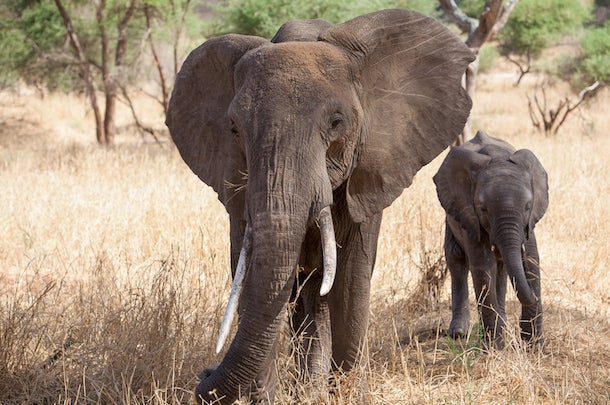 Teeming with giant baobab trees, black mamba snakes, 500-plus bird species, and everything in between, Tarangire National Park is believed by some scientists to boast the highest density of elephants on the plant. During our visit, we saw at least a dozen herds ranging in number from 8 to 30.