Chile: Private Patagonia
Explore Chile's mind-bending terrain without joining the throngs on the popular trekker circuit. On this paddle/hike/horse adventure, you'll have glacier-chiseled fjords, sky-piercing mountains, and best-ever camping all to yourself.
Heading out the door? Read this article on the new Outside+ app available now on iOS devices for members! Download the app.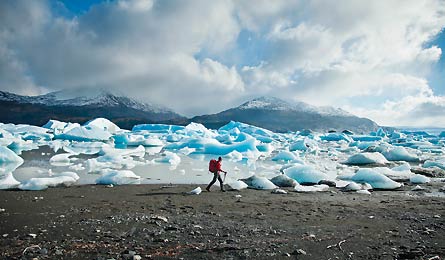 The author circles Lago Geike (Photo by Jorg Badura)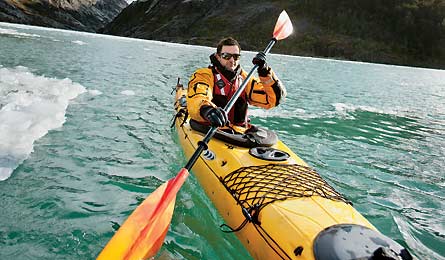 The author circles Lago Geike. (Jorg Badura)
Fjord De Las Montanas

[kayak , hike, ice climb]
Cordillera Baguales

[hike , backpack, horseback ride, fly-fish]
Puerto Toro

[backpack , kayak]
Multisport Skills

Manage a kayak in rough weather; pack smart for every sport; get rescue insurance
Trip Planner
Get thereFly to Punta Arenas (four flights/week from Santiago during high-tourist season, December through February) and take a bus or taxi three hours to Natales. 
Season/Gear Fall and spring (Natales gets more crowded during South America's summer, December to March). Pack for cold and wet weather; it rains an average of 200 inches annually, average relative humidity is 75 percent, and the record high temperature is 89°F. Bring a synthetic (not down) sleeping bag, waterproof gloves, and three-layer raingear. This is not a place to experiment with ultralight.
MapsPatagonia Sur & Tierra Del Fuego ($7, patagoniainteractiva.com) 
InfoFind the outfitters mentioned—plus other guides and tour operators in the region—at gopuertonatales.com. The site also lists hotels, hostels, and restaurants. For general info, see chile.travel.