Chile: Private Patagonia – Puerto Toro
Take your pick of adventures from this major ferry stop about three hours from Natales: Beach camp next to a private glacier or paddle to a gem lake.
Heading out the door? Read this article on the new Outside+ app available now on iOS devices for members! Download the app.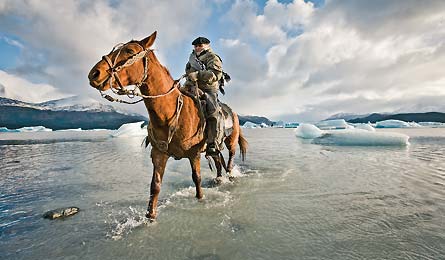 Peking Gererro, the country's only glacier owner (by Jorg Badura)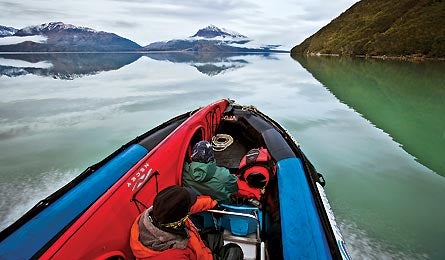 A zodiac ferries kayakers up the Serrano River. (Jorg Badura)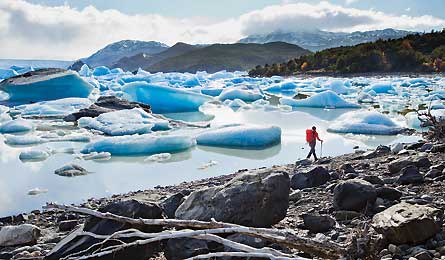 Hiking next to Lago Geike (Jorg Badura)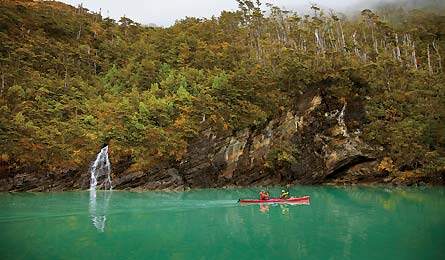 Paddling dreamy Lago Azul (Jorg Badura)
Backpack Lago Geike
Rancher Peking Gererro doesn't have two pesos to rub together, but he is a very rich man. He could get millions for his 11,000-acre estancia near Puerto Toro, but has refused all offers. Gererro, 70 and permanently grinning, is the only private landowner in the entire country to possess a chunk of earth abutting a glacier. His ranch lies sandwiched between Chile's two largest national parks (Torres Del Paine and Bernardo O'Higgins), and from the front yard you can gaze upon the famous, knife-edged Cuernos Del Paine (Horns of Pain) in Torres. The wide and powerful Serrano River, a popular kayaking route, flows within earshot. And the Geike Glacier, with a massive iceberg-studded lake surrounded by black-sand beaches, is just a six-mile hike from his house. 
As of this year, he's granting access to his private paradise, a few people at a time. Tonight, we'll camp at an old gaucho shack near the terminal moraine—the first group of outsiders to do so. (Future groups will stay at a new lakeside camp.) 
To cross Gererro's land, we trace the silty, braided river on cattle paths, tracking through fields of stunted pines and lichens to a dense deciduous forest surrounding the glacier. We arrive at camp at dusk, set up tents, and warm up around a wood-burning stove in the leaning, wood-and-tarp shelter. 
The next day, we hike the final half-mile to the beach and lounge in the sun at one of the most luxe campsites I've ever seen: endless wood for fires, fresh glacial melt to drink, spine-cradling sand, an absolute guarantee of solitude (though Gererro may visit), and views of the Geike Glacier and house-size blocks of ice floating on the lake. The only other way you could camp here would be via a multiday epic involving difficult glacier travel. With a yard like this, I'd never sell either.
Guide Antares Patagonia (see Trip Planner for additional info)

Cost $1,200/person, 2 nights (includes food, guide, ferry from Natales, and Zodiac from Toro)
Kayak Lago Azul
We paddle southwest down the wide and slow Serrano River, beneath long wisps of clouds hugging the cliffy shore. Peach alpenglow lights the snowcapped peaks far above, and waterfalls bound like Slinkies from the glaciers. We're heading five miles from Puerto Toro to Lago Azul (Blue Lake), an 1,100-acre pool just outside Torres Del Paine National Park.
At Lago Azul, cascades dotted with fuchsia flor de la cascada (waterfall plant) horsetail into the teal water from sheer cliffs where Andean condors roost. The west shore, near a small inlet, has the best camping options: sandy strips of beach near fresh water and banks of trees for windbreaks. Navigation is a breeze, the waters generally remain calm thanks to narrow passages with leeside protection, and rangers at Puerto Toro are never more than a day's journey away, making this a great first foray into Patagonian paddling. No ice chunks here; only paradise.
Guide Antares Patagonia (see Trip Planner for additional info)

Cost $600/person for an overnight including ferry from Puerto Natales, all gear, and food