Chico, CA: Phantom Falls Loop
Hike to a cliff-top vantage that overlooks Phantom Falls on this 7.3-mile figure-eight loop just 40 minutes from Chico.
Heading out the door? Read this article on the new Outside+ app available now on iOS devices for members! Download the app.
This 164-foot seasonal cascade (best after big rains, November to May) is a favorite destination of local photographers, who journey off-trail to capture the thin rope of water pouring over a sheer basalt cliff into Coal Canyon. Spot two other cascades (76-foot Ravine and 45-foot Hollows) on a 7.4-mile loop.
-Mapped by Adrien Patané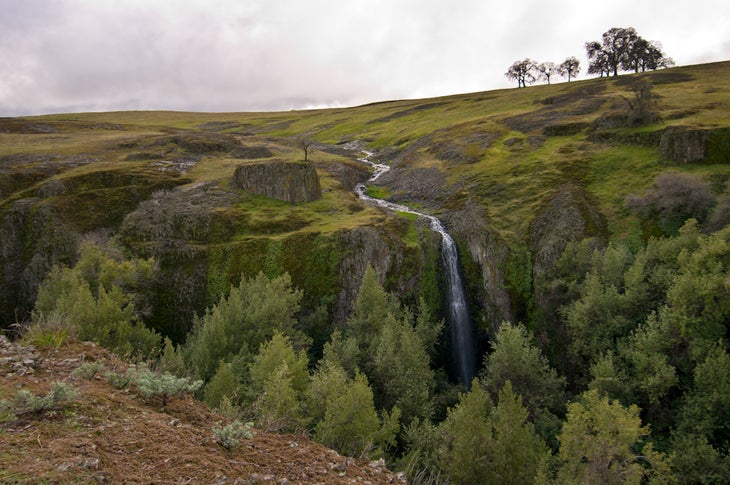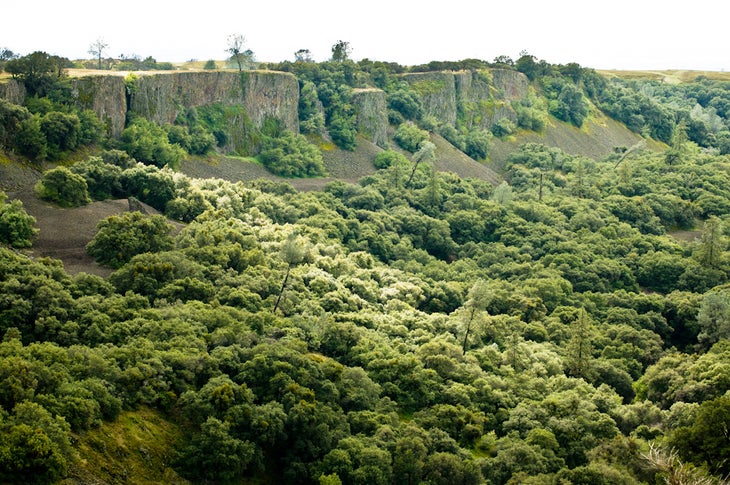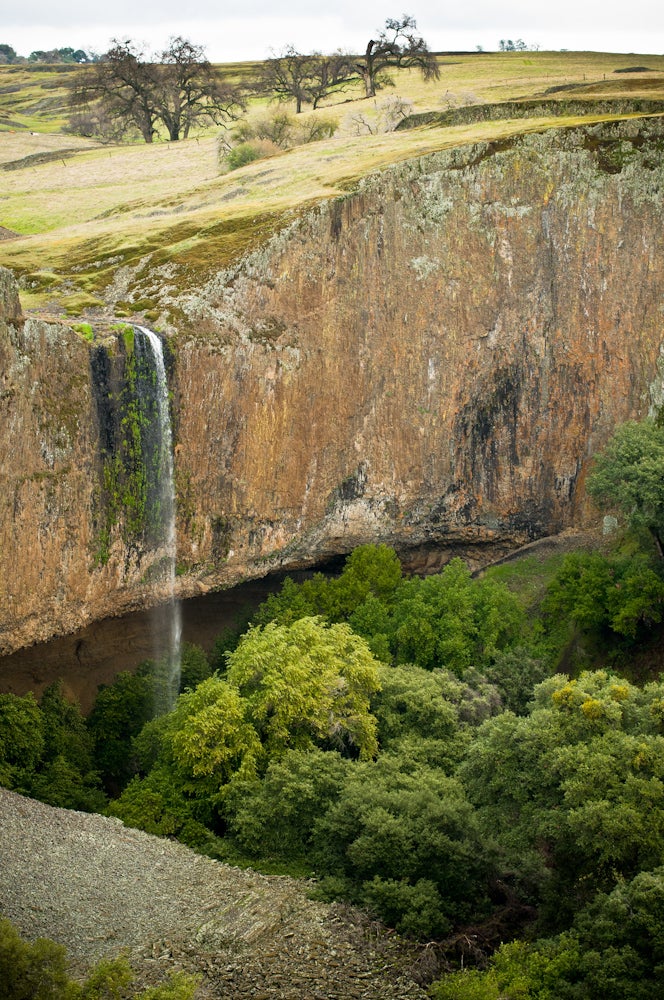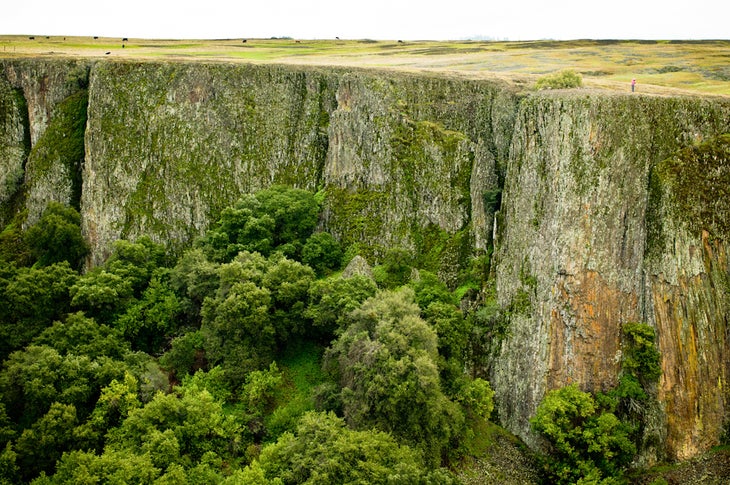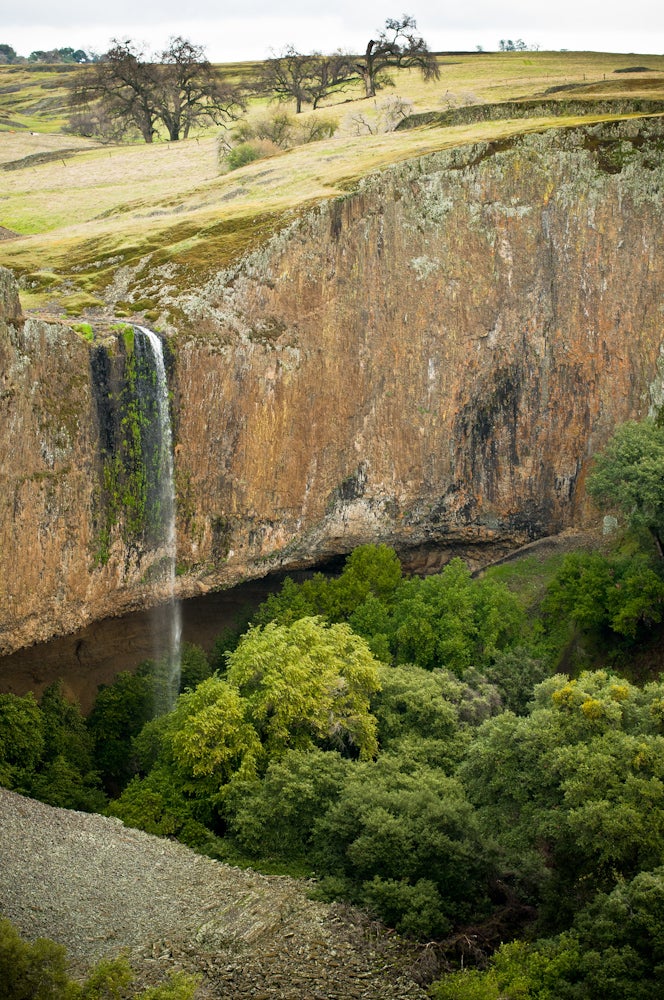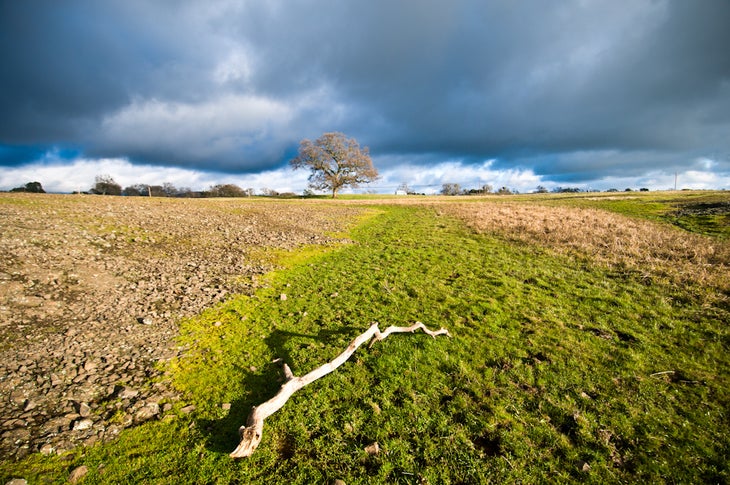 Trail Facts
Waypoints
PHN001
Location: 39.595923, -121.541736
Hike northwest from the parking area.
PHN002
Location: 39.596254, -121.542276
Continue heading northwest at this point roughly 200 feet from the parking lot.
PHN003
Location: 39.598178, -121.546243
Cross a wash (and several more ahead) and keep heading northwest across North Table Mountain, a broad plateau that rises above Oregon Gulch to the east, Beatson Hollow, Coal Canyon, and Flag Canyon to the west.
PHN004
Location: 39.604118, -121.557498
Skirt the edge of a ravine next to Coal Canyon for views (and a photo op) of Ravine Falls.
PHN005
Location: 39.606184, -121.563377
Turn north toward Coal Canyon.
PHN006
Location: 39.609242, -121.561071
Head north for a .7-mile out-and-back that traces the rim of Coal Canyon.
PHN007
Location: 39.610598, -121.560679
From this vantage point along the rim, you can see the lush, tree-covered canyon bottom.
PHN008
Location: 39.610755, -121.56209
Look to the left (east) for views of Phantom Falls pouring over the cliff face.
PHN009
Location: 39.610491, -121.563085
This promontory reveals more photo-worthy views of Phantom Falls and the cliffs directly to the south. Turn around at this point and backtrack to PHN006.
PHN010
Location: 39.609127, -121.561157
Bear left, heading southeast.
PHN011
Location: 39.604547, -121.556532
Head southwest across North Table Mountain for the next 1.4 miles.
PHN012
Location: 39.593181, -121.574605
Turn left and drop into Beatson Hollow.
PHN013
Location: 39.592556, -121.572054
Turn right (south) and hike south through the trees.
PHN014
Location: 39.589811, -121.571185
Bear left, heading east into Beatson Hollow.
PHN015
Location: 39.58902, -121.555856
Swing left into the side canyon that extends to the north.
PHN016
Location: 39.594512, -121.553078
Climb switchbacks out of the hollow, then hike east back to the parking area.
Ravine Falls
Location: 39.603861, -121.557444
Ravine
Location: 39.610598, -121.560625
Phantom Falls
Location: 39.610755, -121.562058
Ravine Edge
Location: 39.610497, -121.56301
Phantom Falls
Location: 39.61049, -121.563062
Tree Panorama
Location: 39.595537, -121.548357