Chicago's Best Local Hikes
Escape the city on these easy-to-reach trips, from after-work jaunts to an overnight paddling trip on the Rock River.
Heading out the door? Read this article on the new Outside+ app available now on iOS devices for members! Download the app.

See these falls on a 9.7-mile loop in Waterfall Glen Forest Preserve on one of Chicago's best local hikes. Photo by Brian Jelonek / Flickr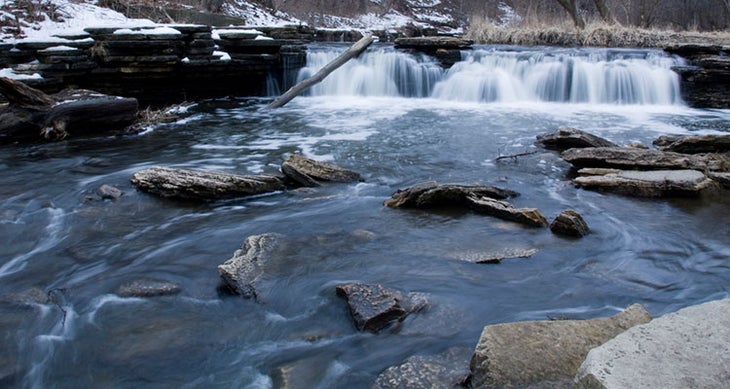 After Work
Sag Valley Trail, McClaughry Springs Woods
Burn off workday stress on a short-but-serious, 2.8-mile hike through two Chicagoland woods. From the Kean Avenue lot (southwest of the city), follow an unmarked dirt path northwest and join the Sag Valley Trail heading west. Scale the steep path 100 vertical feet to the top of a ridge, and after .5 mile, turn right (following purple arrows) at the T intersection. Drop to a sparkling stream where bullfrogs and dragonflies sun themselves in summer. Cross Kean Avenue and ramble through Palos Park Woods to loop back to the trailhead.
Trailhead 41.677255, -87.844512Drive time 30 mins. Info fpdcc.com
Dayhike
Falls Loop, Waterfall Glen Forest Preserve
Taking the 9.7-mile loop around Waterfall Glen seems to yield a greater diversity of terrain, plants, and animals than a day at the Field Museum. From the trailhead at Cass Avenue, hike counterclockwise to save the best forest vistas for the end. After 6 miles, you'll come to a small waterfall constructed by the Civilian Conservation Corps. Continue around Argonne National Laboratory, catching glimpses of the oldest oak and walnut trees in DuPage County.
Trailhead41.724817, -87.973891Drive time 30 mins. Infodupageforest.com
Overnight
Blurring Boundaries
Find the wild near the city with an overnight paddle to Castle Rock state park.
By Cindy Crosby
In the shadow of the Rock River's sunset-colored, 120-foot sandstone cliffs, swallows dive for insects and a bald eagle eyes me from high in a tree snag. My kayak glides silently along. I've come to this place to escape from the tyranny of the urgent: client calls, constant emails, and a too-long to-do list. I need solitude in the city.
I left the suburbs late this morning, and now, in the early afternoon, I'm floating 1.5 miles downstream to my paddle-in, primitive campsite. A red-bellied woodpecker drums staccato overhead. I feared cars on the nearby highway would be intrusive, but they add a rhythm of their own.
I slip back into my kayak, aiming for the opposite shore, where timbered steps lead to 22 miles of trails at Lowden-Miller State Forest, a mosaic of sunlit fields and dense, shady woods. The scent in the air inside shifts from river to pine. When I reach the open fields, bright-colored butterflies flit along the trail.
I paddle back to camp, delighted that it's still empty. The sun sets and the stars appear. The river's lullaby mixes with the highway's hum. I'm asleep in an instant.
Trip Planner
Put-in41.974368, -89.366232Permits None; Canoe Camp Area is first-come, first-serve. Shuttle/rental TJ's Canoe Rental, Oregon, IL; $60/overnight; tjscanoerental.comInfo dnr.state.il.us
See the rest of the country's best local hikes