Chicago's Top 5 Backpacking Trips
Find a multiday wilderness trip within an easy drive of the windy city.
Heading out the door? Read this article on the new Outside+ app available now on iOS devices for members! Download the app.
Yes, you read that right: There are indeed backpacking trails within striking distance of Chicago. What's more, they're downright wonderful. Encompassing deep hardwood forests, glacier-carved hills, and Lake Michigan coastline, these five trips–local writer Erica Zazo's favorites–prove the Midwest holds its own in backcountry escapes.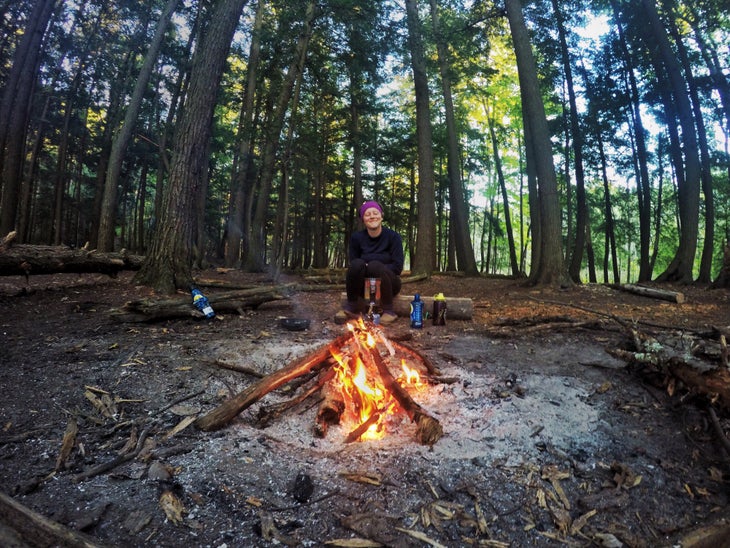 1. North Country-Manistee River Loop, Huron-Manistee National Forests, MI
Trailhead: Upper River Road (North Country National Scenic Trail)
Mileage: 23-mile loop
Drive from town: 4 hours 50 minutes
This is by far my favorite local backpacking trip in the Midwest. Located in the Huron-Manistee, hikers pass through dense hardwood forests and top out with vista views over the winding, calm, and jade-colored Manistee River. More than 20 first-come, first-served backcountry sites are open to hikers: some down low next to creek beds, some up high on river ridges, and some tucked away between the pines. My favorite camping spot for night one is down a small hill on the bank of Eddington Creek around mile 8. To get there, park at the Upper River Road Trailhead and head clockwise on the North Country Trail. Continue on to the Manistee River Trail and set up camp at site #8 (near mile 18), near a beautiful outcrop overlooking the river, for your second night.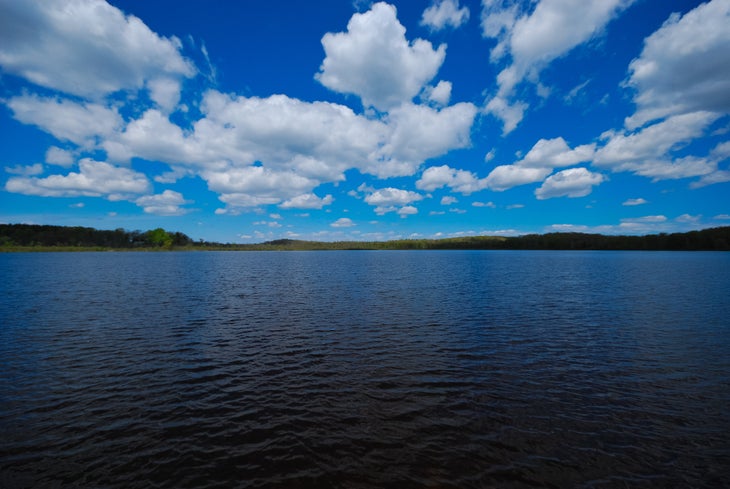 2. Ice Age Trail, Kettle Moraine State Forest-Northern Unit, WI
Trailhead: Butler Lake Recreation Area parking lot 
Mileage: 14 (out and back)
Drive from town: 2 hours 25 minutes
Thru-hiking the 1,200-mile Ice Age Trail may seem daunting, which is why this bite-sized segment of the Midwest's largest continuous footpath is a must-do: all of the challenge, scenery and serenity, without the three-month commitment. If you're looking for a backcountry upgrade, you can pick between eight different Adirondack-style, rustic huts–all reservable online. You'll travel an elevated ridgeline, climb rolling inclines, and see sweeping views of glacier-carved valleys along the way. My favorite section of this trail sits between Mauthe Lake and Butler Lake Recreation Areas. For a shorter weekend trip, I like to make back-to-back reservations for the Dundee (#3) and New Fane (#2) shelters for a 14-mile out-and-back.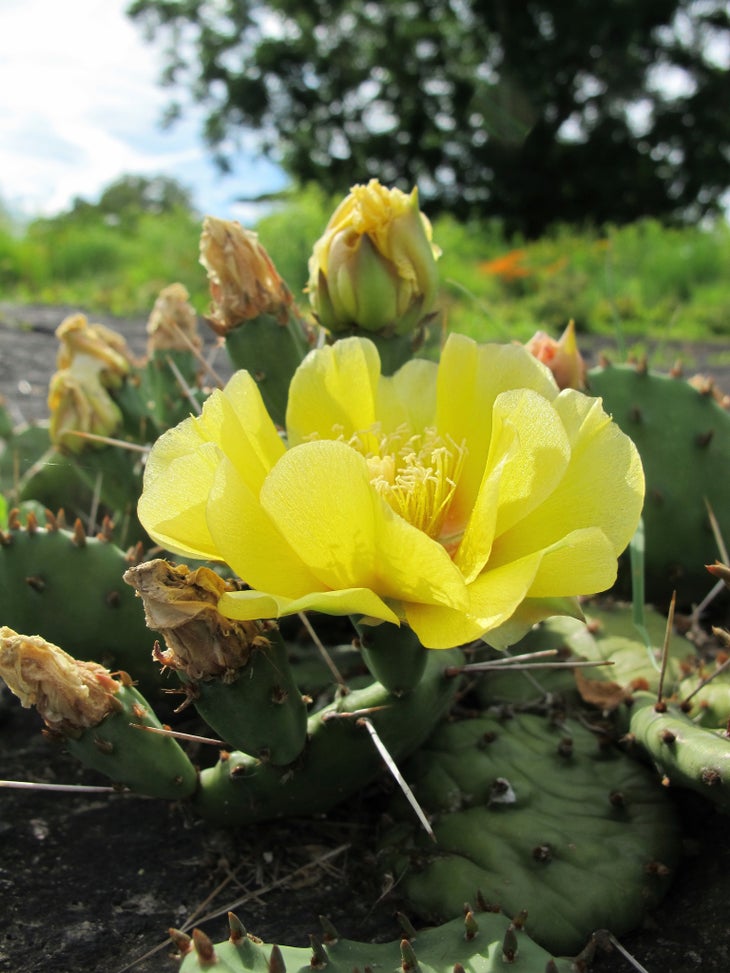 3. Yellow Trail, Sand Ridge State Forest, IL
Trailhead: Pine Campground 
Mileage: 14.8-mile loop
Drive from town: 3 hours
I love this trail system for its quirkiness. For one, they don't call it Sand Ridge State Forest for nothing. This Central Illinois forest boasts long sections of sandy trail that are unlike anything else Midwestern hikers have ever seen outside of the Great Lakes beaches. Backpackers are in for a workout, as this trail is packed with hilly terrain. And who knew there were prickly pear cactus in the Midwest? I sure didn't. Hike this trail and you'll encounter them firsthand. Pitch your tent at backcountry site 7. Consider an early summer trip when the native eastern prickly pear cactus is in full bloom.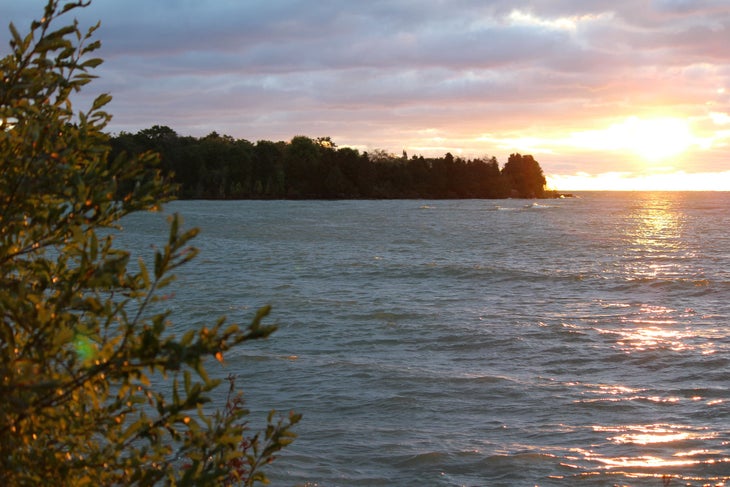 4. Newport State Park, WI
Trailhead: Parking lot 3
Mileage: 30 (total)
Drive from town: 4 hours 45 minutes
Seventeen hike-in backcountry sites are scattered among 2,373 acres of designated wilderness area in Newport State Park at the tip of Wisconsin's Door County Peninsula. I love hiking out to a site (#2 is my pick), setting up camp, and spending the remainder of my trip dayhiking Newport's 30-plus miles of trail–passing through evergreen and hardwood forests, wetlands, and upland meadows. Not to mention, 11 miles of trail follows alongside limestone-jagged Lake Michigan shoreline. It's stunning. And equally stunning are the star-lit skies: Newport State Park is an official designated International Dark Sky Park. Lakeside gazing offers the best, unobstructed views.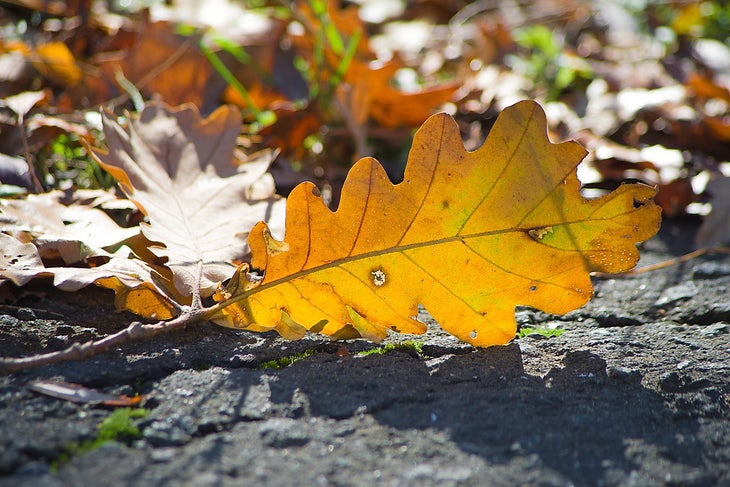 5. River Ridge Backpack Trail, Forest Glen Preserve, IL
Trailhead: Staff Office on the Old Barn Trail
Mileage: 11-mile loop
Drive from town: 2 hours 45 minutes
An overnight in Forest Glen Preserve is a safe bet for first-timers and seasoned backpackers alike. I love to take this hike in the fall, when the beech-maple and oak-hickory forest gushes with autumn color. Experienced hikers will enjoy this trail as a quick overnight, while first-timers can tackle a number of backpacking basics, like rolling hills and small stream crossings. But don't let the flat start fool you. Start hiking clockwise and expect some moderate inclines and declines between miles 4 and 10. Spend your first night at site 13 and your second at site 16. This trail is also a great option for hikers in St. Louis (3 hours away) and Indianapolis (1 hour 30 minutes away).