Chicago, IL: Monee Reservoir
Monee Reservoir's 2.5-mile nature trail offers a family friendly wetland wander through a suburban wildlife sanctuary (and an idyllic fishing spot).
Heading out the door? Read this article on the new Outside+ app available now on iOS devices for members! Download the app.
Thirty miles south of Chicago, Monee Reservoir is a year-round destination for picnicking families or fishermen sacrificing minnows to the largemouth bass beneath its murky surface. At 2.5 miles, the Reservoir's nature trail makes for an easy afternoon escape from suburban Chicagoland.
From the trailhead on the east side of the visitor's center parking area, this grassy nature trail begins by skirting the north end of Monee's main reservoir and crossing a wooden bridge. Doglegging north around two smaller ponds, the trail cuts between a cluster of oak and maple trees before stopping just short of Pauling Road.
Turn south for a 10-minute detour to a grassy wetland cul-de-sac—a perfect picnic spot and bocci-player's dream—or continue west through a shady stand of hardwoods and cross a second bridge. Watch for blue herons and geese as the raised trail makes a half-mile loop around a marshy wetland before backtracking toward the visitor's center.
-Mapped by Justin Pattison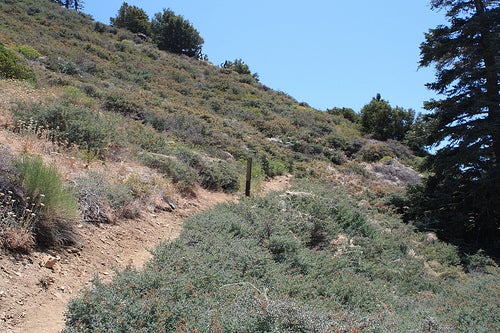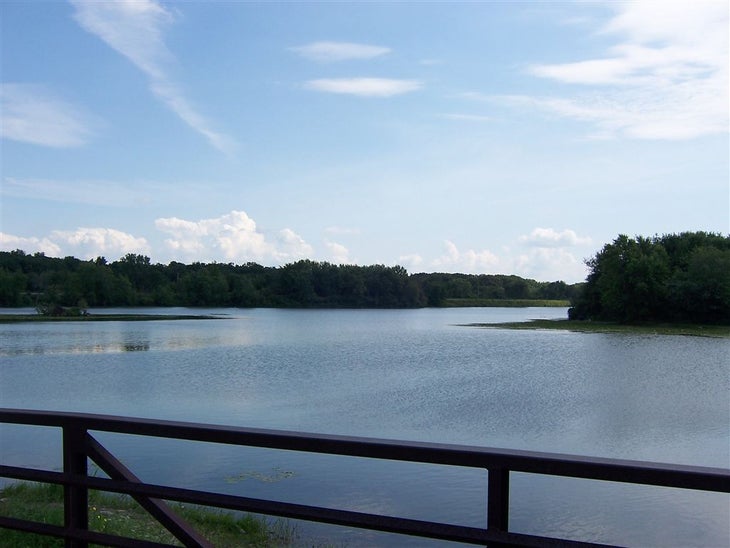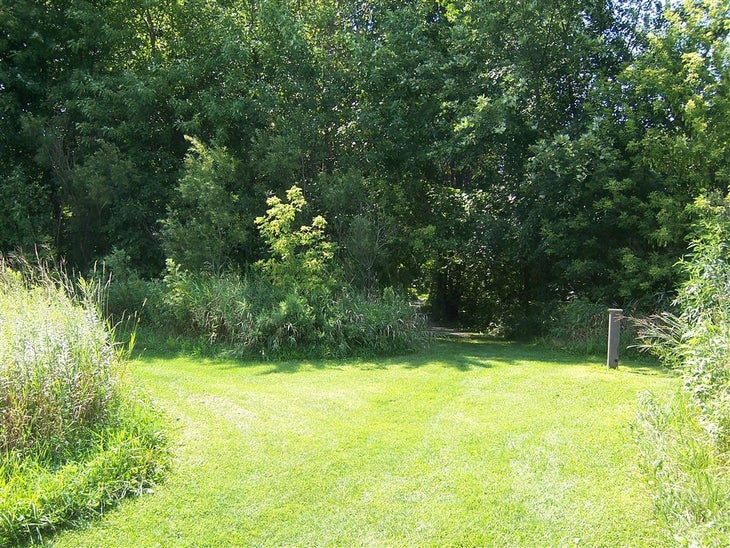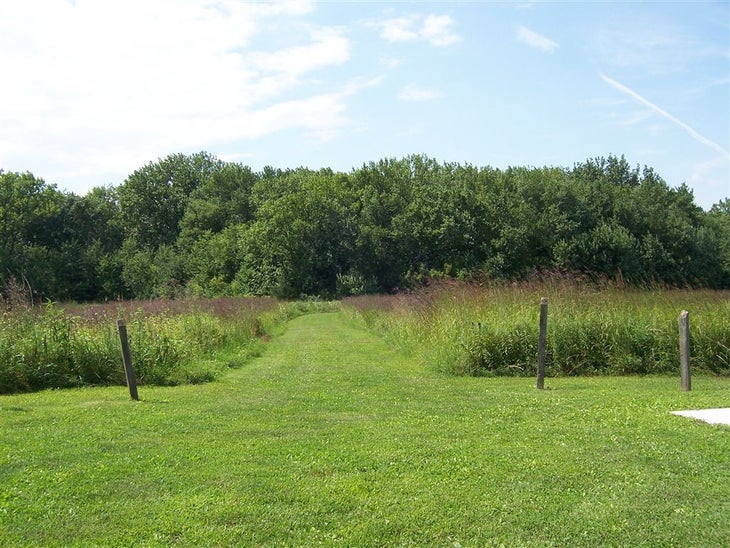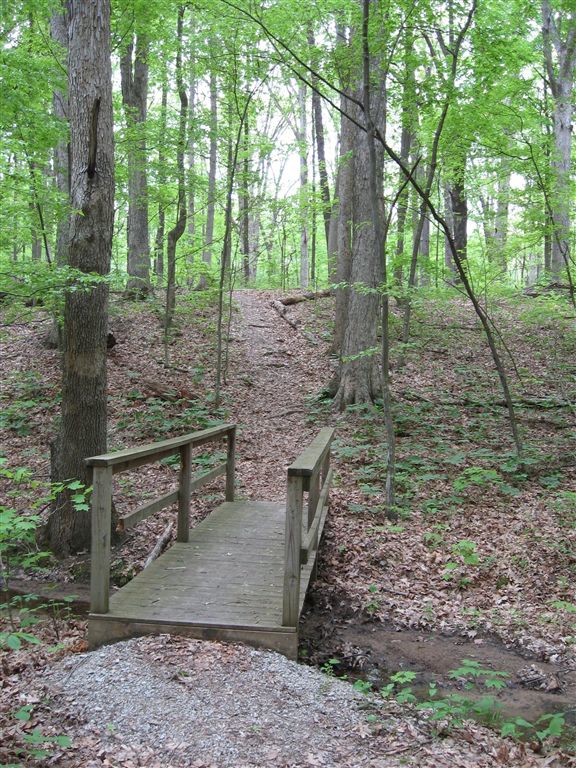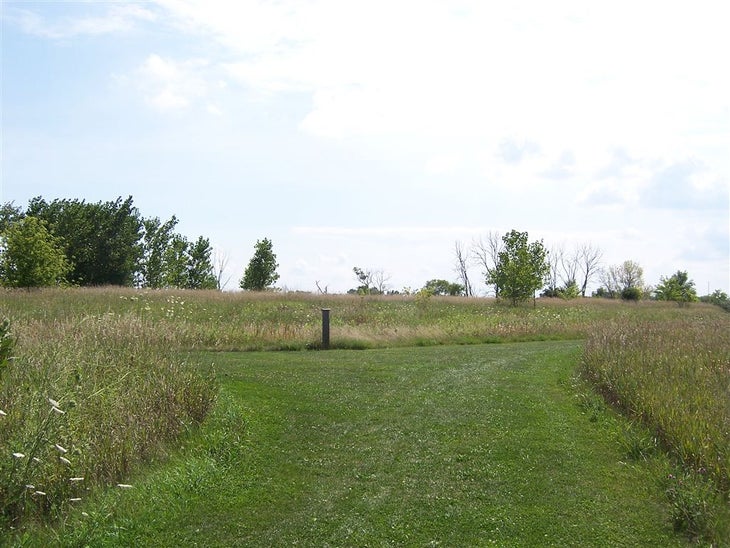 Trail Facts
Waypoints
MON001
Location: 41.3944244, -87.7636795
The trail begins at the northeast corner of the parking area.
MON002
Location: 41.3944473, -87.7614365
This wooden bridge affords great southern views of the 46-acre reservoir.
MON003
Location: 41.3976898, -87.7602844
The trail turns to gravel briefly after this 3-way junction. Turn left for a 0.25-mile round-trip detour to a great picnic spot, or continue straight into the woods toward the end loop.
MON004
Location: 41.3956375, -87.7591705
The cul-de-sac dead end: When the ponds are dry, this trail might close a smaller loop, but don't plan to cut your route short with a detour here.
MON005
Location: 41.3976707, -87.7607498
A second wooden bridge is nearly 2/3 of a mile from the trailhead.
MON006
Location: 41.397377, -87.7650299
Bear left or right at this Y-junction to make a 0.5-mile loop around a pond before heading back to the trailhead.
Trailhead
Location: 41.3944397, -87.7636871
The marked, grassy trailhead. © Justin Pattison
Reservoir
Location: 41.3944931, -87.761467
View of the 46 acre reservoir from first foot bridge. © Justin Pattison
Junction
Location: 41.397728, -87.7603455
This 3-way junction leads left to a pond-side cul-de-sac or straight into the woods toward the trail-end. © Justin Pattison
Cul-de-sac
Location: 41.3956718, -87.7591476
© Justin Pattison
Bridge
Location: 41.3976898, -87.7607727
The second footbridge is shaded by hardwoods. © Justin Pattison
Final Loop
Location: 41.3974304, -87.7650528
This Y-junction splits the trail for a final prairie loop around a small wetland area. © Justin Pattison