Cheyenne, WY: Guernsey State Park
Lakeside cliffs and a couple of Oregon Trail attractions add to this 27-mile loop in one of eastern Wyoming's most beautiful state parks.
Heading out the door? Read this article on the new Outside+ app available now on iOS devices for members! Download the app.
Begin at Guernsey State Park's south entrance and roll downhill toward a dam and several day-use and campground areas—be sure to stop for a photo-op on the peninsula at Black Canyon campground. Rugged cliffs are a dazzling backdrop for the 2,400-acre lake and ride's first few miles, but be careful of the narrow, rough shoulder, and watch for fallen rocks on the otherwise smooth (but hilly) road.
After the 6.5-mile park stretch, there's a short, steep climb before a right turn leads toward Hartville, Wyoming's oldest incorporated town. An optional 2-mile out-and-back through the town (population 76) ends at a log-cabin antique store, but if it's after 10 a.m. Thursday-Sunday, stop for lunch at the saloon.
At mile 16.3, you'll turn onto US-26 and enter Guernsey where this route takes another out-and-back (7.5 miles this time) toward Register Cliffs and Trail Ruts—Oregon Trail era sights that put this town on the map—before heading back into the state park and closing the loop.
Though you could ride in either direction, the clockwise route provides a 2-lane buffer between the steep drop from the road to the lake. And, though most of the route is on pavement, the last final approach to both Oregon Trail sites is gravel which makes this ride a good cross-bike option.
-Mapped by Kristy Holland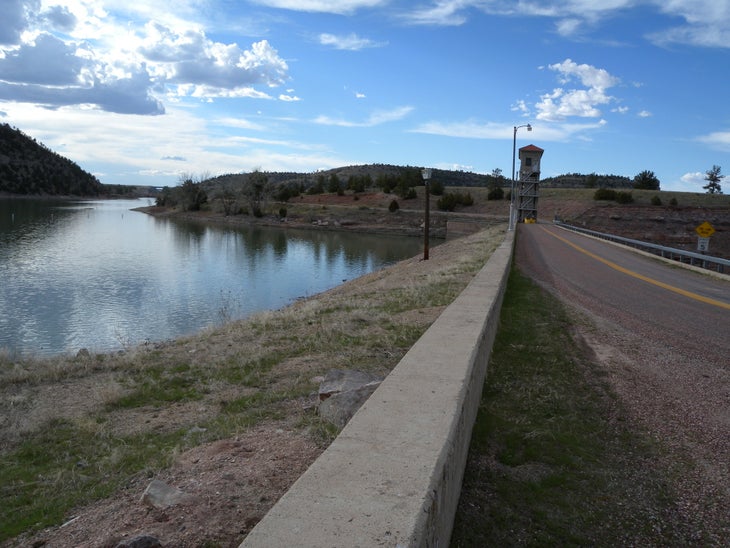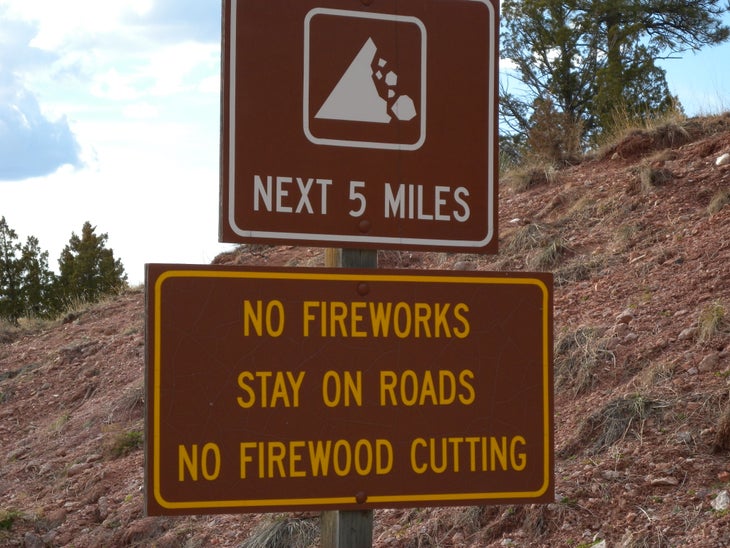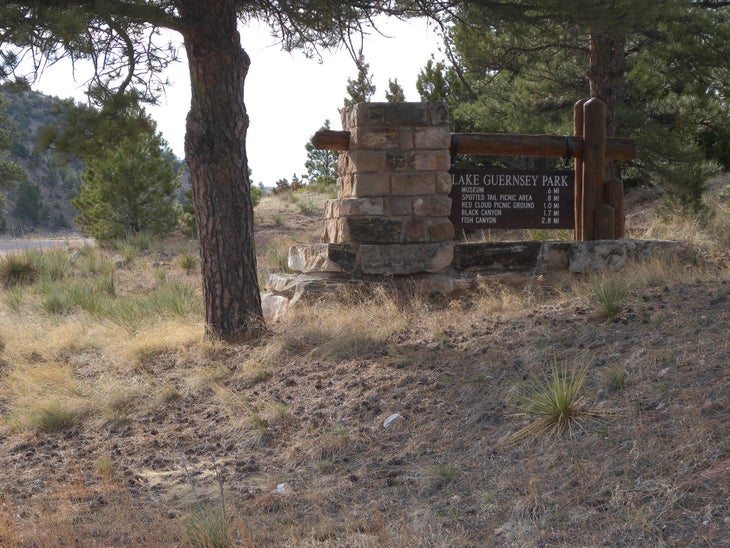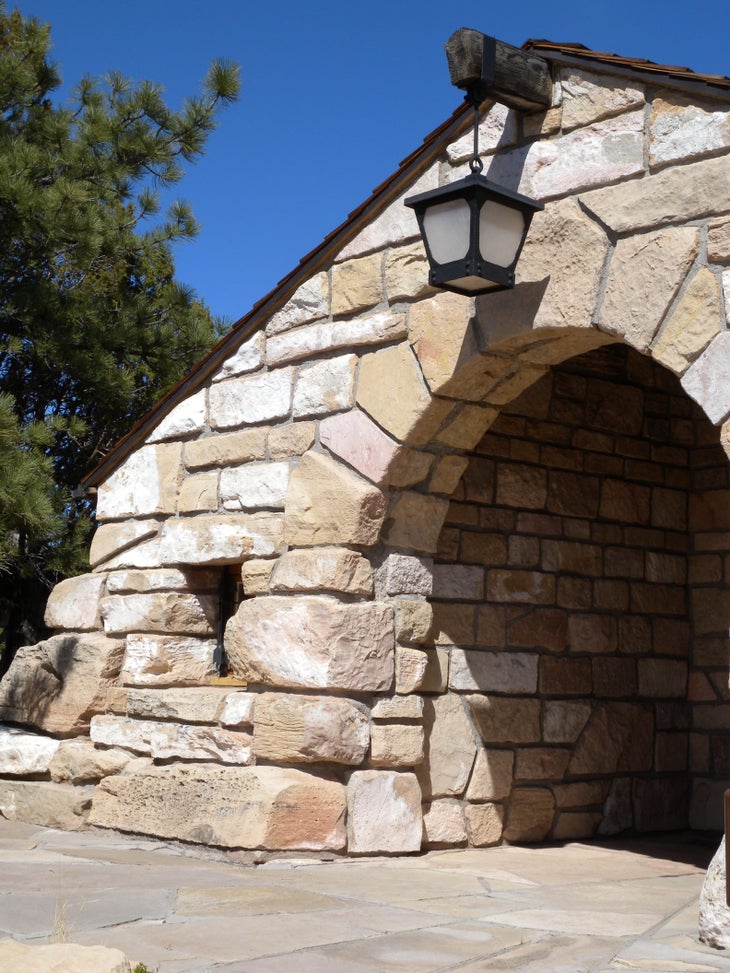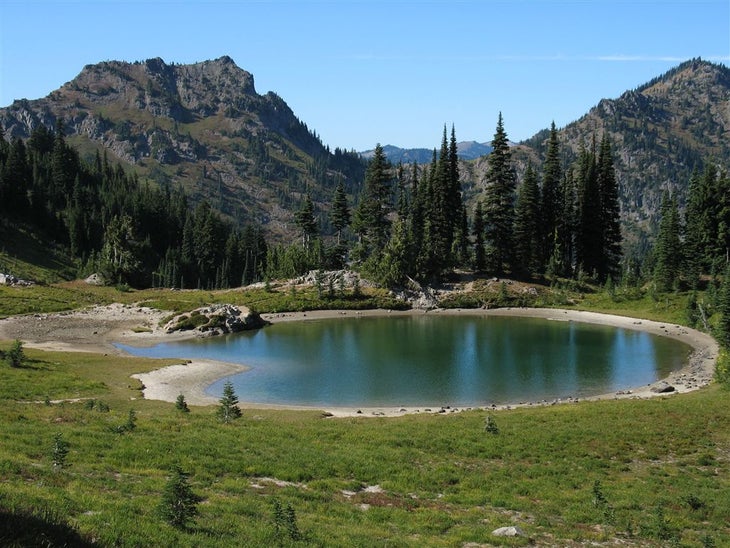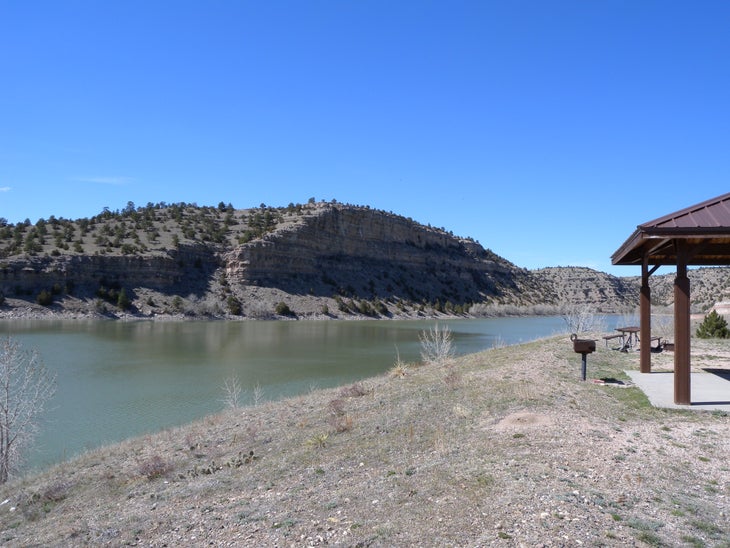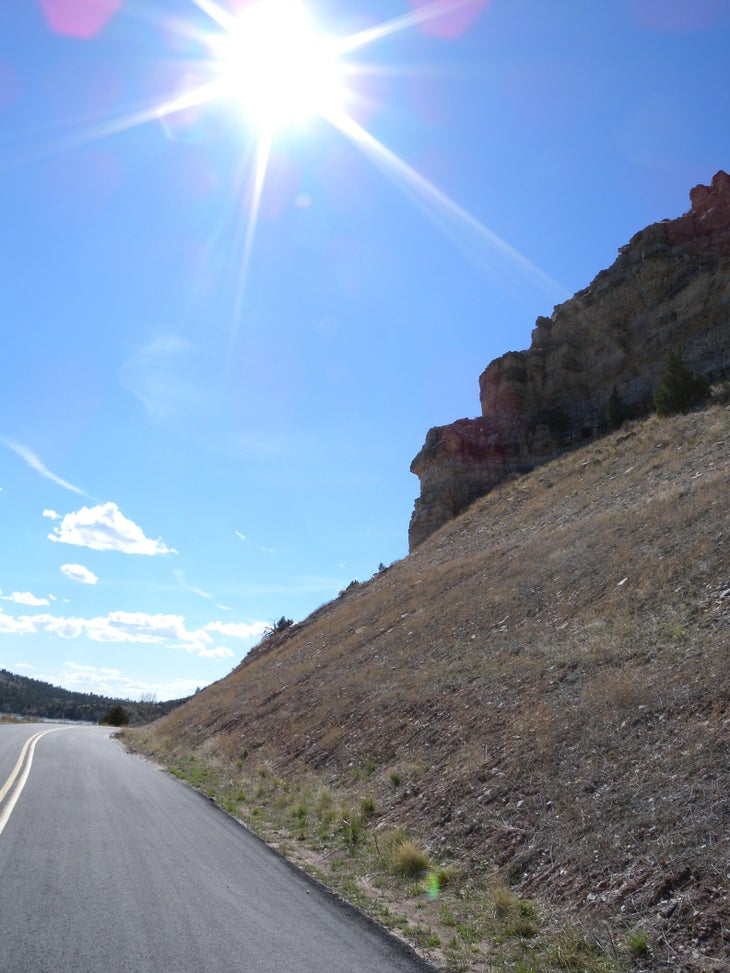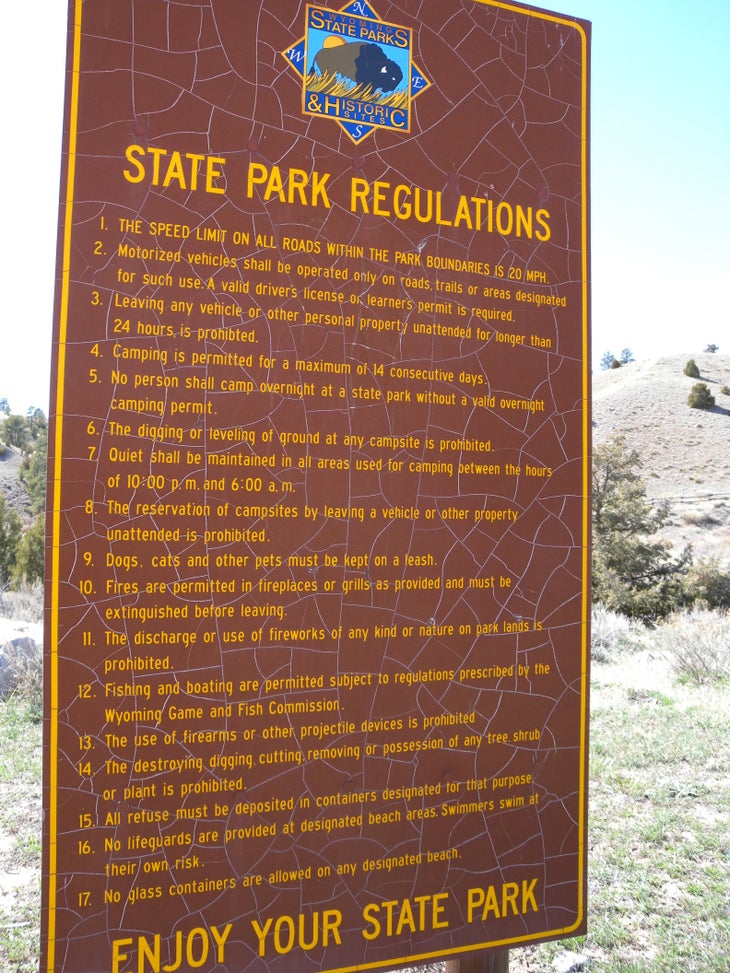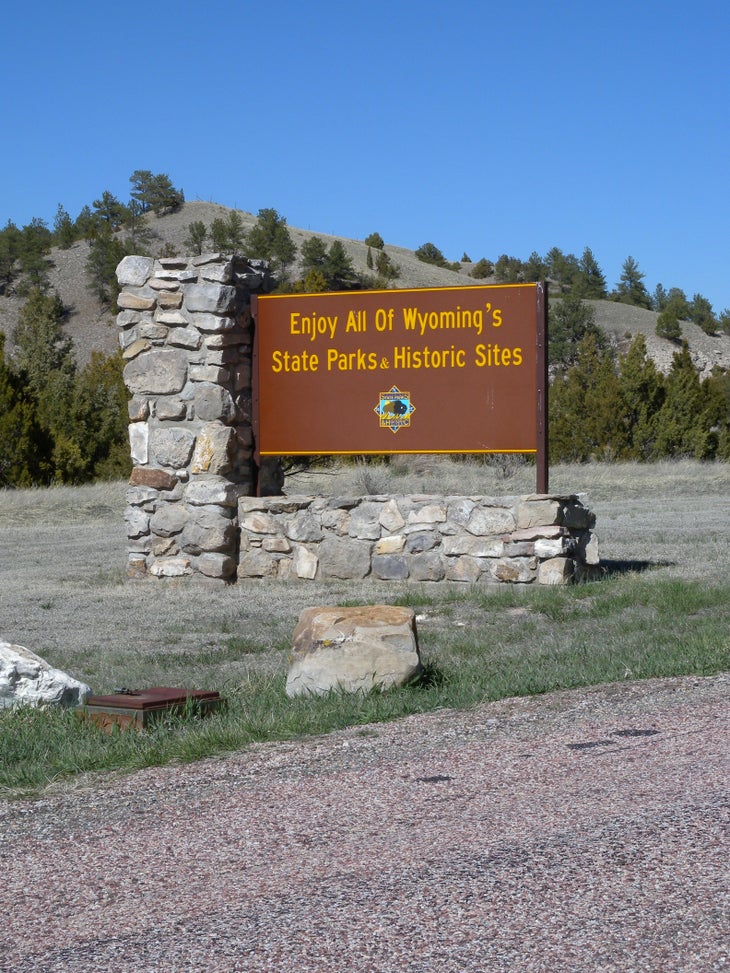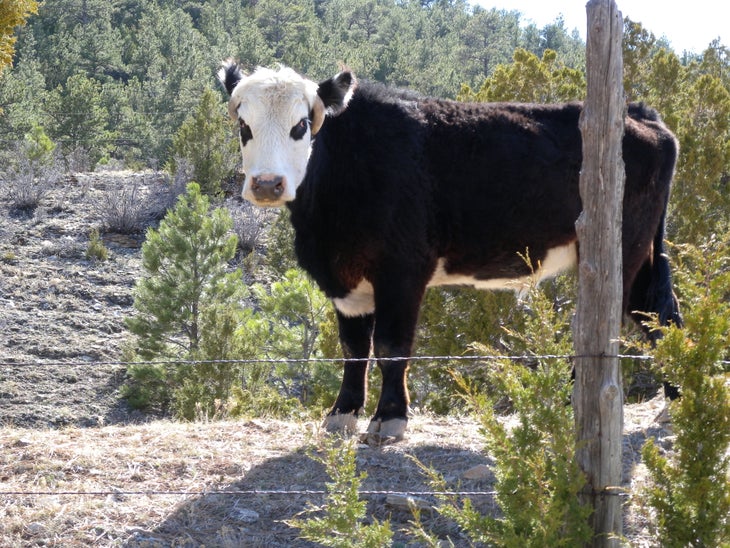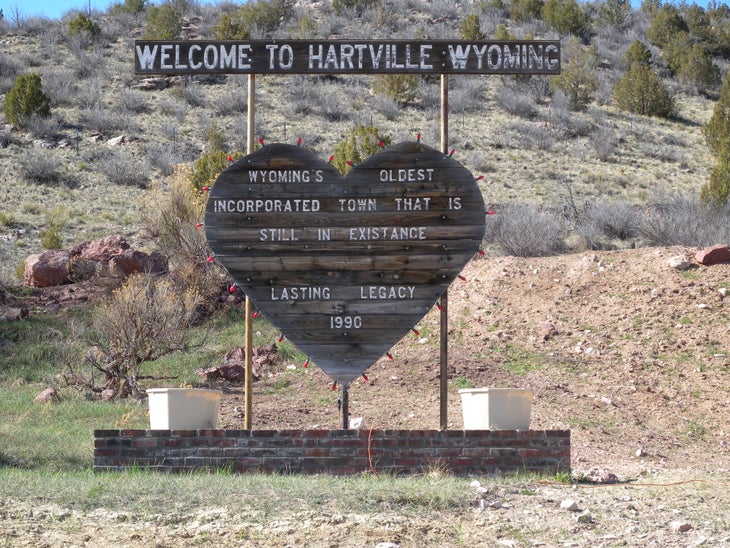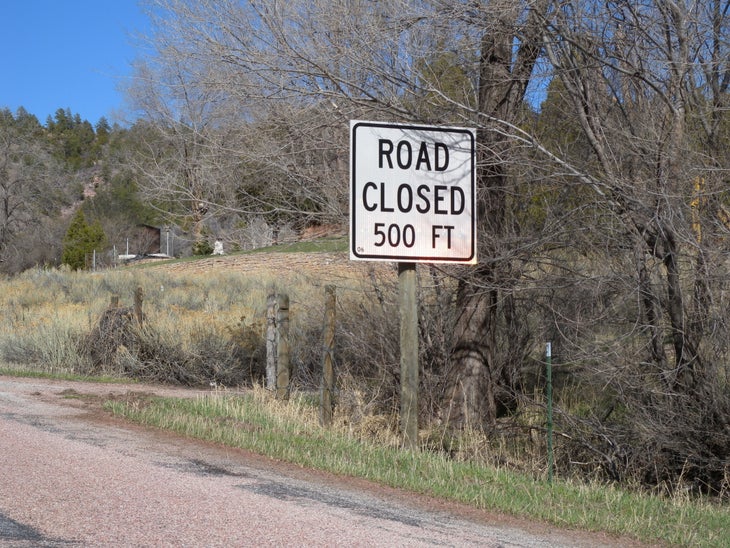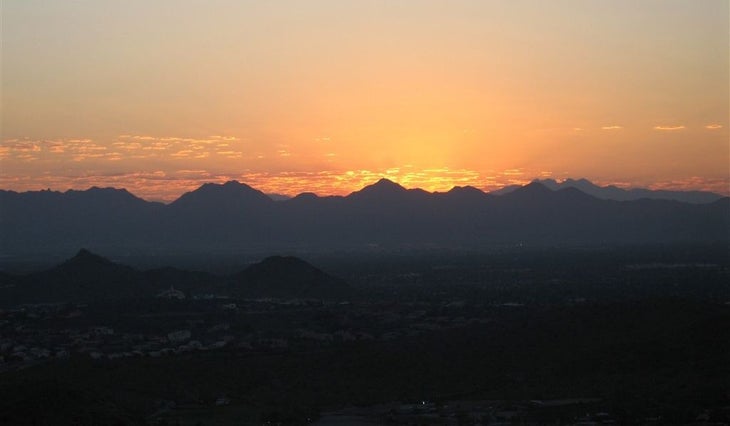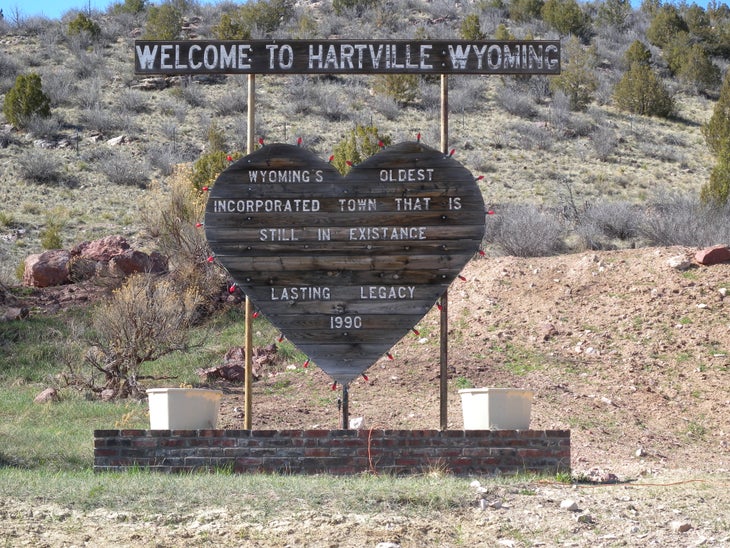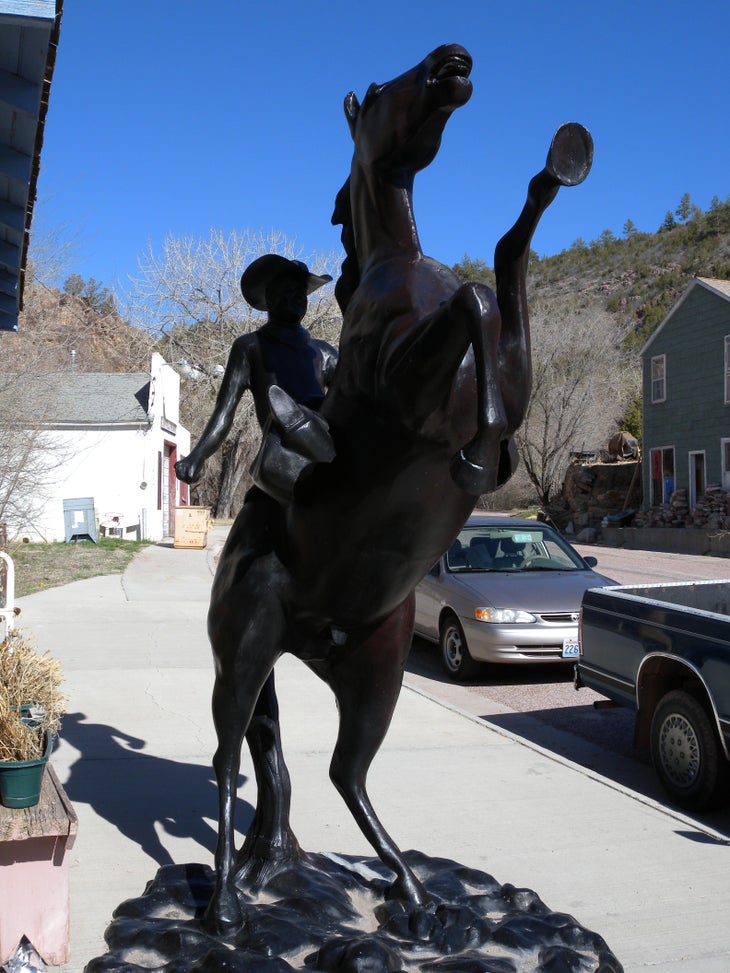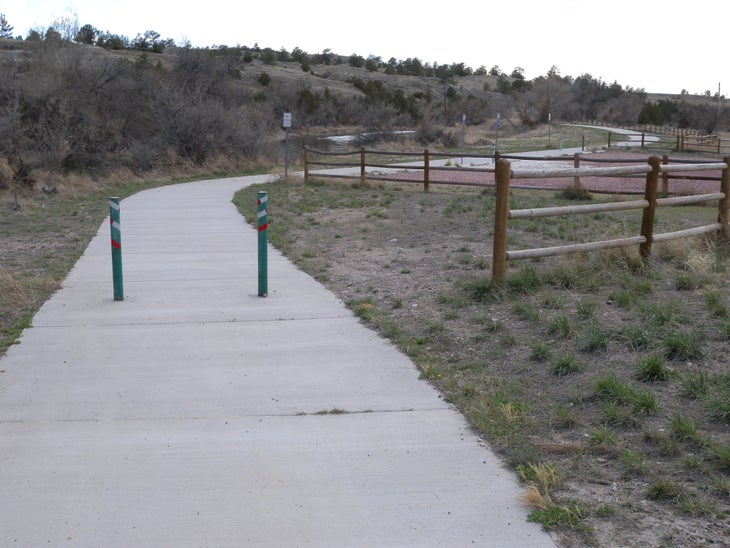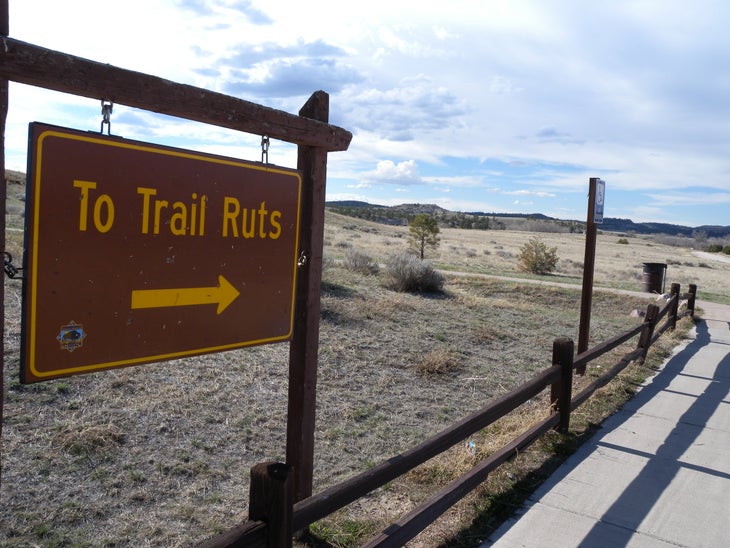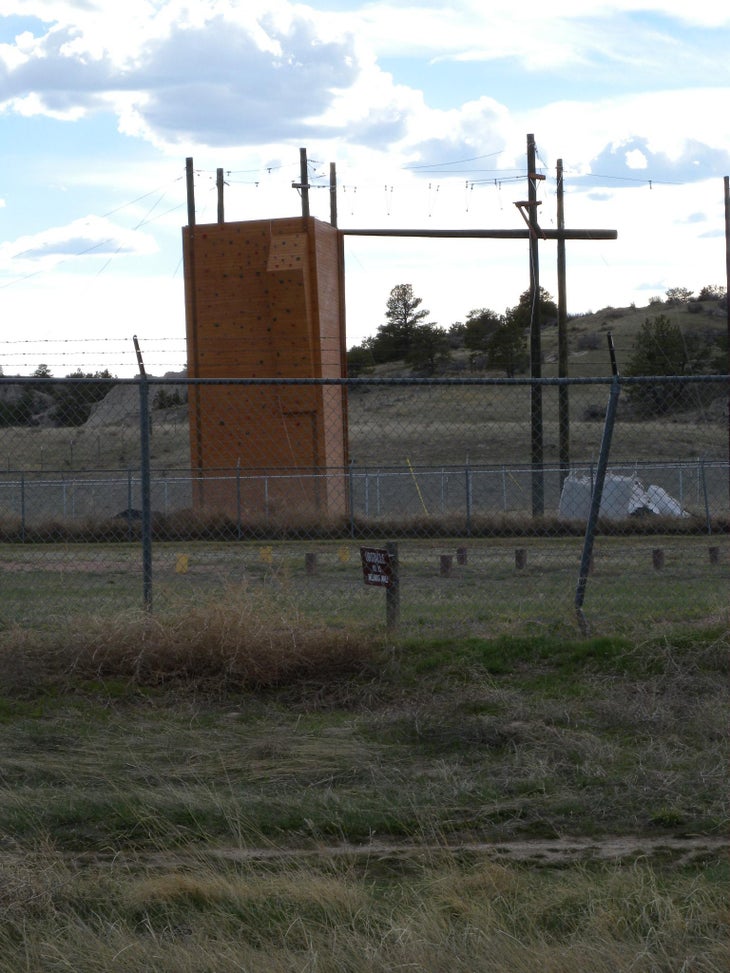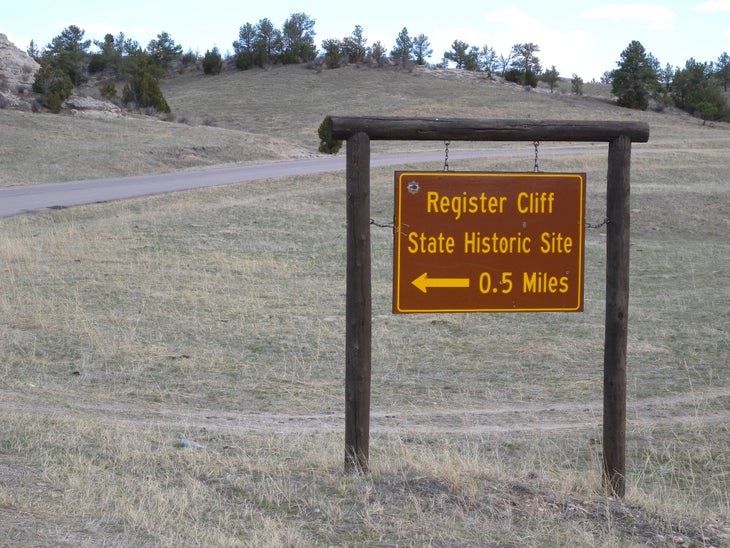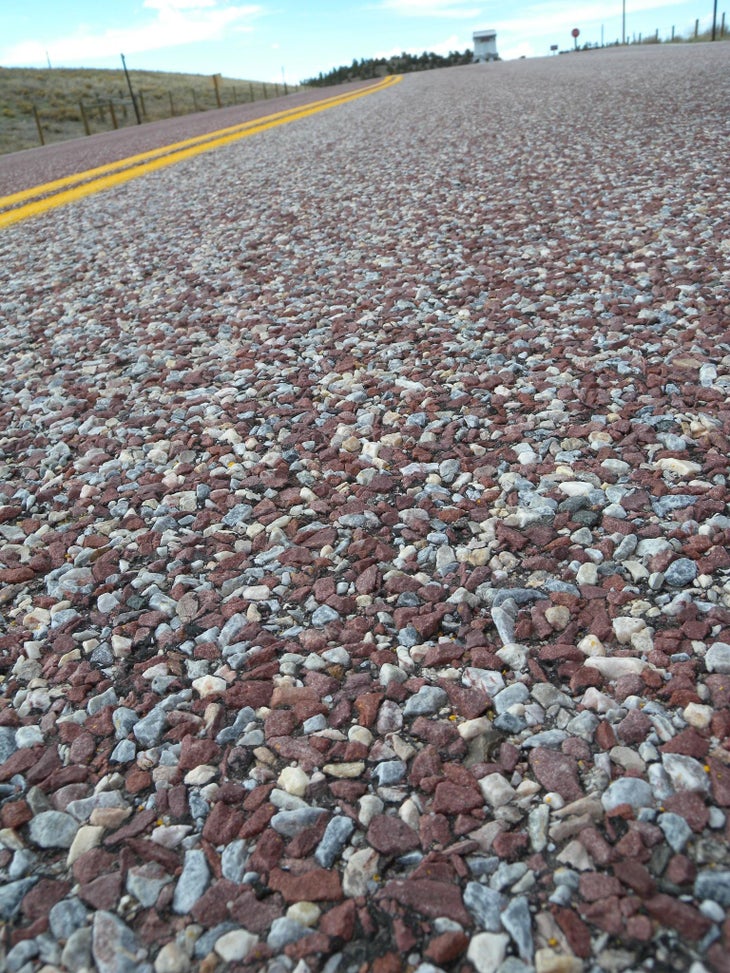 Trail Facts
Waypoints
GSP001
Location: 42.2815477, -104.7676635
The large parking lot that serves as this ride's start point is just north of the pay station. If there's nobody on duty, drop your day-use fee in the canister before heading downhill toward the dam.
GSP002
Location: 42.2906754, -104.764359
There is only one, bumpy traffic lane on the north side of the dam. Check for traffic and focus on the uneven surface as your proceed here.
GSP003
Location: 42.2938023, -104.7662687
If you're on a cyclocross or mountain bike, consider turning right at the boat ramp parking area and making the 0.9-mile dirt-rad climb toward the park's museum, built in the 1930's by the CCC.
GSP004
Location: 42.3003824, -104.764138
There are restrooms and water at the Spotted Tail campground area, and at other campground and day-use areas spread out alongside the lake's south shore. Next up are the Sitting Bull day use area, the Black Canyon Point Campground, and more.
GSP005
Location: 42.3093394, -104.7670412
The Black Canyon Campground sits on a small peninsula offering great views of boaters and the lake's impressive cliff surrounds. If the campground isn't packed, consider stopping for a picnic, or at least a few pictures.
GSP006
Location: 42.3145971, -104.7652116
The red-colored chip-and-seal that makes up most of the park's road surface is broken in this area by smooth black asphalt. But, watch out for roadside rocks that litter the shoulderless road.
GSP007
Location: 42.3231217, -104.7817465
Close to the road, the cliffs above this cattle guard shed rocks that can make riding dangerous. Watch out for debris on the road surface, and watch for other cattle guards at the entrance to the park.
GSP008
Location: 42.3314878, -104.7797012
The Long Canyon Campground is the largest in the park. Bypass its entrance on your left and continue out of the park, over a few cattle grates, and up a tough hill as you head east toward the Heartville Highway in 2.6 miles.
GSP009
Location: 42.3345651, -104.7379017
The speed limit increases to 65 M.p.h. as you turn onto WY-270. Though traffic is light, there isn't a shoulder, so be cautious as you head south toward Hartville.
GSP010
Location: 42.326697, -104.729147
Continue straight at this 3-way junction to tour the tiny town of Hartsville, or turn right to skip the 2.2-mile out-and-back adventure to beeline toward town.
GSP011
Location: 42.2650509, -104.7196198
Though the right-leading service road is tempting, turn onto US-26 for a short stretch though the town of Guernsey. The entire US-26 section is just over 2 miles long, but it is interrupted by an interesting detour to two Oregon Trail sights that make this area famous.
GSP012
Location: 42.2698464, -104.7415495
There's an ugly white hotel marking the lefthand turn on S Wyoming Road. This 7.5-mile out-and back hits two of the area's historically significant landmarks, some Oregon Trail ruts and Register cliffs. Though the country road section is great, the last half-mile of roads accessing the points are gravel, so cross or mountain bikes are best for accessing the sights. If you're on a road bike, consider skipping this out-and-back and hiking the short loops later, instead.
GSP013
Location: 42.2580318, -104.7429013
After crossing a bridge over the North Platte River, turn left onto a bike path headed toward the Oregon Trail Ruts. The path connects with the road in about 0.5 miles and then follows the gravel to the short loop hike.
GSP014
Location: 42.2456114, -104.7193193
The route's southernmost point is this right hand turn toward Register Cliffs, a stopping point for 19th century emigrants on the Oregon Trail.
GSP015
Location: 42.2698456, -104.7495938
Aside from shade and water in the park and the saloon in Hartsville, this sinclaire station is one of the only places en route to grab a drink, but once you're here, there's just 1.5 miles left to ride.
Dam
Location: 42.2903896, -104.7642517
A narrow bridge across the dam at Guernsey's south end. Watch for traffic as you cross.
Falling Rocks
Location: 42.2910246, -104.7657967
The cliff sides above the road do pose a hazard for cyclists, this sign near the start of the ride serves as warning.
Sign
Location: 42.2910267, -104.766145
A mileage sign indicating distances to features within the park.
Museum
Location: 42.2948022, -104.7629857
The museum atop the dirt-road hill is about 0.9-miles out of the way, but is an impressive Conservation Corps-built structure form the 1930s.
Lake View
Location: 42.2947864, -104.7631145
The museum hilltop provides an excellent view of the lake.
Cliffs
Location: 42.3090696, -104.7698307
Looking north from the peninsula at Black Canyon Campground. The picnic areas here offer shade, restrooms, water and a scenic spot to rest.
Asphalt
Location: 42.3145281, -104.765389
After mile 4, there are intermittent stretches of asphalt, installed to repair the crumbling road. Watch for rocks along it's shoulderless edges.
Park Sign
Location: 42.331456, -104.7799373
Hot summer temperatures have cracked the surface of this sign posting the park rules. You still have to follow them.
Goodbye
Location: 42.331456, -104.7794437
Cattle
Location: 42.337103, -104.7414207
Because of fellas like this, cattle grates dot the road on the park's north side, and as you approach the Hartville Highway.
Hartville
Location: 42.3268239, -104.7288895
This sign announces your arrival in Hartville, Wyoming. Population: 76.
Dead End
Location: 42.3337402, -104.7122383
The road out of Hartville ends at a small museum just past this sign.
Sunrise
Location: 42.3337402, -104.7118091
The out-and-back option ends at a dead end, and the Sunrise Art and Museum. The log building was reconstructed from two doomed log cabins in the area and houses antique collectibles from the old west.
Hartville
Location: 42.330187, -104.7191048
The tiny town of Hartville announces it's population proudly.
Cowboy
Location: 42.3275061, -104.7263467
Just outside the state's oldest (or at least one of its oldest) bars, this statue welcomes visitors to the tiny town.
Bike Path
Location: 42.2584933, -104.7420967
A short, 0.5-mile segment of bike path connects S Guernsey Road to the Trail Ruts up ahead.
Trail Ruts
Location: 42.2570789, -104.7494459
The hike to the trail ruts follows a paved path less than 0.5 miles. For an even shorter hike, head directly uphill on the parking lot's east path.
National Guard
Location: 42.2523937, -104.7410131
This training facility helps keep Wyoming's National Guard in shape and ready for action.
Register Cliffs
Location: 42.2456114, -104.7192764
This dirt road leading to Register Cliffs is marked with this sign.
Road
Location: 42.280135, -104.7684433
The surface of the park road is a reddish rock chip-and-seal that's interrupted occasionally by asphalt. The surface is a little rough on super skinny tires, but is great for cross- or mountain bikes, too.