Charlotte, NC: Seven Oaks Preserve Trail
Let you mind go free while you wander along a pretty lake on the uncomplicated Seven Oaks Preserve Trail.
Heading out the door? Read this article on the new Outside+ app available now on iOS devices for members! Download the app.
This newly created trail is part of the larger Carolina Thread Trail and passes through the Daniel Stowe Botanical Garden. Wandering casually along the river, this scenic walk suits beginners or folks who don't want to think hard—there are very few junctions. Sit back and enjoy the view. BY MATT CLAPP
Trip Stats
Distance: 5.25 miles
Time: 3 hours
Distance from Uptown: 40 minutes
More Info: http://www.carolinathreadtrailmap.org/trails/trail/seven-oaks-preserve-trail
Prepare
1. Set your GPS to the trailhead, which is located at 6900 South New Hope Road, Belmont, NC 28012. There is additional parking at Daniel Stowe Botanical Garden. (Although parts of this trail go through the Garden, you do not have to pay to hike them.)
2. Bring a magazine to read for the Botanical Garden after your hike.
Waypoints
Mile 0.0: follow the winding dirt trail into the woods. Follow the small Carolina Thread Trail placards nailed to trees, which act as blazes.
0.3: The trail continues on the right of Lake Wylie.
0.5: The trail opens up to a great view of the lake.
2.4: After crossing a wooden walkway, turn left onto a side trail.
2.7: End of trail. Wander around and take some great photos of the lake.
3.0: Turn left onto Worrells Walk. At this point the trail enters a quiet and secluded pine forest. If it has rained recently, you may pass through slightly muddy patches.
3.4: Turn left at road.
3.6: At the stop sign, cross the street and continue left toward the sign to visitor parking. Continue following sign posts for the Carolina Thread Trail.
3.7: At the left end of the parking lot continue onto the Persimmon Trail. Follow the path through the woods and over various footbridges.
4.2: At the T-junction turn left. Continue back to the parking lot.
Reward
1. Stop by Daniel Stowe Botanical Garden. Wander through the beautiful orchid pavilion. Take your photo at fountain alley under the fountains (be quick, you'll get wet!). Then relax in the ridiculously comfortable wooden chair. Read your magazine at any of the dozen great views in the park.
2. Grab a bite to eat at nearby Twin Tops Fish Camp (opens at 3 p.m.). If there are at least two of you, get the combo platter. After, wander through the candy shop and indulge your sweet tooth!
The Day
Temp: 50F, partly sunny
Water: 8 oz.
Song: Touch by Natasha Bedingfield—"I tried to catch my balance, but I was supposed to fall…"
Drink: "Delicious Strawberry" protein shake while dashing out of the apartment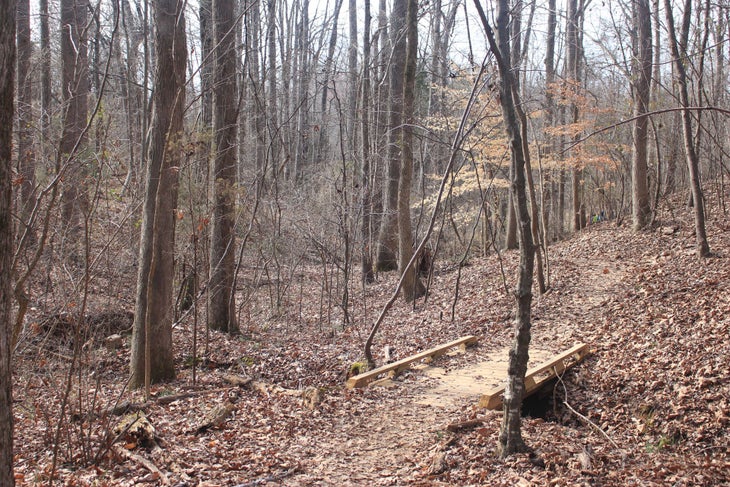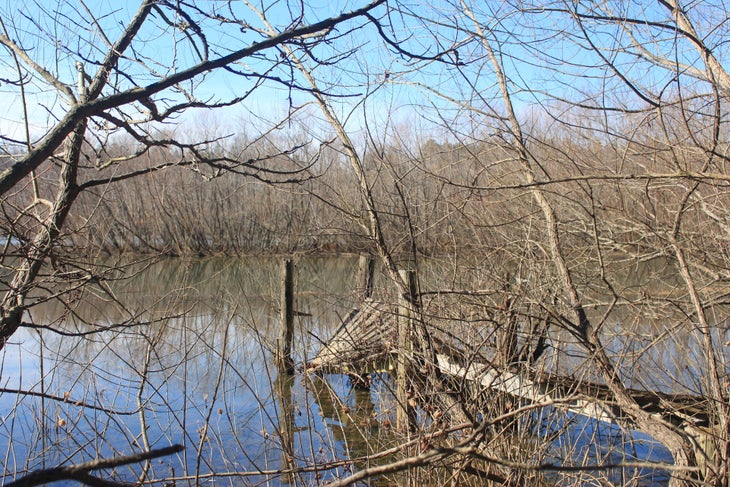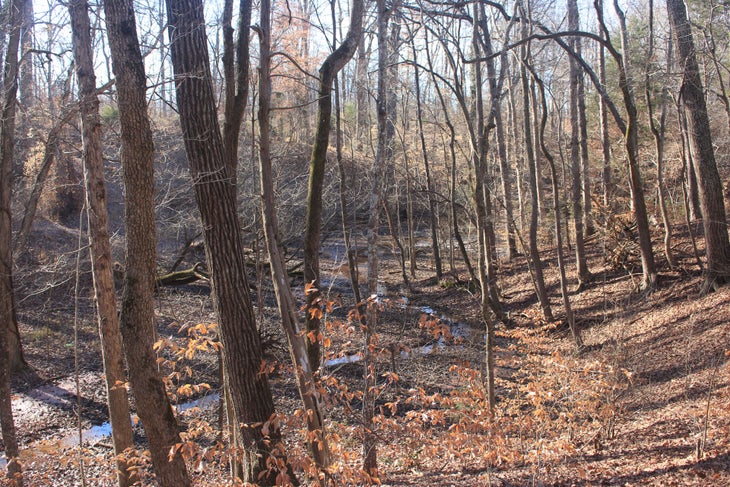 Trail Facts
State: NC
City: Charlotte
Distance: 5.3
Contact: http://www.carolinathreadtrailmap.org/trails/trail/seven-oaks-preserve-trail