Catskill State Park, NY: South Mountain and North Mountain Loop
Trace the eastern edge of the Catskills, tagging five 2,000-foot overlooks, en route to South and North Mountain on this 7.9-mile loop in Catskill State Park.
Heading out the door? Read this article on the new Outside+ app available now on iOS devices for members! Download the app.
A strenuous trek linking five ledges, two peaks, and climbing more than 2,300 feet, this 7.9-miler in Catskill State Park makes hikers earn every inch of stunning scenery. Take the Escarpment Trail through a quiet forested area. After crossing over a creek full of moss-covered rocks, go southeast on the Scutt Road Trail. The red-blazed foot path climbs up 2,400-foot South Mountain.
The route rejoins the Escarpment as it winds west toward Boulder Rock, a south-facing tier with views of mountains to west and the Hudson Valley. The path goes north along a ridgeline to Catskill Mountain House Site, Artist's Rock, and Newman's Ledge. Each overlook showcases the Hudson River cutting through dense forests and boundless farmland. Cliffs are lined with flower-coated bushes and leaning trees. After Newman's Ledge, the route traverses a shady pine stand before reaching the final scramble to North Point. At the top, look westward for gorgeous views of North and South Lake rimmed by green mountains.
The loop descends into an expansive, verdant hollow called Mary's Glen. Marked by yellow blazes, the Rock Shelter Trail runs southwest. Hikers must be especially sure-footed during this stretch as they rock-hop along a boulder-strewn, flooded pathway. Finish off the hike by crossing Haines Falls Road, then heading back to the parking lot on Schutt Road.
-Mapped by MacKenzie Ryan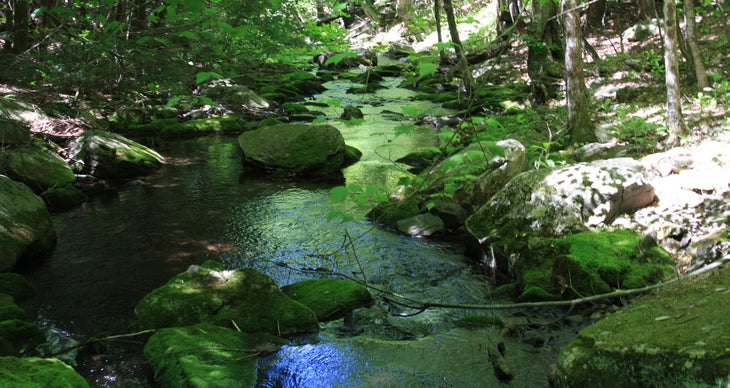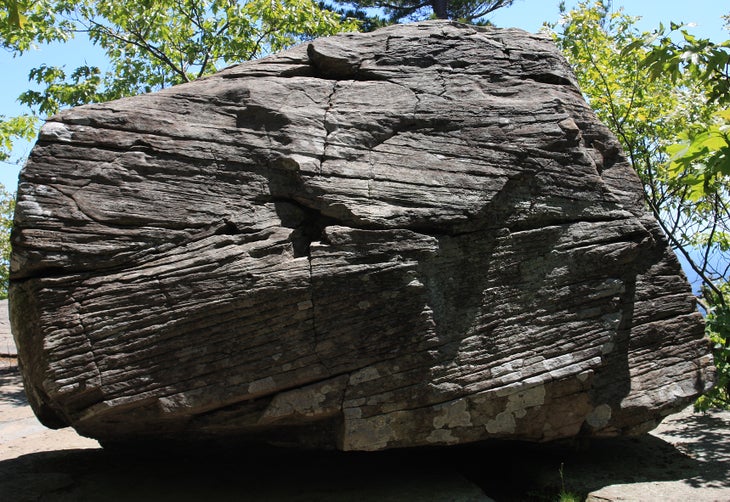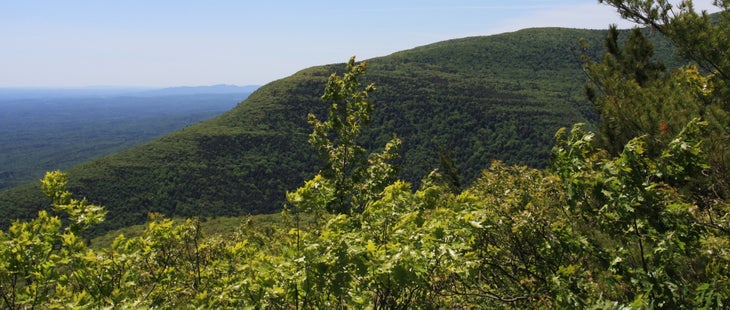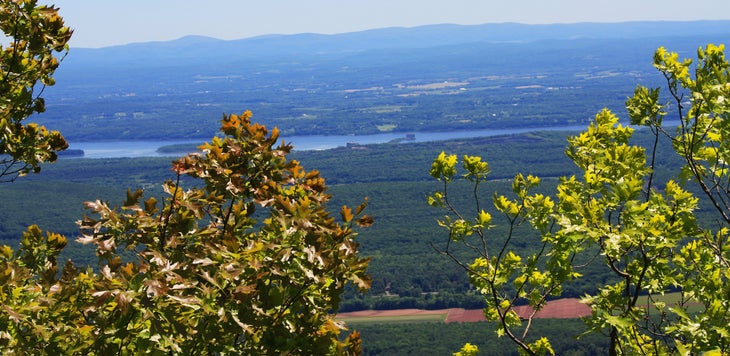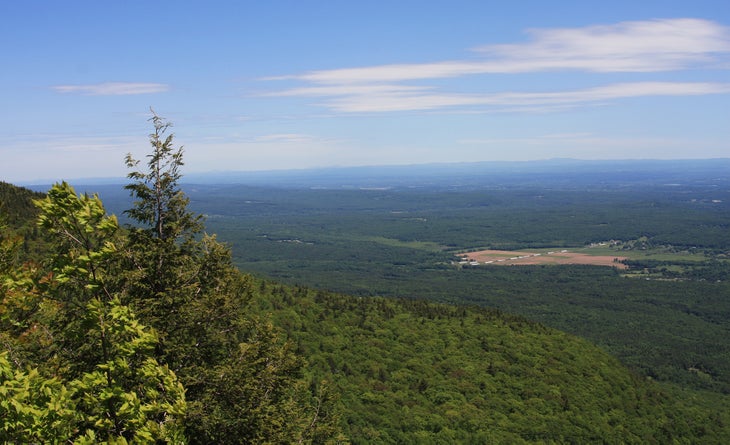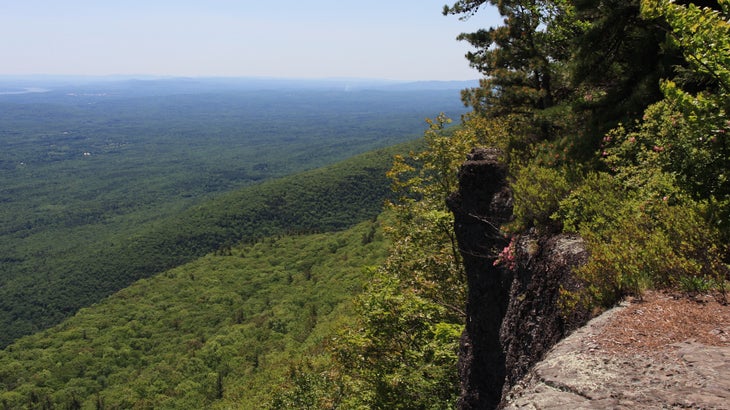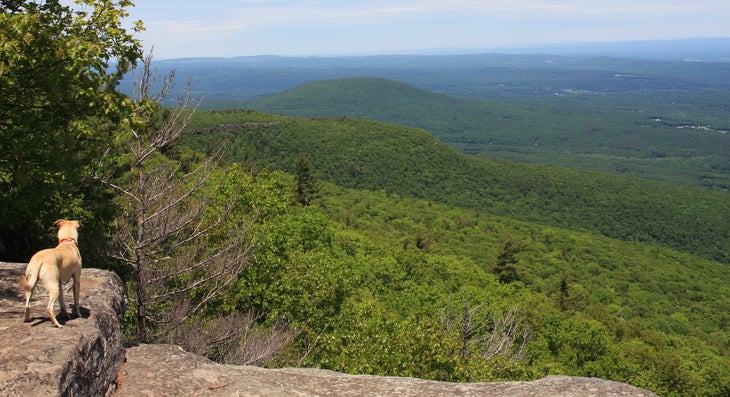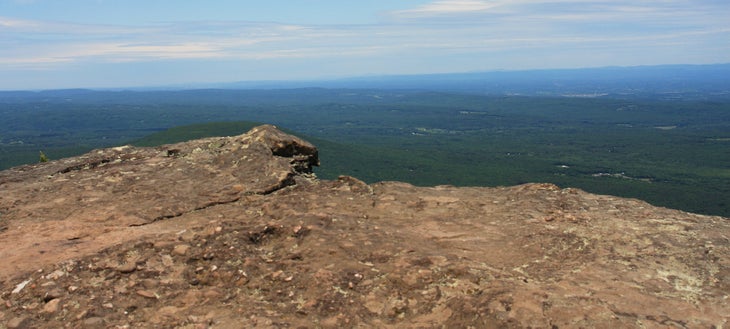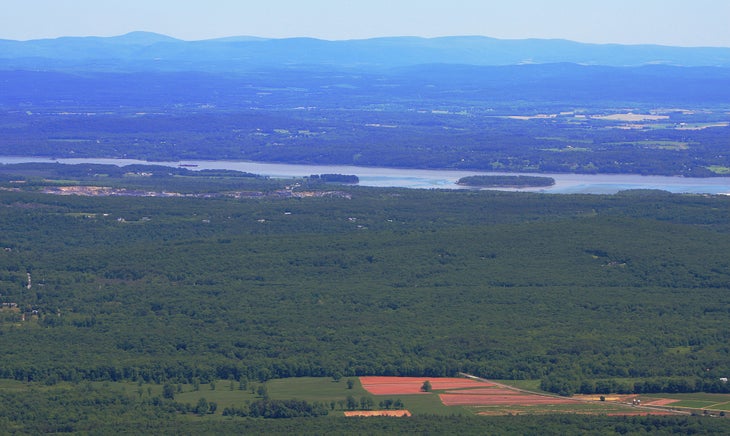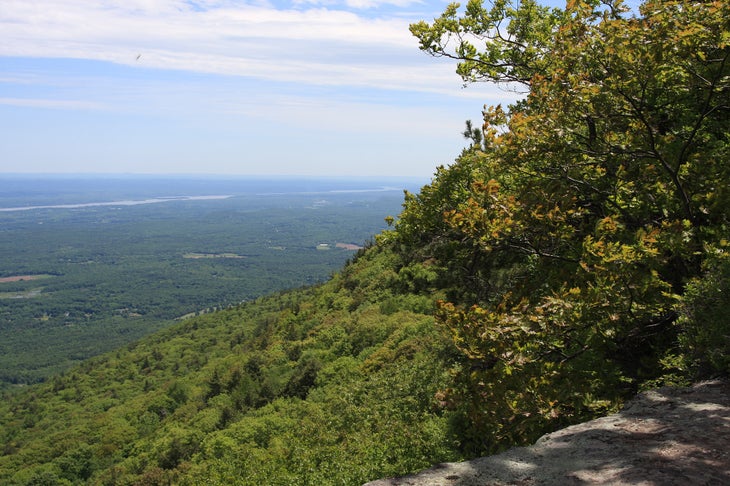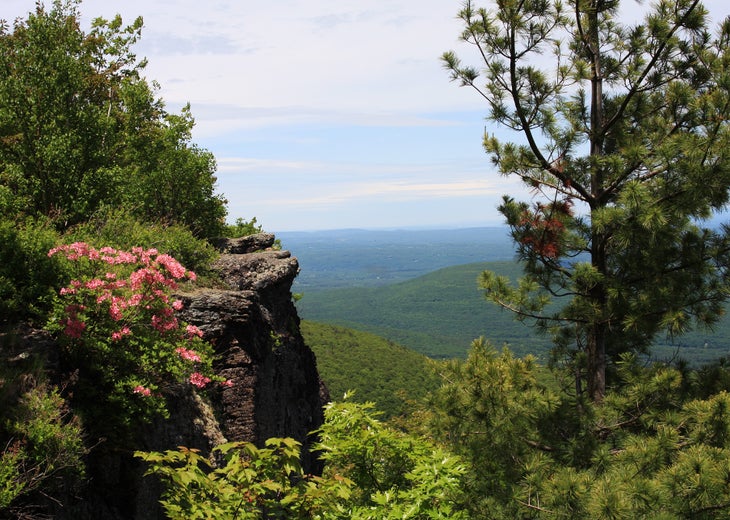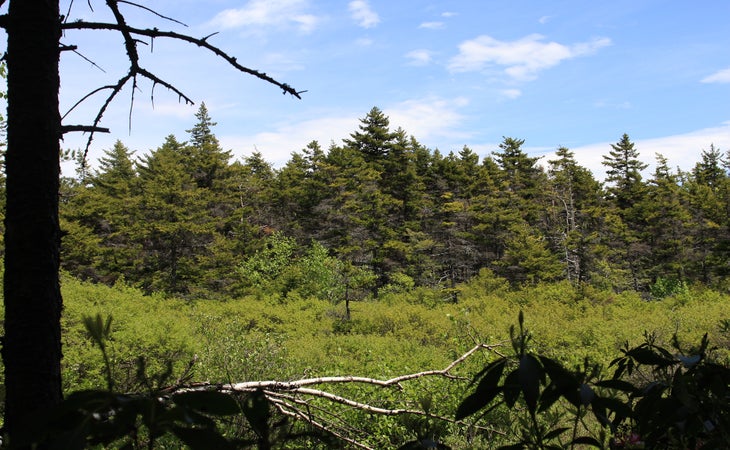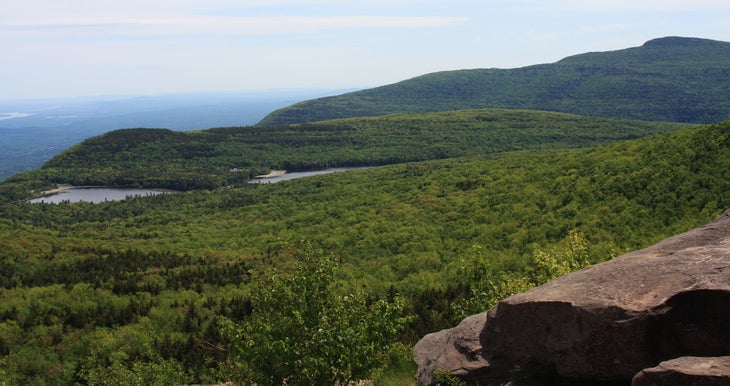 Trail Facts
Waypoints
NOR001
Location: 42.2006681, -74.0582693
From Sleepy Hollow Horse Trail parking area, cross Scutt Road to access the blue-blazed Escarpment Trail.
NOR002
Location: 42.1954919, -74.0578723
Continue straight @ 4-way junction with unmarked trail.
NOR003
Location: 42.1946334, -74.0581405
Bear right @ T-junction.
NOR004
Location: 42.1943314, -74.0584624
Go straight @ 4-way, merging onto the red-blazed Scutt Road Trail.
NOR005
Location: 42.1913744, -74.0603936
Bear left @ junction.
NOR006
Location: 42.1882265, -74.0504372
Bear right @ Y-junction.
NOR007
Location: 42.188124, -74.05029
Turn left @ Y-junction, merging back onto the Escarpment Trail.
NOR008
Location: 42.191269, -74.039651
Turn right @ 4-way at the sign to Boulder Rock. Follow the blue blazes.
NOR009
Location: 42.1893394, -74.0375277
Reach Boulder Rock and views of the Hudson Valley and Catskill Mountains. When finished with scenery, turn left and continue toward the campground.
NOR010
Location: 42.1906808, -74.0374875
Bear right @ T-junction, following the sign to Catskill Mountain House site and North Lake Campground.
NOR011
Location: 42.1945639, -74.0346551
The trail passes the site of the Catskill Mountain House, an elite hotel opened in 1824. Burned to the ground by the New York State Department of Environmental Conservation on Jan. 25, 1963, the site still features stunning views of the Hudson Valley. Next: Turn right and head northwest.
NOR012
Location: 42.195601, -74.036489
Look for the blue blazes marking the Escarpment Trail on the rocks straight ahead. Continue straight at the intersection with an access road that brings hikers and car traffic to the North Lake shore (a few hundred yards to the left).
NOR013
Location: 42.196326, -74.034806
Bear right @ T-junction heading toward North Point and Artist's Rock. Option: Bear left for a short detour to North Lake Campground.
NOR014
Location: 42.2004913, -74.0309322
Bear right at an open boulder area (stay on Escarpment Trail).
NOR015
Location: 42.2020371, -74.0296072
Reach Artist's Rock (more views of the Hudson). When finished, continue on the Escarpment Trail for a short but rooty climb.
NOR016
Location: 42.2076599, -74.0312219
Continue straight @ Y-junction, following the sign to Newman's Ledge and North Point.
NOR017
Location: 42.2100221, -74.0307096
Newman's Ledge: This vantage point offers views to the north and east of the Hudson Valley. When finished, continue on the Escarpment.
NOR018
Location: 42.2139318, -74.0346524
Turn right @ Y-junction, scrambling up the rocks toward Badman's Cave and North Point.
NOR019
Location: 42.2139258, -74.0348026
Walk through Badman's Cave to reconnect with the trail after the scramble.
NOR020
Location: 42.2184371, -74.0403253
Bear right @ Y-junction and continue 0.3 mile to North Point.
NOR021
Location: 42.2198177, -74.0406311
North Point: Look to the west for views of North Lake and South Lake. Next, retrace steps to Waypoint 20 and take Mary's Glen Trail.
NOR022
Location: 42.2112439, -74.041028
Turn right @ Y-junction, merging onto the Rock Shelter Trail (yellow markers). Hike 1.2 miles to Haines Falls Road.
NOR023
Location: 42.2017192, -74.0580976
Cross the road and turn left. In 100 feet, turn right onto Scutt Road and follow to the parking lot.
Creek
Location: 42.1950229, -74.0580225
Boulder Rock
Location: 42.1893374, -74.0374956
View from Boulder Rock
Location: 42.1893513, -74.037509
Hudson Valley
Location: 42.189403, -74.0375492
View North
Location: 42.1894308, -74.0375733
View from Catskill Mountain House Site
Location: 42.1945619, -74.0346202
Artist's Rock
Location: 42.2020252, -74.0296125
Newman's Ledge
Location: 42.2100241, -74.0306747
The Hudson
Location: 42.2100658, -74.0307257
Views South
Location: 42.2100499, -74.0307149
Cliffside Flora
Location: 42.2100777, -74.0307337
Bushland
Location: 42.214188, -74.0346631
North and South Lakes from North Point
Location: 42.2198097, -74.0406471