Capitol Reef National Park: Chimney Rock Canyon to Pleasant Creek
Discover a private paradise in Capitol Reef National Park by crossing the park's convoluted Waterpocket Fold on this 32-mile point-to-point.
Heading out the door? Read this article on the new Outside+ app available now on iOS devices for members! Download the app.
DO IT: Author Steve Howe crafted this ideal 32-mile thru-hike (with a recommended detour around the trickiest section). Allow about five days. Start with the hike through Spring Canyon, and camp downstream from the spring. When you hit UT 24, turn left and go .3 mile to Grand Wash. After 1.8 miles through this canyon, arrive at an unmarked wash heading south. Here, you'll begin 16 miles of off-trail hiking and scrambling, crossing the headwaters of 11 unnamed canyons.
WATER: You need carrying capacity for 2 gallons per person in warm weather and a filter to treat sometimes murky water. Our GPS track includes waypoints for potholes that are typically reliable, but sources can come and go.
CAUTIONS: Expect scrambling, difficult routefinding, and uncertain water sources. Never trust the rocks, which are loose. Cell reception is nil in the backcountry, so don't count on a speedy rescue.
KEY GEAR: High-cut boots or ankle gaiters to repel grit; trekking poles; water shoes or sandals; 40-foot rope for pack hauling.
SEASON: Spring is popular for wildflower seekers. Late September and early October see far fewer visitors, calm blue skies, and gold cottonwoods. Summer highs reach the 90s.
MAPS: USGS 7.5-minute topos: Twin Rocks, Fruita, Golden Throne, and Notom ($8 each, store.usgs.gov)
PERMIT: Overnight camping in Capitol Reef National Park requires a free backcountry permit. Get more trip planning details at nps.gov/care/planyourvisit/hiking.htm.
MORE INFO: Capitol Reef National Park, (435) 425-4111; nps.gov/care.
-Mapped by Steve Howe
TO TRAILHEAD: Start: From the park visitor center, drive west on UT 24 for 3 miles to Chimney Rock trailhead.
Shuttle/end: From the park visitor center, drive 9 miles east on UT 24, then turn south on Notom Rd. Continue 6.2 miles (road becomes dirt). Turn east at 5560 South/ Pleasant Creek Diversion Rd. Go 1.6 miles and park in a turnoff overlooking Pleasant Creek.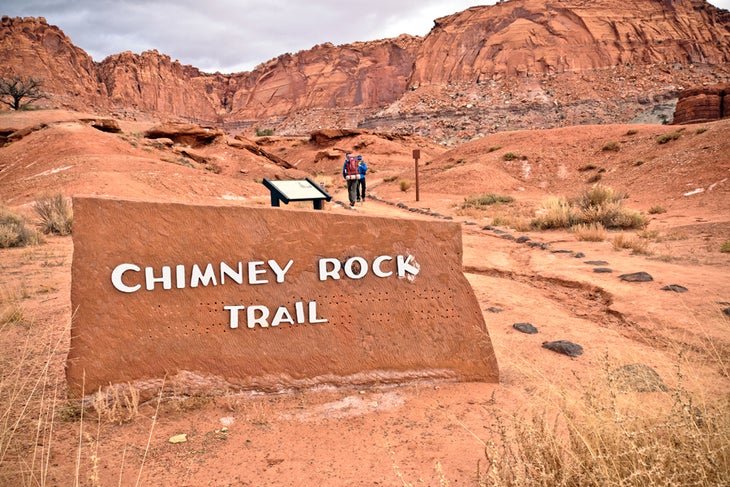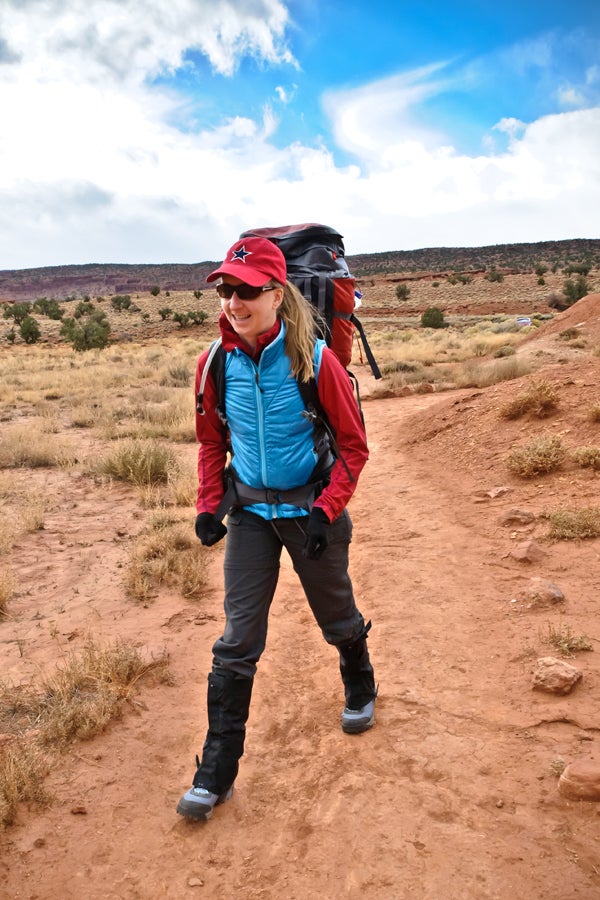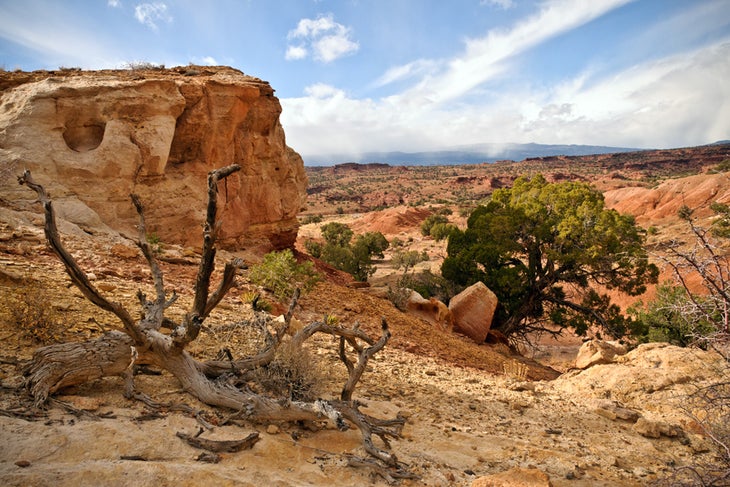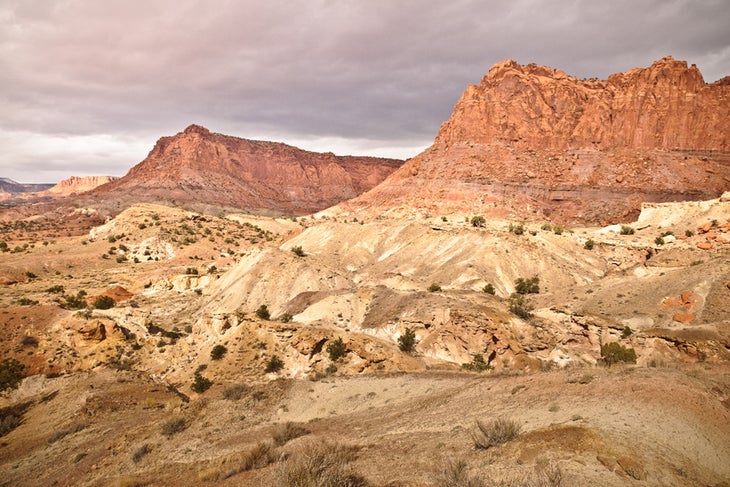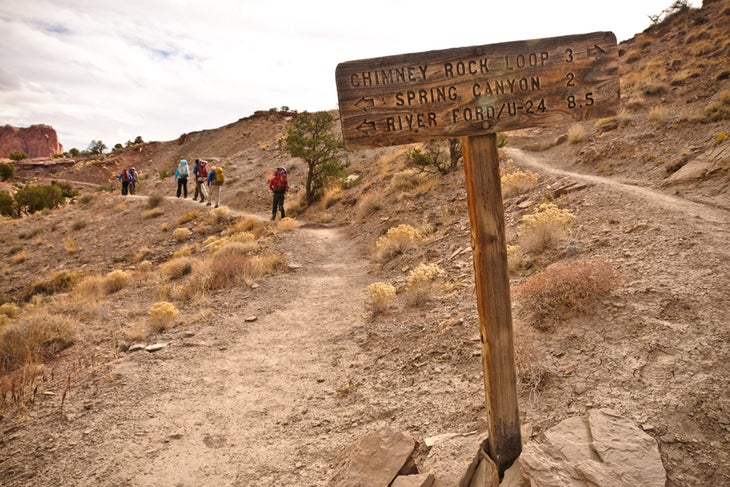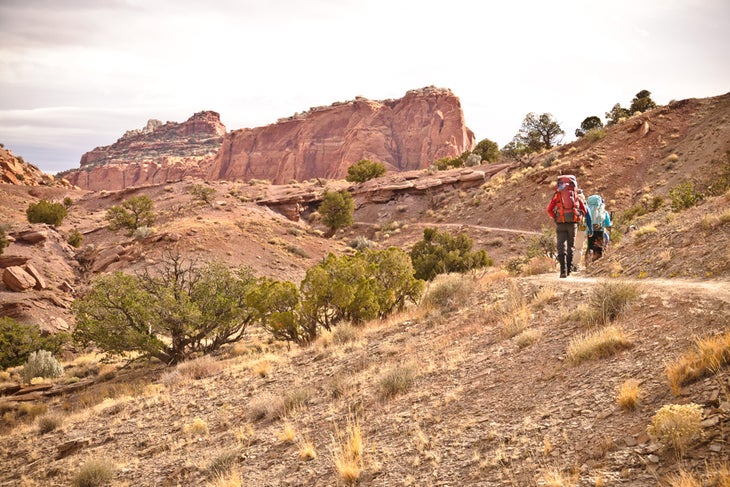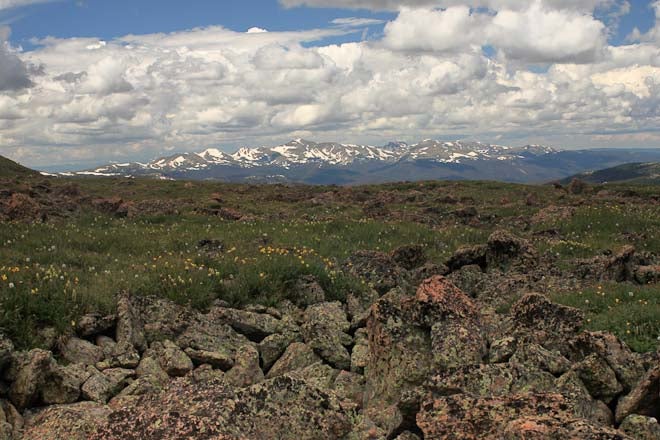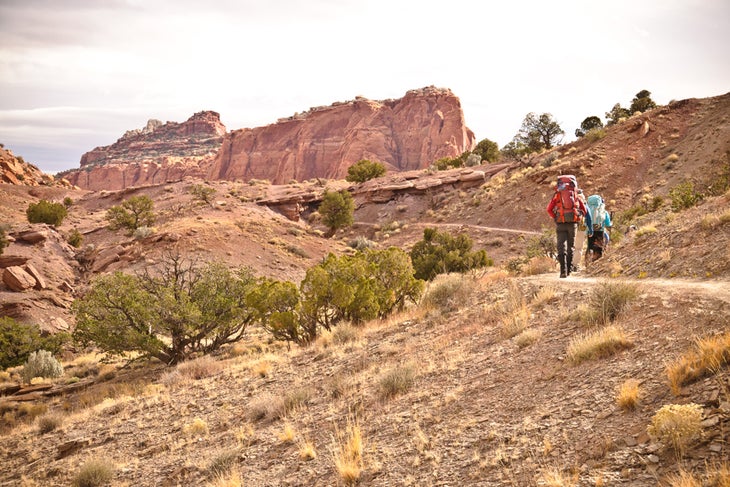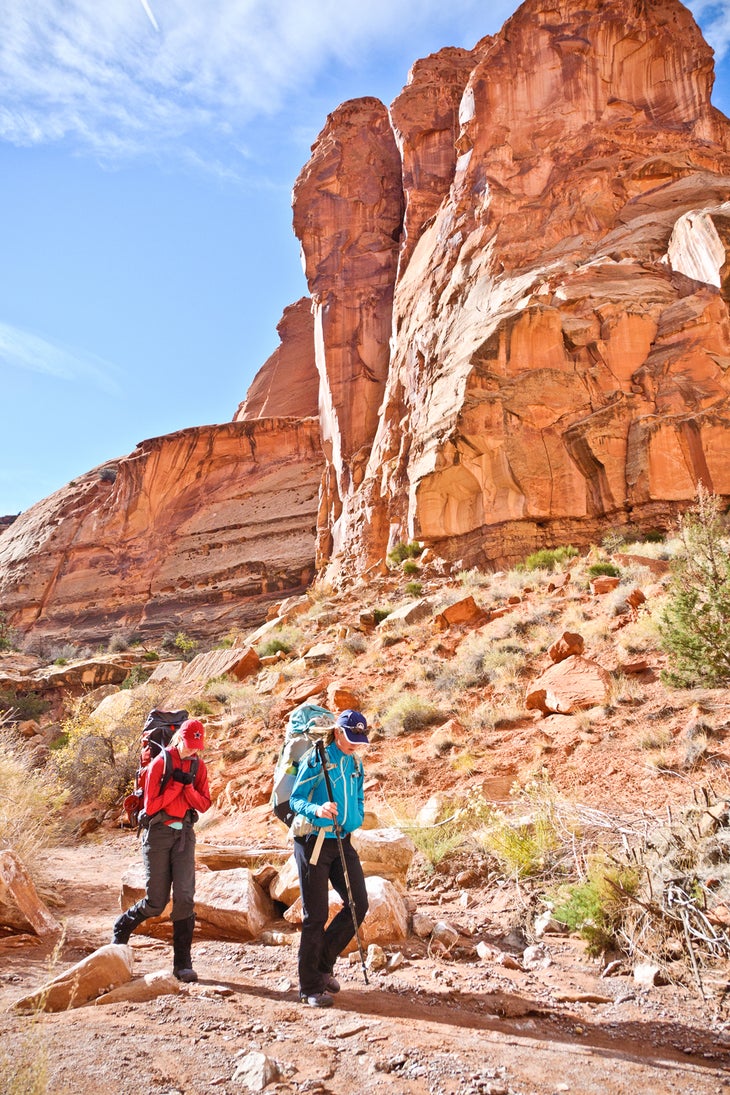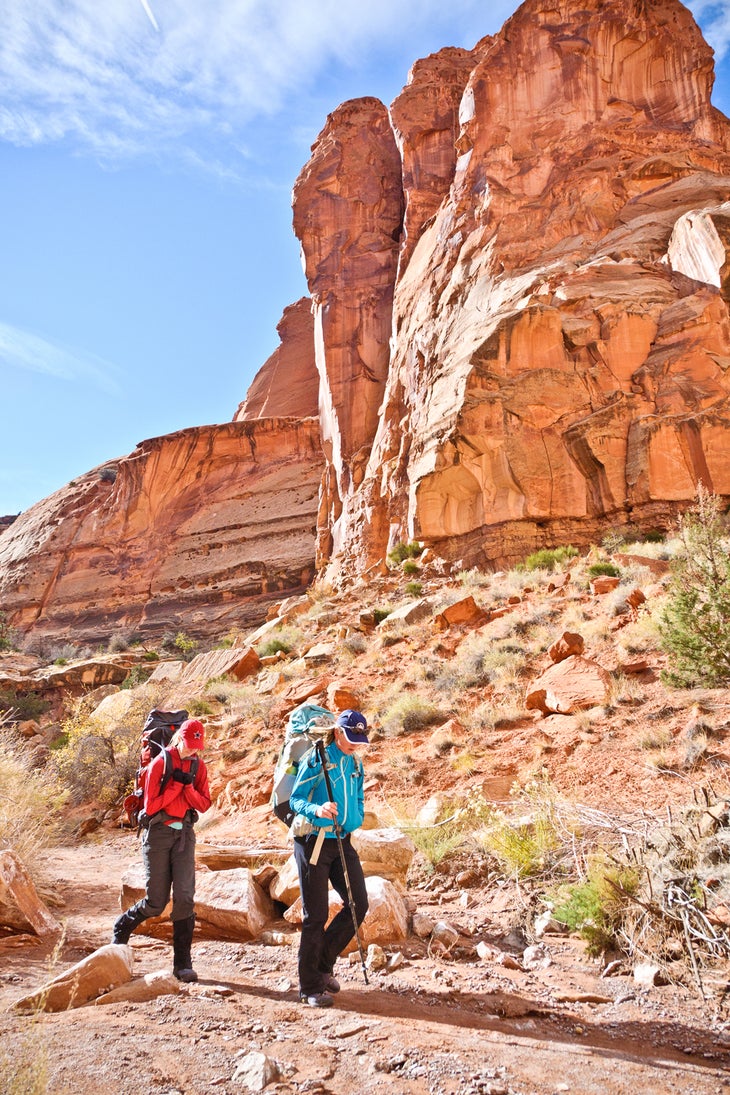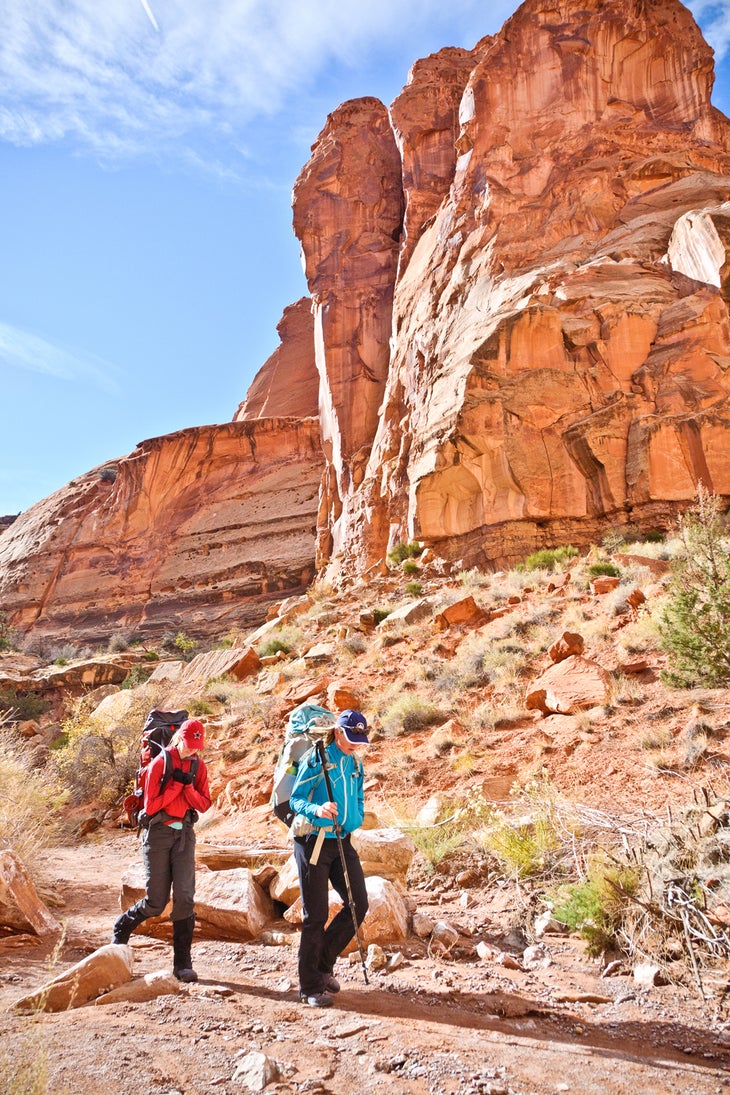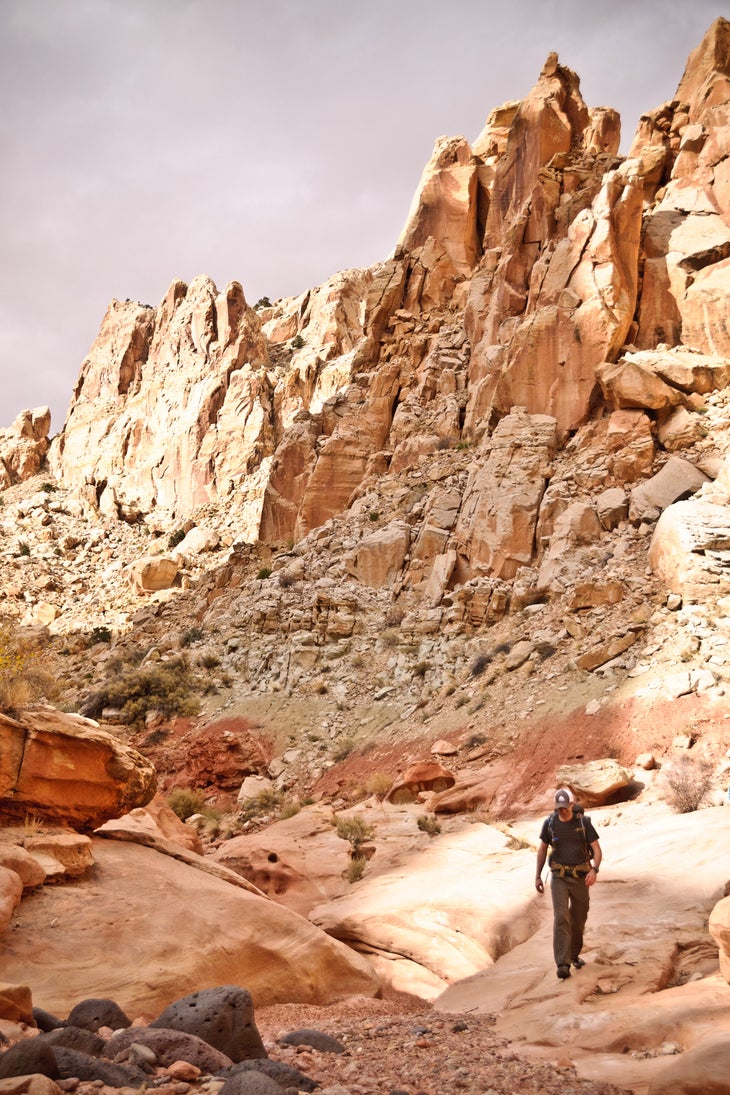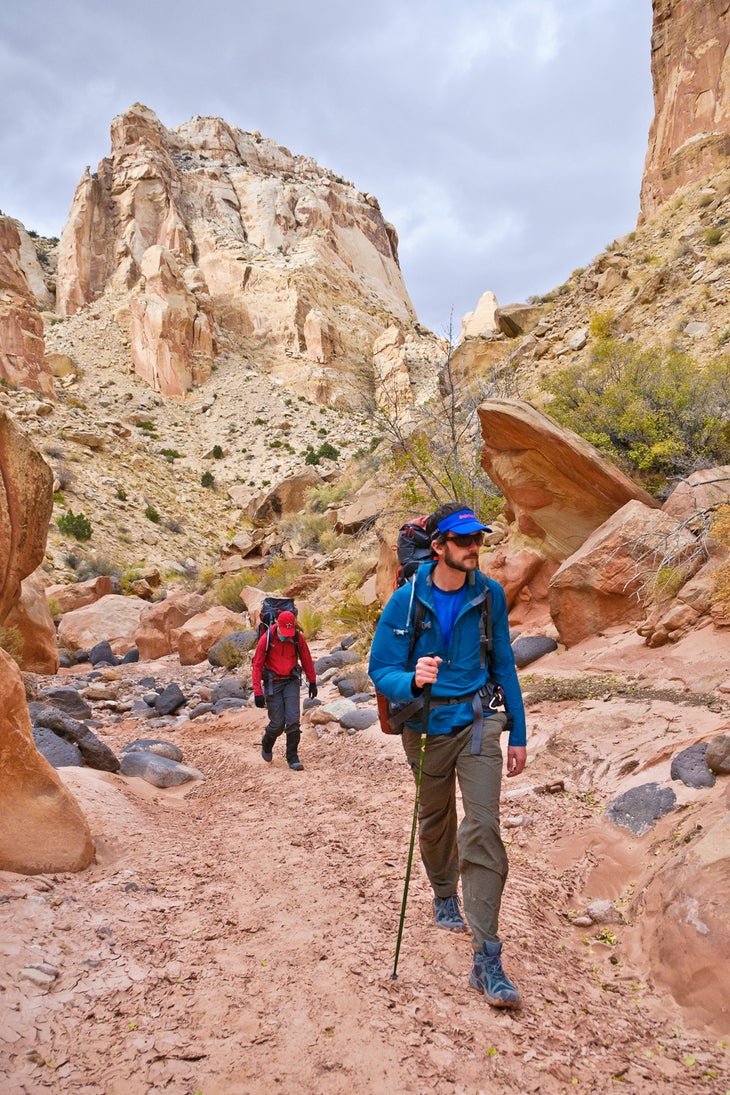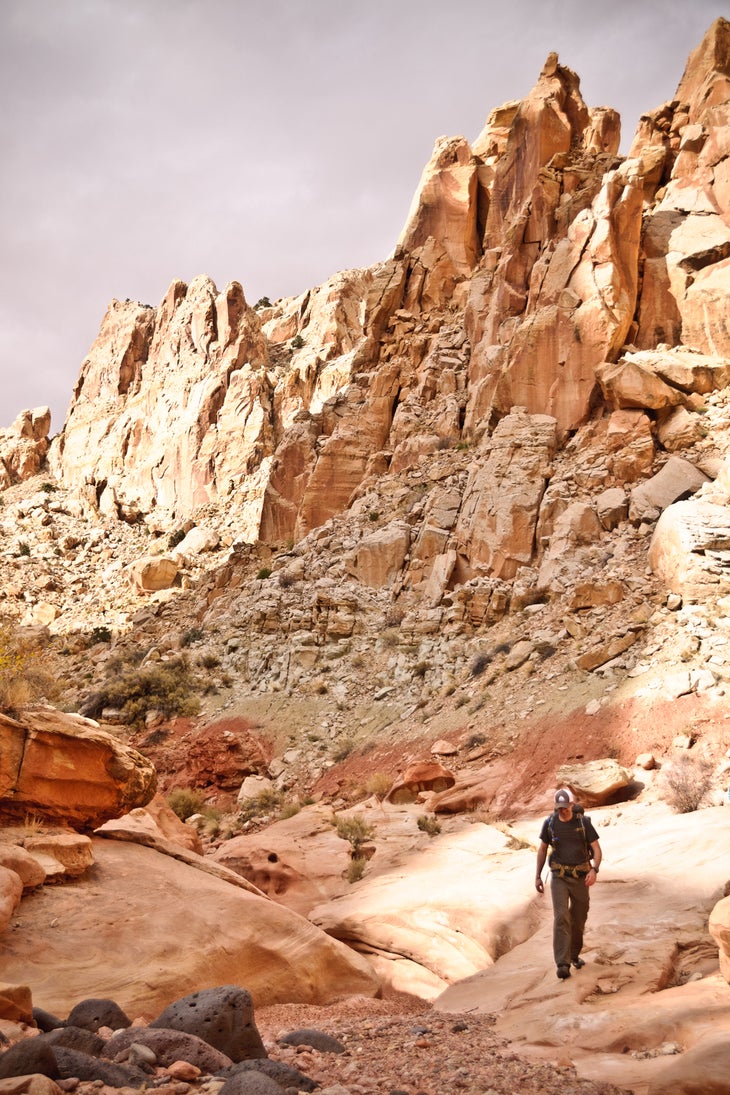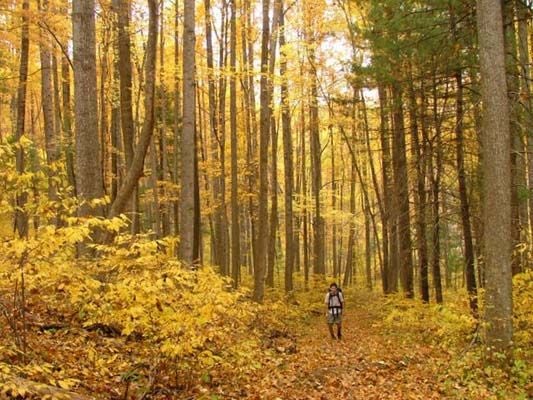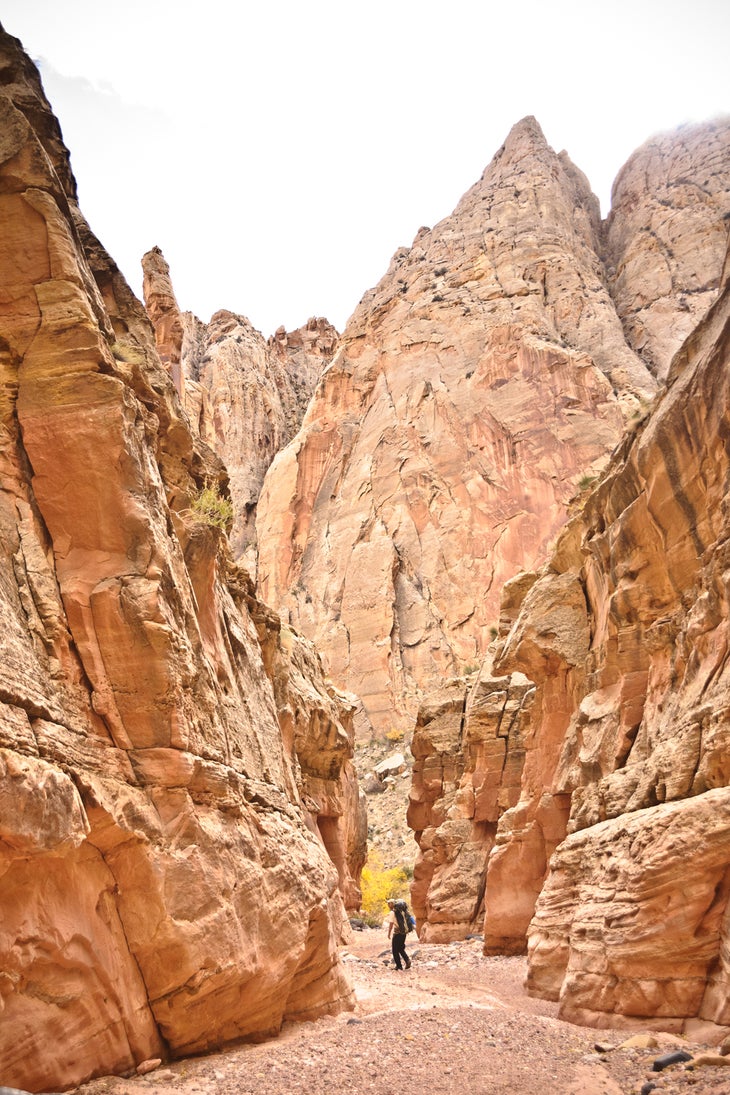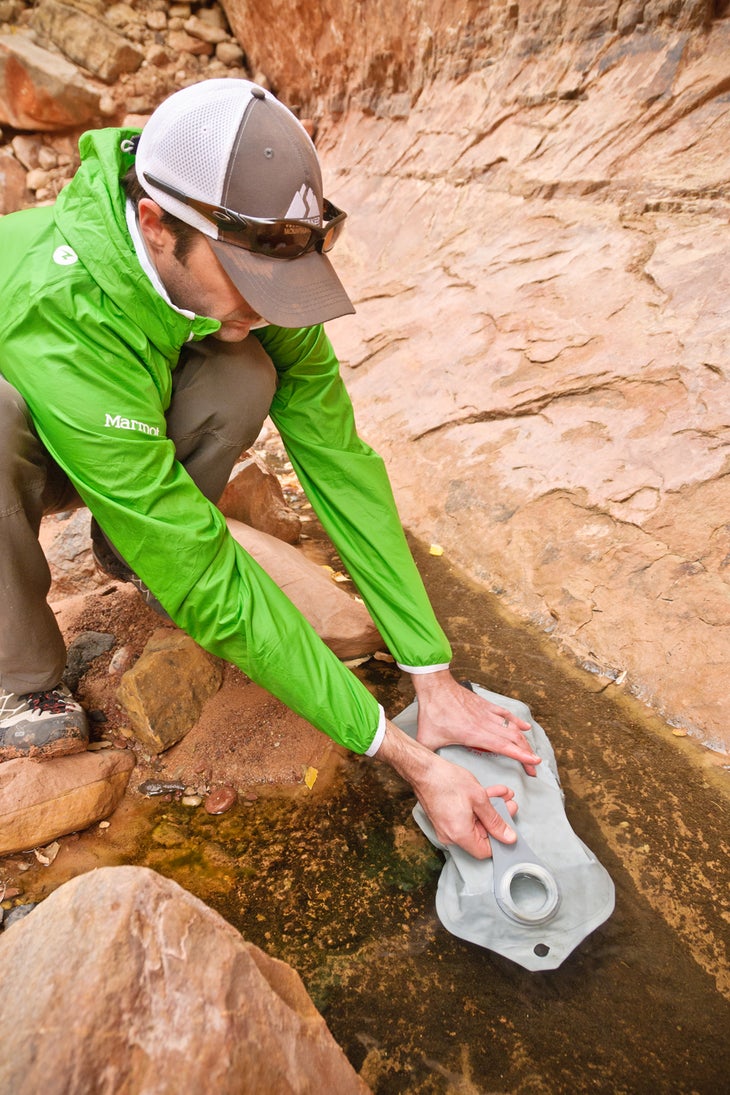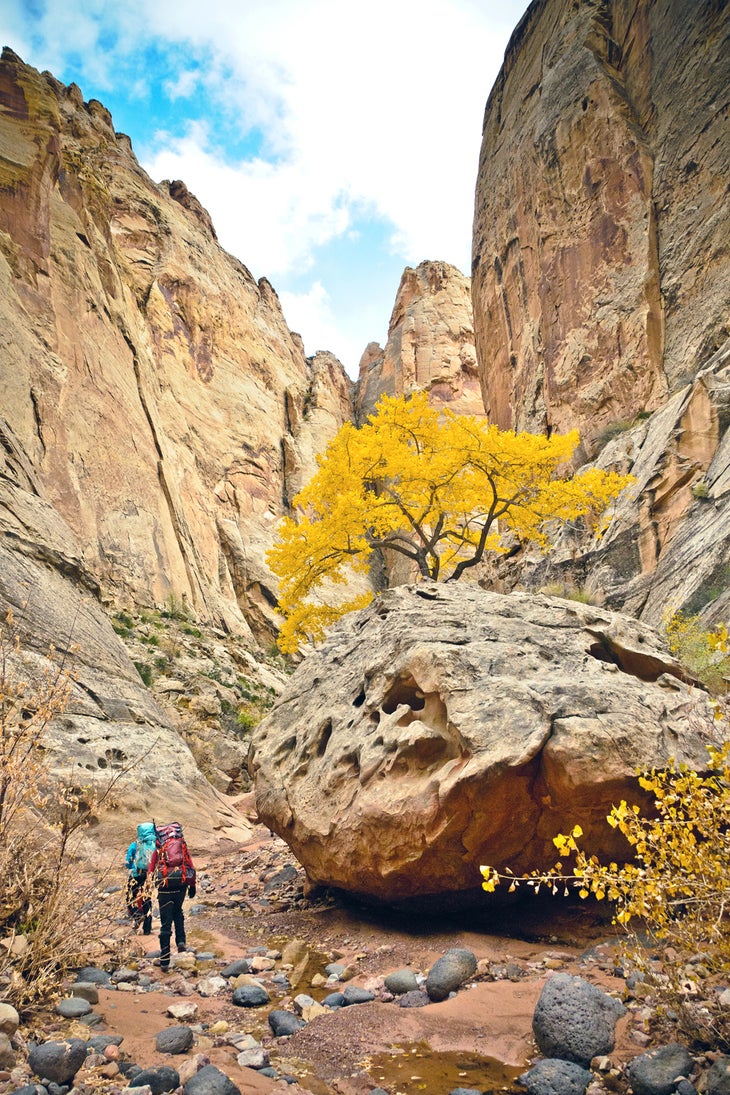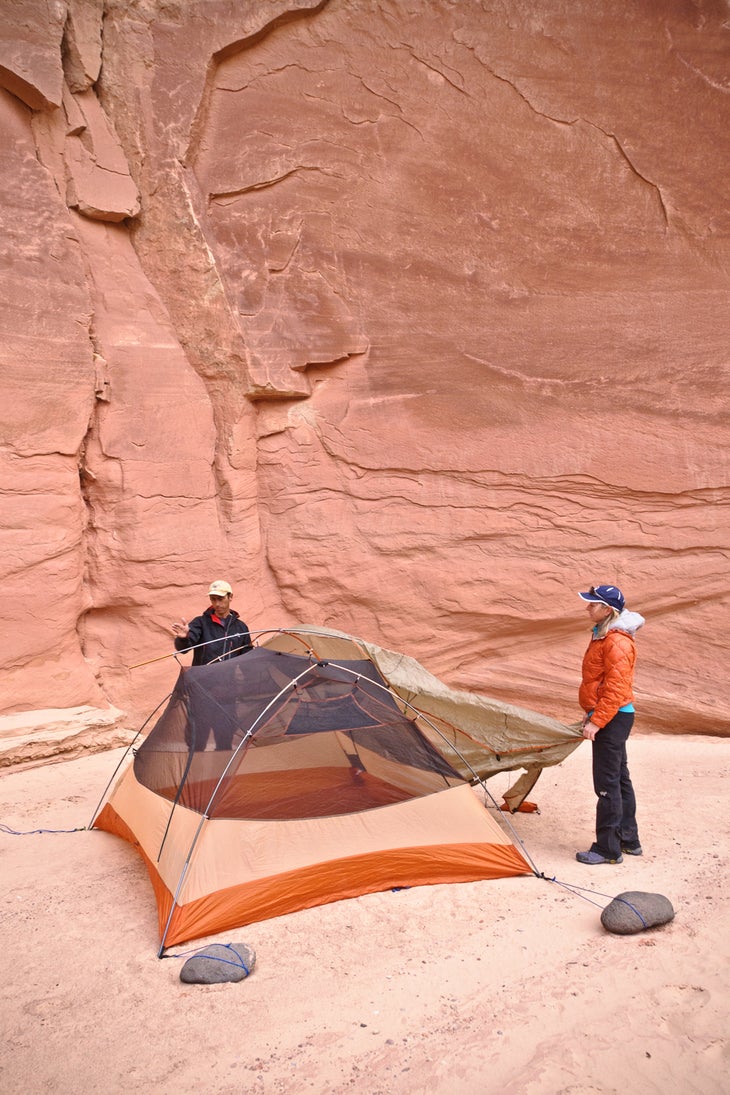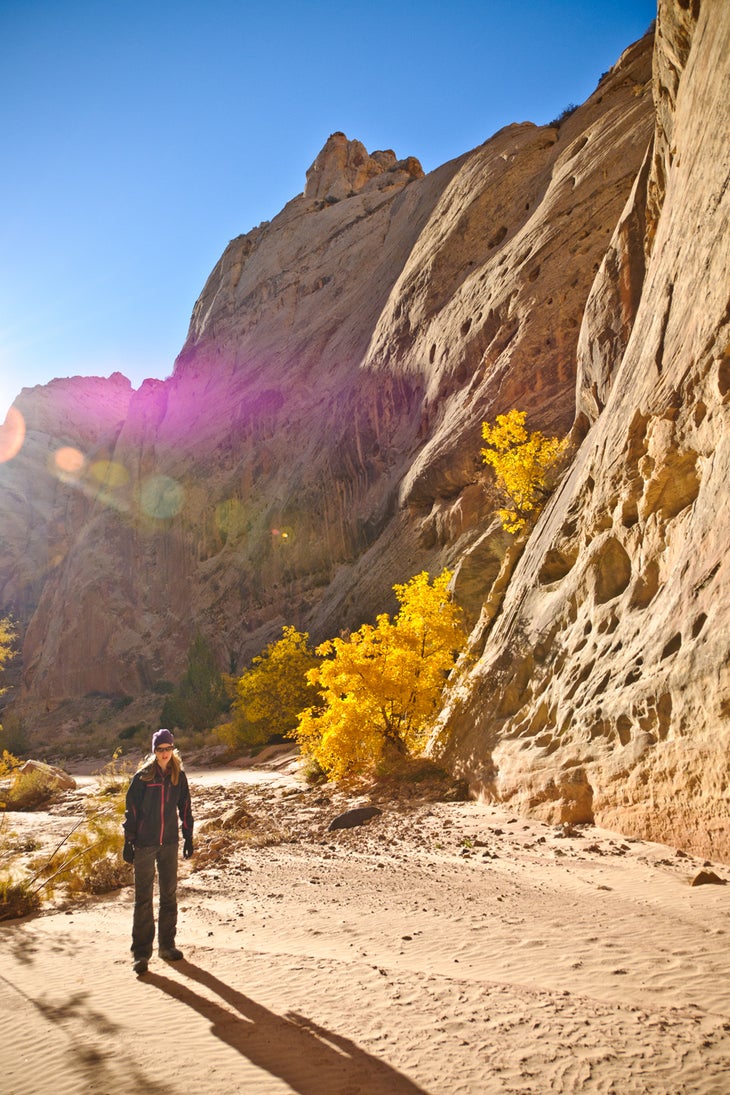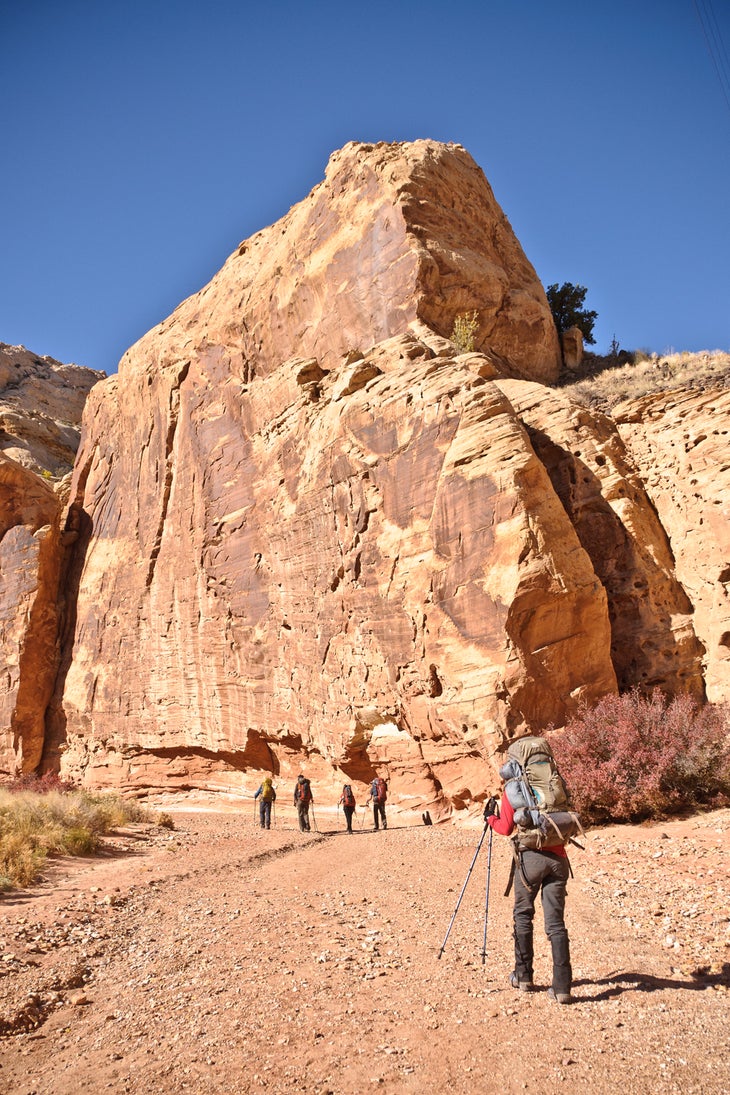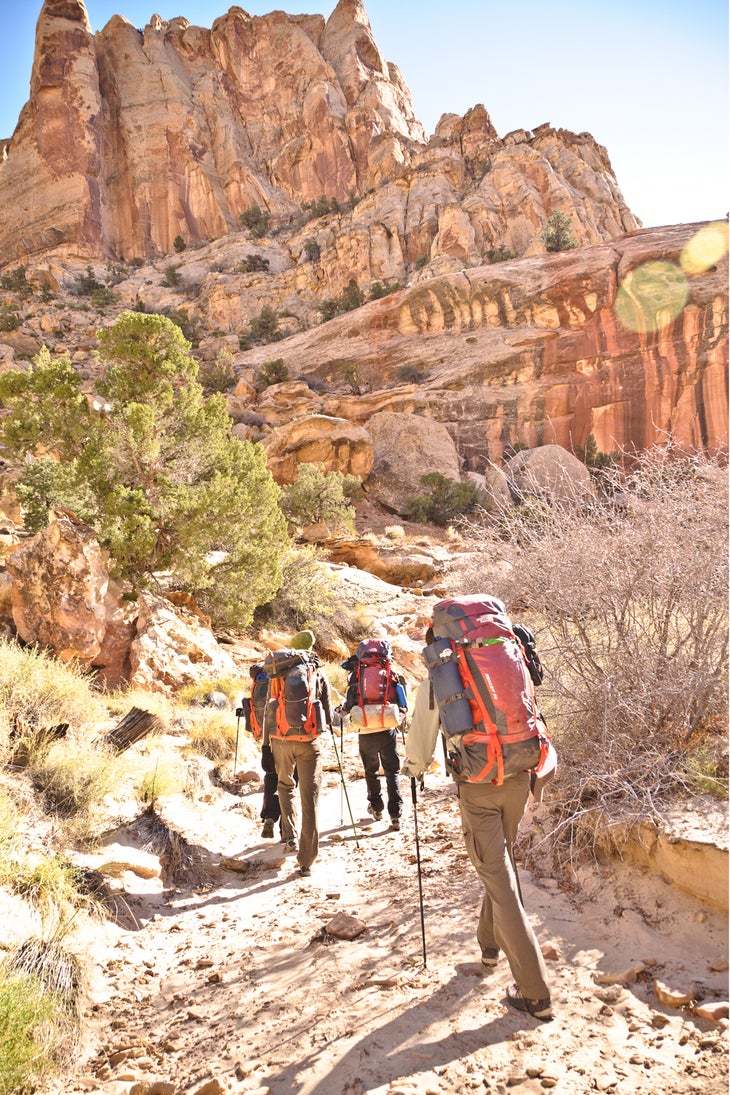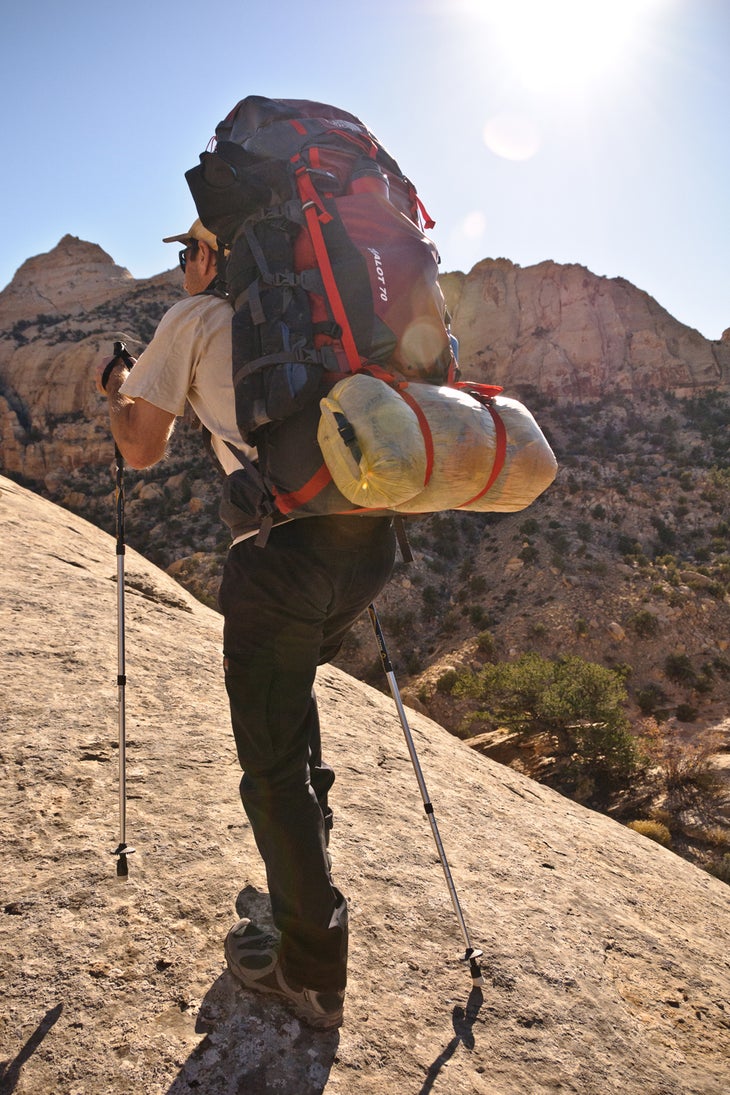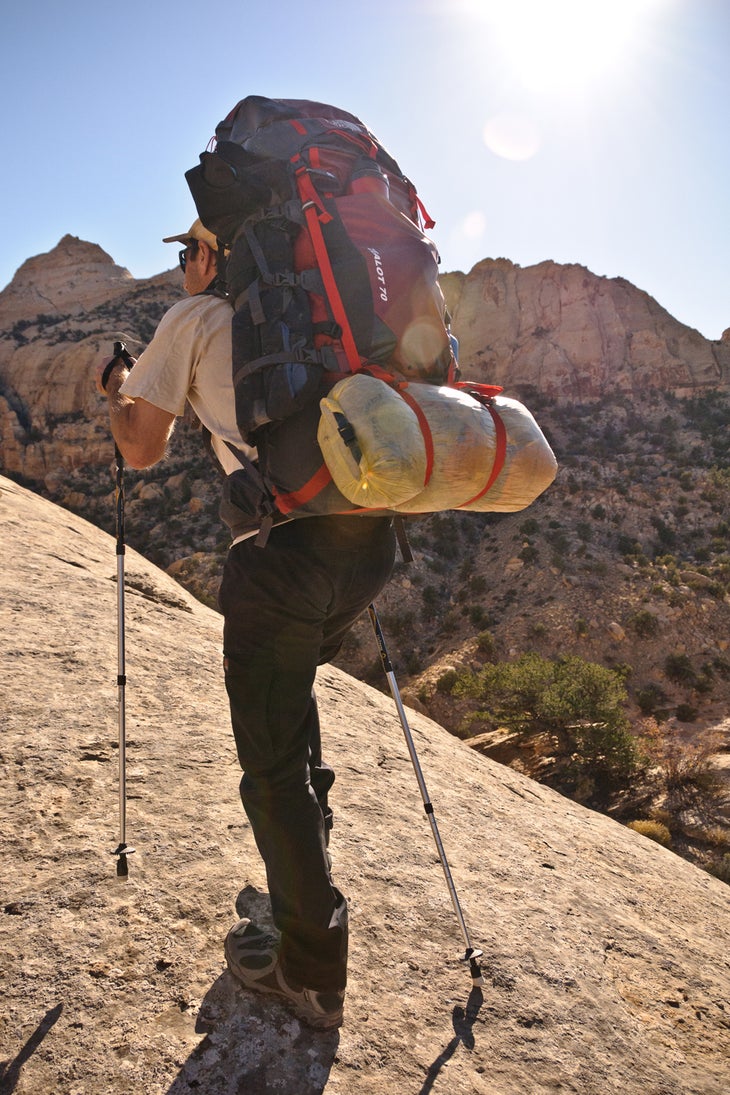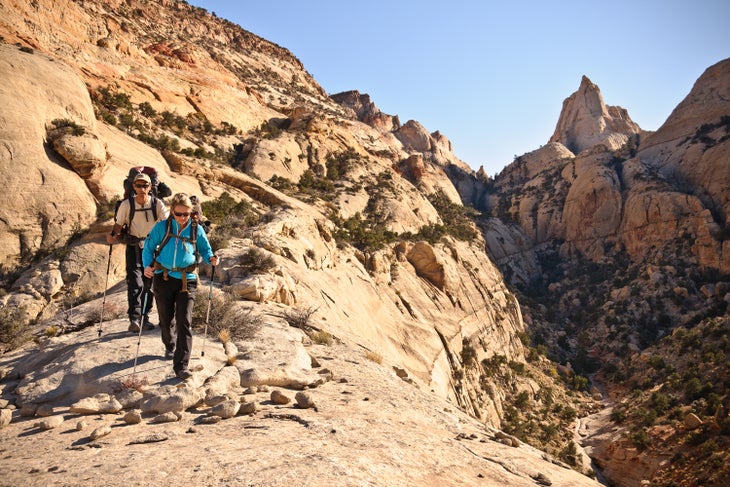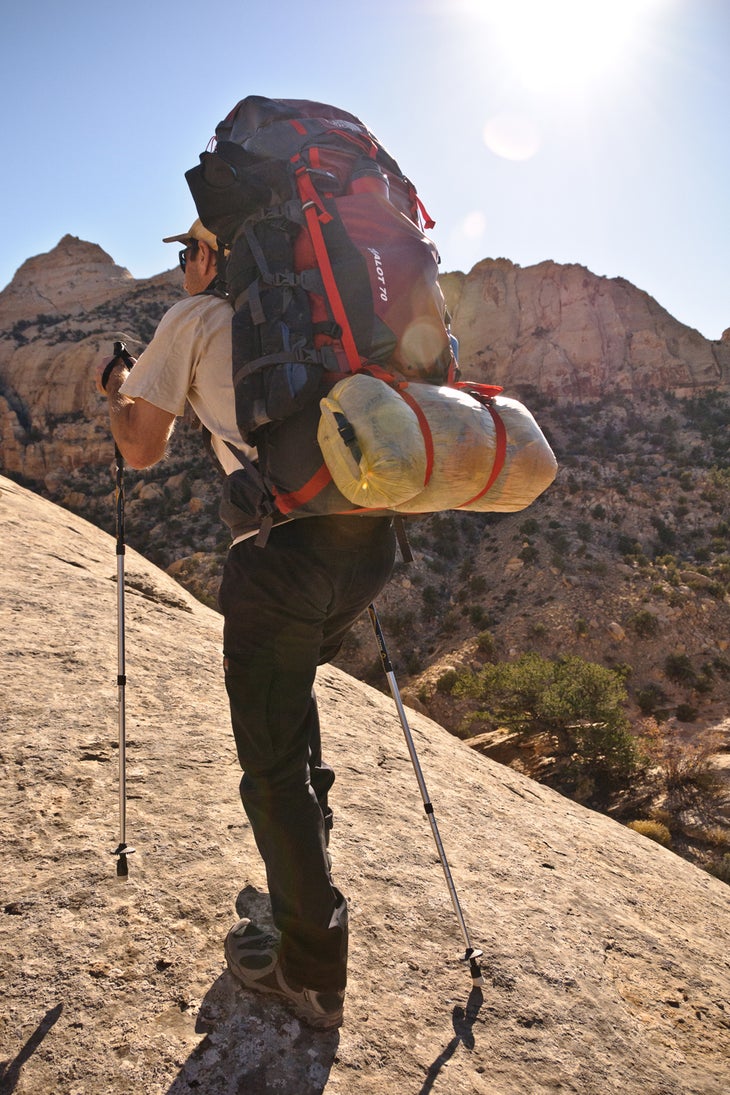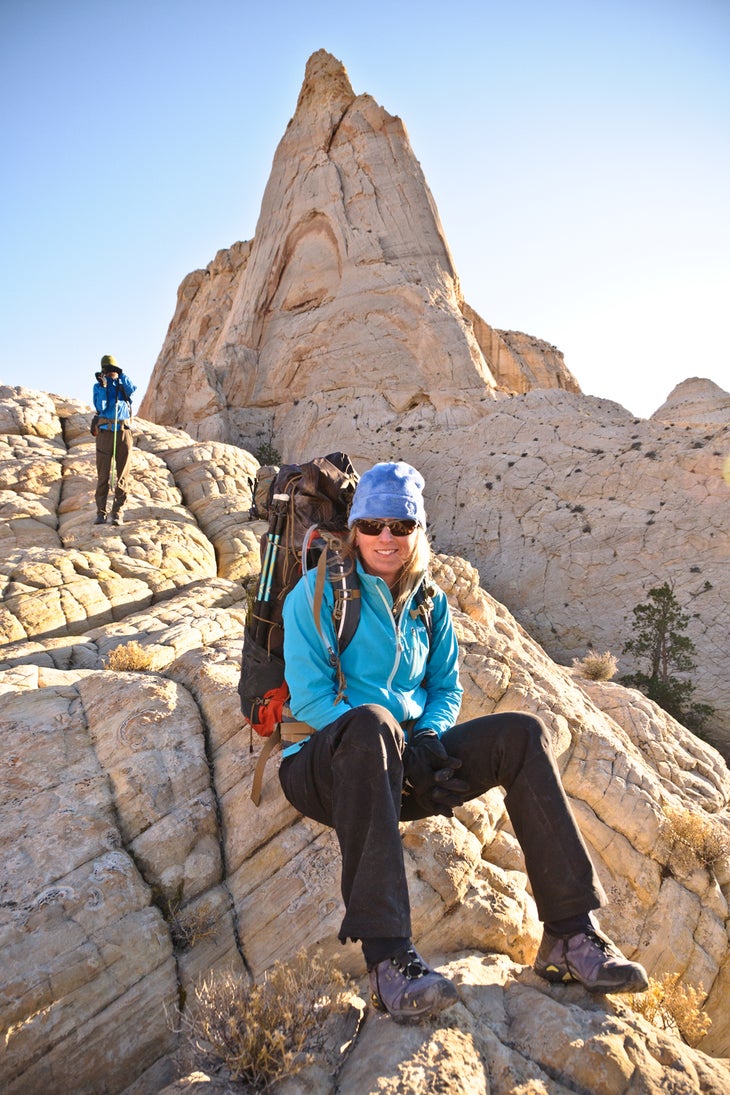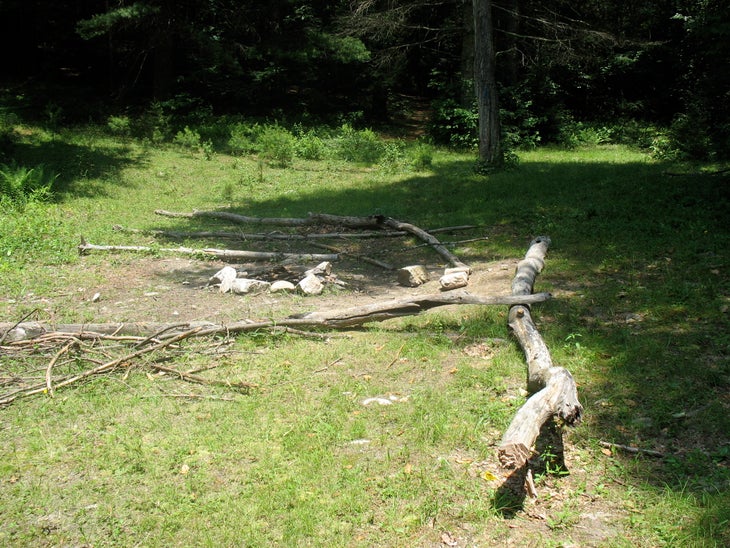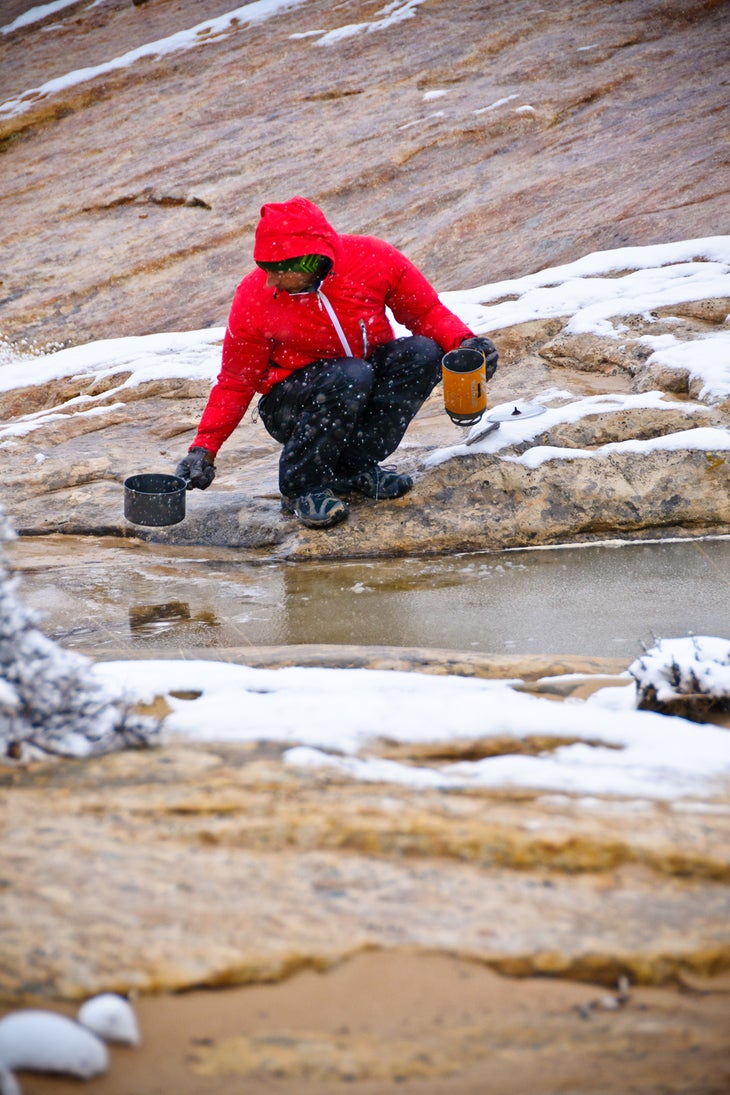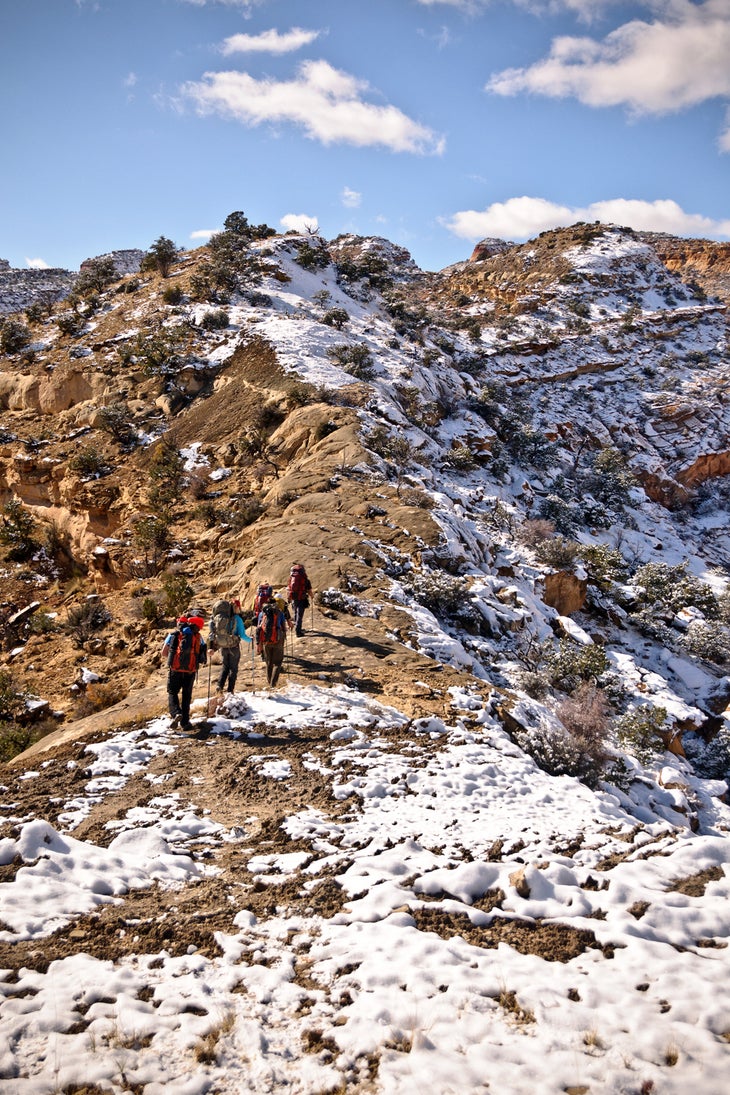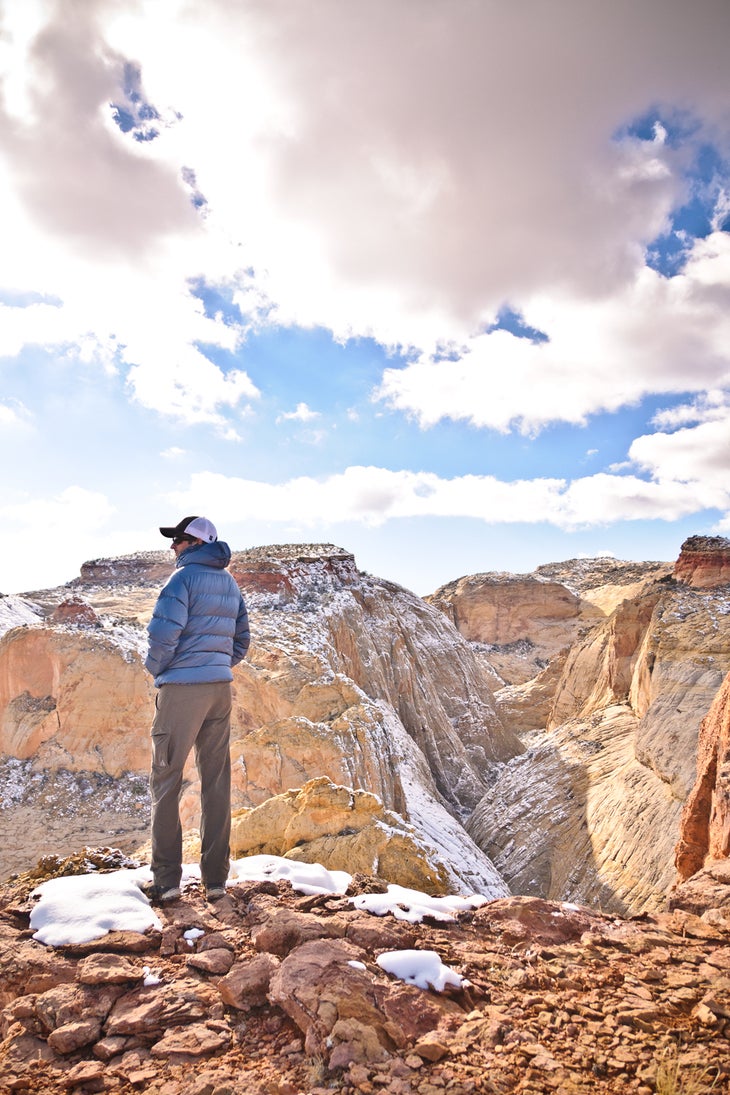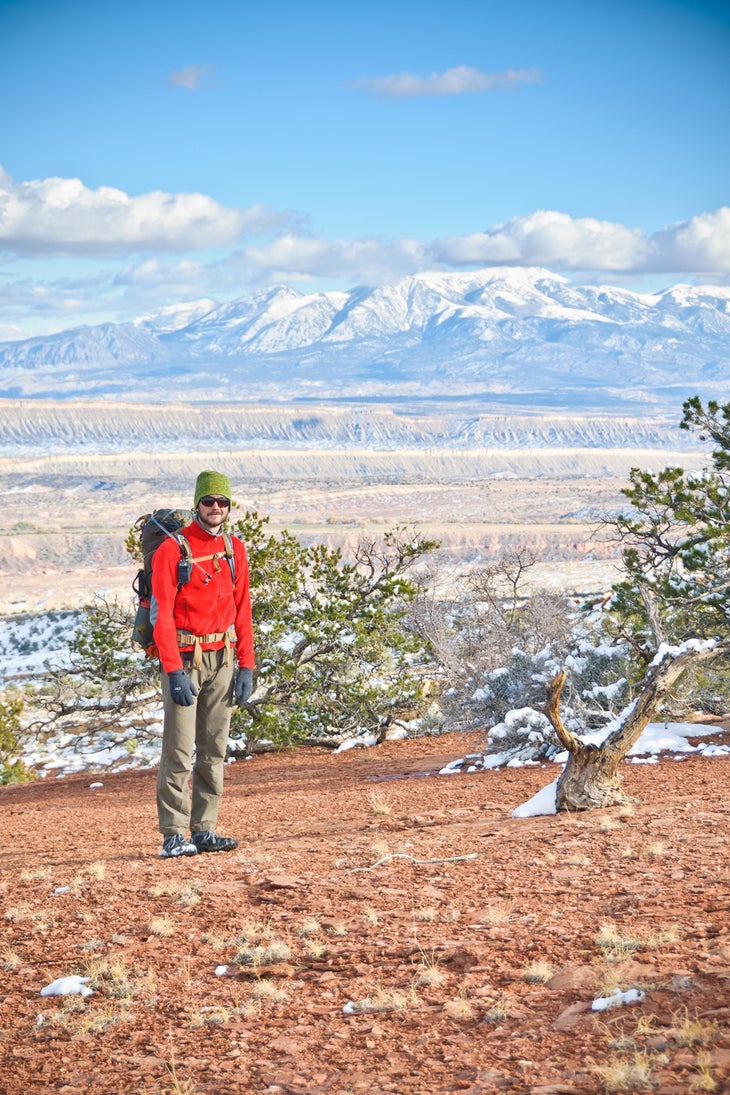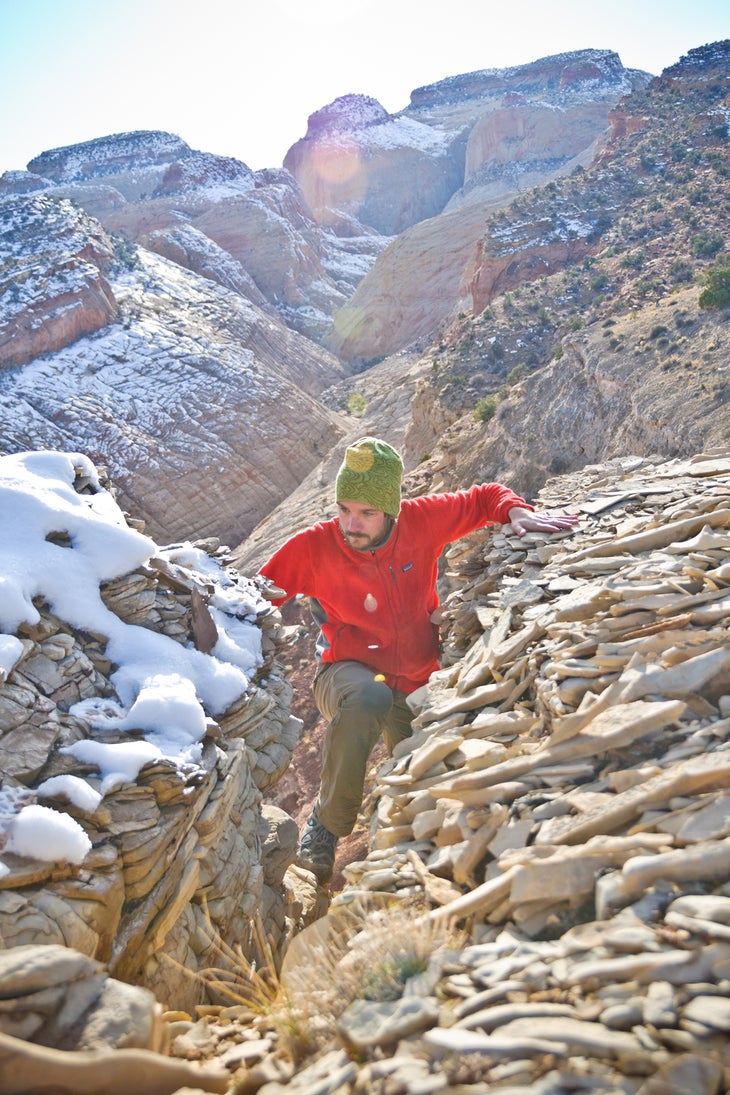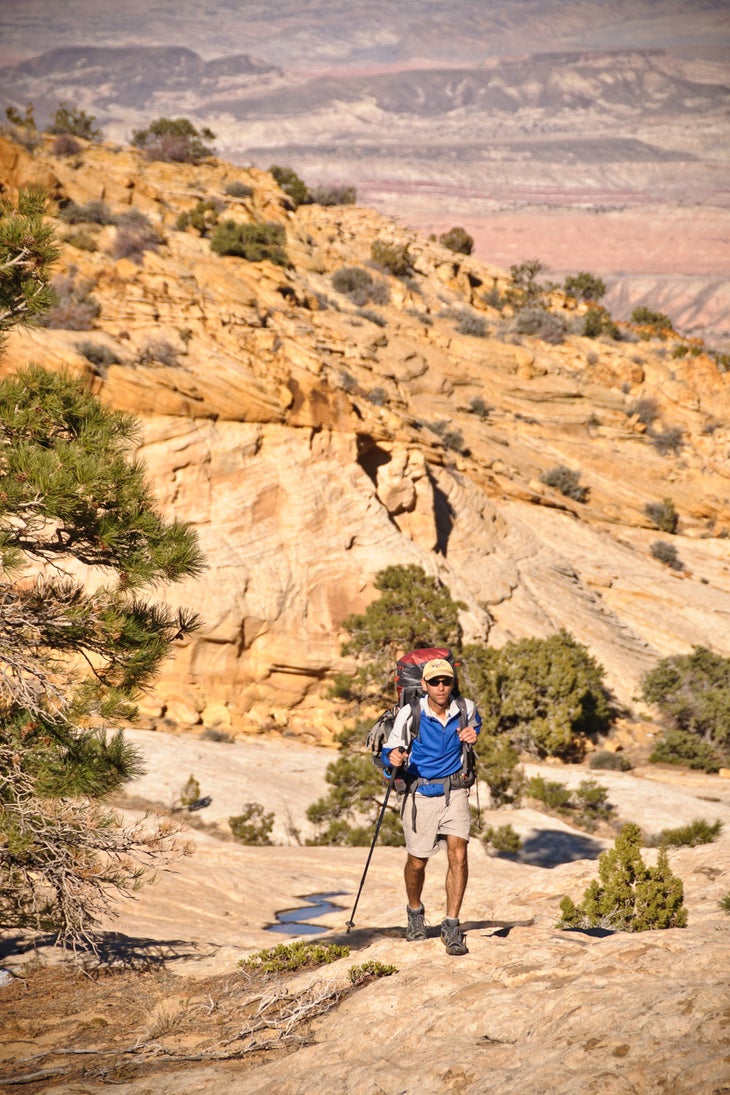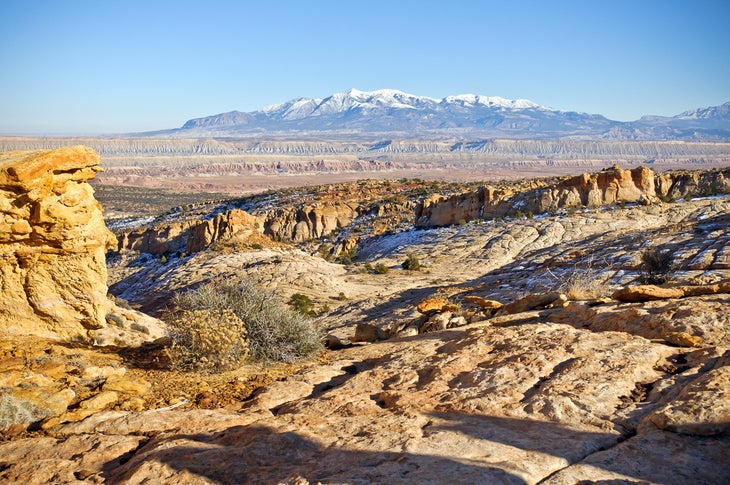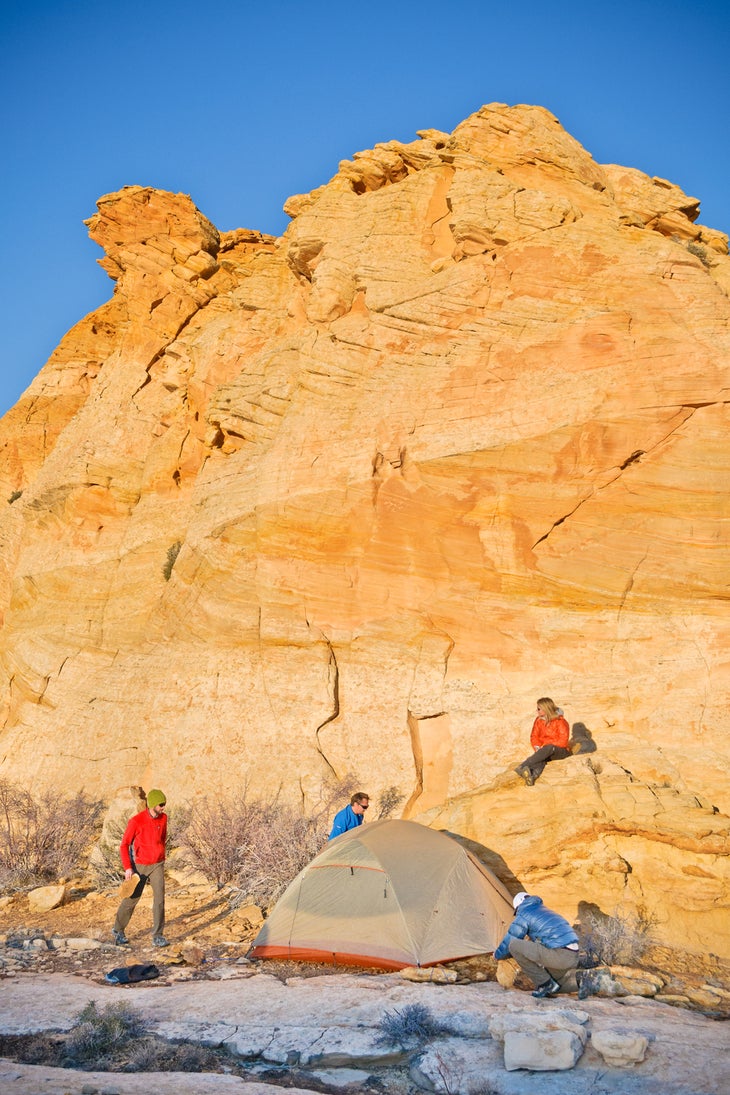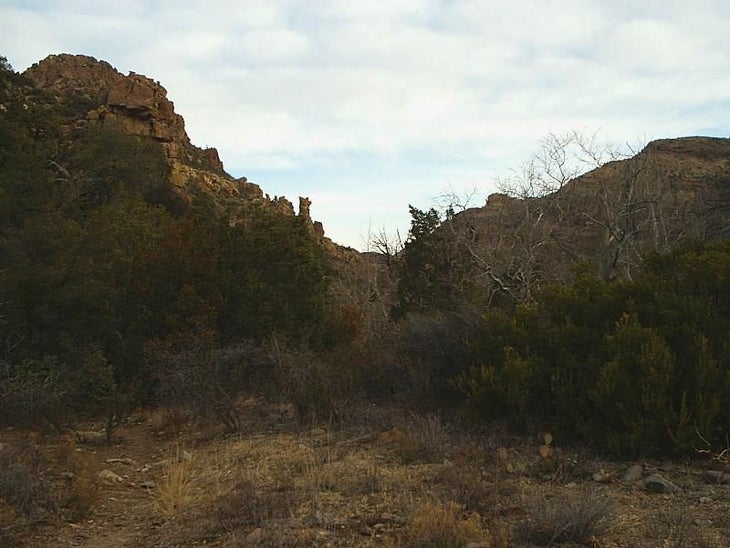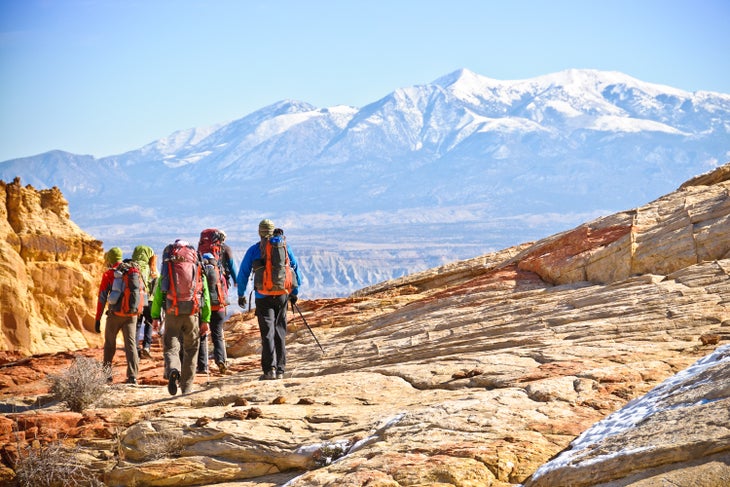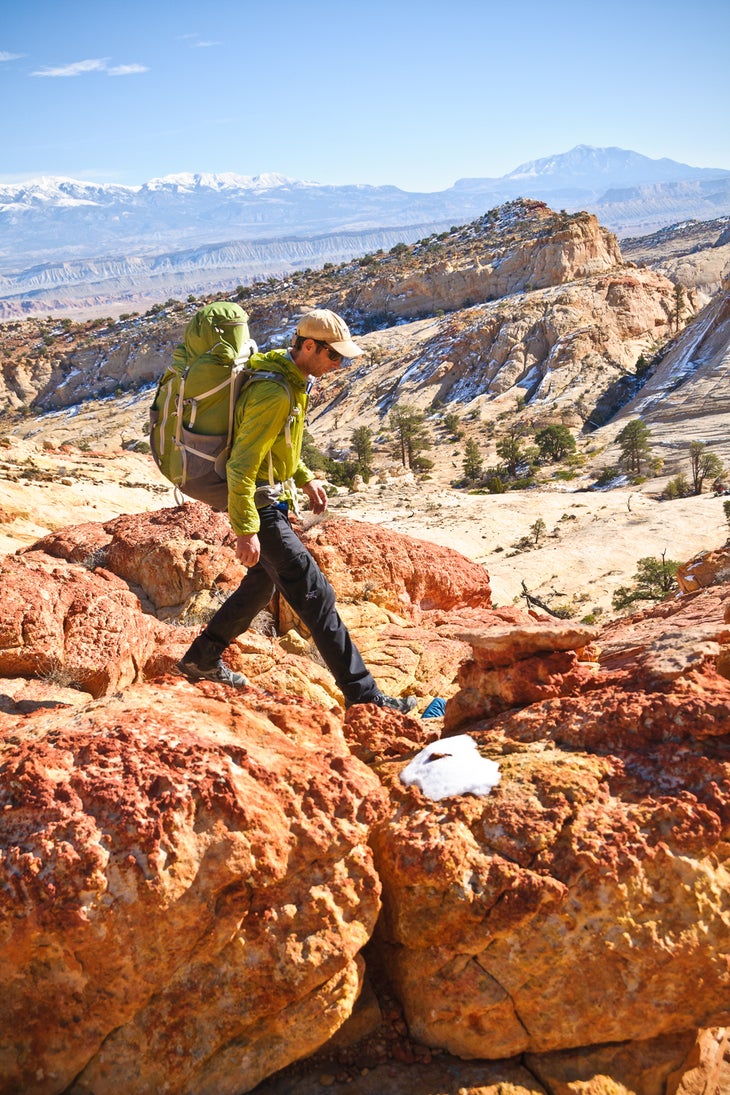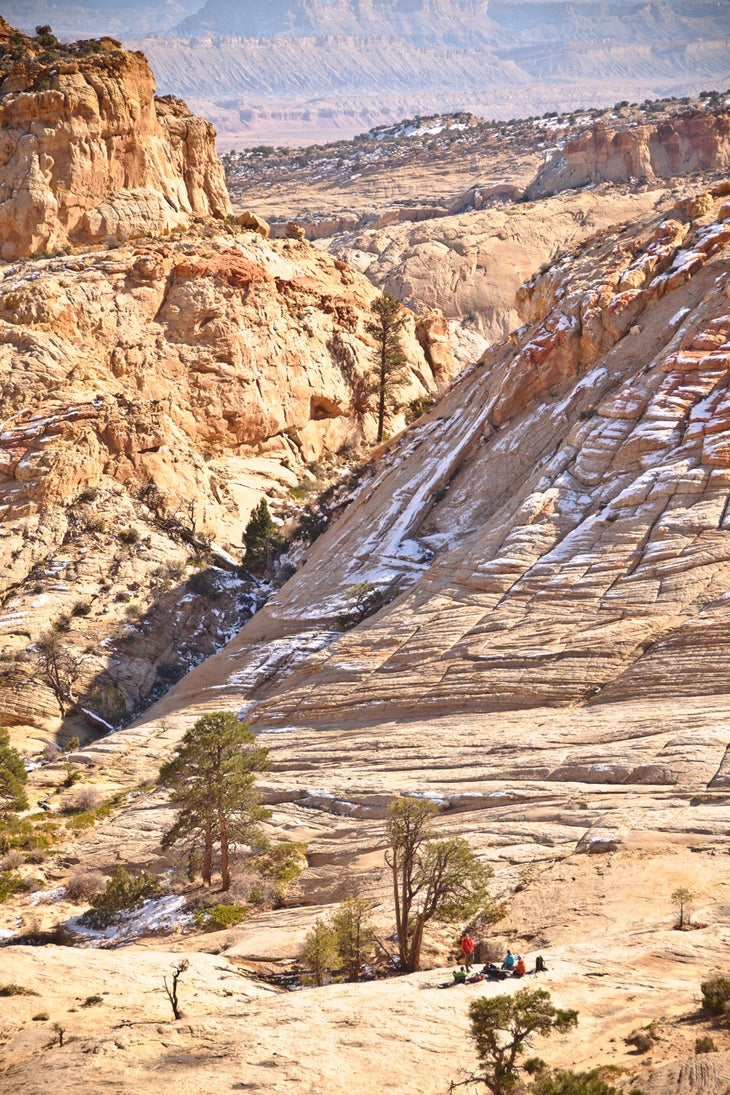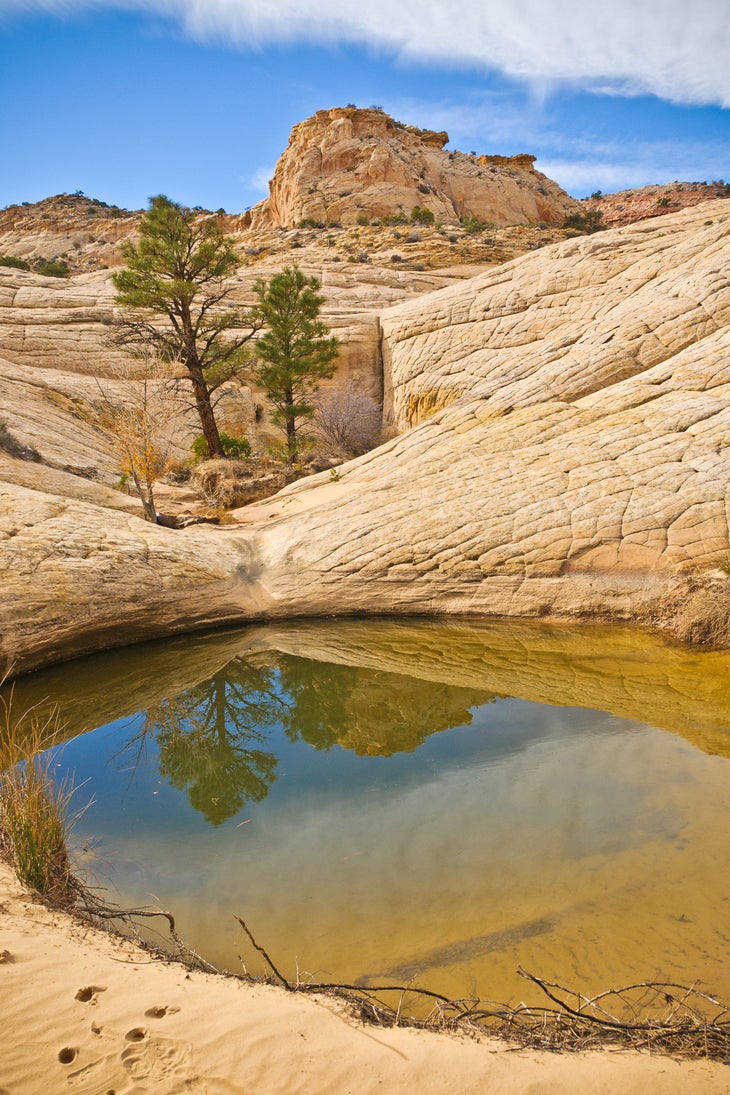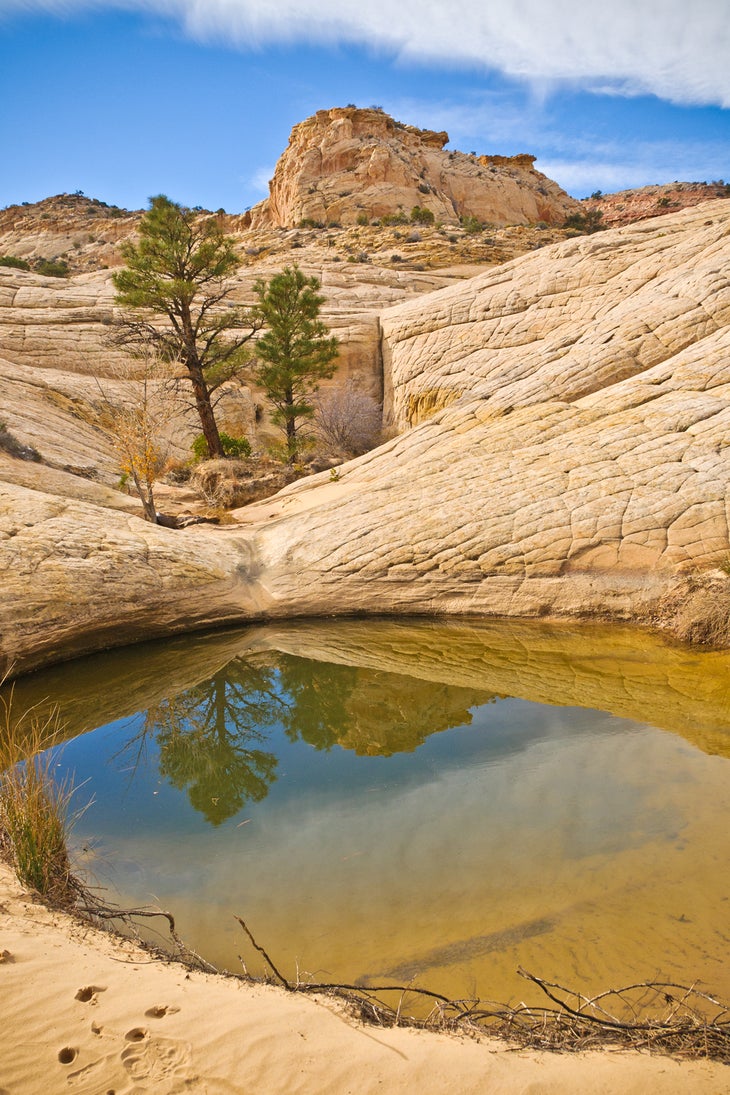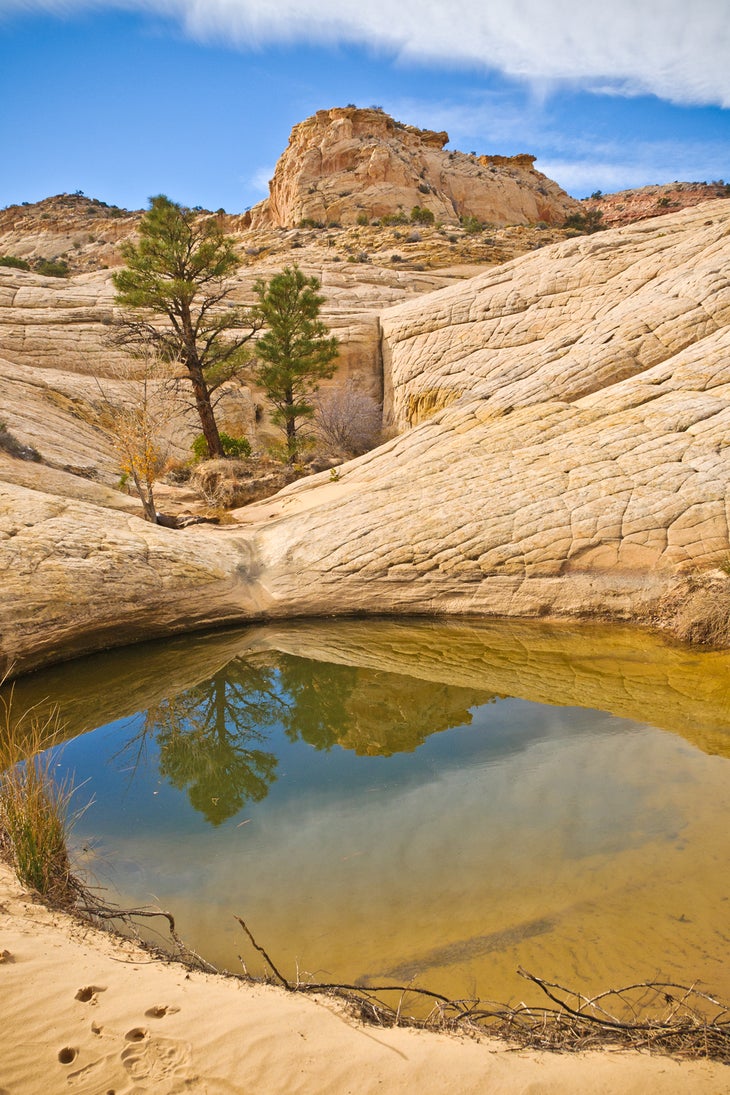 Trail Facts
Waypoints
CAP001
Location: 38.315662, -111.304016
Hike northeast from Spring Canyon trailhead.
CAP002
Location: 38.317577, -111.298274
Continue straight at signed 3-way intersection with Chimney Rock Loop Trail. Head east toward Spring Canyon.
CAP003
Location: 38.317379, -111.284911
Turn left at signed intersection with Chimney Rock Loop Trail.
CAP004
Location: 38.323979, -111.263415
Turn right/east/downstream at this signed junction with Spring Canyon.
CAP005
Location: 38.319375, -111.250505
Slot canyon on the right. Stay high on slickrock.
CAP006
Location: 38.319168, -111.250413
Narrows: The route traverses left of the narrows on a slickrock bench. You can descend the narrows, but this usually requires two steep down-climbs and skanky pool swims. Hike 5 minutes to see first drop.
CAP007
Location: 38.317297, -111.248702
Traverse a narrow trail on steep slope.
CAP008
Location: 38.317192, -111.247169
Narrows end as steep traverse trail descends back to wash.
CAP009
Location: 38.316638, -111.245188
Good place to take a break or eat a snack.
CAP010
Location: 38.31173, -111.234534
Cottonwoods in the wash turn bright yellow in fall.
CAP011
Location: 38.30796, -111.226836
Springs emerge from a boulder pile and run 1/4 mile down-canyon. Water quality gets better downstream.
CAP012
Location: 38.307004, -111.226079
Water
CAP013
Location: 38.306233, -111.225607
Clearer water source
CAP014
Location: 38.302956, -111.222897
Make sure your water reserves are full. From this point onward, there are no more water sources in this canyon.
CAP015
Location: 38.292914, -111.204238
Campsite #1. Sandy wash below sandstone cliffs.
CAP016
Location: 38.290741, -111.203018
Rock amphitheater on the right side of trail.
CAP017
Location: 38.285374, -111.197379
Ford Fremont River; usually thigh-knee deep, but conditions always change. Bushwhack to UT 24. Tip: Scout water levels during shuttle to avoid surprises.
CAP018
Location: 38.284996, -111.197081
Drive your shuttle car 0.6 mile south on UT 24 to the Grand Wash trailhead.
CAP019
Location: 38.278217, -111.192558
Grand Wash trailhead and parking pull-out. Hike west, following Grand Wash.
CAP020
Location: 38.269112, -111.209361
Turn left, leaving the main wash. Head south.
CAP021
Location: 38.268806, -111.209155
Turn left and ascend rocky slopes, which climb to a slickrock ramp.
CAP022
Location: 38.262792, -111.210635
This saddle offers superb views of slickrock peaks ahead. Climb the sandstone mound to the left and follow it south to a pinyon-covered ledge up-canyon.
CAP023
Location: 38.253378, -111.208299
Rope up for rock scramble. Tip: Haul packs up with rope as well. This climb is harder than it looks. (A short rope is good for safety and pack hauling.)
CAP024
Location: 38.248621, -111.207657
A hidden ledge runs southwest to northeast, accessing sandy wash below fins.
CAP025
Location: 38.24394, -111.20754
Turn east down-canyon.
CAP026
Location: 38.24369, -111.208157
A pothole is located below pour-off (it's off-route 100 yards).
CAP027
Location: 38.244334, -111.200468
Potential water source in hidden pothole. To continue: Climb south toward ridgeline.
CAP028
Location: 38.242739, -111.200555
Bear right and ascend slopes to slickrock amphitheater.
CAP029
Location: 38.242684, -111.200871
Small pothole
CAP030
Location: 38.242683, -111.201938
Campsite #2. Top of rock amphitheater. Next day: Backtrack to Waypoint 28, then bear right, heading south.
CAP031
Location: 38.242586, -111.200212
Easy scramble up crack chimney. Simpler if you hand up packs.
CAP032
Location: 38.242016, -111.200277
Saddle
CAP033
Location: 38.241298, -111.200208
Look up the canyon wall to the southeast for views of a rock formation: it resembles a snowman standing on a diving board.
CAP034
Location: 38.240866, -111.199499
Enter basin with decent camping. Descend the wash, heading east.
CAP035
Location: 38.24207, -111.193953
Good potential sandy, cozy campsite.
CAP036
Location: 38.243466, -111.191426
Big pothole. Traverse south across an exposed slab, then descend the gully at the southern end.
CAP037
Location: 38.242593, -111.190658
Carefully descend rock gully. Watch footing.
CAP038
Location: 38.243243, -111.190511
Bottom of gully descent. Turn right, heading east.
CAP039
Location: 38.243813, -111.18865
Possible water source
CAP040
Location: 38.243901, -111.184799
Broad slickrock basin makes an excellent campsite. Turn south.
CAP041
Location: 38.242748, -111.184202
Pass: Follow ledge east-northeast. Descend slabs when possible.
CAP042
Location: 38.242401, -111.181447
Canyon bottom: Turn left, heading northeast.
CAP043
Location: 38.242952, -111.180134
Pothole
CAP044
Location: 38.243815, -111.178457
Rock ramp
CAP045
Location: 38.243883, -111.178333
Possible water
CAP046
Location: 38.244161, -111.173681
Canyon bottom
CAP047
Location: 38.244938, -111.172471
Camp #3. Slickrock slab with potholes. Good LNT campsite in broad slickrock basin. Often water in shallow potholes.
CAP048
Location: 38.245764, -111.167913
Big pour-off. Climb the dirt ridge to the southwest. Avoid stepping on biological soil crusts.
CAP049
Location: 38.241196, -111.173696
Ridge ramp
CAP050
Location: 38.232385, -111.183353
Incredible views of neighboring sandstone formations.
CAP051
Location: 38.232818, -111.183
Scramble up rocks to top-of-the-world views of the Waterpocket Folds' sliced up sandstone.
CAP052
Location: 38.233031, -111.182445
Superb views of canyons and sandstone domes. Descend across red saddle to the south, then scramble up ridgetop and follow it east.
CAP053
Location: 38.236764, -111.171766
Scramble up rock ledge.
CAP054
Location: 38.240817, -111.154612
It's difficult to pick the right gully to descend. Wait until you can see an obvious cliff/outcrop on the left wall of the canyon below you. Enter this gully and descend to the southeast (careful: rotten rock). You'll have to maneuver down one steep drop-off half-way down the gully.
CAP055
Location: 38.240079, -111.153536
Turn left at T in wash.
CAP056
Location: 38.24015, -111.151055
You have the option to do two things at this canyon junction. Option 1: Turn left to bypass a potentially chest-deep pothole wade. This easier bypass route winds northeast to Pleasant Creek, then turns south to Capitol Wash. Option 2: Turn right and hike south, then southwest. This more difficult alternate route rejoins the bypass route in Capitol Wash in 5.6 miles.
CAP057
Location: 38.241934, -111.138336
Duck under NPS boundary fence.
CAP058
Location: 38.246071, -111.129075
Campsite #4: Camping available in Pleasant Creek's sandy wash just west of this point.
CAP059
Location: 38.223064, -111.138098
Duck under NPS boundary fence.
CAP060
Location: 38.221042, -111.141147
Side trip: Drop packs, then bear right (west) for a .8-mile out-and-back up Capitol Wash. On return, turn south, following the wash.
CAP061
Location: 38.219139, -111.144438
Follow the ridge to the southwest.
CAP062
Location: 38.207608, -111.152307
View
CAP063
Location: 38.201253, -111.154026
Watch your step as you navigate through this cryptofield.
CAP064
Location: 38.199878, -111.15484
Begin descent.
CAP065
Location: 38.199222, -111.156157
Slickrock expanse
CAP066
Location: 38.197455, -111.157949
Slickrock
CAP067
Location: 38.196235, -111.158583
Small potholes
CAP068
Location: 38.19602, -111.15816
Campsite #5. This slickrock amphitheater makes a stunning campsite overlooking the Henry Mountains.
CAP069
Location: 38.195273, -111.15753
Slickrock basin dotted with ponderosa. Excellent campsite.
CAP070
Location: 38.192939, -111.159392
View
CAP071
Location: 38.194419, -111.155382
Potholes and ponderosas
CAP072
Location: 38.191979, -111.153572
Broad slickrock saddle
CAP073
Location: 38.190495, -111.151159
Descend slickrock bowls. Stay left, then right, to avoid rollover cliff bands.
CAP074
Location: 38.190858, -111.149265
Large pothole below cliff
CAP075
Location: 38.192749, -111.144432
Pothole
CAP076
Location: 38.194169, -111.142461
Pothole
CAP077
Location: 38.194471, -111.142189
Pothole
CAP078
Location: 38.195021, -111.140775
Pothole
CAP079
Location: 38.195838, -111.13766
NPS boundary fence: This tall fence doesn't touch the ground.
CAP080
Location: 38.195291, -111.129209
Creek crossing. Jump across banks.
CAP081
Location: 38.193609, -111.128522
Cross Pleasant Creek.
CAP082
Location: 38.193551, -111.128143
Road and campsites sit above the bend in Pleasant Creek.
CAP083
Location: 38.193571, -111.126088
End of route. Pick up your shuttle car.
DTR001
Location: 38.240118, -111.151079
Hike south, then southwest.
DTR002
Location: 38.23655, -111.15725
Pothole
DTR003
Location: 38.233747, -111.164503
Big pool
DTR004
Location: 38.23343, -111.165005
Climb up slickrock on left (south).
DTR005
Location: 38.232265, -111.167277
Descend slab into wash bottom.
DTR006
Location: 38.232067, -111.170367
Pothole
DTR007
Location: 38.231405, -111.171255
Decent campsite with pothole water.
DTR008
Location: 38.230229, -111.172929
Slot canyon pool. Rib-deep or deeper wading. Unavoidable.
DTR009
Location: 38.22635, -111.18111
Climb south up loose, brushy gully.
DTR010
Location: 38.224251, -111.180145
Top of gully
DTR011
Location: 38.223612, -111.179892
Hike through an open basin flanked by pinnacles. Follow sandy washes; stay off soil crusts.
DTR012
Location: 38.221198, -111.178835
Pass: Descend brushy gully.
DTR013
Location: 38.220219, -111.176445
Slickrock basin: Chimney down crack in drainage.
DTR014
Location: 38.219536, -111.175347
Big pothole
DTR015
Location: 38.219517, -111.170298
Pothole with reeds
DTR016
Location: 38.218853, -111.167783
Small potholes
DTR017
Location: 38.217716, -111.162891
Hidden ramp. Find exposed ledge left (north) side of gully behind ponderosa. Cross carefully.
DTR018
Location: 38.217708, -111.162011
Descend very loose boulder field to slickrock bench.
DTR019
Location: 38.214647, -111.159331
Stay on slickrock or trail to reach large canyon ahead.
DTR020
Location: 38.214193, -111.156265
At signed intersection, turn east (down-canyon) in wash bottom.
DTR021
Location: 38.218256, -111.147802
Old dam
DTR022
Location: 38.219577, -111.145645
This alternate route joins the main route at this point. Follow the wash to the north toward the NPS boundary fence.
Chimney Rock Trailhead
Location: 38.315857, -111.303908
Chimney Rock Trail
Location: 38.316816, -111.303028
Views to the south
Location: 38.318251, -111.300087
Northwest Views
Location: 38.318202, -111.299262
First Trail Junction
Location: 38.317378, -111.297367
Descent into Chimney Rock Canyon
Location: 38.317305, -111.297159
Views to the west
Location: 38.317464, -111.296239
Descent into Chimney Rock Canyon
Location: 38.317128, -111.29034
Chimney Rock Canyon
Location: 38.3231, -111.273339
Chimney Rock Canyon
Location: 38.323095, -111.27231
Chimney Rock Canyon
Location: 38.319382, -111.250496
Nearing Spring Canyon
Location: 38.31625, -111.245004
Sandy Wash
Location: 38.313389, -111.243289
Nearing Spring Canyon
Location: 38.313359, -111.24307
Fall Colors
Location: 38.313315, -111.24041
Rock Pinnacles
Location: 38.313132, -111.240015
Rock Spires in Spring Canyon
Location: 38.311884, -111.24044
Pothole Water
Location: 38.306993, -111.225466
Cottonwoods in Spring Canyon
Location: 38.304569, -111.223489
Camping in Spring Canyon
Location: 38.292951, -111.203849
Leaving Spring Canyon
Location: 38.290021, -111.202691
Grand Wash
Location: 38.278542, -111.193732
South of Grand Wash
Location: 38.268891, -111.209206
Slickrock Ramps above Bear Canyon
Location: 38.26274, -111.210397
Slickrock Ramps above Bear Canyon
Location: 38.262421, -111.2102
Slickrock Traverse
Location: 38.262286, -111.210089
Slickrock Ramps above Bear Canyon
Location: 38.26173, -111.209759
Rock Formation above Bear Canyon
Location: 38.253121, -111.208875
Campsite
Location: 38.245039, -111.172221
Potholes
Location: 38.245115, -111.171888
Slickrock Ramp
Location: 38.241193, -111.173626
Rocky Perch
Location: 38.23245, -111.183153
Views of the Henry Mountains
Location: 38.233153, -111.180655
Rocky Scramble
Location: 38.236782, -111.171732
Slickrock Bowl
Location: 38.197513, -111.157875
Sunset on the Henry Mountains
Location: 38.196008, -111.15808
Campsite
Location: 38.196046, -111.15793
Rock Formations
Location: 38.193386, -111.15486
Henry Mountains
Location: 38.191948, -111.153455
Redrock Hiking
Location: 38.19175, -111.152759
Slickrock Bowls
Location: 38.191647, -111.152464
Pothole
Location: 38.193095, -111.143861
Pothole
Location: 38.192899, -111.144166
Pothole
Location: 38.193095, -111.143861