Capitol Reef National Park: Capitol Gorge to Pleasant Creek
Spend the night at a five-star campsite tucked in the broad slickrock bowls between Capitol Gorge and Pleasant Creek on this 7.7-miler in Capitol Reef National Park.
Heading out the door? Read this article on the new Outside+ app available now on iOS devices for members! Download the app.
Forget the national park system. Heck, forget America. Some of the world's best campsites sit in the broad slickrock bowls between Capitol Gorge and Pleasant Creek. Exploring this country requires routefinding southward from the eastern park boundary in lower Capitol Gorge, up along anonymous piñon-juniper ridgelines, and past superb viewpoints of the Waterpocket Fold's amazing geology.
There's no trail, but it's a relatively short distance, with no hazards (if you encounter any technical terrain, you're off route). After just two miles, break out onto naked slickrock, where you can wander almost at will, searching for flat tent sites, small ponderosa groves, and clear-water potholes. It's easy to follow the stony saddles southward. Most highpoints offer superb vistas along the Reef, or southeast toward the distant Henry Mountains. Take extra food. You won't want to leave.
WATER: You need carrying capacity for 2 gallons per person in warm weather and a filter to treat sometimes murky water. Our GPS track includes waypoints for potholes that are typically reliable, but sources can come and go.
CAUTIONS: Expect scrambling, difficult routefinding, and uncertain water sources. Never trust the rocks, which are loose. Cell reception is nil in the backcountry, so don't count on a speedy rescue.
KEY GEAR: High-cut boots or ankle gaiters to repel grit; trekking poles; water shoes or sandals; 40-foot rope for pack hauling.
SEASON: Spring is popular for wildflower seekers. Late September and early October see far fewer visitors, calm blue skies, and gold cottonwoods. Summer highs reach the 90s.
PERMIT: Overnight camping in Capitol Reef National Park requires a free backcountry permit. Get more trip planning details at nps.gov/care/planyourvisit/hiking.htm.
MORE INFO: Capitol Reef National Park, (435) 425-4111; nps.gov/care.
-Mapped by Steve Howe
TO TRAILHEAD: Start: From the park visitor center, drive 9 miles east on UT 24, then turn south on Notom Rd. Continue 0.5 mile, then turn right. In 0.3 mile, bear left and go .25 mile to the trailhead on the right (west side of road).
Shuttle/end: From the park visitor center, drive 9 miles east on UT 24, then turn south on Notom Rd. Continue 6.2 miles (road becomes dirt). Turn east at 5560 South/ Pleasant Creek Diversion Rd. Go 1.6 miles and park in a turnoff overlooking Pleasant Creek.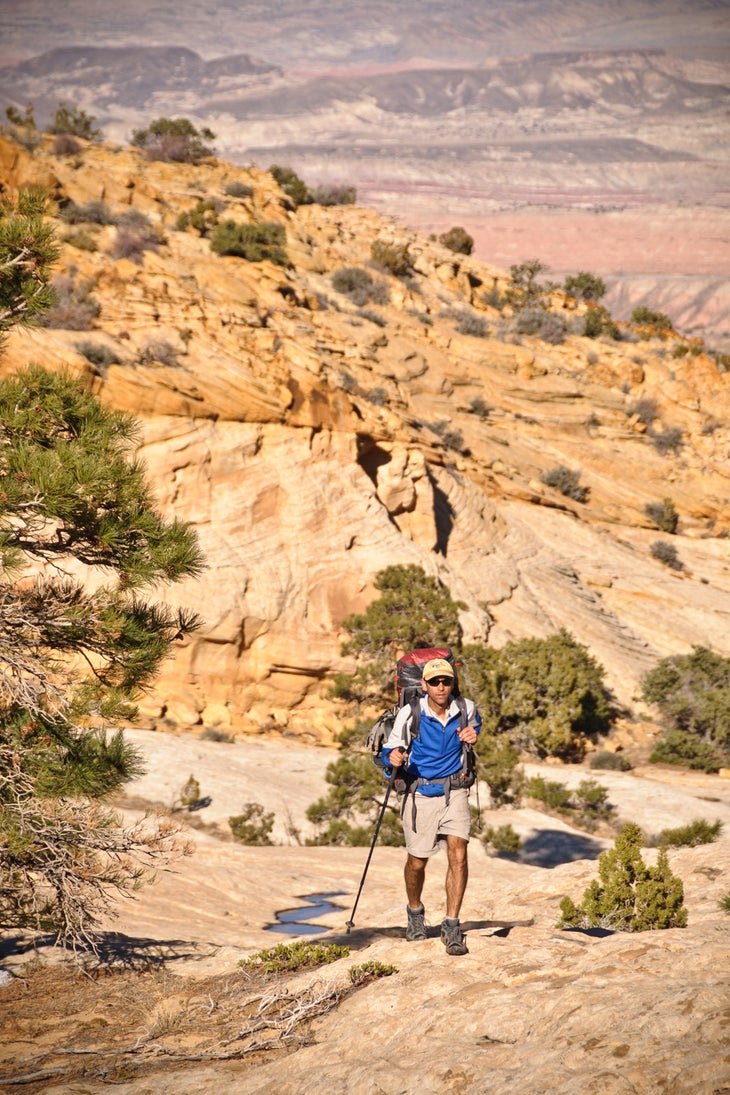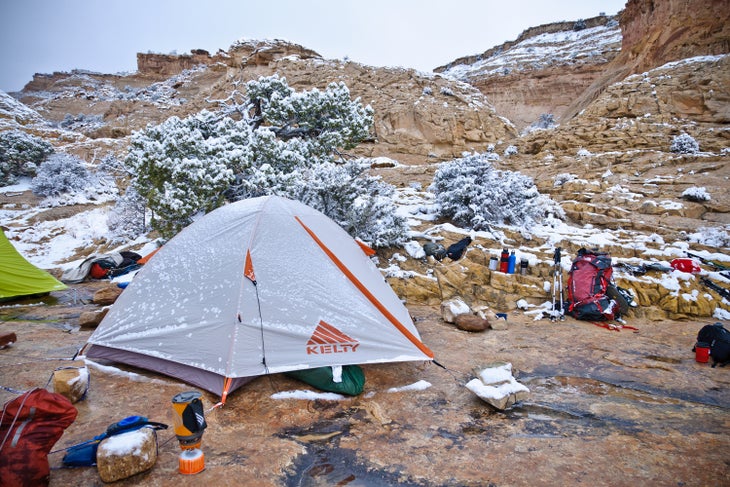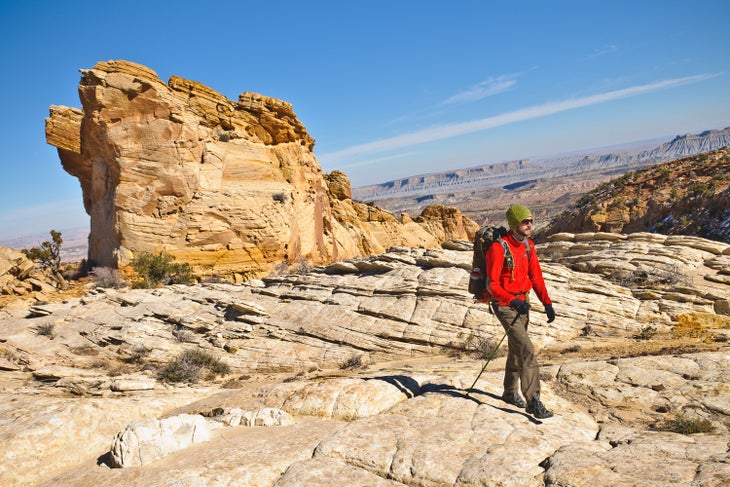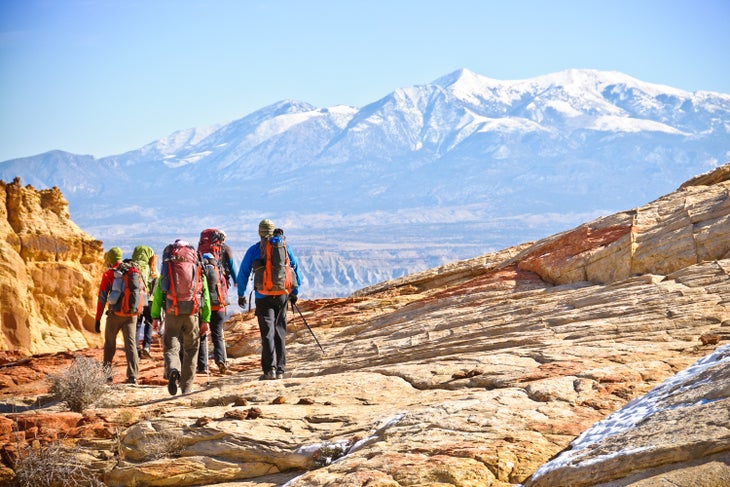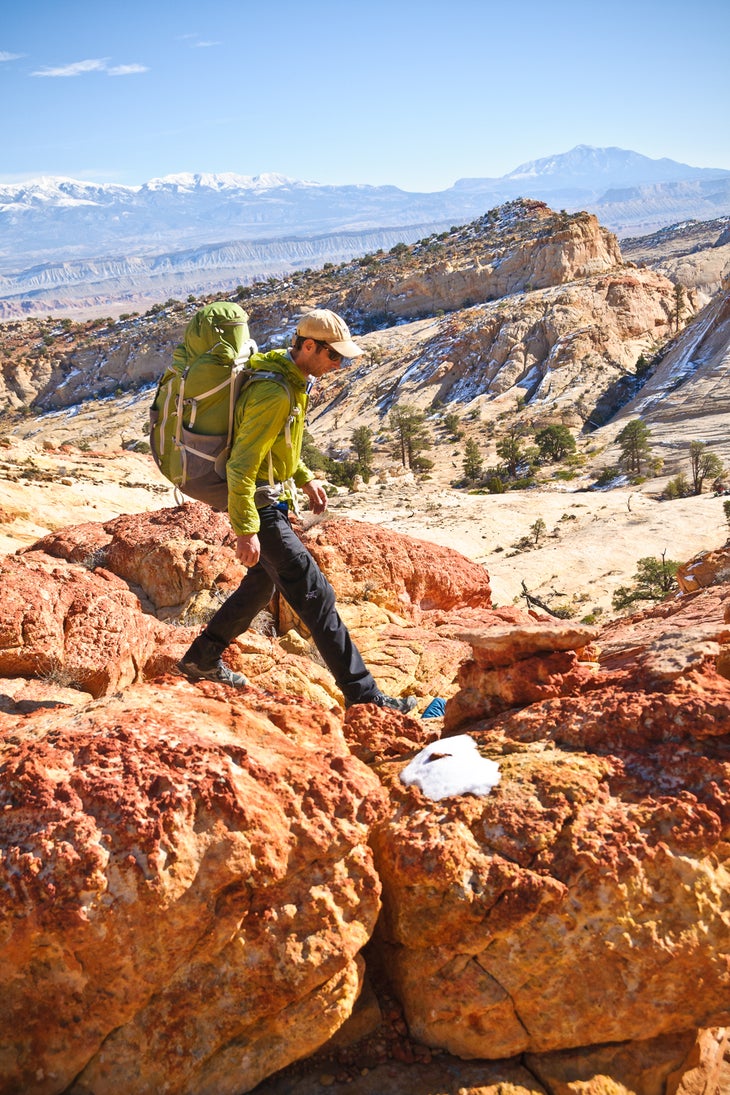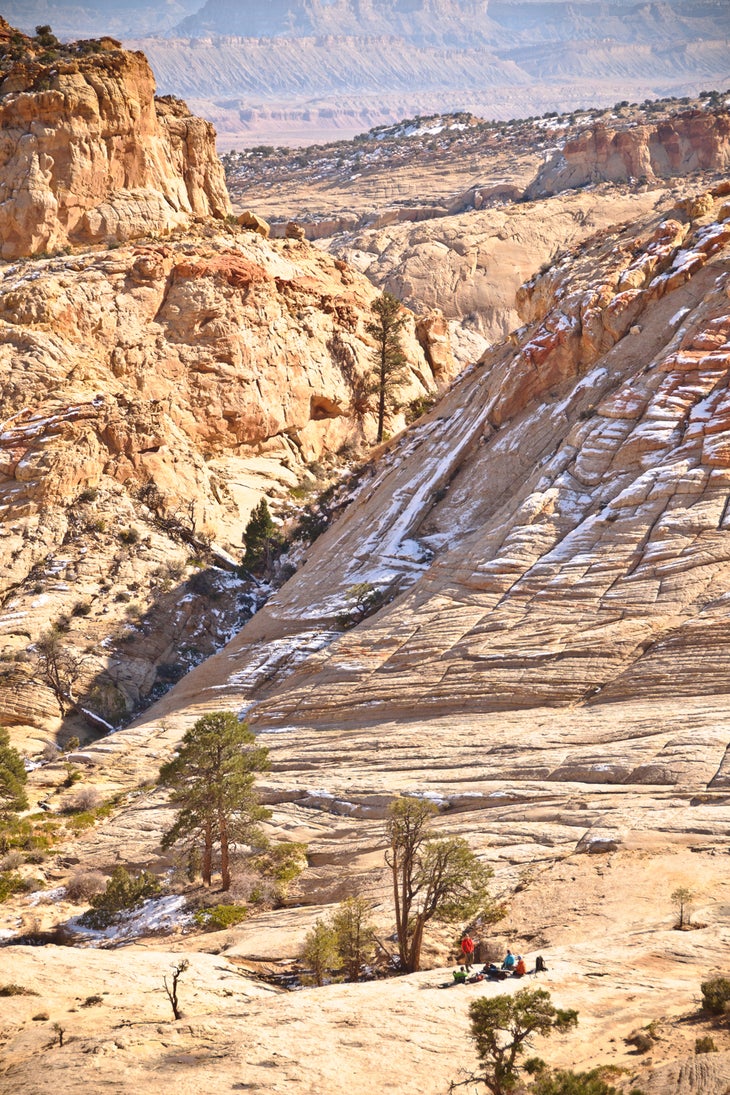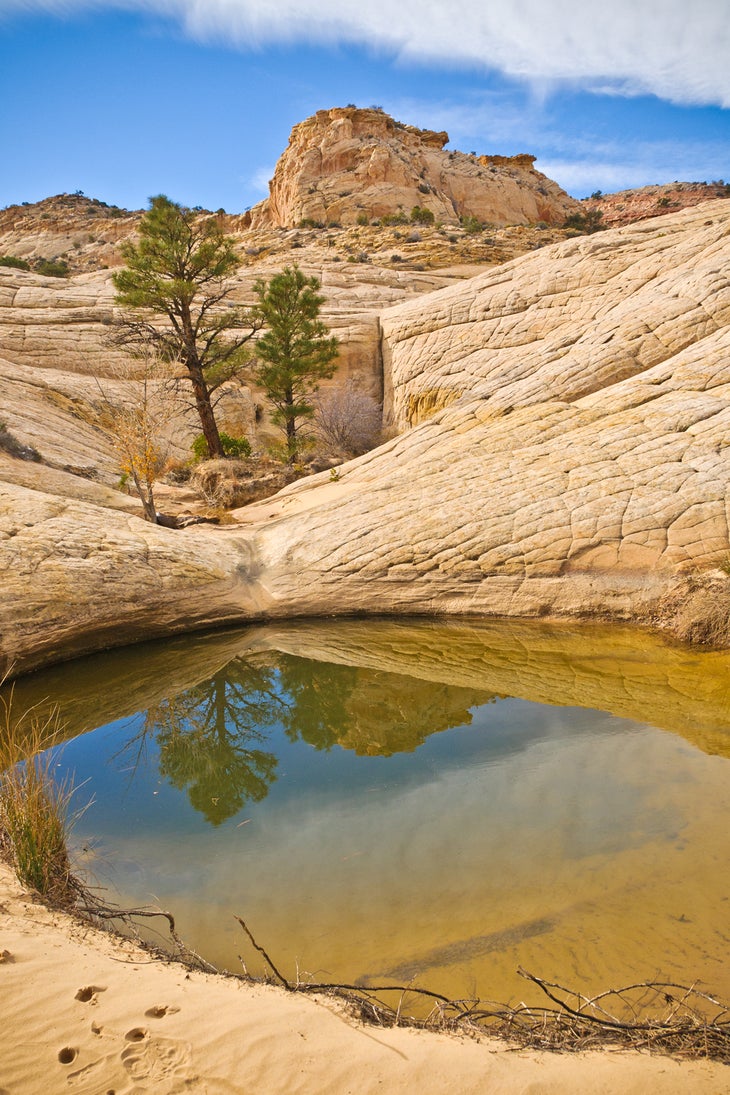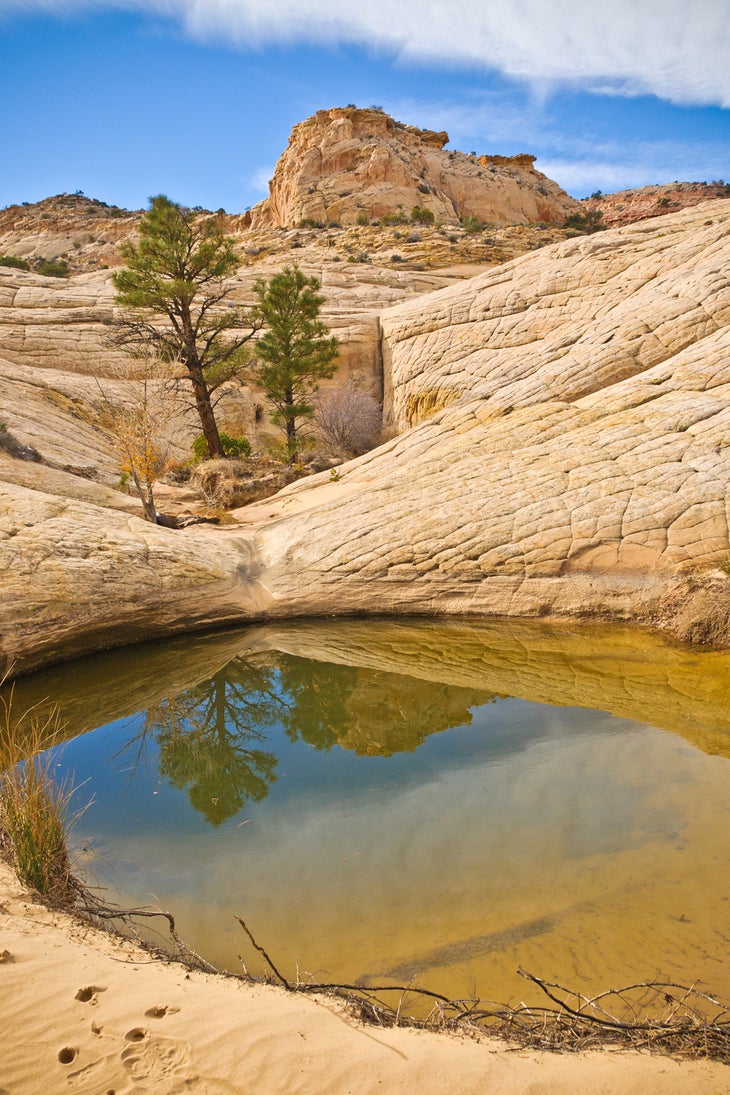 Trail Facts
Waypoints
CAP001
Location: 38.2334, -111.12411
Trailhead
CAP002
Location: 38.223065, -111.1381
Duck under NPS boundary fence.
CAP003
Location: 38.221042, -111.141147
Side trip: Drop packs, then bear right (west) for a .8-mile out-and-back up Capitol Wash. On return, turn south, following the wash.
CAP004
Location: 38.219139, -111.144438
Follow the ridge to the southwest.
CAP005
Location: 38.207608, -111.152307
View
CAP006
Location: 38.201253, -111.154026
Watch your step as you navigate through this cryptofield.
CAP007
Location: 38.199878, -111.15484
Begin descent.
CAP008
Location: 38.199222, -111.156157
Slickrock expanse
CAP009
Location: 38.197455, -111.157949
Slickrock
CAP010
Location: 38.196235, -111.158583
Small potholes
CAP011
Location: 38.19602, -111.15816
Campsite #5. This slickrock amphitheater makes a stunning campsite overlooking the Henry Mountains.
CAP012
Location: 38.195273, -111.15753
Slickrock basin dotted with ponderosa. Excellent campsite.
CAP013
Location: 38.192939, -111.159392
View
CAP014
Location: 38.194419, -111.155382
Potholes and ponderosas
CAP015
Location: 38.191979, -111.153572
Broad slickrock saddle
CAP016
Location: 38.190495, -111.151159
Descend slickrock bowls. Stay left, then right, to avoid rollover cliff bands.
CAP017
Location: 38.190858, -111.149265
Large pothole below cliff
CAP018
Location: 38.192749, -111.144432
Pothole
CAP019
Location: 38.194169, -111.142461
Pothole
CAP020
Location: 38.194472, -111.142192
Pothole
CAP021
Location: 38.195021, -111.140775
Pothole
CAP022
Location: 38.195838, -111.13766
NPS boundary fence: This tall fence doesn't touch the ground.
CAP023
Location: 38.195291, -111.129209
Creek crossing. Jump across banks.
CAP024
Location: 38.193609, -111.128522
Cross Pleasant Creek.
CAP025
Location: 38.193551, -111.128143
Road and campsites sit above the bend in Pleasant Creek.
CAP026
Location: 38.193571, -111.126088
End of route. Pick up your shuttle car.
Climbing slickrock bowls
Location: 38.197516, -111.157878
Sunset on the Henry Mountains
Location: 38.196027, -111.158115
Campsite
Location: 38.196027, -111.158096
Rock Formations
Location: 38.193383, -111.154866
Henry Mountains
Location: 38.191952, -111.153458
Redrock Hiking
Location: 38.191788, -111.152898
Slickrock Bowls
Location: 38.191771, -111.152818
Pothole
Location: 38.193091, -111.143856
Pothole
Location: 38.193091, -111.143856