Canoeing Your Way Through Cajun Country
Pack your paddle for a watery tour through the wild heart of cajun country
Heading out the door? Read this article on the new Outside+ app available now on iOS devices for members! Download the app.
Photo by Greg Guirard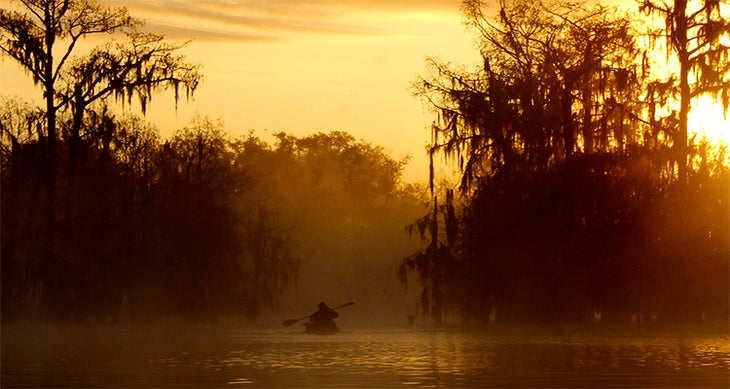 Photo by Gary Meyers
Y
"Y'all can't go out there. No one goes out there." Music to my ears. This coming from a local in a bait shop just outside Morgan City, a town mashed up against the earthen and concrete levees that keep the Mississippi's floodwaters at bay. We know there's a designed break in the levee wall somewhere, and once we portage our canoes through it, we'll have a prime slice of swamp wilderness all to ourselves.
These 1.4 million acres are what happens when man takes a swing at nature and nature punches back. In the 1960s, the Army Corps of Engineers built control berms to protect the Mississippi Delta from floodwaters. And in so doing, they hemmed in a vast swampland, where cypress trees crowd blackwater bayous, skinny black bears roam, and alligators groan at dusk. Water currents move silt, creating land mounds and destroying them just as fast at the river's whim. It's the largest swamp in the U.S., and even to locals, intimidating.
We find our gap and launch on a warm April day. In minutes we're heading against Little Bayou Sorrel's gentle current into the great swamp along a 7-mile route a resident helped us pick. Thick-crowned tupelos and cypress rise above us, and in an instant, I see a small alligator gar, a fish with a gator's snout, snapping out of the water.
Dusk settles onto the swamp, mirroring the sky's palette of magenta, salmon, and cyan. It'd be peaceful, except that we've covered 4 miles without seeing a square foot of dry land. And then, where the water meets the trees, we find it: space for our tent in the soil gathered by a live oak's mighty roots.
The full moon rises as we convert an overturned canoe into a makeshift banquet table, and, as we eat, moonlight catches the strands of Spanish moss hanging from the oak, illuminating them like a string of lights. When something big pushes into the water, our minds snap back to that local's warning, reminding us that we aren't at the top of the food chain. But, in an instant, it's calm and we're glad to be here, alone, in the moonlight.
Morning brings 650F temps and a ballet of dragonflies skimming the water. We push south toward Flat Lake, threading our canoes between trees and over lily pads. Tannin-stained blackwater swirls around our paddles, but gives no clues about the water's depth. Barred owls perch in the trees like gargoyles. At Flat Lake, a bald eagle welcomes us out of the swamp by skipping from treetop to treetop and screeching at us as we near.
It's only been a few days, but it feels longer in all the right ways. This patch of nature run amok isn't a place that welcomes people. But then, that's why you go.
Do it Trailhead: 29.808738, -91.172081; 9 miles north of Morgan City Gear up Cabela's in Gonzales; cabelas.com Season Spring brings mild air temps, but water levels can be high; summer is hot, humid, and buggy; fall brings cool nights and mornings, and lower water levels make for better camping options. Permit None Custom-centered map bit.ly/BPmapAtch ($15) Contact(337) 228-1094; atchafalaya.org