200 Miles of Awesome in California
From trailheads to trail towns, US 395 in California serves up the ultimate road trip for hikers.
Heading out the door? Read this article on the new Outside+ app available now on iOS devices for members! Download the app.
Why does this stretch of highway, from Mammoth Lakes to Death Valley, rise above all others? Just consider the superlatives: the highest and lowest points in the continental U.S., the Lower 48's largest national park, the world's oldest trees, a summer's worth of lakes, and the best post-hike bakery you'll ever feast at. Oh, and hot springs. Find all of that and more on a 200-mile journey along US 395, where the Sierra Nevada rise from California's eastern valleys. Go in fall, when the weather is near perfect and crowds long gone, and you'll wish this road trip would never end.
Instant Gratification
If you like dessert before dinner, start your road trip with this 15-mile hike in the Ansel Adams Wilderness.
Basking on the beach beside your campsite at Thousand Island Lake is reason enough to make this trip priority one. Now add the approach hike, which includes the most dramatic curtain raiser in the entire range, and you have a route that starts great and gets bet- ter. Make it a three-day trek and you can scramble up 13,150-foot Mt. Ritter on the layover day before parking yourself on that beach.
Begin from Agnew Meadows, just west of Mammoth Lakes, and head north along the River Trail. (Tip: During the summer, arrive early and you can drive to the trailhead, rather than hassling with the mandatory shuttle that begins at 7 a.m.) For the first few miles, the trail gently rises through the pines, providing a welcome warm-up at an easy-chat pace. After 4.5 miles, hang a left onto an unnamed path that connects to the John Muir Trail, where the conversation might stall as you climb about 600 feet in a mile.
The effort is worth it. With all due respect to John Muir's gospel-like ravings, seen from here, the Sierras are actually better than he said. Thanks to the sharp rise of the mountains—forget foothills—there's no slow build here. From the top of the climb, you overlook massive, 200-plus-acre Garnet Lake. Banner Peak towers to the west, a 12,936-foot monster of granite and glaciers.
Hike five minutes to Garnet's shoreline for a primo lunch spot on granite slabs beside a 20-foot cascade that drains out of the eastern end of the lake. Go ahead and soak your feet, but don't pitch your tent. Pull yourself away and hike another 2 miles on the JMT to camp on the north side of Thousand Island Lake. It has better campsites, plus it's a closer staging site for tomorrow's activities. Best bet: Loop around the mouth of the lake to camp somewhere along its northern shoreline. The closer you camp to Banner Peak and away from the JMT, the more solitude you'll find.
The next day, choose from a variety of trips. Some may want a 6-mile, mostly off-trail out-and-back to Lake Catherine, at the toe of Mt. Ritter's north-facing glacier, with views toward Yosemite. Others may prefer mountaineering (see Mt. Ritter, right) or simply marinating by the lake. And yes, it's possible to do all three in a day.
TRAILHEAD Agnew Meadows; 9 miles west of Mammoth Lakes (shuttle: $7/person) PERMITS Reserve up to six months in advance ($5/ person; recreation.gov) or try for a walk-up. INFO fs.usda.gov/inyo
Summit Mt. Ritter
This iconic peak nearly killed John Muir on his first ascent in 1872, but fortunately there are more benign routes than the one he chose. For first-timers, there's the Southeast Glacier route, with relatively easy class 2 to 3 scrambling. More experienced hikers can follow Muir's footsteps and ascend the north face's classic class 3 chute. Even though the summit is only 3 to 4 miles from camp (depending on tent location and route selection), plan on at least half a day for the round-trip with an alpine start due to the terrain and routefinding challenges. Either route may require an ice axe and crampons depending upon the snowpack (early fall usually has optimal conditions for weather and snow; Muir's ascent was in October).
Hilltop Hot Springs
Need proof that the outdoors is for relaxing? Hot springs. From Mammoth Lakes, drive south on 395 and turn left on Benton Crossing Road, just after Mammoth Airport. Continue for about 3.6 miles, turn left onto a dirt road, and park in the obvious lot. Hike up the hill for about 100 yards and you'll be rewarded with a geothermally warmed, manmade pool (free) that includes panoramic views of the eastern Sierra as well as the White Mountains. Expect to share on weekends. Camping on the nearby BLM land is free.
Erick Schat's Bakkery
Don't speed by this Bishop eatery en route to your next hike, in the Palisades. After climbing Ritter, you'll want to scarf down an entire loaf of cinnamon pull-apart brioche, a handful of chocolate-dipped macaroons, three stroop wafers, and a milkshake. Save room for the chili cheese bread, or just pack a loaf for lunch on the hike to Second Lake. And don't sweat the tourist vibe; everyone stops here, and you should, too. INFO erickschatsbakery.com
Going Glacier
The Palisades harbor the Sierra's biggest sheet of ice and one of the best campsites anywhere.
Tucked into a high cirque below the Sierra Crest, Palisade Glacier seems like a hoax until you're right on top of it. But
when you are, better have a spare memory card—it's easy to get trigger-happy. Our recommendation: Hike to the glacier on day two of a basecamping trip to Second Lake, where an array of side trips will keep you happy as long as the food lasts—and the easy approach means you can bring a lot of food.
On the 5-mile hike up the North Fork of Pine Creek, don't be fooled by the first hour. The initial couple of miles are dusty and exposed. But gradually the lodgepoles fill in, trailside cascades provide instant relief, and the trail climbs to First Lake (followed by Second through Seventh Lakes, and a few others). Stay left at two junctions to reach Second Lake. Don't be tempted by the other lakes; none compete with Second for basecamp splendor.
The water's greenish tint is straight from Oz, and Temple Crag's imposing granite edifice looms almost 3,000 feet above the southern shore. Camping tip: The best sites, with across-the-lake views of Temple Crag, sit on rocky ledges about 100 feet above the northeastern shore. The sites require a schlep to the lake for water, but it's worth it. In fact, you'll likely need an early start to score one of the sites, but you won't regret it as you watch the sunset light up the Palisades.
Among all the day trip options here, your first mission should be the hike to Palisade Glacier. Head west from camp along the well-defined trail, and after about 1.2 miles turn south-southeast and gradually climb a mile to Sam Mack Meadow—a sweet spot for napping on the return leg. Continue climbing south for another mile toward the glacier. Just before the end, you'll need to pick your way across a talus field, but there are a handful of cairns marking the way. Look for a prime lunch spot next to the small lake at the glacier's eastern toe, which occasionally holds icebergs.
Head back to camp for some quality time at Second Lake's best beach, nestled on the northern shore. Bragging rights: Thanks to glacial runoff, this might be the coldest swim of your life.
TRAILHEAD Big Pine Creek; 10 miles west of Big Pine.
PERMITS Reserve up to six months in advance ($5/person; recreation.gov) or gamble on a walk-up. INFO fs.usda.gov/inyo
Summit Mt. Whitney
When will you be this close again? You'll need to plan ahead (lottery permit required between May 1 and November 1; apply for a midweek slot to increase chances), but if you want to stand on the highest point in the Lower 48, the 22-mile round-trip hike from Whitney Portal is the most straightforward way to do it. Climbers: Try the Mountaineer's Route for a spicier ascent. Info fs.usda.gov/inyo
Rope Swing
Unless you've done a top-notch job of planning ahead, you'll likely need a quick return to Bishop to stock up for the next leg. Track down the rope swing on the far side of town before heading south. Head east for 3 miles on Poleta Road out of central Bishop, then turn right on an unnamed dirt track just before you cross the Owens River. Head south for 2 miles and keep an eye out for the rope swing hanging over a bend in the river.
Mt. Agassiz
From Second Lake, this scrambly route climbs 4.5 miles over a mix of on-trail and class 2 and 3 terrain. At Sam Mack Meadow (see left), follow the drainages toward the southwest until you arrive at Agassiz Glacier. Continue along the glacier's northern side, ascend Agassiz Col, and then head north to the 13,893-foot summit. On the far side, you'll have views into Sequoia and Kings Canyon National Parks.
Ancient Bristlecone Pines
You'll be tempted to skip this detour if you're short on time. Don't. It only takes a few hours (round-trip from 395) to drive up and then stroll through the oldest trees in the world. Some of these ancient bristlecone pines were seedlings when Egypt's pyramids were built. The granddaddy of them all, Methuselah, resides here in the White Mountains, though officials don't disclose its specific location. You can see the Patriarch Tree—the largest- known Great Basin bristlecone pine—located in its eponymous grove. The bristlecone forests grow high, above 10,000 feet, and the views extend across the Owens Valley to the Sierra and into Nevada in the other direction. Driving to the forest takes about an hour from Bishop (the road is closed during the winter, and there's no overnight camping allowed). Hikes here are all short, making this a great stopover on the way from the Palisades to Death Valley.
GET THERE Just north of Big Pine, take CA 168 east and White Mountain Road west. PERMITS None INFO fs.usda.gov/inyo
Desert Paradise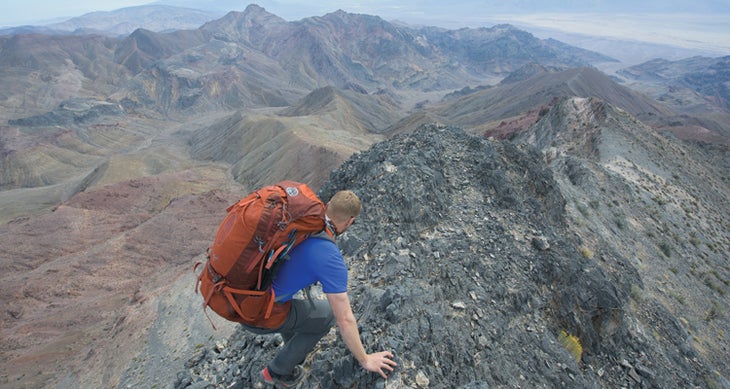 Discover one of the Lower 48's wildest spots: Death Valley's vast backcountry.
A backpacker's wonderful dilemma: where to go in the largest national park in the continental United States? Fortunately, you could throw a dart at the backcountry map and find a good destination. Our advice: Skip the standard spots—the Racetrack, Telescope Peak, Devil's Golf Course—and opt for exploring off-trail in a raw wilderness where you don't have to go far to get gone.
We prefer the maze-like Grapevine Mountains. The range conceals many canyons that have yet to be named, so it's easy to focus on the experience, not the destination. Park anywhere along Scotty's Castle Road on the western side of the Grapevines, pick a canyon, and hike to it. At first, as you cross the sunbaked alluvial fan between road and range, you'll likely curse the decision to target this godforsaken nothingness. What's the point? But soon you'll enter your own private slot canyon and realize that nothingness is exactly the point.
And make no mistake: There's plenty to be found amid the trackless ravines. A hiker discovered a previously unnamed natural arch in the Grapevines just a few years ago. Whatever you find, plan to enjoy a long night of stargazing: Death Valley is one of only three national parks certified as Dark Sky Parks.
Planning tip: It's only a couple of miles from Scotty's Castle Road to the canyons, but on a hot day, it'll feel like 20. Start early to avoid the heat, and be sure to pack plenty of water (rule of thumb: one gallon per person per day in warm weather). Bonus: You'll also love the change of scenery after a week or more in the mountains—provided you've timed your trip for the fall, when Death Valley's daytime temperatures are hiker-friendly.
PERMITS Entrance fee is $20/car; get voluntary backcountry permits at Stovepipe Wells Ranger Station. INFO nps.gov/deva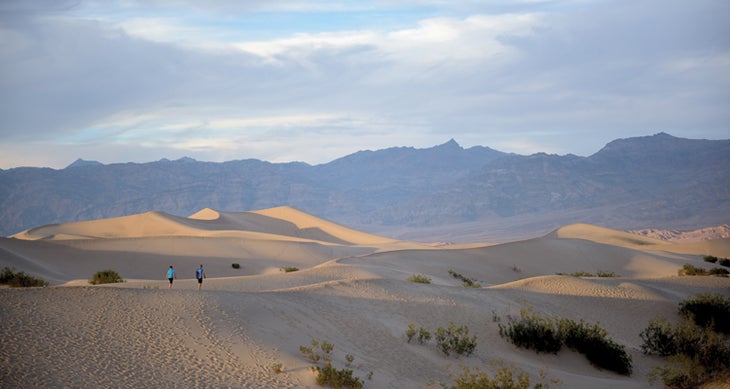 Mesquite Flats Sand Dunes
No Death Valley road trip is complete without a barefoot walk through the sand. Although there are several sets of dunes in the park, Mesquite Flat provides the easiest access due to its location a few miles east of Stovepipe Wells, right off CA 190. There are no trails, but head to Star Dune (the largest in the area) for its panoramic views of the Grapevine and Cottonwood Mountains. Go early or late in the day for the most dramatic light and to avoid sizzling temps.
Thimble Peak/Titus Canyon
How's this for value: From the summit of 6,381-foot Thimble Peak, an easy half-day scramble, you can see both the low- est and highest points in the continental U.S. (Badwater Basin and Mt. Whitney, respectively). Head northwest 25 miles from the 190/374 junction and make a sharp left onto gravel Titus Canyon Road. Continue 12 miles until you arrive at Red Pass (its moniker gives the location away). The 2.3-mile, unmaintained trail runs south from the road, up and over a knoll, down a saddle, and then ascends the northeast ridge to the summit (the last segment requires the occasional class 3 move). Bonus: the 12-mile drive out. Fittingly for a road trip of this caliber, it's like Disneyland's Big Thunder Mountain—and you've got the wheel. The one- way track slithers through limestone cliffs barely wider than a car in places. On the way out, look for bighorn sheep and stop to explore the defunct mining town of Leadfield.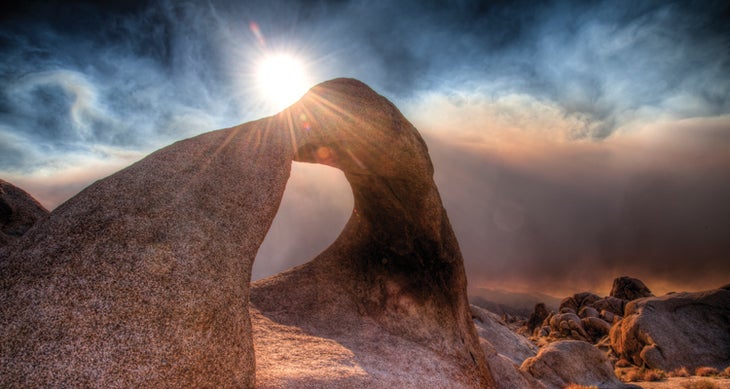 Alabama Hills
If you feel like you've been here before, it's not déjà vu; this site near Lone Pine has been a popular spot for movie sets since the early 1920s. The bulbous rocks littered throughout the area have been backdrops for everything from classic Westerns such as The Lone Ranger to modern productions like Gladiator and Iron Man. Natural arches litter the area, and if you drive down Movie Flat Road, you can search for the relatively famous Mobius Arch that perfectly frames Mt. Whitney in the distance. Camping is free on the BLM land. INFO blm.gov/ca
Road Trip Tips
Pack an Atlas
Get the DeLorme California Atlas & Gazetteer. Yes, it's paper, but this book-like map lists campgrounds and other recreation sites, and you'll find surprises by looking at what's around you rather than just following directions on your phone.
Stay Flexible
Weather delays, an extra day to bag a peak, extended hot springs soak. Avoid a rigid schedule and you're sure to have more fun.
Eat Out
Yes, you'll make better time by hitting the grocery store for sandwich makings between hikes, but enjoy a sit-down meal or two along the way. Rushing from trailhead to trailhead can make you feel like you're always late.
Camp Early
Inevitably, you'll need to car camp at least a couple of nights. Find a site before sunset to avoid driving around in the dark. Many developed campgrounds can be found on Forest Service land in the drainages west of 395. Tip: The Buttermilks, a popular bouldering area 8 miles west of Bishop, allows free dispersed camping. The views are gorgeous, but it can get crowded with climbers on weekends (info: fs.usda. gov/inyo).
Avoid Traffic
Flying in and getting a rental car? You can save time and skip L.A. chaos by flying into Mammoth Lakes.
Trip Planner
PERMITS See hikes for permit details. For all wilderness areas, you can get permits at regional visitor centers: Mammoth Lakes Visitor Center, White Mountain Visitor Center (Bishop), Mono Lake Visitor Center, and Lone Pine Visitor Center. Walk-in permits are available as of 11 a.m. the day before you want to start (for most areas, 40 percent of permit quota is set aside for walk-ins); reservations can be picked up 48 hours in advance.
LODGING AND TRAVEL INFOvisitcalifornia.com; visitmammoth.com; visitgreaterpalmsprings.com