Burlington, VT: Maple Ridge
This 4.1-mile loop on the southwestern slopes of Mount Mansfield offers dayhikers a healthy dose of elevation, fun rock scrambling, and Champlain Valley vistas.
Heading out the door? Read this article on the new Outside+ app available now on iOS devices for members! Download the app.
One of the lesser-traveled approaches to Mount Mansfield, the hike up Maple Ridge is a strenuous climb up varied terrain. From the parking lot on Stevensville Road, hike due east along the road for 0.2 mile. Turn left at the first trail junction, and continue straight on the Frost Trail.
From here, the trail climbs in earnest toward the spine of Maple Ridge. From the first rock-outcropping overlook, the hike traverses a mix of dense forest and exposed rock marked by blazes. Slightly technical spots (including "The Cut," a narrow rock shelf, and "The Gap," a manageable ledge jump) will keep you on your toes. Two miles into the hike, an optional 0.2-mile side trip climbs a rock scramble up to the Forehead, a broad rock outcropping viewpoint south of the Mansfield summit. This trip bypasses the detour and heads south on the Wampahoofus Trail, down-scrambling through more boulder obstacles to Butler Lodge, a cabin shelter maintained by the Green Mountain Club.
The downhill return trip to the trailhead on Butler Lodge Trail is mellow compared to the ascent: a gradual singletrack trek through hardwood forest (and a leaf-peeping wonderland during peak foliage).
-Mapped by Berne Broudy, AuthenticOutdoors.com
TO TRAILHEAD: Take I-89 to exit 15, and head east (right) on VT 15. Continue 3.6 miles to Essex Junction and bear left to continue on VT 15. Go 9.2 miles (stay right on VT 15 through Essex Center and then bear left to stay on VT 15 2.8 miles later), and bear right onto River Rd. Continue 2.7 miles and bear left on Pleasant Valley Rd. In 0.3 mile, turn right onto Stevensville Rd. Go 2.5 miles to trailhead parking.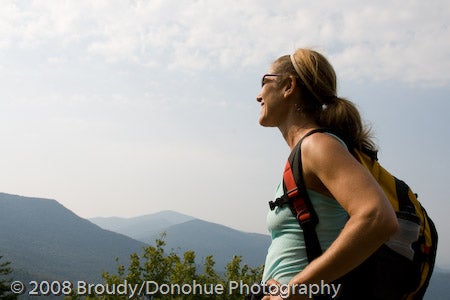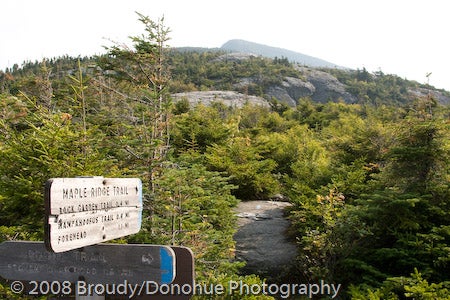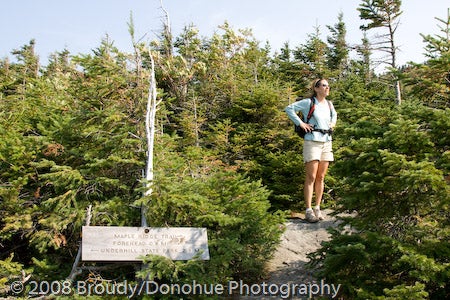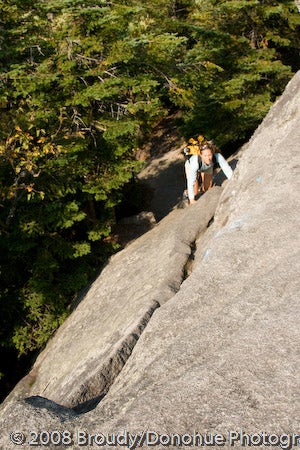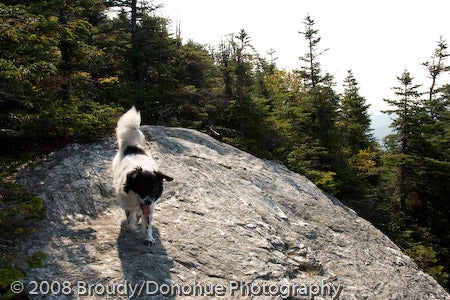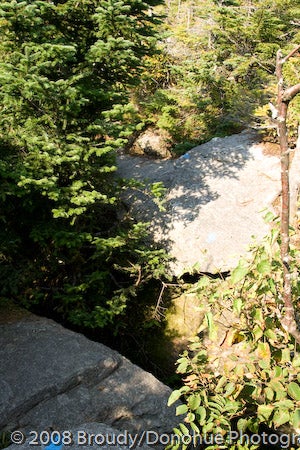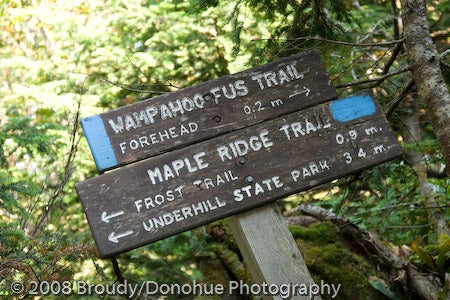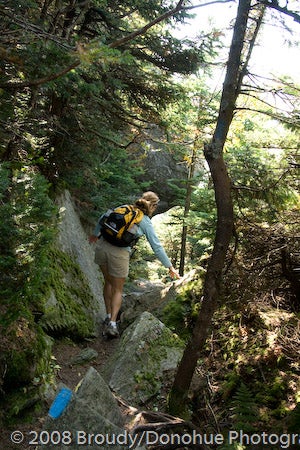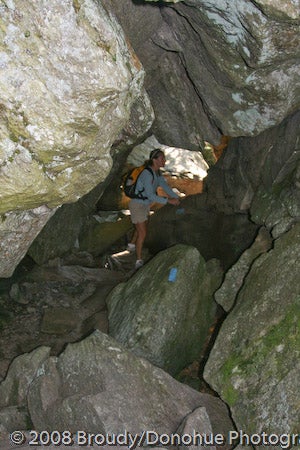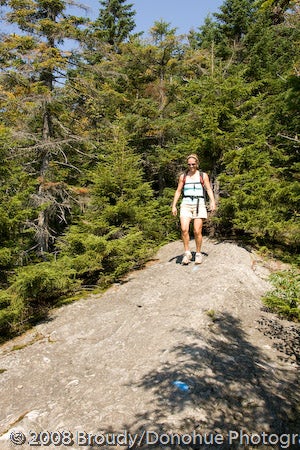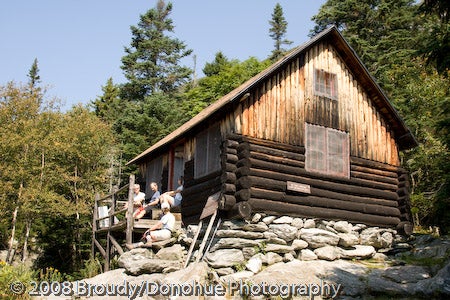 Trail Facts
Waypoints
MPR001
Location: 44.5056976, -72.8473195
Stevensville Road parking lot and trailhead: Begin walking due east on Stevensville Road, a rough fire road. The Frost/Butler Lodge Trail junction is about 0.2 mile up the road on the left at Waypoint 2.
MPR002
Location: 44.5060706, -72.84428
Turn off the road to the left and approach the junction of the Frost Trail and the Butler Lodge Trail. Continue straight on the Frost Trail at this junction. The hike returns via the Butler Lodge Trail (to the right). On the return trip keep an eye out for a spur trail to the right that leads up to a small post-hike swimming hole.
MPR003
Location: 44.5159246, -72.8362101
The trail reaches its first rock outcropping overlook. As the hike continues up the spine of Maple Ridge, there are numerous rock bald spots like this one that afford spectacular views of neighboring Green Mountain peaks.
MPR004
Location: 44.5185871, -72.8321028
Continue on the Maple Ridge Trail as it curves right. This trail junction offers access to Underhill State Park.
MPR005
Location: 44.5190363, -72.8285214
Continue straight on the Maple Ridge Trail heading towards the Forehead.
MPR006
Location: 44.5194669, -72.8272426
The Cut: Here, the trail scambles up a narrow rock shelf known as "The Cut." This spot is about as technical as this hike gets, but is very much a beginner-to-intermediate trail obstacle (which adventurous kids will eat up).
MPR007
Location: 44.5198035, -72.8253973
The Gap: The trail hops over a very narrow space between two stable rock ledges. This passage may look imposing at first but is actually very narrow and can almost be stepped across without jumping. Tip: A running start helps here.
MPR008
Location: 44.5202625, -72.8221142
Turn right onto the Wampahoofus Trail (named for a mythical yeti-like creature) and continue through a rock garden stretch of trail that will require a bit of down-scrambling. Optional detour: Continue 0.2 mile toward the Forehead. This side trip includes a bit more steep rock scrambling, with nothing highly technical between you and a broad rock overlook.
MPR009
Location: 44.5199354, -72.8218311
The trail snakes through a narrow (and stable) rock tunnel.
MPR010
Location: 44.5164298, -72.8203869
Continue straight on the Butler Lodge Trail.
MPR011
Location: 44.5154812, -72.8203118
Butler Lodge: Take a break at this primitive cabin shelter maintained by the Green Mountain Club. From here, the trail continues down the Butler Lodge Trail on a more gradual descent through dense forest back to Waypoint 2 and then the trailhead.
First Views
Location: 44.5159249, -72.8360081
Overlooks of the Champlain Valley and the Adirondacks are scattered along the spine of Maple Ridge. © Broudy/Donohue Photography
Underhill State Park Junction
Location: 44.5185795, -72.8319311
The Nose of Mount Mansfield pokes over the horizon. © Broudy/Donohue Photography
Upwards and Onwards
Location: 44.5190614, -72.8284228
The Cut
Location: 44.5194592, -72.8271353
Scrambling up The Cut. © Broudy/Donohue Photography
Scrambling Pup
Location: 44.5199718, -72.8264192
The Maple Ridge hike is a tough-but-doable ascent for agile dogs. © Broudy/Donohue Photography
The Gap
Location: 44.5197882, -72.8252792
Wampahoofus Junction
Location: 44.5202166, -72.8219962
Down Scramble Ahead
Location: 44.5201171, -72.8218353
Rock Tunnel
Location: 44.5199182, -72.8217494
Walking the Rock
Location: 44.5172025, -72.8208375
Butler Lodge
Location: 44.5154736, -72.8201938