Buena Vista, CO: Timberline Trail to Huron Peak
This 3-day trek follows a choice route through Colorado's high and wild Collegiate Peaks.
Heading out the door? Read this article on the new Outside+ app available now on iOS devices for members! Download the app.
This 3-day trek passes right through the heart of a wilderness area that scratches the ozone with eight 14,000-foot peaks–more than any other wilderness in the Lower 48. From the trailhead, take the Timberline Trail to Prospector Gulch. Cut west at mile 7.1 to camp by Illinois Creek. Day two is a climb to 12,600-foot Lake Ann Pass and a drop to trout-filled Clear Creek for a six-mile day. Sleep tight: Day three is a big one. You'll reach your shuttle car in .5 miles; downsize to a summit pack and hit the spur trail to Huron Peak, the highest spot on this route and the farthest 14er from a paved road in the Sawatch Range.
-Mapped by Dick Vogel
TO TRAILHEAD: Starting point: From Buena Vista, drive 26 miles on CR 209, crossing over Cottonwood Pass, to the Timberline Trail trailhead.
Ending point: From Leadville take US 24 S for 20 mi. Turn R onto CR 390/Clear Creek Canyon Rd. Go 11.8 mi. to Winfield and bear L @ T. In 800 ft., turn R @ T. Go .3 mi. and park @ trailhead. Or, continue 1.8 miles to the Huron Peak trailhead (marked as point TTH010 on the map) with a high-clearance vehicle.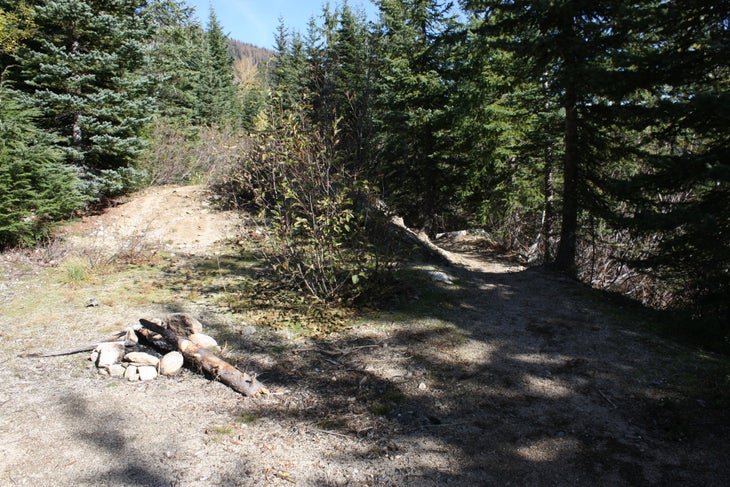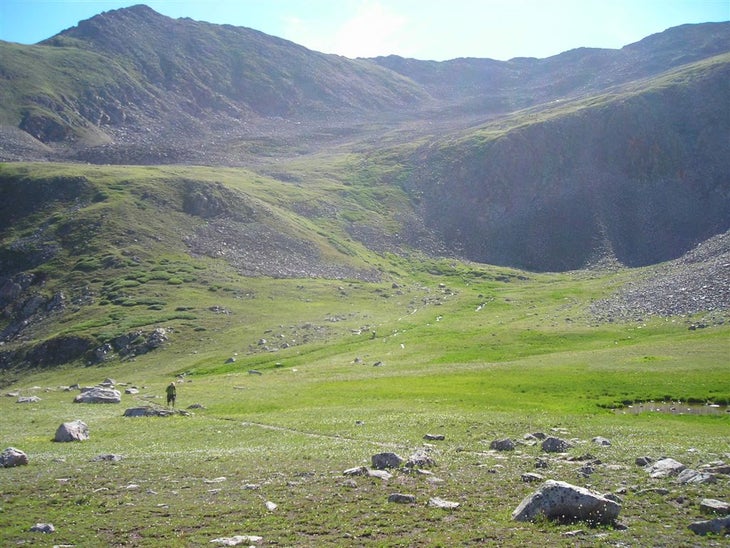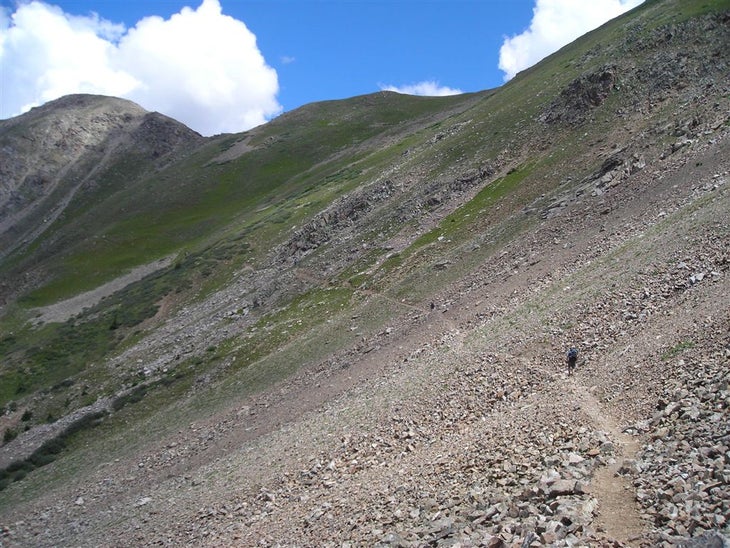 Trail Facts
Waypoints
TTH002
Location: 38.8655967712402, -106.441970825195
Trail swings west on newly groomed trail.
TTH003
Location: 38.8616180419922, -106.457214355469
Trail passes between Texas Lakes. Possible campsites but this section is often travelled by ORVers.
TTH004
Location: 38.8728103637695, -106.426643371582
Trail leaves open meadows along Texas Creek and climbs into a mixed woodland of conifers and aspen.
TTH005
Location: 38.8938064575195, -106.468338012695
Small wooded campsite
TTH006
Location: 38.9083595275879, -106.481369018555
Turn left
TTH007
Location: 38.912914276123, -106.469970703125
Pass above Lake Ann. Big mountain views in every cardinal direction.
TTH008
Location: 38.919017791748, -106.467430114746
Flat campsites at Lake Ann
TTH009
Location: 38.9392471313477, -106.458061218262
Look for leftovers from the old mining town of Hamilton
TTH010
Location: 38.9593658447266, -106.460731506348
Sign the trail register @ Huron trailhead. Drop big pack and go for the 14,003-foot summit of Huron Peak.
TTH011
Location: 38.9456024169922, -106.437950134277
Huron Peak: Cloud-scrapping views are everywhere.
Trailhead
Location: 38.8469161987305, -106.45337677002
Ascending to Lake Ann Pass
Location: 38.907772064209, -106.471694946289
Ascending Huron Peak
Location: 38.952751159668, -106.445640563965
Cutting across talus slope
Location: 38.9096031188965, -106.469863891602