Solo-Hiking Alaska's Brooks Range
An interview with thru-hiking phenom Kristin Gates
Heading out the door? Read this article on the new Outside+ app available now on iOS devices for members! Download the app.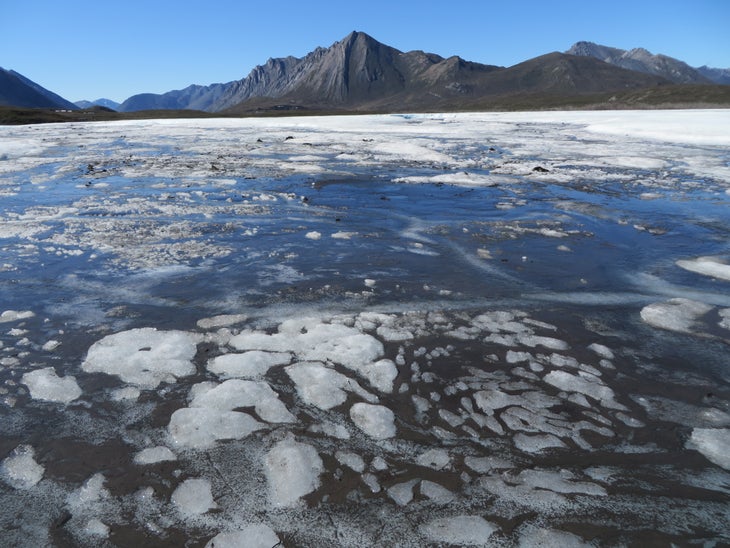 An ice-laden section of the Brooks Range.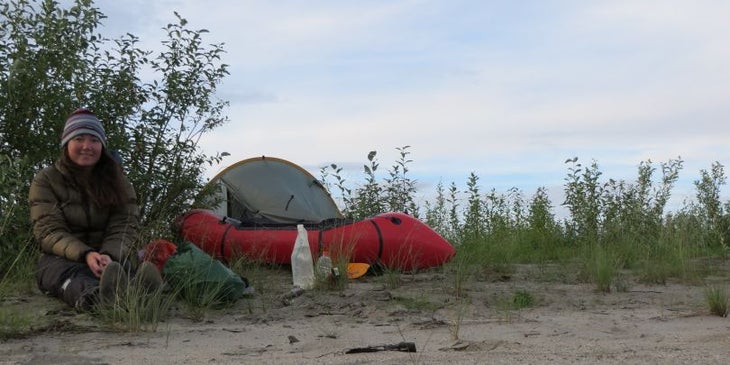 Setting off with my pack raft.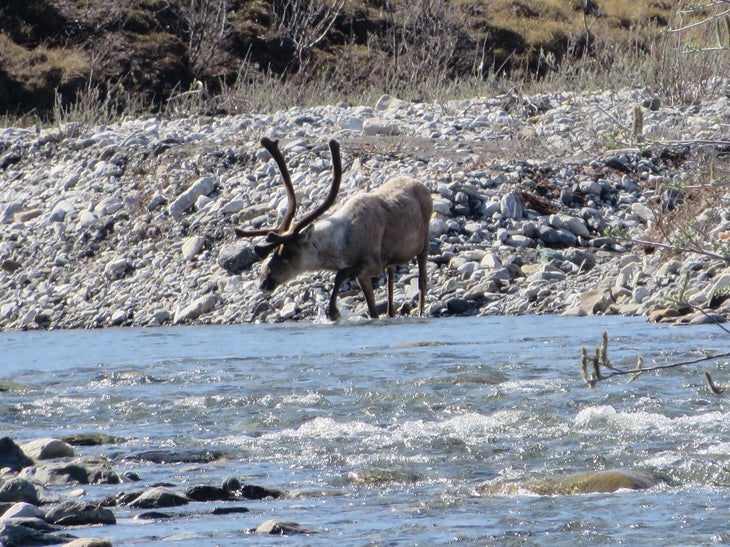 A caribou along the Kongakut River, Alaska.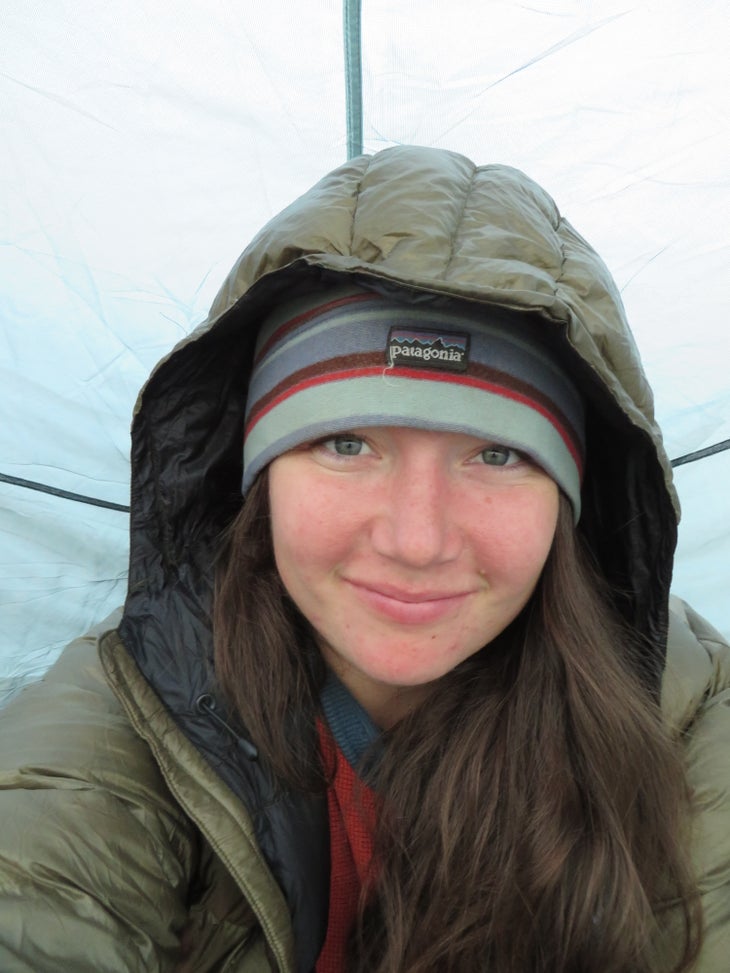 Safe in my tarp tent on night 1.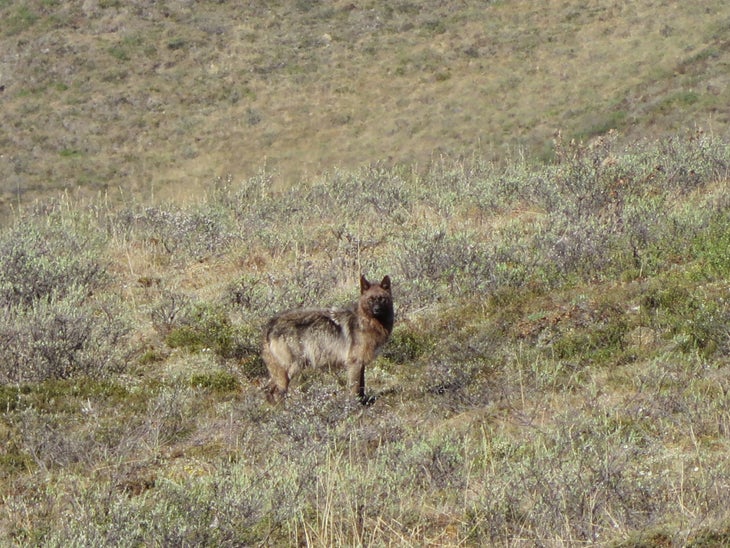 A wolf near the Kongakut River, Alaska.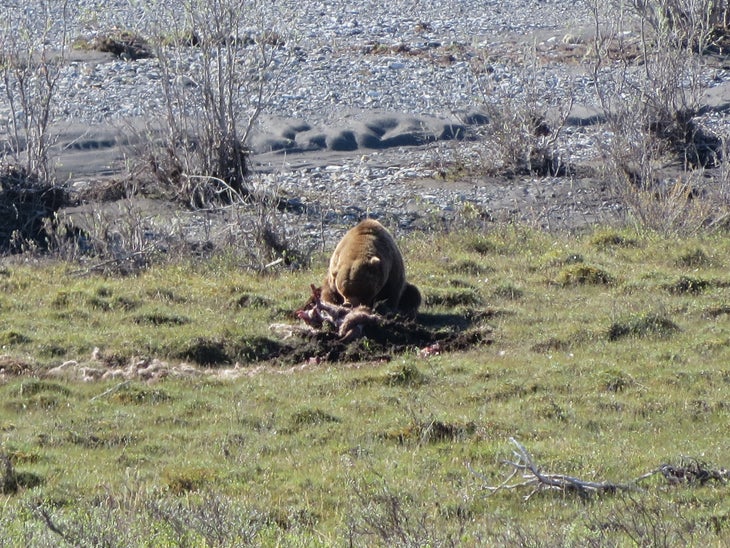 A grizzly dines on a caribou carcass.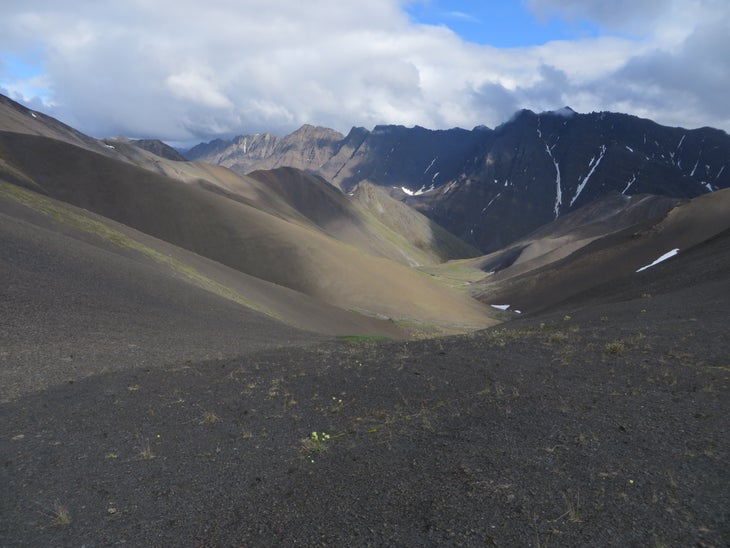 Looking east across the border of Alaska and Yukon.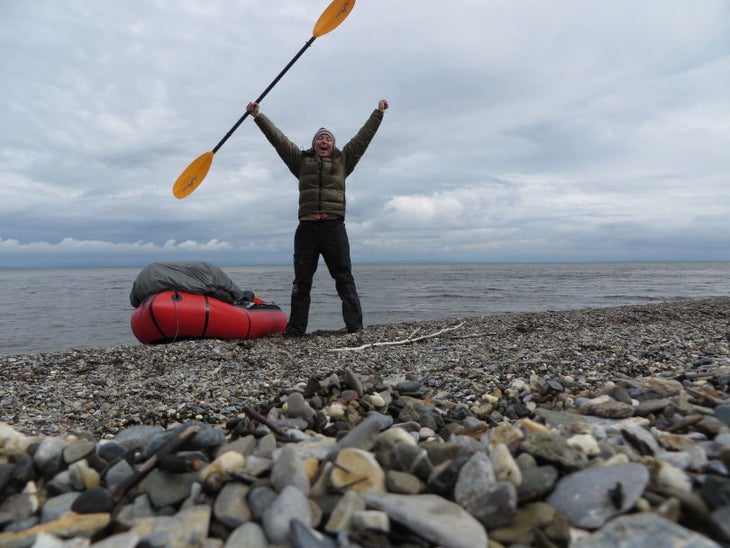 Reaching the Chukchi Sea on day 50 of my trek.
At just 27 years old, Kristin Gates is fast becoming a thru-hiking force to be reckoned with. The New England native and current resident of Coldfoot, Alaska, has already completed the long-distance Triple Crown (AT, PCT, and CDT) and this past summer, she became the first female to hike Alaska's 1,000-mile-long Brooks Range alone—a 50-day endeavor. She chatted with BACKPACKER about her rigorous preparation, the breathtaking scenery, and overcoming adversity along the way.
BACKPACKER: How did hiking fit in to your childhood? Was it always something you enjoyed?
KRISTIN GATES: I grew up hiking in New Hampshire's White Mountains with my dad. The first mountain I ever hiked was Jackson. I was eight years old, but I remember it vividly. I remember feeling so tired and unsure that I could make it as we approached the tree line…and then, not ten minutes later, I remember reaching the narrow ridgeline and running through the clouds hopping from boulder to boulder, feeling better than I ever had in my entire life. That was it. I have been hooked ever since. By the time I was 15, my dad and I had hiked the 48 mountains above 4,000 feet in New Hampshire. During those trips, we would often find ourselves on the Appalachian Trail and my dad would tell me how that trail went from Georgia all the way to Maine. I knew I just HAD to hike it. That is how it all began.
BP: What did your family/friends think when you told them about your plans for the solo Brooks Range traverse?
KG: My friends and family think I am a little crazy, but I don't think that they were very surprised when I made the decision to hike across Alaska this summer. I had been talking about it ever since I moved up to Coldfoot, AK (60 miles north of the Arctic Circle) in 2010. My friends and family know that outdoor travel is what I live for, so they were very supportive throughout the whole trip. I could not have done it without them. Especially my mom, who helped mail out my re-supply packages and my dad who texted the weather report to my SAT phone every day, and my friends Danielle and Jack who texted me often during the trip. I was never really alone out there because of them.
BP: Did you do any kind of special training or fitness conditioning in order to prepare yourself for the conditions up there?
KG: Preparing for this trip was a full time job and took five months. There are no hiking trails in Northern Alaska, so I had to map out the route and figure out how to re-supply myself.
In order to prepare physically for the hike across the Brooks Range, I hiked the 730-mile Grand Enchantment Trail from Phoenix to Albuquerque. This trail helped toughen up my feet and it gave me an opportunity to fine-tune my navigation skills since some of the Grand Enchantment Trail is trail-less. I also hiked through two snowstorms during the New Mexico portion of the trip. My tarp did not hold up very well in the storms and my gear got pretty wet. This was an important reminder that I needed to have my act together for the Brooks Range. If my stuff got wet up in the Arctic, I would not have a town to bail to. There is no safety net up there. You have to be ready for anything that comes your way and cannot make any mistakes.
BP: What was your single most valuable piece of gear? Anything you wished you had, but didn't?
KG: My Henry Shires Moment DW Tarp Tent. It completely took the stress out of bad weather. With its removable interior, I knew that even if it rained for weeks, I would be able to keep the important things, like my sleeping bag, dry. On rainy days, I would pack the interior of the shelter away separately from the rain fly so that it would stay dry and I would always have a dry shelter to climb into every night.
I would have loved a dry suit for the packrafting portion of the trip. I had decided not to get one because they were a bit out of my price range, but after a couple of days of rain and wind on the Noatak, I would have paid twice the price and thrown in my big toe to have one.
BP: Talk about the moment that scared you the most, and how you got through it.
KG: People who have met their fate hiking in the Brooks Range have died by drowning or getting hypothermia. Coming into the trip, I knew that these were the big dangers. I prepared accordingly. For the eastern portion of the trek, where I did not have my packraft, I plotted out my route close to the divide so that I would be crossing rivers by their headwaters where they would theoretically be crossable. I made sure that I had a fail proof system to keep my sleeping bag and other gear in my pack dry no matter what.
I prepared as best as I could, but the river crossings still left me with some stories. The scariest moment of the trip was hiking up to a pass two weeks into the expedition. It had been raining heavily for a couple of days. Up in the Arctic the ground is frozen year round so all of the rain fall goes right into the rivers and they rise fast. I came to a river that I had to cross to continue on my way, but it was too powerful.
I tried hiking upstream a ways and scrambled up steep crumbly slate slopes but eventually was stopped in my tracks by a steep canyon and the river. I felt helpless. I was helpless. The nearest person was hundreds of miles away. I had to set up my tent and hope that the rain would stop soon and the river would go down. I had to wait it out. I camped up on a little bluff and the water was pummeling through the gorge below me so fast that I remember feeling the ground vibrate as I fell asleep.
The rain did stop and the river did go down and all was well, but I will never forget that feeling of being stopped in my tracks and being completely at the mercy of Mother Nature.
BP: Coolest wildlife/scenery you saw along the way?
KG: My route took me up the Kongakut River for two days and as I was hiking upstream I was seeing a lot of fresh bear and wolf tracks. So fresh that I was convinced at any moment I would turn a corner and see the owners of the prints. I finally met them on the second day just after breaking camp. A pack of wolves. The strange thing was that they were heading back down stream towards me. Half of the pack ran up into the hills to the right of the river and the other half ran into thick willows on the left side of the river upon seeing me. But why were they heading back downstream? That question was answered not five minutes later when I turned the corner to find myself standing only a couple hundred feet away from a large male grizzly at a caribou carcass. He had stolen the kill from the wolves. Even a pack of wolves is no match for a big male grizzly. I quietly retreated uphill away from the riverbed and hiked far around the bear.
BP: Any advice for those out there who are thinking about trying a long thru-hike for the first time?
KG: Don't do it! Stay home! If you want to have normal life and a family and a respectable career, stay inside! It will ruin you. BUT…if you want to be swept away by a crazy adventure that will open your eyes to what it is like to be wild and free, if you want to meet the best people and live your life to the brim, if you are okay with never being satisfied with "normal" again…then go for it. But you have been warned.
BP: What's next for you?
KG: I have daydreamed up a bunch of ideas for the coming year. I have not committed to one plan just yet, but 2014 is going to be a great year!
Kristin Gates blogs about her hiking adventures at milesforbreakfast.com.