Boundary Waters: Trails End to Hunter Island
Sheltered camps with bugling moose. Coves with ancient rock art. A raging waterfall. You'll find even the portages delightful as you paddle this 38-mile, 3-day route through Minnesota's million-acre water park into Canada's Quetico Provincial Park.
Heading out the door? Read this article on the new Outside+ app available now on iOS devices for members! Download the app.
-Mapped by Steffan Fay
TO TRAILHEAD: From Duluth, head N on MN 61 for 114 mi. to Grand Marais, then take Gunflint Trail 57 mi. N toward Trails End. Turn R onto Sag Lake Trail for put-in access. Permits required for Boundary Waters and Quetico; reserve well in advance (www.bwcaw.org, www.ontarioparks.com/english/quet.html). To receive Quetico trip planning info by mail, call (807) 597-2735. Visitors entering Quetico directly from the U.S. must have a Remote Area Border Crossing Permit; visit www.cic.gc.ca/english/visit/rabc.html.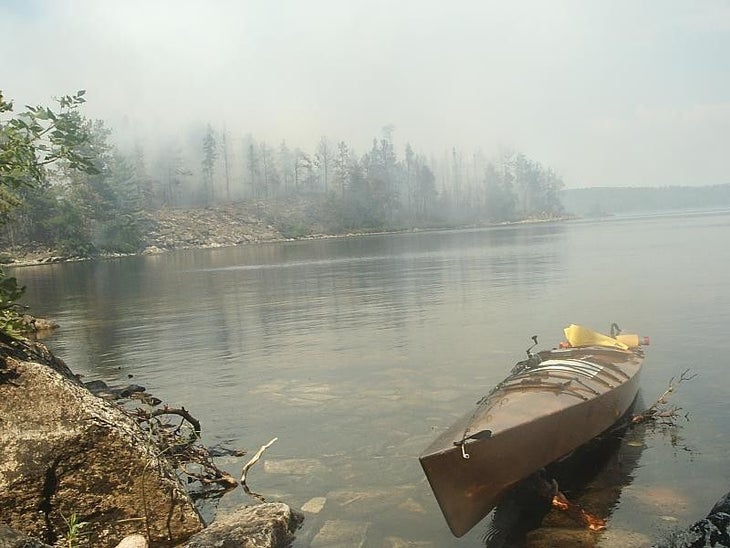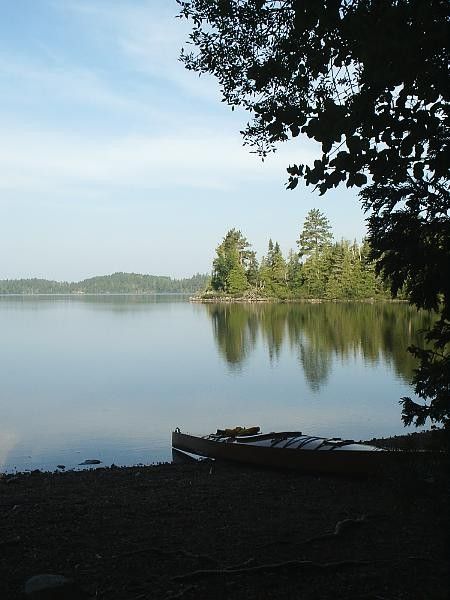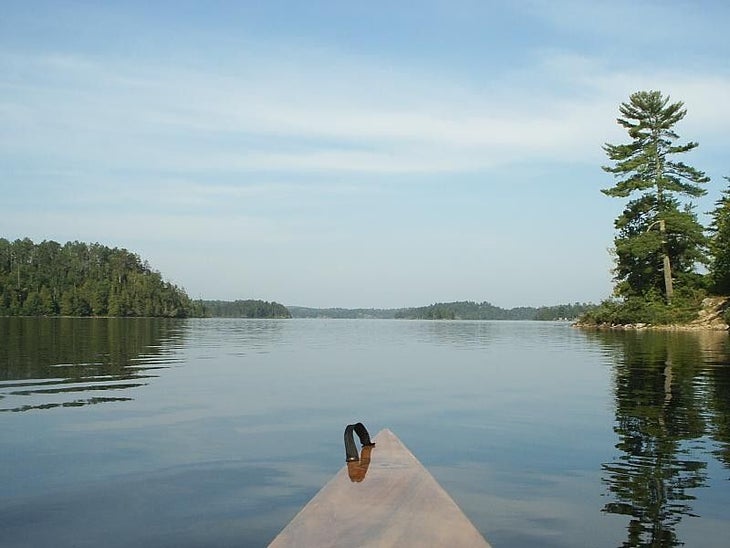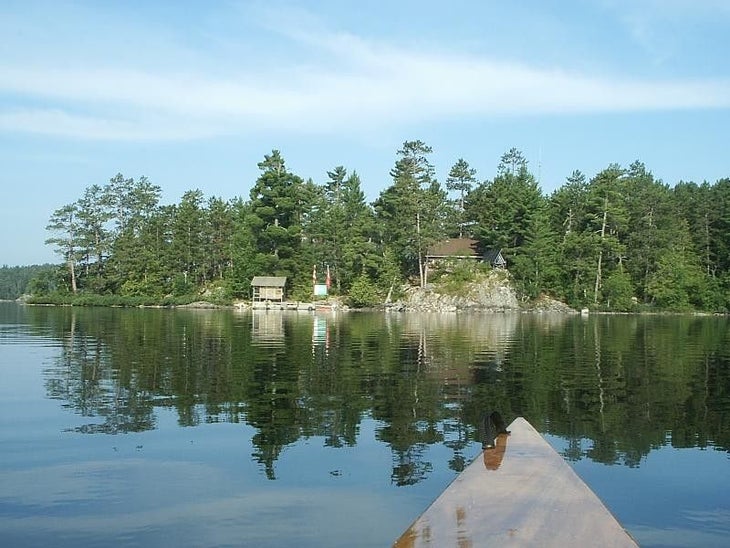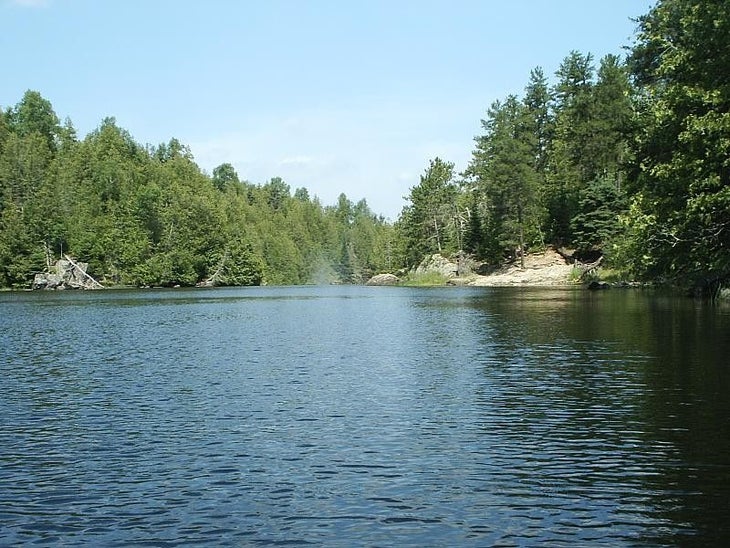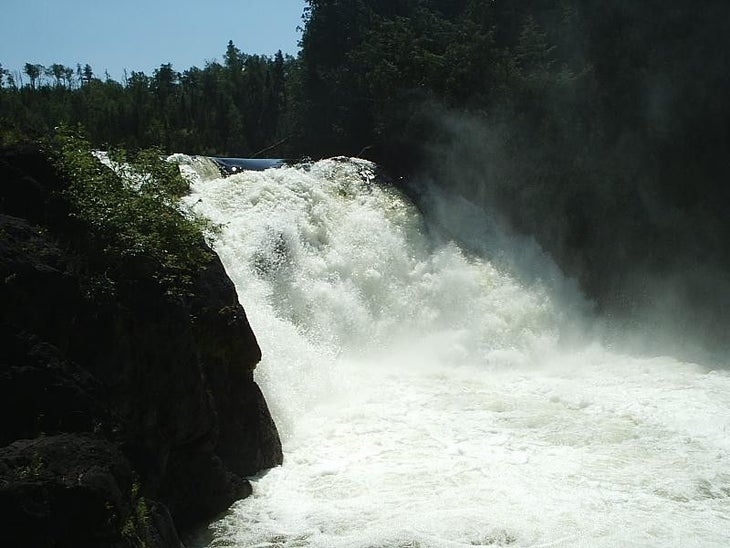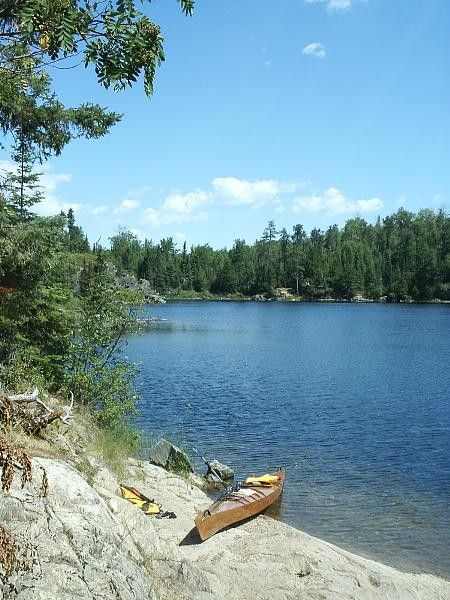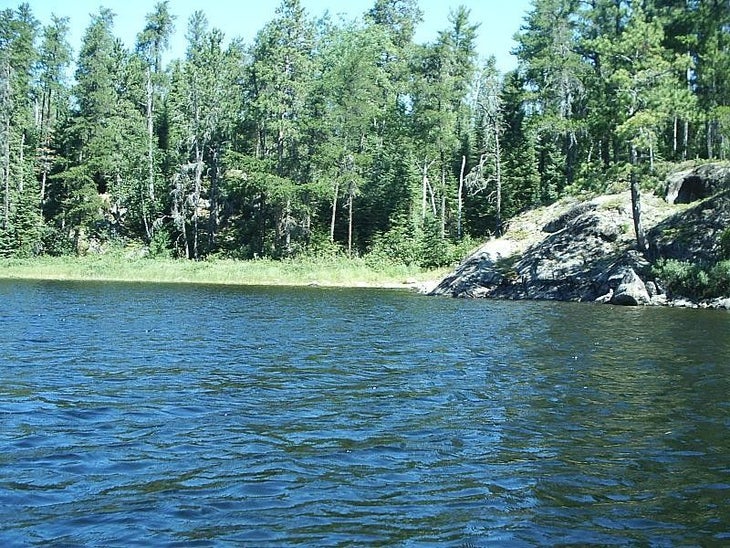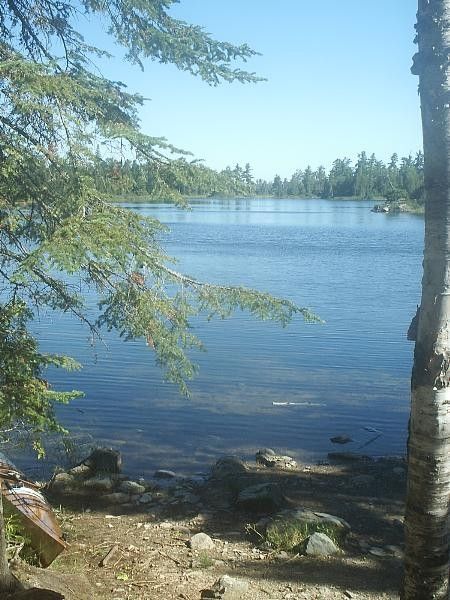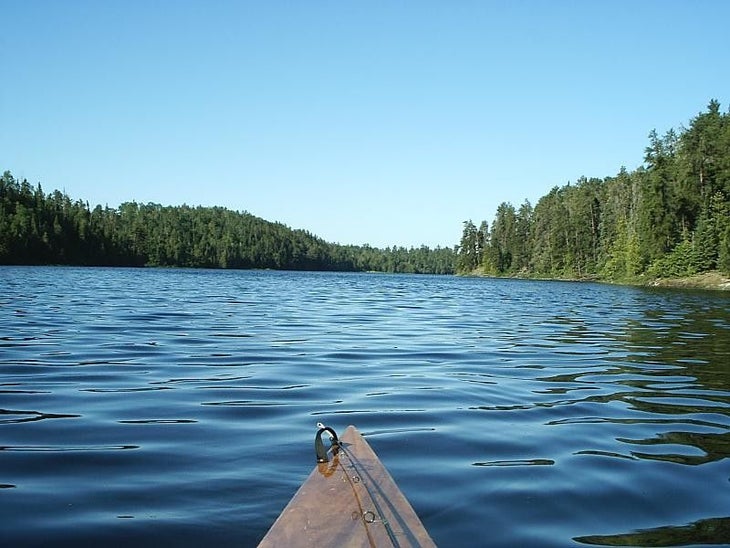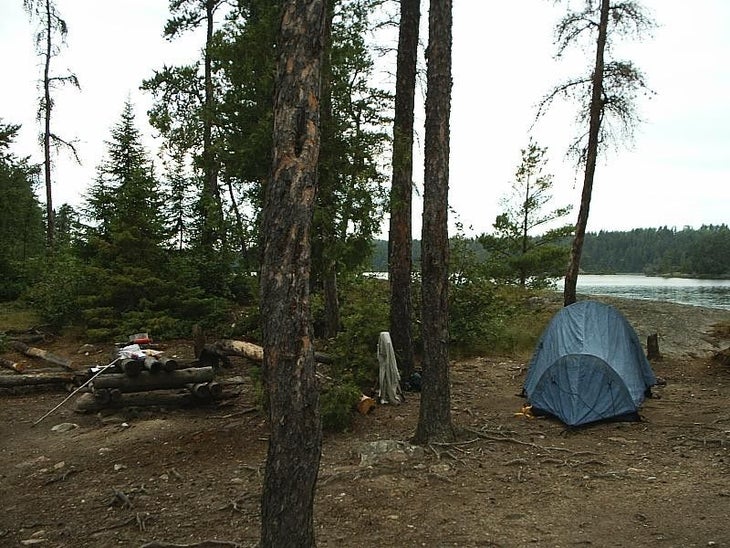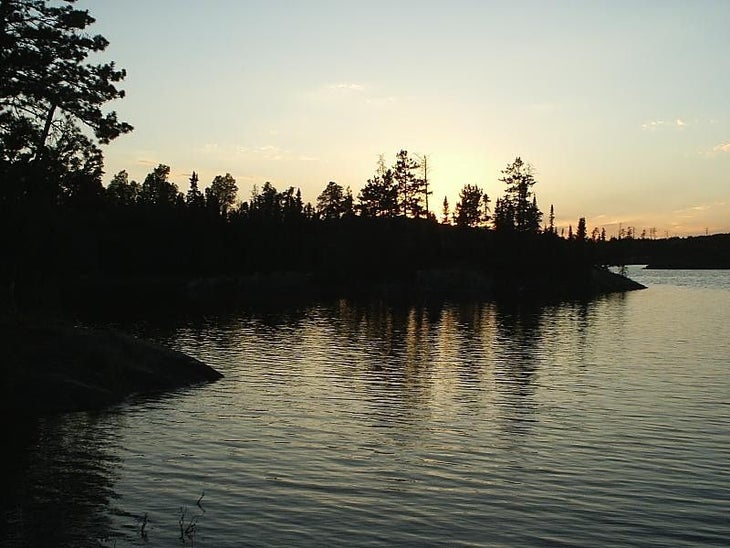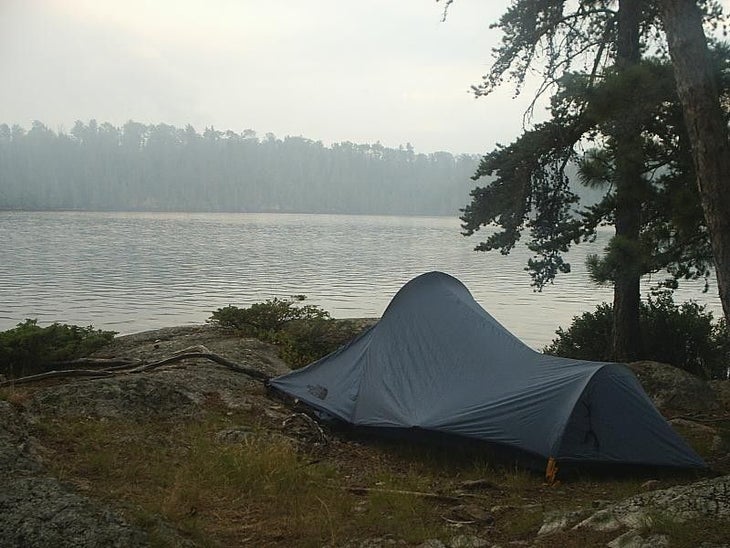 Trail Facts
Waypoints
HIL001
Location: 48.171724, -90.891024
From Trails End, launch canoe or kayak into Sea Gull River, paddling N with current
HIL002
Location: 48.199735, -90.88131
When the river enters Saganaga Lake; point bow NW to avoid a dead-end in one of the numerous bays
HIL003
Location: 48.210704, -90.898808
Swing W and stay S of Munker Island (the large island to the NW)
HIL004
Location: 48.212606, -90.931306
Cross protected channel between Long and Munker Islands. Tip: It's tough to find; use GPS "go to" function. More open water ahead
HIL005
Location: 48.218954, -90.96257
At Rocky Point, head N to the crescent-shaped cove of Hook Island (the cove is on the W side of the island)
HIL006
Location: 48.22419, -90.963385
Rest @ Hook Island, then continue SW (when waves are low)
HIL007
Location: 48.211805, -91.011397
Welcome to Canada! Grab backcountry permit for Quetico Provincial Park @ Cache Bay Ranger Station
HIL008
Location: 48.230576, -91.02896
Paddle into the calm channel. According to legend, the Ojibwa hid on these 100-ft. cliffs to ambush incoming Sioux warriors
HIL009
Location: 48.23172, -91.055267
Begin rocky portage past foamy, super-wide Silver Falls, the park's highest cascade. Relaunch N, hugging lake's shoreline
HIL010
Location: 48.274996, -91.026428
Route tapers into small bay; go NW around promontory
HIL011
Location: 48.278409, -91.029174
Large outcrop sheltered by thick pines conceals S end of .2-mi. Deadman's portage; after quick scramble, continue NE along heavily forested shoreline of Hunter Island
HIL012
Location: 48.296328, -91.002143
Moose, bald eagles, and fine views make this a 5-star campsite. Next day: Return to WPT 8 or opt for a leisurely 6-mi. loop around islands off the NE tip of Hunter Island, where shoreline slabs make ideal overnight spots
HIL013
Location: 48.215927, -91.034587
Portage across wooded point
HIL014
Location: 48.212613, -91.047188
Short side trip: This cove conceals a petroglyph of two canoes and human figures. Respect tribal elders' wishes; no photos, please. Backtrack out of cove; head SE
HIL015
Location: 48.20956, -91.022614
One tent campsite between rock slab and pine stand. Backtrack to launch site
Cache Bay
Location: 48.215941, -91.03448
©Steffan Fay
Hook Island Beach
Location: 48.224201, -90.963224
Rest for a spell in a shady little cove on the lee of Hook Island before paddling into Quetico Provincial Park. ©Steffan Fay
O Canada
Location: 48.211305, -90.996172
Welcome to Canada! Paddle past the forest outlets of Cache Point. © Steffan Fay
Ranger Station
Location: 48.211812, -91.011193
Pick up a backcountry permit at Cache Bay Ranger Station. ©Steffan Fay
Above Silver Falls
Location: 48.231727, -91.055117
Silver Falls from above, plus south end of portage. ©Steffan Fay
Silver Falls
Location: 48.232363, -91.055524
Quetico Provincial Park's highest waterfall. ©Steffan Fay
North End of Silver Falls Portage
Location: 48.236251, -91.057177
Prepare to head deep into the aquatic backcountry of Quetico Provincial Park. ©Steffan Fay
South End of Deadman's Portage
Location: 48.278059, -91.029056
Point for the rocky outcrop to begin the .2-mile land section. ©Steffan Fay
North End of Deadman's Portage
Location: 48.280573, -91.028069
Shove off from the empty shore toward Hunter Island. ©Steffan Fay
Quiet Channel
Location: 48.291131, -91.011171
Enjoy the solitude in these backwater sections on Hunter Island's north shore. ©Steffan Fay
Excellent Campsite
Location: 48.296371, -91.002052
Moose, bald eagles, and fine views make this a 5-star campsite. ©Steffan Fay
A Catch
Location: 48.296326, -91.002041
Smallmouth Bass (a.k.a. brown bass, bronzeback) are plentiful, feeding on other fish, crustaceans and insects. Bait tip: They can't get enough crayfish. ©Steffan Fay
Evening Glow
Location: 48.296264, -91.002057
The sun sets over camp. ©Steffan Fay
Final Campsite
Location: 48.209575, -91.022286
Set up a final camp on the promontory across from the Cache Bay Ranger station. ©Steffan Fay