Boundary Waters: Eagle Mountain
Tag the highest peak in Minnesota on this 6.6-mile hike, which courses under a coniferous forest and past a glacial lake with nice backcountry campsites.
Heading out the door? Read this article on the new Outside+ app available now on iOS devices for members! Download the app.
Eagle Mountain, the northernmost high point in the Lower 48, may be just 2,301 feet high, but it's no anonymous cornfield. It resides in Superior National Forest, the largest outside of Alaska, amid one of the world's great paddling destinations, the Boundary Waters Canoe Area Wilderness. The park boasts 1,000 lakes (leaving just 9,000 for the rest of the state) as well as the pristine 3.5-mile one-way trail to Minnesota's apex. You pass through hardwood forest on mostly flat and rocky terrain to Whale Lake, where it's all but impossible not to picnic. Then you begin to climb, gaining 600 feet over the last mile. There are timber wolves, moose, bear, and, of course, eagles.
– Copy by Joe Glickman. Route mapped by Steffan Fay.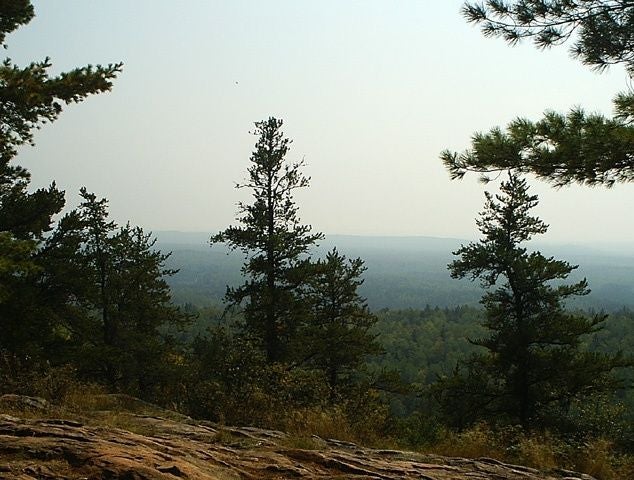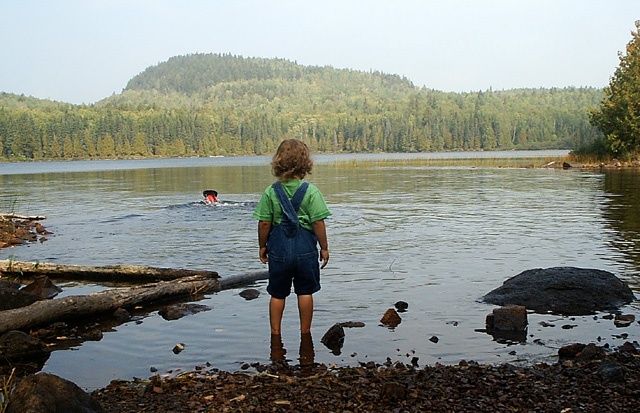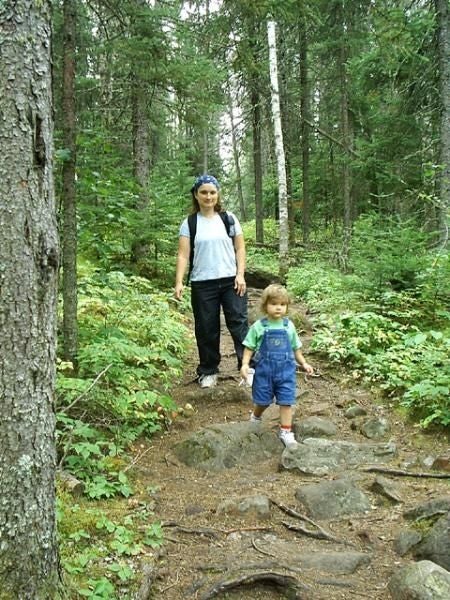 Trail Facts
Waypoints
Eagle Mountain Overlook
Location: 47.8959541, -90.5573502
©Steffan Fay
Shoreline
Location: 47.8906898, -90.5454788
©Steffan Fay
Stepping Over Rocky Path
Location: 47.8674927, -90.5428848
©Steffan Fay
EAG001
Location: 47.8633003, -90.5449982
Grab day-use permit, then hike N into Superior National Forest
EAG002
Location: 47.8672409, -90.5433502
Go slow: Trail is littered with slippery roots and watermelon-sized rocks
EAG003
Location: 47.8750801, -90.5407104
Cross the riffles of Whale Creek and enter the Boundary Waters Canoe Area Wilderness
EAG004
Location: 47.8807106, -90.5431824
Continue straight through forest dominated by spruce, pine, and larch
EAG005
Location: 47.8859711, -90.5433731
Cross boardwalks over several boggy spots (better known as mosquito nests; apply bug spray early and often)
EAG006
Location: 47.8906784, -90.5456314
Fresh, cool air blows off grayish-blue waters of Whale Lake. Superb backcountry sites nearby (permit required)
EAG007
Location: 47.8929482, -90.5487595
Veer L @ Y for ascent up Minnesota's highpoint
EAG008
Location: 47.895649, -90.5574493
Trees thin and views stretch from Cascade Riverway to Misquah Hills, an undulating green wilderness with countless hidden lakes. On the clearest of days, look for Lake Superior in the ESE
EAG009
Location: 47.8969612, -90.5610504
Turn R, connect cairns to summit
EAG010
Location: 47.8974495, -90.5603714
Eagle Mountain (2,301 ft.): You're on top of Minnesota. Snap a photo by the large summit marker, then return to trailhead