Boulder, CO: Mount Audubon
Compared to its jagged neighbors, this 13,000-foot summit is one of the easier peaks (no technical scrambling required) to tick off in the Indian Peaks Wilderness.
Heading out the door? Read this article on the new Outside+ app available now on iOS devices for members! Download the app.
From the well-signed trailhead, hike northwest on Mount Audubon Trail. The first stretch is easy going as the path climbs gently through fragrant evergreens and passes a golden meadow with intermittent views of the Indian Peaks. At mile 1.3, cross a small boulder field dotted with stunted spruce before heading above treeline.
Pikas squeak and scurry across rocks as you climb through alpine meadows and cross another rocky landslide. On cloud-free days, Longs Peak (the highest peak in Rocky Mountain National Park) dominates the northern skyline from a grassy saddle at mile 3.4. The final 0.3-mile stretch slows down the pace and ascends talus slopes to Mount Audubon. Pull out the camera and capture stunning views from Lake Granby to Winter Park to Rocky Mountain National Park before retracing your route back to the trailhead.

-Mapped by Kim Phillips and Matt Vellone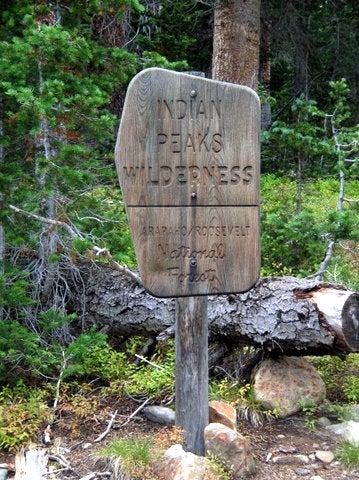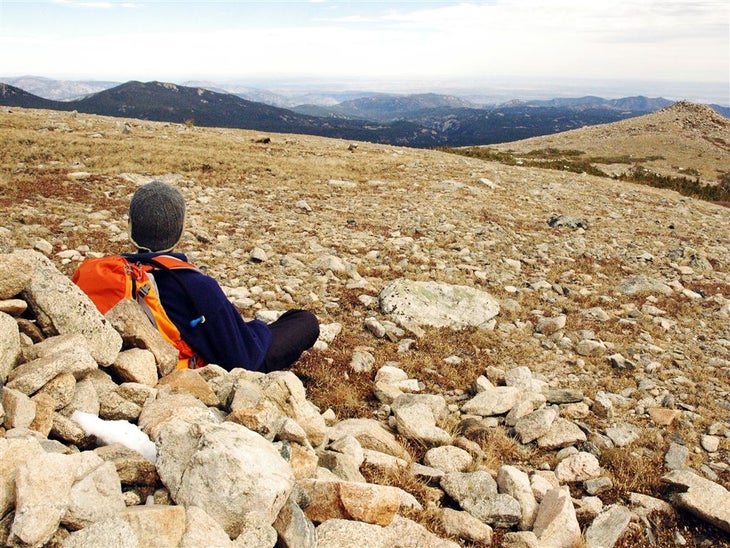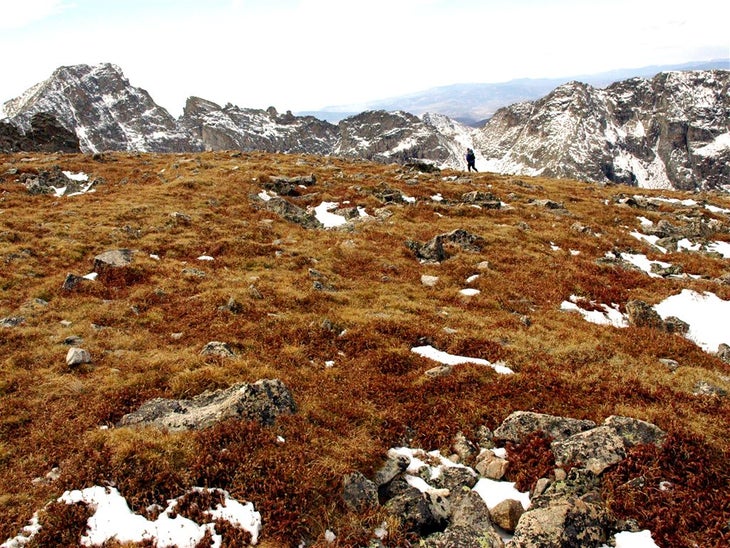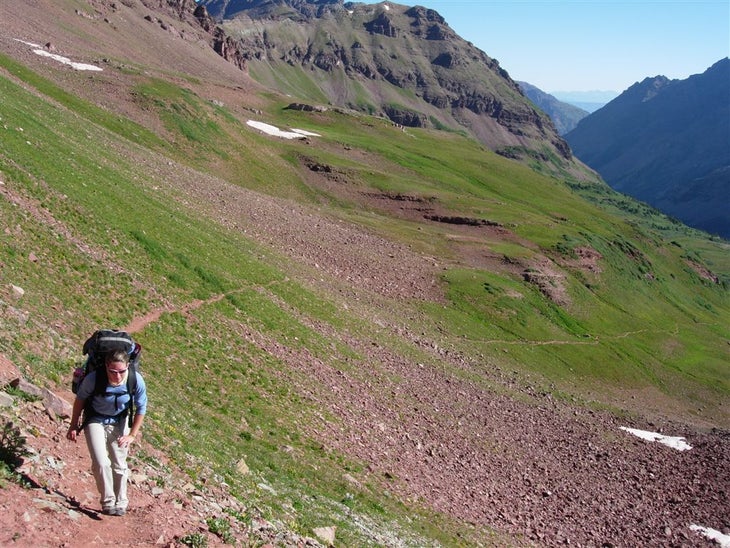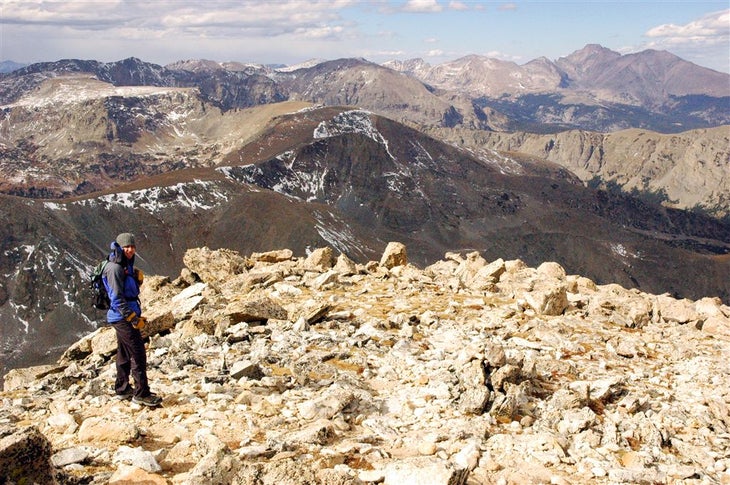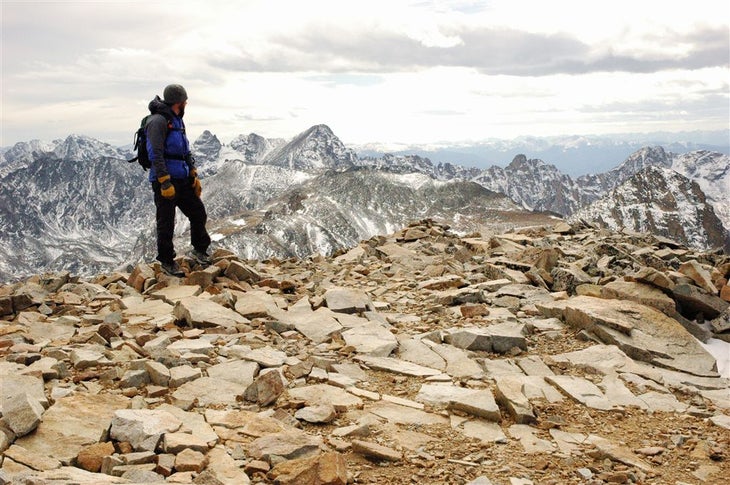 Trail Facts
Waypoints
AUD001
Location: 40.083763, -105.5811
Follow Mount Audubon Trail, a wide, dirt path that travels northwest through shady conifers.
AUD002
Location: 40.086708, -105.58564
Easy-going trail gently climbs to the north.
AUD003
Location: 40.0905, -105.587326
Pass a golden meadow rimmed by conifers on the right; the Indian Peaks rise dramatically in the background. In .1 mile, the trail switchbacks to the left; gaps in trees reveal views of Brainard Lake to the south; look for white-tailed ptarmigans near the trail.
AUD004
Location: 40.092995, -105.58358
The trail rounds to the north and crosses a small boulder field dotted with stunted conifers.
AUD005
Location: 40.095398, -105.58445
Pass through treeline, and begin traveling up expansive slopes. In 450 feet, pass a skinny wooden post stuck in a rock cairn.
AUD006
Location: 40.097973, -105.586159
A large cairn blocks the path. In 100 yards, keep left @ Y-junction; Beaver Creek Trail diverges on the right. Climb continues ahead.
AUD007
Location: 40.099983, -105.58799
Look to the right across alpine meadows for a dramatic skyline dominated by Longs Peak's distinct summit ridge.
AUD008
Location: 40.102707, -105.597672
Follow narrow path across a small boulder field; four switchbacks ahead.
AUD009
Location: 40.102169, -105.607193
Navigate a rock-strewn path. Look behind you to the east for views of Boulder's Flatirons and the eastern plains; pikas squeak and scurry across rocks surrounding trail.
AUD010
Location: 40.102753, -105.611275
Longs Peak comes into view again, rising behind open, grassy slopes. In 650 feet, you'll crest a grassy saddle.
AUD011
Location: 40.102978, -105.613693
Start the final .3-mile summit climb up talus-covered slopes; cairns mark this off-trail route. A small, rounded rock wall can be found 350 feet to the northwest on the saddle—a perfect place to take shelter from the howling winds. Look down rocky slopes to find 2 small lakes.
AUD012
Location: 40.10218, -105.614166
Continue scramble up talus slopes, heading southwest. Audubon's broad summit awaits.
AUD013
Location: 40.099197, -105.616264
Mount Audubon (13,223 ft.): Rock shelters dot this long, rock-strewn summit. Views stretch across the Indian Peaks to Lake Granby, Winter Park, the Gore Range, and Longs Peak. Follow same route back to the trailhead.
Meadow
Location: 40.090485, -105.587082
Indian Peaks
Location: 40.091286, -105.585854
Views of the Front Range
Location: 40.103077, -105.60218
View of Longs Peak
Location: 40.102703, -105.611206
Grassy Ridge
Location: 40.103344, -105.613007
Panoramic Views
Location: 40.103077, -105.613541
Summit Climb
Location: 40.102169, -105.614128
Rocky Slopes
Location: 40.101475, -105.614662
Mount Audubon Summit
Location: 40.099289, -105.61615