Boulder, CO: Mallory Cave
Climb past ponderosa stands, golden meadows, and Boulder's iconic Flatirons to a hidden cave in Chautauqua Park on this 6.8-mile out-and-back.
Heading out the door? Read this article on the new Outside+ app available now on iOS devices for members! Download the app.
A major roosting site for Townsend's big-eared bats, Mallory Cave is a quiet respite etched into a 7,000-foot, conglomerate sandstone crag. The 3.5-mile route to this hidden bat cave showcases small samples of classic Chautauqua Park scenery: fields of tall grasses with resting deer herds, ponderosa and fir stands, tree-choked ravines, Bear Peak, and the lichen-spotted Flatirons.
The hike itself offers a strenuous workout in a short distance. You'll ascend more than 2,500 feet in 6.8 miles, doing the bulk of the climbing along steep switchbacks near Mallory Cave. After the switchbacks, the trail deadends at the base of a 100-foot rock face. Scramble up a narrow shoot on the right side of the cliff then duck through a tiny tunnel on the left to reach the bottom of the small, dark cave. While the cave itself is not incredibly beautiful by any standard, the view from its mouth lets you see a hundred-mile-long panorama of the eastern Colorado prairie and the Denver skyline.
Editor's Note: Mallory Cave is closed seasonally from April 1 to October 1 due to bat roosting. The trail is open year-round.
-Mapped by MacKenzie Ryan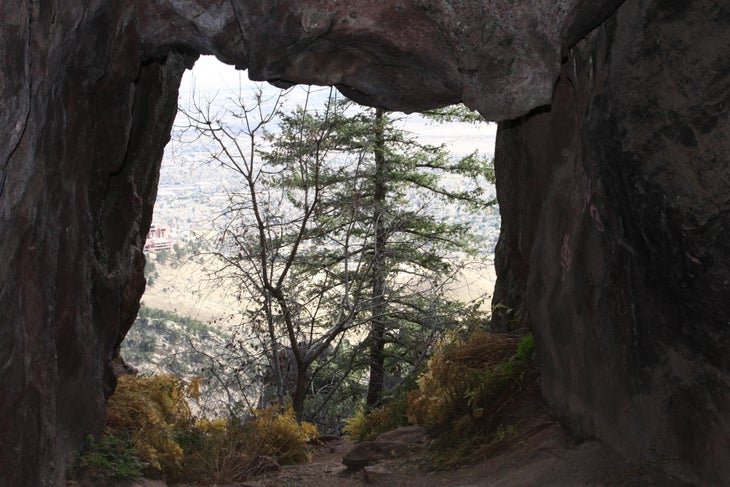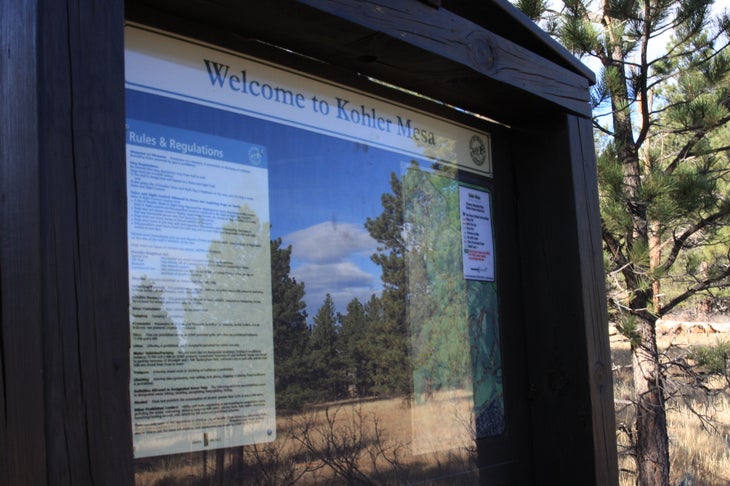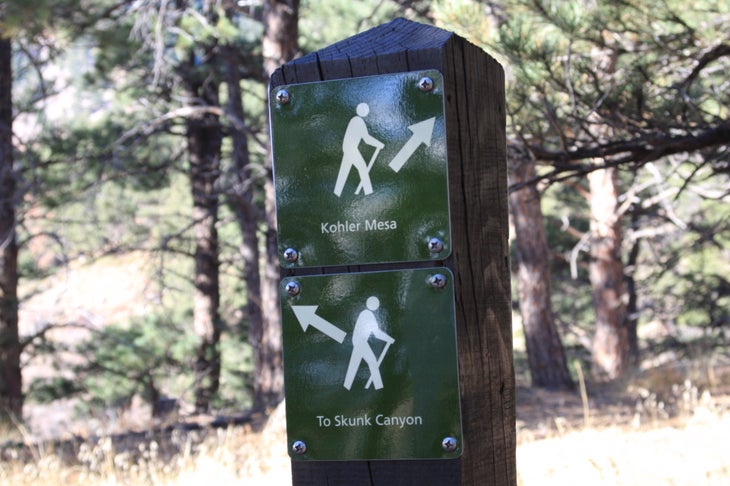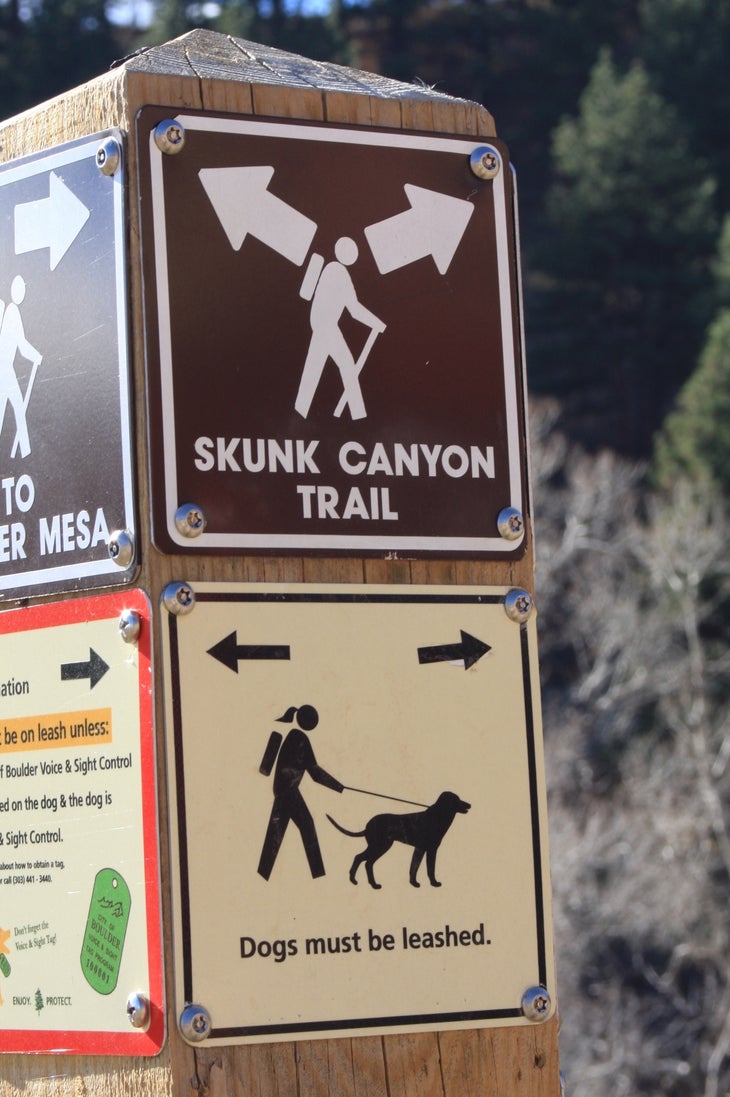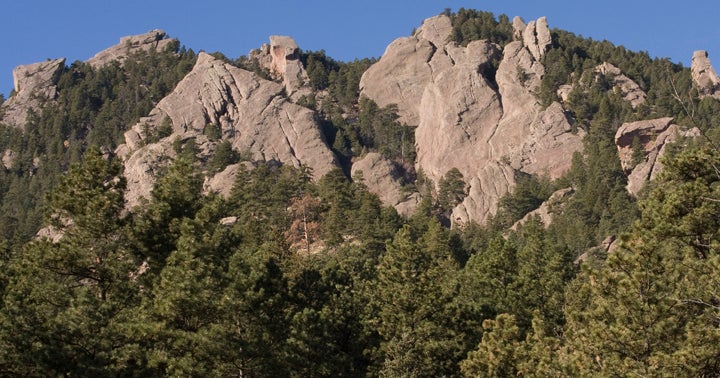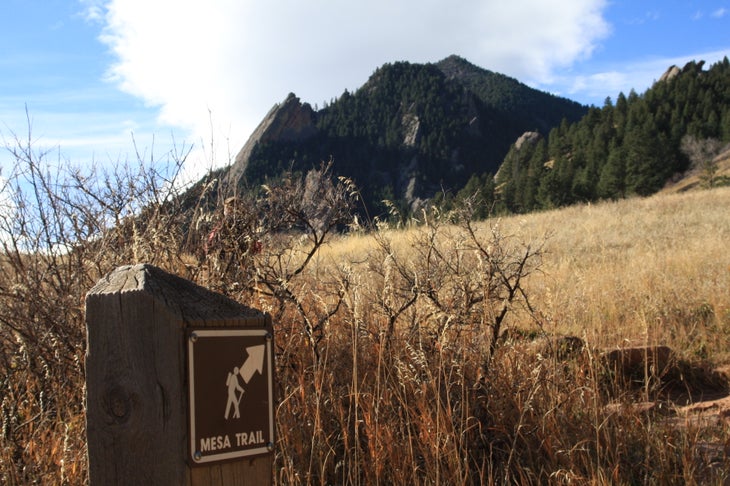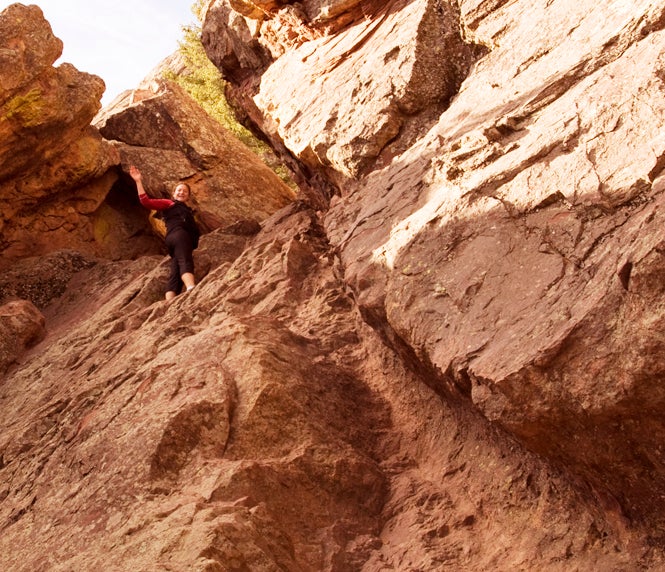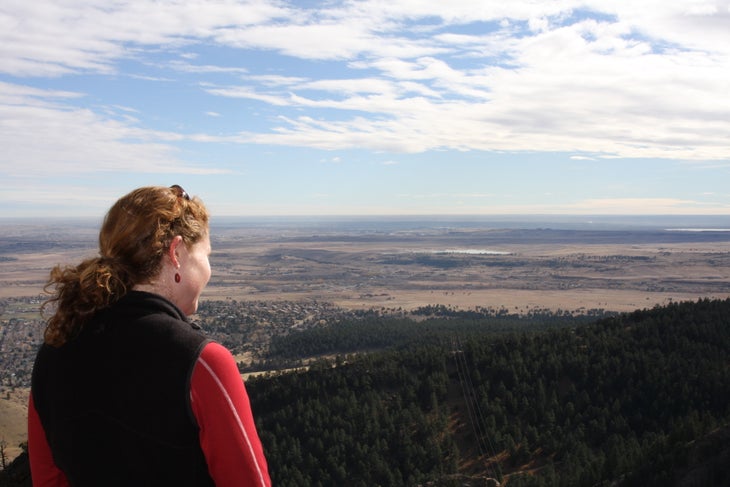 Trail Facts
Waypoints
MAL001
Location: 39.9893362, -105.2561152
Hike west on the use-trail that starts near the northwest corner of Broadway Street and Dartmouth Avenue.
MAL002
Location: 39.989443, -105.2651489
Bear right and follow the use-trail toward an exposed, low ridgeline near the National Center for Atmospheric Research (NCAR).
MAL003
Location: 39.9901787, -105.2706608
Go straight at the 3-way intersection with another use-trail.
MAL004
Location: 39.9902322, -105.2710873
Turn left and begin climbing a short set of switchbacks.
MAL005
Location: 39.9892417, -105.277302
Bear left @ the Y-junction, merging onto the Kohler Mesa Trail.
MAL006
Location: 39.9868722, -105.2790481
Turn left @ the T-junction, taking the connector trail to Skunk Canyon.
MAL007
Location: 39.9857193, -105.279901
Turn right onto the Skunk Canyon Trail. On the way back, bear right here and hike east on Skunk Canyon.
MAL008
Location: 39.9790562, -105.2838385
Bear right @ the Y-junction onto the Mesa Trail.
MAL009
Location: 39.9780039, -105.2842382
Turn right on the Mallory Cave Trail. The trail will switchback for a little more than a mile, offering a strenuous climb up steep grades. The trail ends at the base of sandstone cliff. From there, scramble up its narrow shoot to access the cave.
MAL010
Location: 39.974113, -105.2897957
Mallory Cave: which showcases the prairie around Denver and Boulder. After exploring the cave, retrace steps back to the trailhead.
Mallory Cave
Location: 39.9741192, -105.2897072
©MacKenzie Ryan
Kohler Mesa Trail
Location: 39.9892375, -105.2771974
©MacKenzie Ryan
Connector Trail
Location: 39.9868537, -105.2789676
©MacKenzie Ryan
Skunk Canyon Trail
Location: 39.9857028, -105.2797723
©MacKenzie Ryan
Sandstone
Location: 39.9808855, -105.2845573
©MacKenzie Ryan
Merging onto Mesa Trail
Location: 39.9792741, -105.2842569
©MacKenzie Ryan
Mesa Trail
Location: 39.9790542, -105.2837983
©MacKenzie Ryan
Mallory Cave Trail
Location: 39.9779998, -105.2841282
©MacKenzie Ryan
Access Chute
Location: 39.9740698, -105.2887845
©MacKenzie Ryan
Prairie Panorama
Location: 39.9741438, -105.289557
©MacKenzie Ryan