Boulder, CO: Arapaho Pass
Hike this gentle, 6.1-mile out-and-back in midsummer when an explosion of wildflowers dominates the climb to this grassy pass in the Indian Peaks.
Heading out the door? Read this article on the new Outside+ app available now on iOS devices for members! Download the app.
The Fourth of July Trailhead is just an hour from Boulder and locals know that its namesake month is prime season for hiking alongside cascading meltwater and a flush of columbine, asters, and Indian paintbrush. The trailhead is packed with Boulder- and Denver-based campers, but don't let a busy parking lot scare you away—the crowds thin as hikers branch out across the trail network that begins here.
This route begins with a steady climb under a canopy of old spruce trees with occasional creek crossings. Soon, breaks in the trees reveal the gray cluster of peaks around Mount Neva to the west and hidden lakes to the south. Just before mile 1, cross slick boulders at a break in a waterfall; if you nail the wildflower season, this will be columbine central.
Stop by the old Fourth of July Mine at mile 2; from here, you'll see the pass to the west—keep a lookout for climbers and skiers navigating the year-round snowfields on South Arapaho Peak and Mount Neva. The trees thin above the mine and the hardpacked trail gives way to an exposed, rocky path sloping one mile towards the 11,906-foot pass, a rare flat plain between craggy granite ridges of the Indian Peaks. 
Bonus: If the weather (and your legs) are holding, continue uphill for a quick visit to Lake Dorothy, a high alpine tarn.
-Mapped by Jenn Fields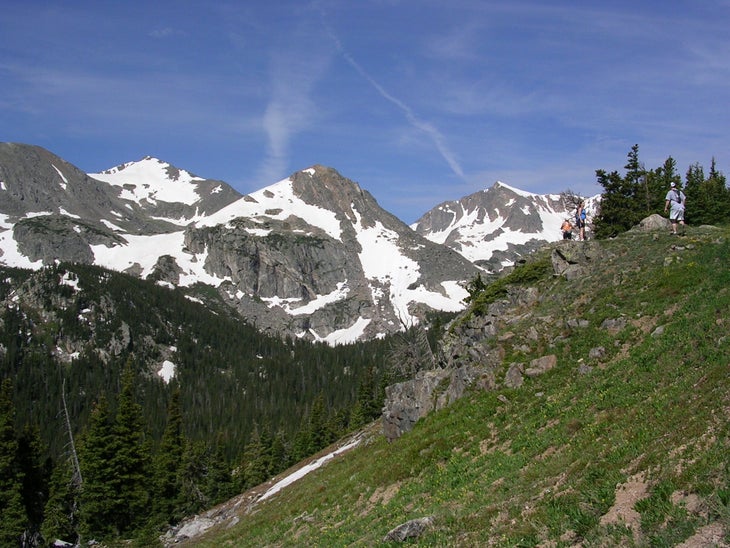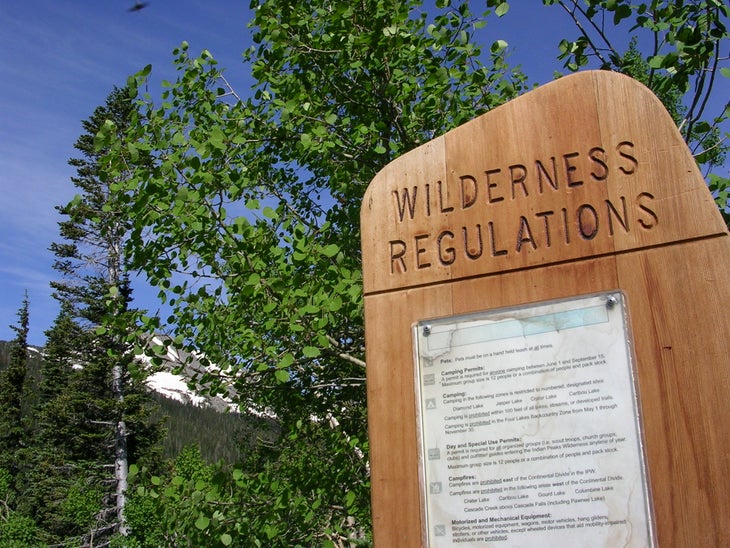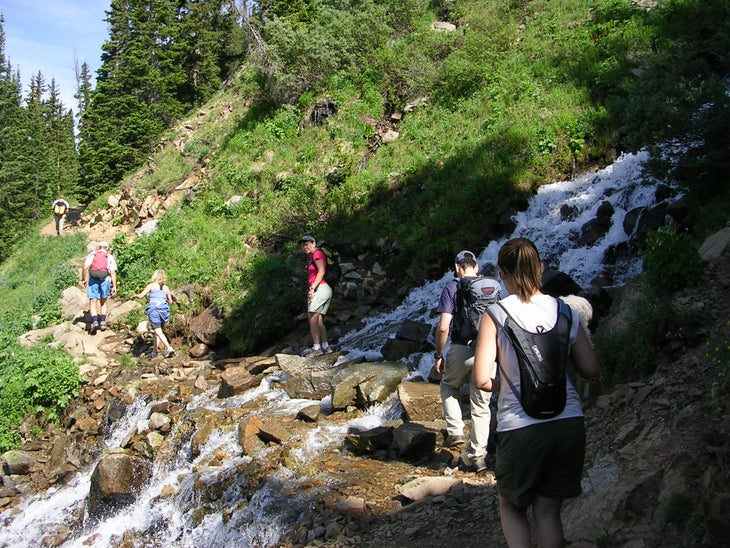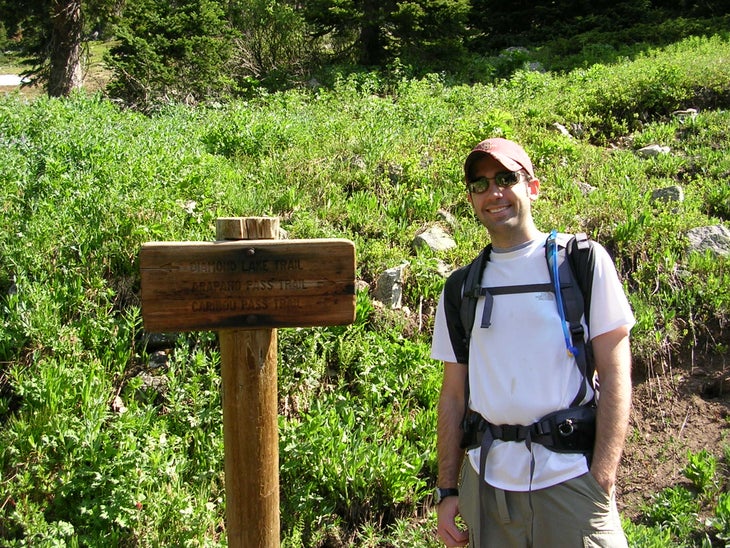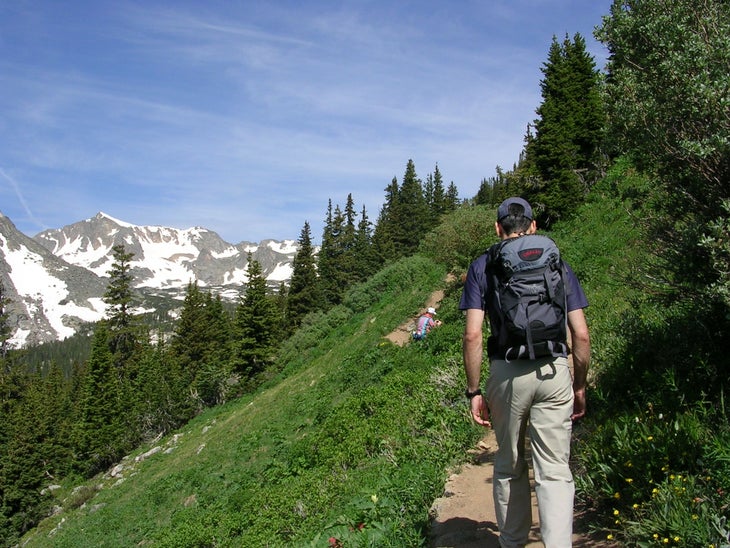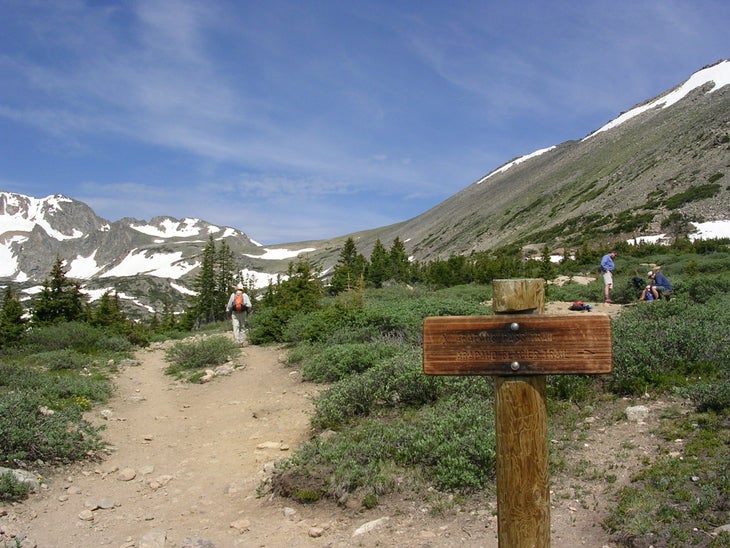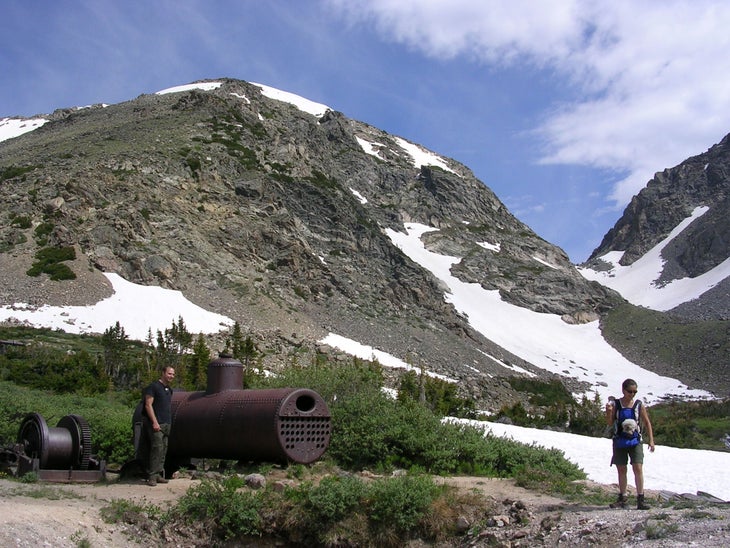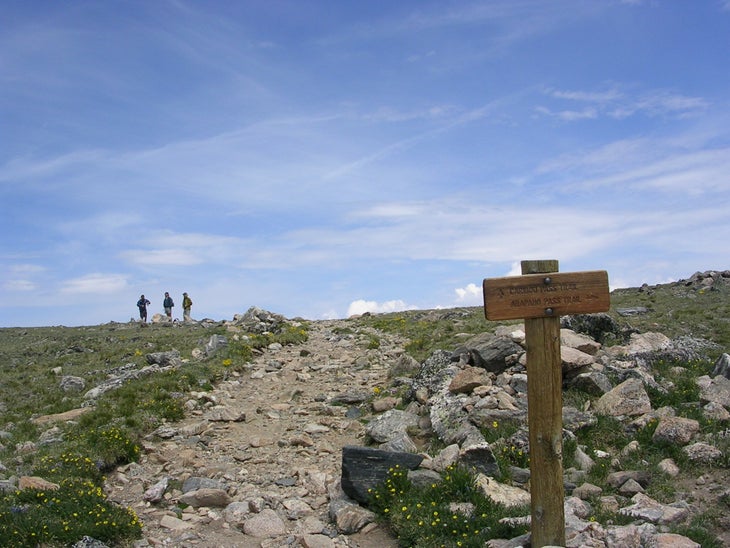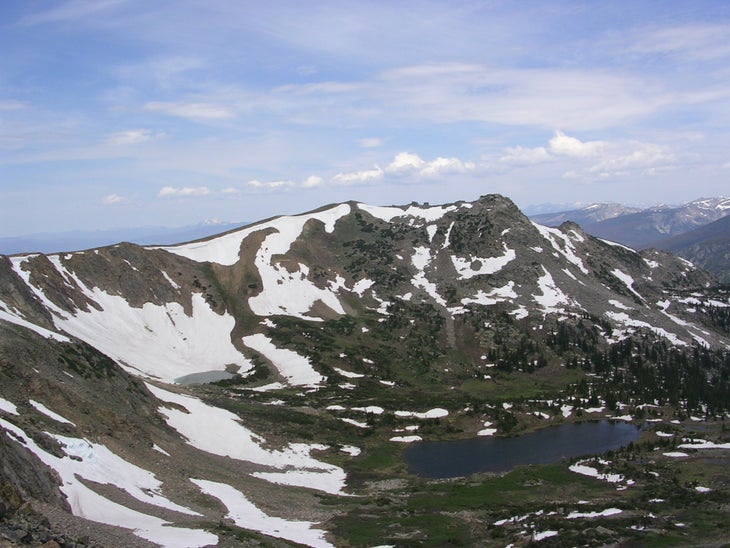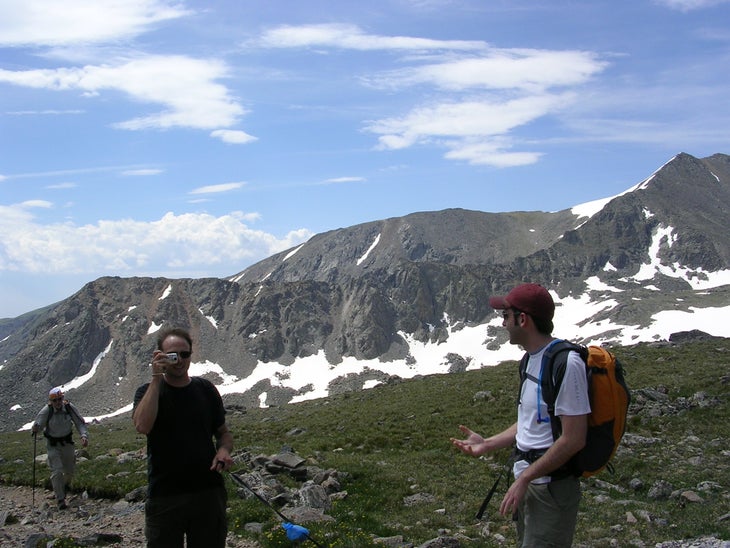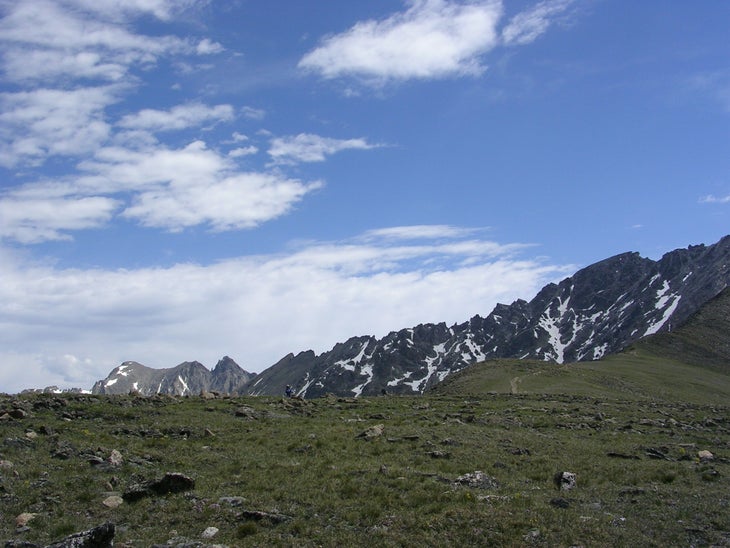 Trail Facts
Waypoints
ARP001
Location: 39.9952174, -105.6342986
From the Fourth of July Trailhead, hike northeast. In roughly 250 feet, the path swings northwest above North Fork Middle Boulder Creek. Although this trailhead is crowded in midsummer, the dirt access road leading to it (and nearby Buckingham Campground) may be undriveable into late May.
ARP002
Location: 39.9989243, -105.637291
Wilderness regulations are posted at the Indian Peaks Wilderness Boundary less than 0.5 mile from the trailhead.
ARP003
Location: 40.0032513, -105.6437051
Watch your footing on slick rocks as you cross this waterfall stream.
ARP004
Location: 40.0041471, -105.6463015
Turn right @ T-junction, following signs for Arapaho Pass.
ARP005
Location: 40.0061441, -105.6503463
This viewpoint offers a peek at Mount Neva's snow-streaked slopes, 2 miles due west. Continue hiking northwest.
ARP006
Location: 40.0103763, -105.6585109
Turn left @ Y-junction and continue climbing past scraggly treeline stands.
ARP007
Location: 40.0106967, -105.6591761
Leftover equipment at the inactive Fourth of July Mine make an interesting backdrop for a photo-op. Campsites are scattered around this area in the shadow of South Arapaho Peak. From here continue west up the trail as it transitions from hard pack to loose rock path.
ARP008
Location: 40.0143144, -105.6780294
Turn left @ Y-junction to continue 100 yards to the saddle of Arapaho Pass.
ARP009
Location: 40.0146713, -105.6784744
Arapaho Pass is 11,906 feet above sea level, but a manageable 1,800 feet above the trailhead. Meander to the north side of the ridge to look down on Caribou Lake (which is accessible via a switchback path to the northeast). Due west (just a bit up the trail) is Lake Dorothy. Keep an eye out for backcountry skiers taking runs off Mount Neva. Follow the same route back to the trailhead.
Views of Mount Neva
Location: 40.0061441, -105.650239
Look due west for the prominent 12,814-foot summit of Mount Neva. © Jenn Fields
Wilderness Boundary
Location: 39.9989119, -105.6371713
Indian Peaks Wilderness Boundary © Jenn Fields
Western Views
Location: 40.0019906, -105.640626
Breaks in the trees above the trailhead offer views of the Indian Peaks. © Jenn Fields
Waterfall
Location: 40.0032513, -105.6435764
Hikers crossing a waterfall stream on the Arapaho Pass trail. © Jenn Fields
Signs for Arapaho Pass
Location: 40.0041471, -105.6462049
The trail is well-marked: Follow the signs for Arapaho Pass. © Jenn Fields
Peak Views
Location: 40.0054867, -105.6484258
Summits near Arapaho Pass peek above the tree tops en route to the saddle. © Jenn Fields
Junction: Arapaho Glacier Trail
Location: 40.0103434, -105.6584144
Stay left at the trail junction, continuing toward Arapaho Glacier and South Arapaho Peak. © Jenn Fields
Fourth of July Mine
Location: 40.010631, -105.6590366
Hikers (with dog in tow) pose for photos at the abandoned Fourth of July Mine. © Jenn Fields
Below Arapaho Pass
Location: 40.0142795, -105.6775975
Looking uphill toward hikers lined up at the pass. © Jenn Fields
Caribou Lake
Location: 40.0146369, -105.6784236
A view of Caribou Lake nestled in a bowl just northwest of Arapaho Pass. © Jenn Fields
Southern View
Location: 40.0146082, -105.6783861
The flanks of Mount Neva loom above hikers on the saddle. © Jenn Fields
Northern Views
Location: 40.0146739, -105.6784478
Grassy hillsides continue climbing north-northwest from the pass. © Jenn Fields