Boston, MA: Mt. Washington in Winter
Get the closest to the Alps without leaving the States—by traversing the Presidentials, including Mt. Washington, in winter. BY RYAN WICHELNS
Heading out the door? Read this article on the new Outside+ app available now on iOS devices for members! Download the app.
The big windows around the table where we're eating are frosted over, revealing just a hazy silhouette of a golden peak beneath the setting sun. It looks oddly placid—given that just a few hours ago, I braced myself against 30 mph winds atop 6,288-foot Mt. Washington, the Northeast's high point and a location infamous for having the world's worst weather. "Good" conditions for this three-day, 14-mile ridgewalk across Big Wash and Mts. Clay, Jefferson, and Adams are relative; but if you brave the gales, whiteouts, and frigid temps, it can feel like the poor man's traverse of the Alps. But like a true Alps trek, brutal conditions come with luxe accommodations. We bed down first in Harvard Cabin and then tonight at Crag Camp, the Randolph Mountain Club's regally located wood cabin at 4,200 feet in the shadow of Adams. I can see my breath crystallize in the cone of my headlamp, but the clouds blasting across the ridgeline outside remind me that we have it pretty good.
Trip stats
Distance: 14.2 miles (point to point)
Time: 3 days

Turn-by-turn
From Pinkham Notch
(1) Climb 2.1 miles west on Tuckerman Ravine Trail to its junction with the Raymond Path. (Boots with sturdy soles should be sufficient below treeline.)
(2) Continue .2 mile north to Harvard Cabin.
(3) Retrace your steps .2 mile and pick up the winter standard route on Lion Head Trail, which climbs 1.9 miles up Mt. Washington. (Strap on crampons above treeline.)
(4) Pick up the Gulfside Trail and head 4.7 miles north off the summit to Thunderstorm Junction (bag Clay at mile 5.6 and Jefferson at mile 7.1).
(5) Tack on a .6-mile out-and-back to summit New Hampshire's second-tallest peak, 5,774-foot Mt. Adams, before dropping down the mountain's north shoulder to Crag Camp at mile 10.5 via the Spur Trail.
(6) Link the Randolph Path and Short Line 3.5 miles north to your shuttle car at Appalachia.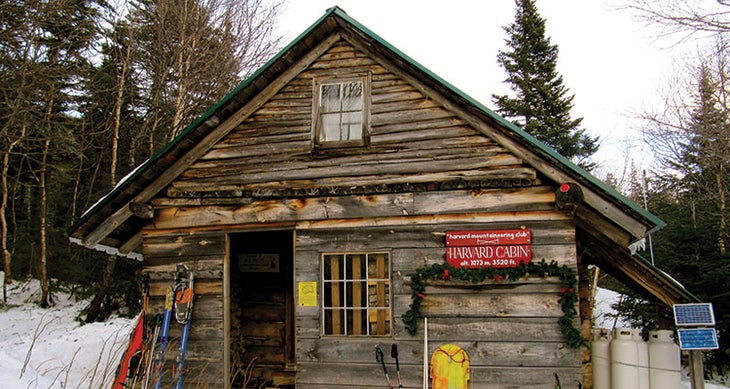 Campsite 1
Harvard Cabin (mile 2)
Open between December 1 and April 1, this cabin (above, right) is a hub for Huntington Ravine's climbers and skiers, but makes a cozy shelter for anyone braving Mt. Washington. Weather reports are radioed in from the summit station every morning, while a woodstove keeps the 16-person shelter toasty. Take a 10-minute walk uphill for panoramic views of Hunt's gullies. To reserve the Harvard Mountaineering Club shelter, sign in at Pinkham Notch before you head up ($15/person; harvardmountaineering.org).
Campsite 2
Crag Camp (mile 10.5)
The Appalachian Mountain Club huts that link the Presidential Traverse and beyond shut down in winter, leaving smaller groups like the Randolph Mountain Club to take up the slack. But that's OK because the view from Crag Camp south across King Ravine to Mts. Adams and Madison is top-notch (and much cheaper). The unheated shelter ($20/person; first-come, first-serve; pay at the cabin) can sleep up to 20 year-round.
Weather
Conditions on Mt. Washington are spicy, to say the least. Always check weather beforehand at bit.do/mtwash-weather; for a safe trip, target winds less than 50 mph. If conditions turn when you're above treeline, retreat (preferred) or follow cairns to the bunker-like observatory buildings at the summit. Crampons and an ice axe are recommended.
Spring skiing
Haul your skis if you have avalanche know-how: Save hours, literally, by cruising the ridges between peaks and down King Ravine from Crag Camp. Bonus: Tuckerman Ravine, the East's classic backcountry skiing objective, is less than a mile from Harvard Cabin.
DO IT Shuttle car 44.371447, -71.289296; 6 miles west of Gorham on Route 2 Trailhead 44.257310, -71.253161; 17 miles south of shuttle car at Pinkham Notch Season December to April for a wintry ascent Permits None Custom mapbit.do/BPmapMtWash ($15) Contactfs.usda.gov/whitemountainTrip databackpacker.com/mtwash-in-winter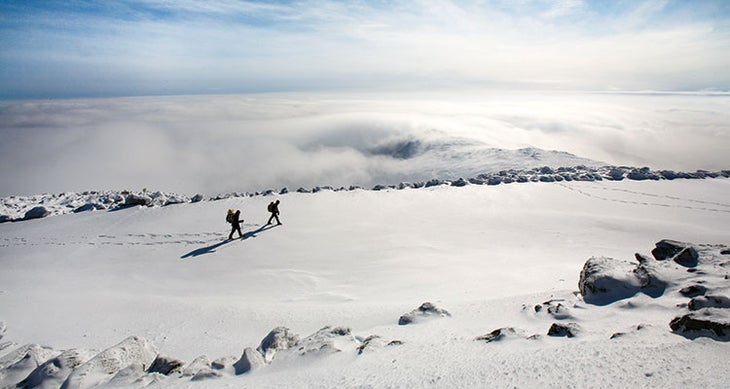 Hikers cross Mt. Washington.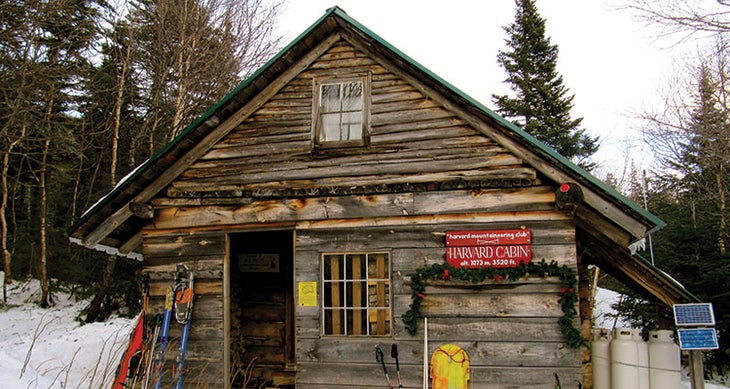 Harvard Cabin
Trail Facts
State: NH
City: Boston, MA
Distance: 14.2
Contact: www.fs.usda.gov/whitemountain
Land Type: National Forest