Paddling and Hiking North Carolina's Nantahala National Forest
Looking for a multisport trip? You couldn't do better than this stretch of wilderness on the east coast.
Heading out the door? Read this article on the new Outside+ app available now on iOS devices for members! Download the app.
The Insider
Steve Foster has been hiking this area for 12 years—and retirement from his biology career isn't slowing him down. In fact, it just means more trail time for the Franklin, North Carolina, local. When he's not out trekking or paddling ("three days a week or more," he says), Foster works for the Nantahala Outdoor Center.
Best Dayhike
To land see-forever views of the whole forest, you need to reach the open mountaintop meadow on 5,216-foot Siler Bald (not to be confused with Silers Bald in the Smokies). There are two ways to get there: the short way from Wayah Crest (4 miles out and back), and Foster's pick, the 8.4-mile round-trip from Winding Stair Gap. "You go through everything from oak-hickory to rhododendrons to tulip poplar and hemlock," Foster says. "And when you get to the top, you'll have 360-degree views of the Nantahala Range." From Winding Stair Gap, hop on the Appalachian Trail and head northwest, gaining 1,396 feet en route to the bald. Can't tear yourself away? Camping is allowed up here, no permit required. (Check with rangers beforehand to see if the spring is reliable, or play it safe and BYO water.)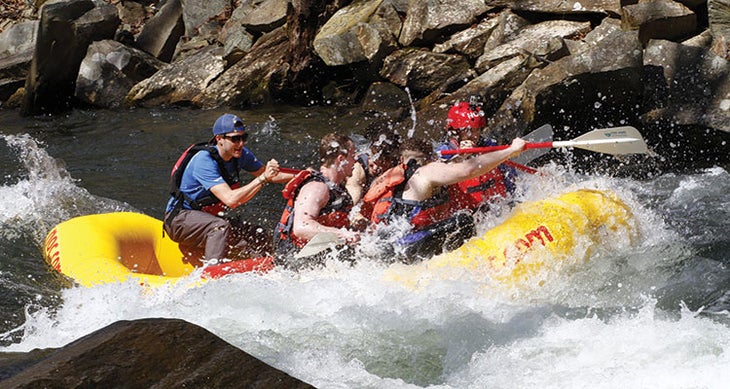 Paddling Trip
The best intro to the Appalachians' famed whitewater? "It's gotta be the Lower Nantahala River," Foster says. "It offers something for everybody, and there are loads of surfing waves and play spots." The 8-mile stretch from the put-in on Wayah Road to the NOC is mostly Class II, with one Class III rapid—go guided if you're a rookie (starting at $50). Visit in early June for the best flora or early fall for warmer weather (the river flows reliably all year, except November).
Top Overnight
The Joyce Kilmer-Slickrock Wilderness on the Nantahala's northwest side is no secret—"You can't swing a dead cat in Joyce Kilmer Memorial Forest without hitting a family there," Foster says—but solitude is possible. Head for the Big Fat-Nichols Cove loop in the area's outer reaches for a 7.5-mile trip along a clear stream. "I'm never in a hurry to make miles in this area," Foster says. From the Big Fat Gap trailhead, drop steeply on the Big Fat Trail about a mile, then turn right on Nichols Cove Trail. Continue on, keeping an eye out for the remnants of pioneer homesteads and graves, to the junction with Slickrock Creek Trail. Turn left and hike to Wildcat Falls (mile 5), a multi-tiered cascade that tumbles 10 feet into a swimming hole. Camp at a social site along Slickrock Creek (bonus: brook trout here). On day two, follow Slickrock Creek upstream to rejoin Big Fat Trail and close the lollipop loop.
Best Week
Foster's favorite backcountry escape starts right from his office at the NOC, then loops up and over a series of balds and ridges on a 56-mile trip linking the AT and the Bartram Trail. The payoff: killer high-country sunrises and sunsets, spring wildflowers, and a tour of the Nantahala's finest ecosystems, from hidden valleys and quiet creeks to the lofty spruce-fir forest. Start at the NOC and climb 7 miles south on the AT to camp at Wesser Bald (pictured), a 4,627-foot meadow with a Civilian Conservation Corps fire tower on top. Day two's 11 miles hug high ridgelines as you continue south on the AT, crossing Tellico Gap and Burningtown Gap en route to 5,342-foot Wayah Bald. Then swing southwest on the AT/Bartram Trail to Wine Spring Bald (camp here). Just past here, the Bartram Trail branches off to the west; on day three, follow it to a streamside campsite on the Nantahala River around Bartram Trail mile 53.5 (10 miles total). Day four traces the Nantahala downstream 10 miles to Bartram Trail mile 63.5; camp near the intersection with the London Bald Trail. Next, hike across Winding Stairs Road and climb to 5,062-foot Cheoah Bald for the best sunrises around (8 miles). Finish by descending 8 more miles on the AT to the NOC for burgers, beer, and hot showers, Foster says.
Easy-Access Waterfall
Dry Falls is anything but, especially after rain: "The whole Cullasaja River pours over a cliff there," Foster says. "You can't help but be inspired by the power of that waterfall if you catch it at high flow." A stroll of a few hundred yards from the parking lot off US 64 gets you to views of the 70-foot gusher splashing into a sharp ravine; follow the trail behind the falls to watch (and feel) the water's rumble from the inside out.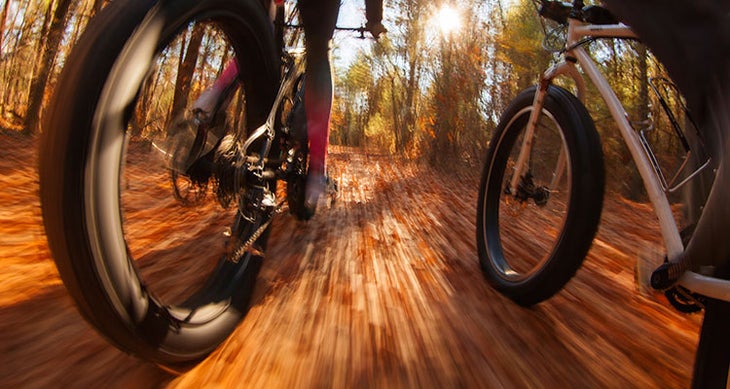 Multisport Basecamp
Mountain bikers, paddlers, and anglers will be happy at Tsali Campground, a primo basecamp on Fontana Lake's multipronged peninsula. Nearly 37 miles of moderate bike trails cross rolling ridges and outcroppings with views of the lake and Great Smoky Mountains National Park (Foster's fave is the 8.7-mile Mouse Branch Loop). And for the more amphibious, endless opportunities for exploring Fontana Lake's jigsaw shoreline await from the boat ramp, a short walk from your tent. Pack a rod to cast for walleye, bass, and crappie while you're at it (camping: $15/night, first-come, first-serve; mountain biking: $2/person/day).
Trail Town
Hometown pride: Franklin gets Foster's nod for the best place to wrap up a day in the Nantahala. Look for him at the new Lazy Hiker Brewing Co. or the Rock House Lodge, a pub with 18 craft beers on draft tucked inside the Outdoor 76 gear shop.