Blue Ridge Parkway: Harkening Hill
Highlights along this 3.5-mile loop include whitetail deer, a 3,364-foot summit, precariously perched boulders, and a 19th-century farmhouse.
Heading out the door? Read this article on the new Outside+ app available now on iOS devices for members! Download the app.
This family-friendly, 3.5-mile loop off the Blue Ridge Parkway climbs to the top of Harkening Hill, one of three prominent peaks that form the Peaks of Otter. Although Harkening Hill is not as tall as its neighbors Sharp Top and Flat Top, the peak's striking geological formations and abundant wildlife make it a memorable dayhike. In the parking lot, Civil War buffs can check out the marker describing Hunter's Raid, a memorable Union march through the area in 1864.
The hike begins with a switchback ascent to a ridge south of Harkening Hill's summit. Views of Sharp Top (visible through leafless trees in winter) offer a welcome distraction during the climb. After 1.4 miles, scramble up ridge-hugging boulders for views of the Parkway's mountains further south. The trail then bends north along the ridge and reaches the 3,364-foot summit at 1.7 miles. Climb the rock just beyond the marker for the best views. A spur trail 700 feet past the summit leads to a precisely perched boulder: Balance Rock.
Past Balance Rock, the trail travels past bold chipmunks, curious deer, and whistling birds. At mile 2.1, hike through a small glade to an unmarked fork. Turn left and merge onto the Johnson Farm Trail, a wide, grassy path that visits the Johnson Farm, a living history museum open to visitors in the summer. From the farm, continue down a rutted lane then turn right, passing the site of an old hotel. Roughly 500 feet later, go straight at the junction of Johnson Farm and Harkening Hill loops to return to the parking lot.
-Mapped by Amy C. Balfour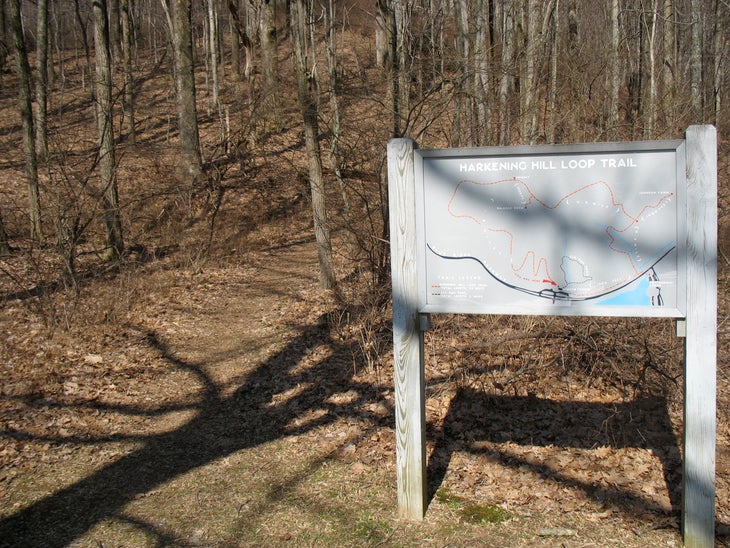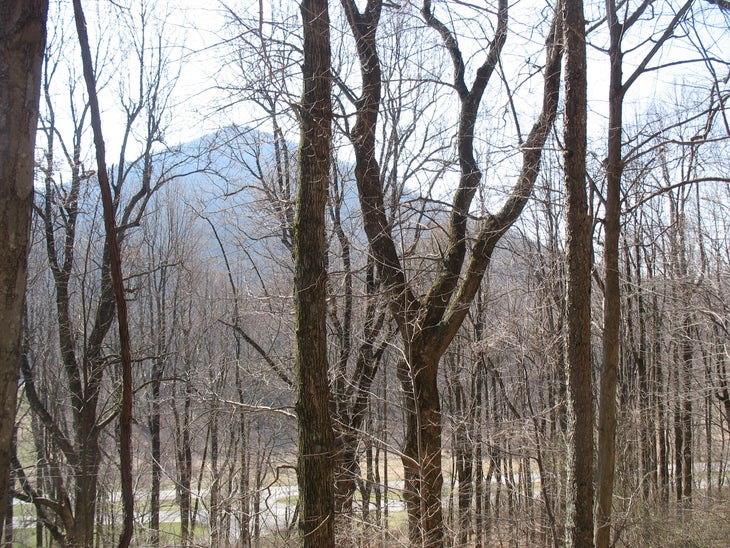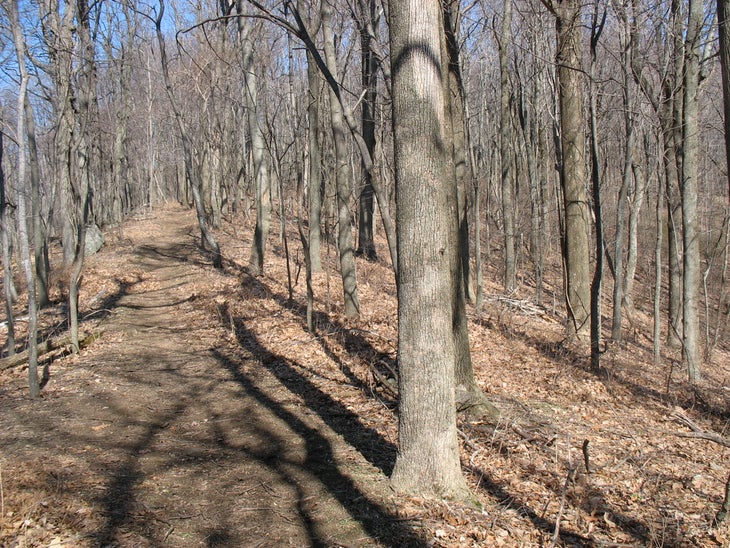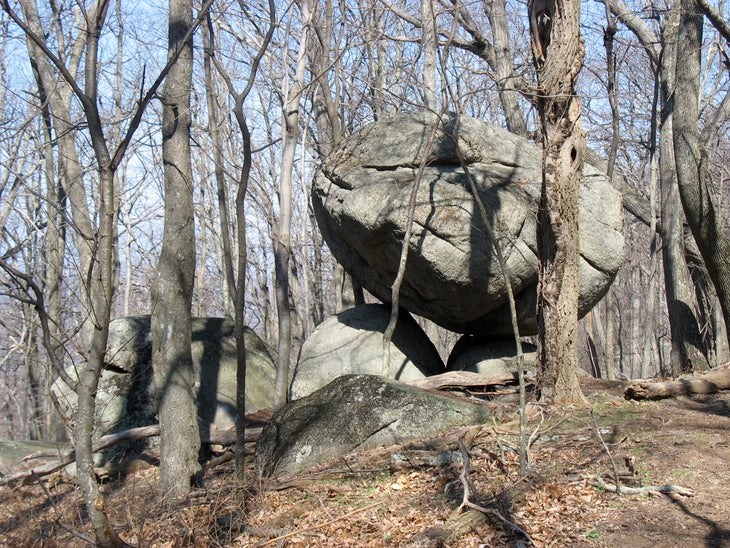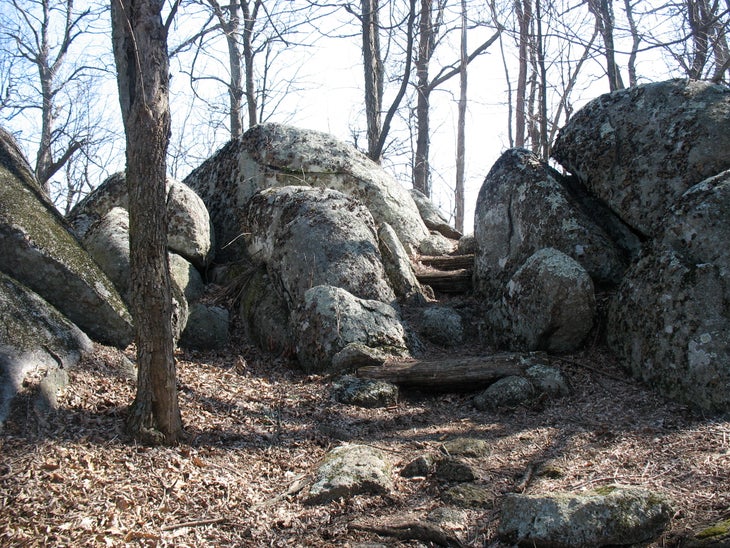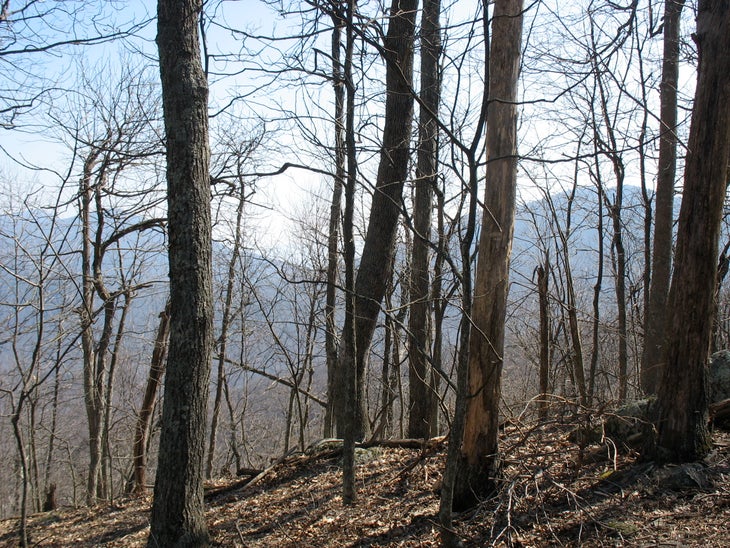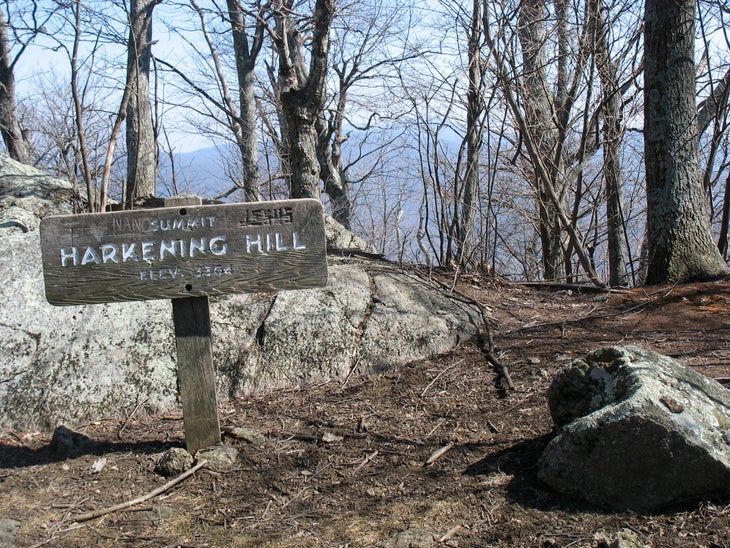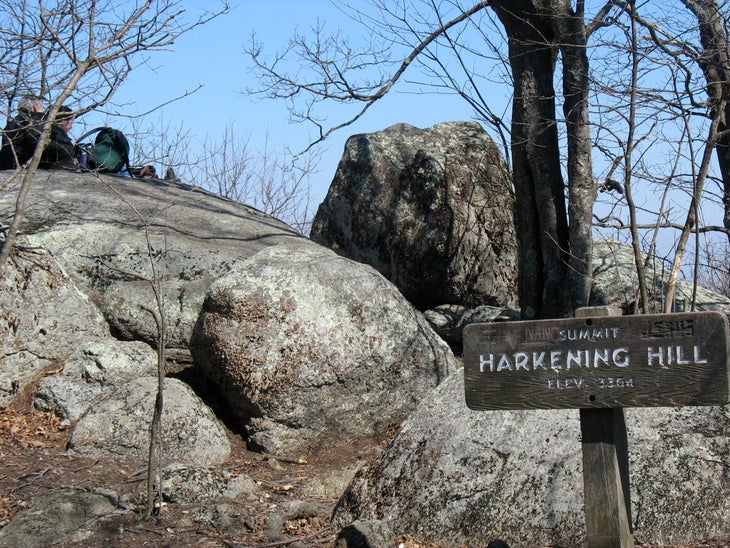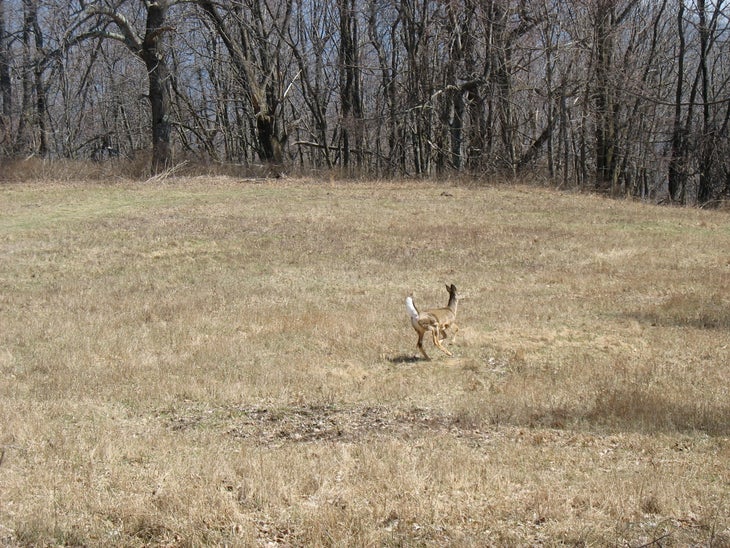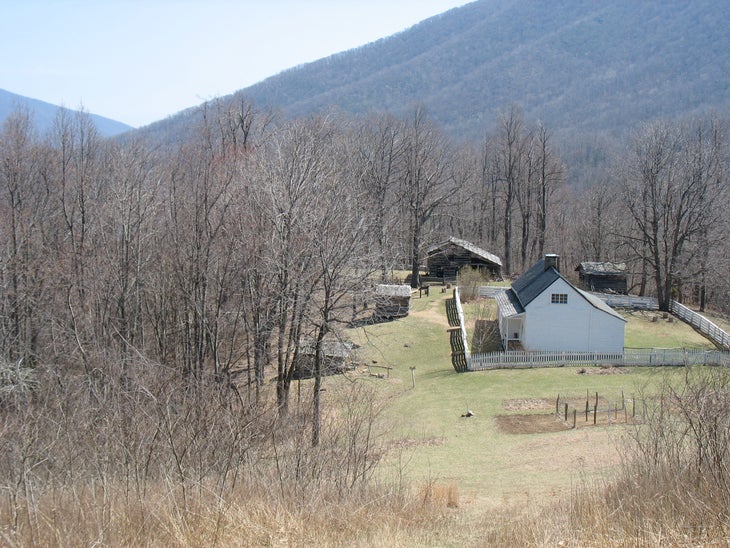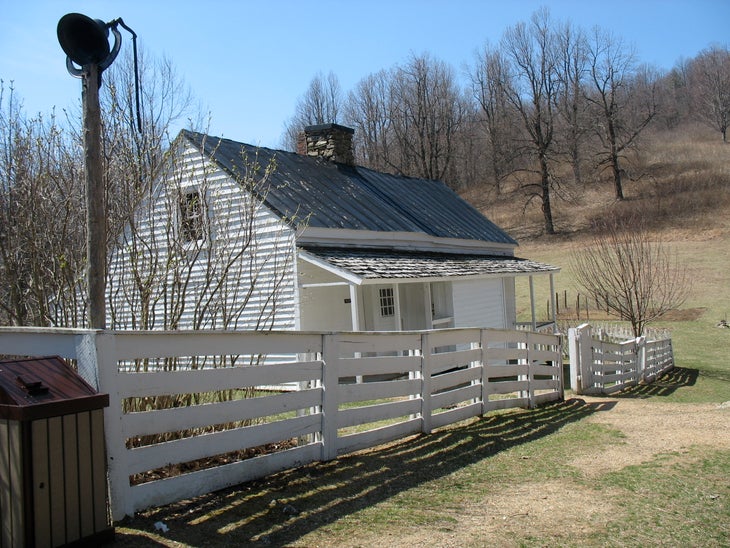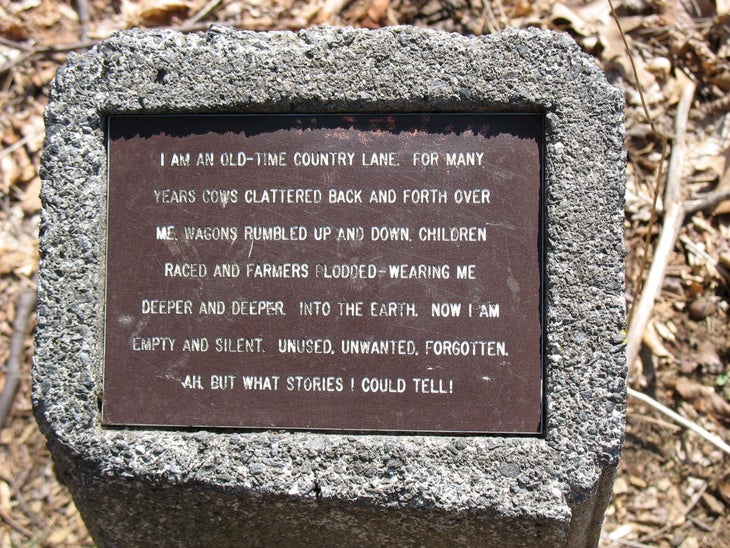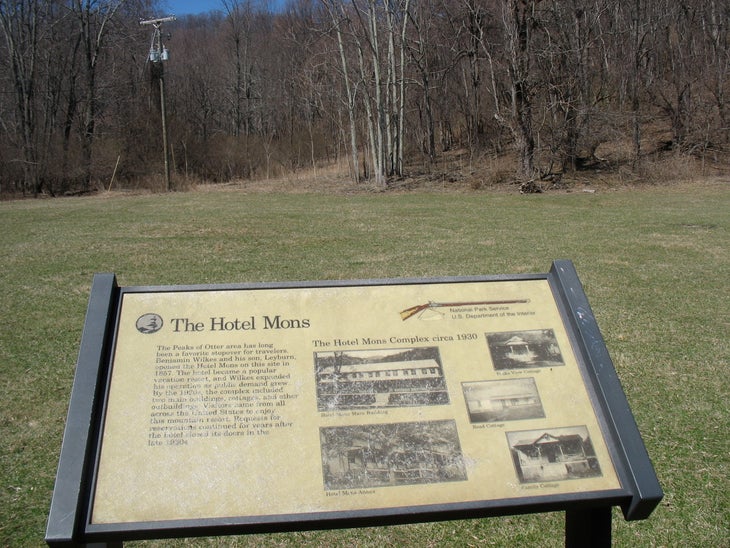 Trail Facts
Waypoints
HAR001
Location: 37.445575, -79.609653
Peaks of Otter Visitor Center parking lot: A marker at the southern end of the lot discusses Hunter's Raid, a Union march over the mountains here in 1864. According to one Union private, "A rougher road could not be imagined." Next, walk behind the amphitheater to access the trailhead.
HAR002
Location: 37.445805, -79.610251
From the trailhead, the trail starts a slow but steady ascent. As you climb, look for hikers below on the Elk Run Interpretative Loop.
HAR003
Location: 37.445911, -79.611386
In winter, when the trees are leaf-free, you'll have views of Sharp Top Mountain to the east.
HAR004
Location: 37.453117, -79.617469
Boulders and rocky outcroppings become more frequent along the ridgeline as the trail ascends.
HAR005
Location: 37.457767, -79.618317
An easy rock scramble leads to views of the Blue Ridge mountains to the south.
HAR006
Location: 37.458749, -79.617148
The trail squeezes through two boulders, resembling a lichen-covered gateway, to reach northern views. From here, the trail follows the ridgeline to the summit.
HAR007
Location: 37.457235, -79.615238
Reach the 3,364-foot summit of Harkening Hill. Climb the rock just behind the sign for a nice picnic spot with great views of Flat Top.
HAR008
Location: 37.455962, -79.613822
At the trail junction with Balance Rock Trail, go straight to visit Balance Rock. To continue on the loop, turn left and descend 300 feet.
HAR009
Location: 37.455425, -79.613755
Two boulders look as if they could qualify as Balance Rock, but the second one looks a bit more delicately placed.
HAR010
Location: 37.456451, -79.610332
Trail crosses a small glade as you descend. Look carefully and you may see a whitetail deer or two.
HAR011
Location: 37.454976, -79.608234
Turn left to hike past the Johnson Farm, a white clapboard farmhouse built in the mid-1850's. It's open in summer as a living history museum.
HAR012
Location: 37.455459, -79.604563
The Johnson Farm, in operation from 1854 through the early-1940's, sold fruit and vegetables to the Hotel Mons at the foot of the mountain.
HAR013
Location: 37.455229, -79.604294
Look for a small trail marker near the back corner of the farmhouse. Turn left at the marker and continue on the country lane.
HAR014
Location: 37.455464, -79.603146
Turn right at the trail junction.
HAR015
Location: 37.451948, -79.604407
Trail crosses a long meadow bordering the Blue Ridge Parkway. A bit further down the trail is a marker describing the once-popular Hotel Mons.
HAR016
Location: 37.448088, -79.605893
At the junction of Johnson Farm and Harkening Hill loops, continue straight 0.3 mile to return to the parking lot.
Views of Sharp Top
Location: 37.452862, -79.603704
Harkening Hill Trailhead
Location: 37.445822, -79.610203
View of Sharp Top Mountain
Location: 37.445911, -79.611225
Ascending Trail
Location: 37.449259, -79.61601
First of Several Balanced Rocks
Location: 37.453134, -79.617298
Log Steps
Location: 37.458738, -79.61704
Northern Views
Location: 37.458125, -79.616729
Harkening Hill Summit
Location: 37.457239, -79.615163
Viewpoint on Summit
Location: 37.457205, -79.615125
Is this Balance Rock?
Location: 37.45551, -79.614058
Or is this Balance Rock?
Location: 37.455613, -79.613585
There's no marker but this one looks pretty well-balanced.
Whitetail Deer
Location: 37.45646, -79.610238
View of Johnson Farm
Location: 37.454948, -79.606977
Front of Johnson Farm
Location: 37.455464, -79.604364
Sometimes I Feel Like an Old-Time Country Lane
Location: 37.455319, -79.603645
A small poetic marker pays homage to a country lane.
Site of the Hotel Mons
Location: 37.449472, -79.605973