Bloomingdale, NJ: Highlands Trail Loop
Find solitude atop rugged, open rock faces on this 5.6-mile loop in Norvin Green State Forest.
Heading out the door? Read this article on the new Outside+ app available now on iOS devices for members! Download the app.
"Thickets of oak, blueberry, and mountain laurel really make it feel like a wilderness," says Backpacker reader Jason D'Accardi. From the Glenwild Avenue parking area, follow the Highlands Trail up to Wyanokie High Point's grand view of 2,310-acre Wanaque Reservoir and the Big Apple skyline 30 miles to the southeast. Backtrack .8 mile to take the Carris Hill Trail down to the Posts Brook Trail, passing 30-foot Chikahoki Falls, to return to your car.
-Mapped by Jason D'Accardi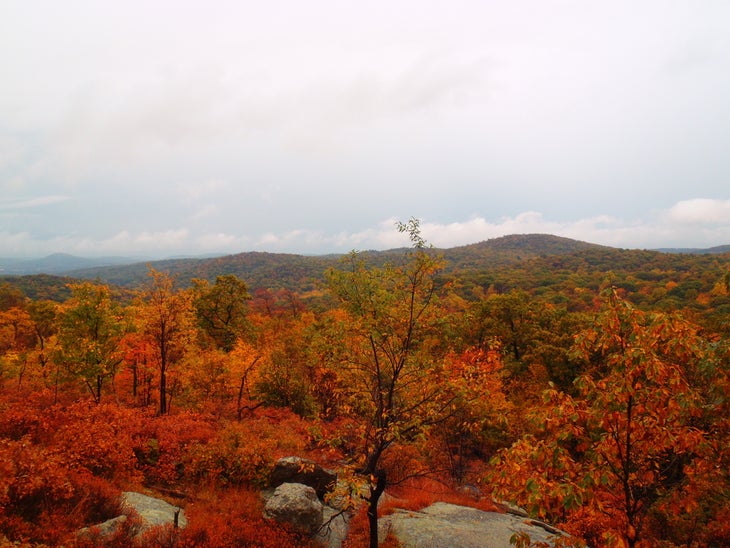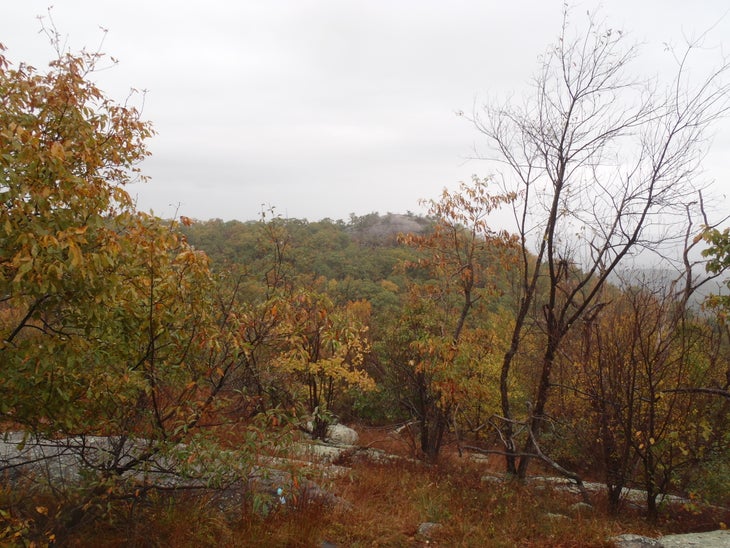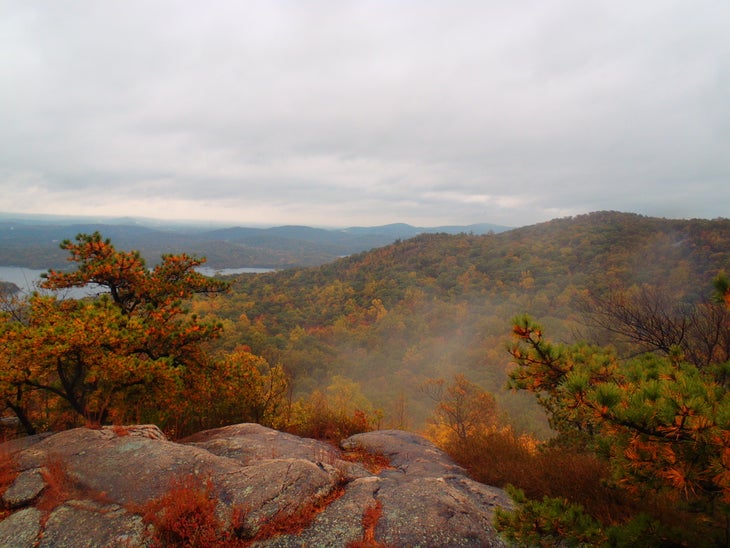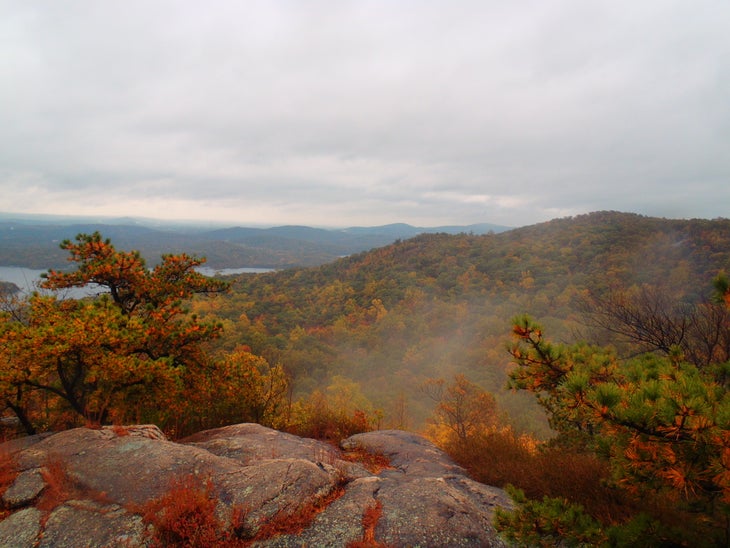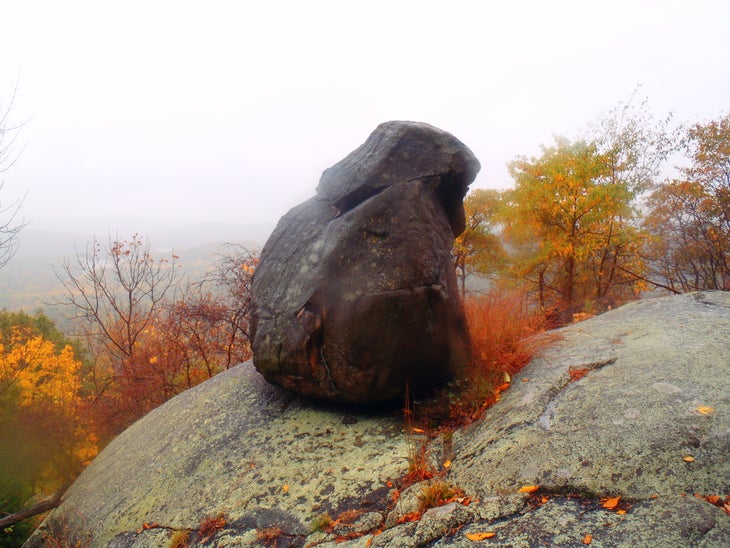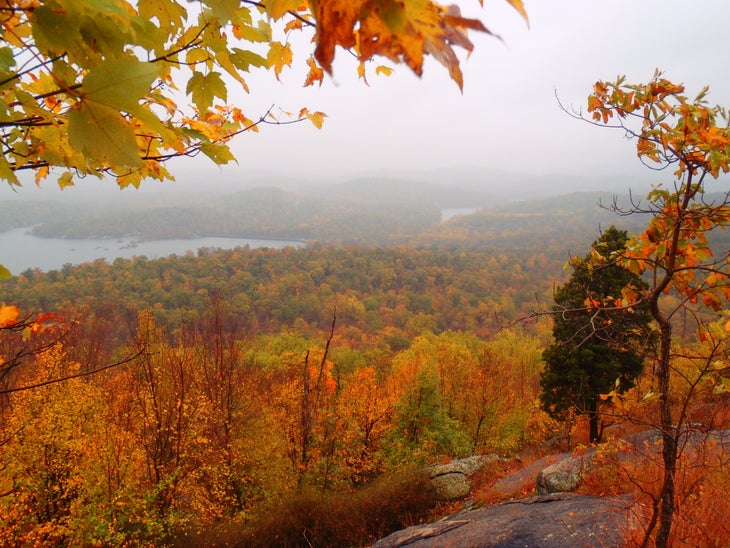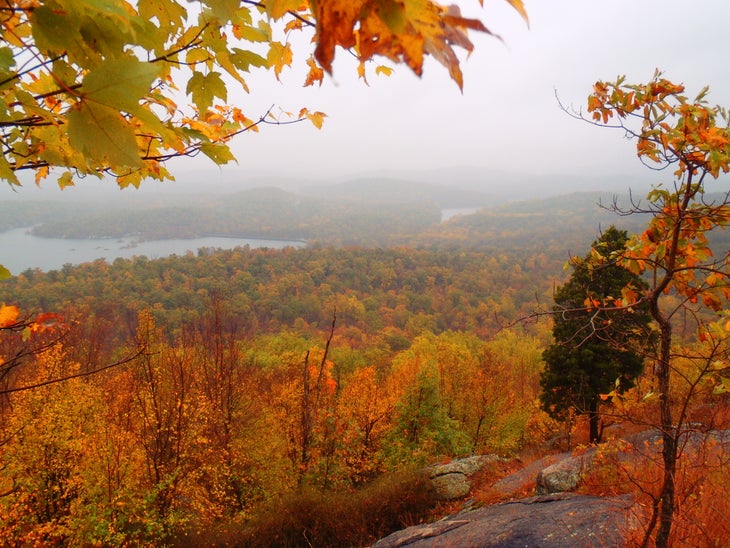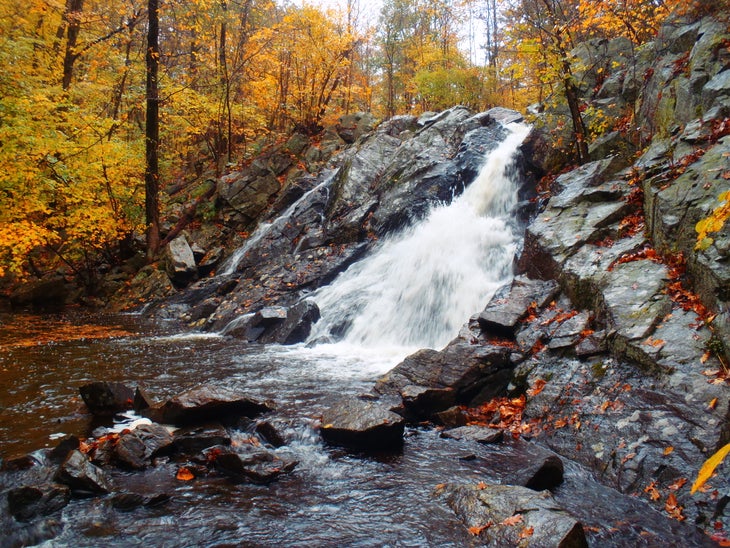 Trail Facts
Waypoints
HTL001
Location: 41.045772, -74.350217
The Highlands trailhead is located just to the right of the parking area. Start by following the teal diamonds of the Highlands Trail/blue-blazed Hewitt-Butler Trail.
HTL002
Location: 41.046654, -74.349858
Arrive at a waterfall, known as the Otter Hole.
HTL003
Location: 41.044894, -74.33466
Trail junction of the Highlands/Hewitt-Butler Trails and Posts Brook Trail. Turn left to follow the blue blazes east.
HTL004
Location: 41.050564, -74.335249
Here you will come across thickets of bush oak on either side of the trail. Continue heading northeast.
HTL005
Location: 41.050751, -74.334843
This is the first lookout of your hike; look south for views of Norvin Green State Forest.
HTL006
Location: 41.051612, -74.332621
Reach another viewpoint, then continue on northeast toward the Carris Hill Trail intersection.
HTL007
Location: 41.052727, -74.330824
Carris Hill Trail intersection. Turn left to stay on the blue-blazed Highlands Trail.
HTL008
Location: 41.059348, -74.330829
YooHoo Point: from here, you can see Wyanokie High Point.
HTL009
Location: 41.060624, -74.330292
Reach Wyankie Circular Junction, where the Highlands trail intersects with the Wyanokie Circular trail. Keep hiking on the Highlands.
HTL009
Location: 41.061041, -74.327658
Gain over 100 vertical feet in .1 mile to get to Wyanokie High Point. Score 360-degree views on an open rock face. From here, retrace your steps back to the Carris Hill Trail junction.
HTL010
Location: 41.052736, -74.330824
At Carris Hill, stay straight to follow the yellow-blazed Carris Hill Trail.
HTL011
Location: 41.050323, -74.331039
Snag more Reservoir and forest views from this lookout.
HTL012
Location: 41.04999, -74.330947
Stop here briefly for views of the forest and surrounding ponds, lakes, reservoirs, then continue following the trail south.
HTL013
Location: 41.04947, -74.329965
Glacial Erratic: here, you'll come across a giant boulder placed at a ledge by glaciers.
HTL014
Location: 41.044835, -74.327525
At Posts Brook Junction, you'll come to the endpoint of the yellow blazed Carris Hill trail. Hang a right to follow the signs for the white-blazed PBT (Posts Brook Trail).
HTL015
Location: 41.044218, -74.332611
Stop to admire Chikahoki Falls, a beautiful waterfall along Posts brook trail. Head east for another .9 to retrace your steps back to your car.
The Otter Hole
Location: 41.046662, -74.349729
There are conflicting reports about whether this is the otter hole or simply a little hole on the bottom of a tree.
First views of Norvin Green State Forest
Location: 41.050752, -74.334784
YooHoo Point
Location: 41.059352, -74.33076
Get the first very clear view of Wyanokie High Point.
Wyanokie High Point
Location: 41.061059, -74.327621
Here you have a 360-degree view of the area. On clear days, you can the Shawangunk Mountains, Catskill Mountains, and the New York City skyline.
Wyanokie High Point
Location: 41.061041, -74.327639
Native Mountain Laurel
Location: 41.050153, -74.331124
You will lots of mountain laurels, bush oak, and late-summer blueberries all along the trail in the higher rocky elevations.
Glacial Erratic
Location: 41.049478, -74.329891
This glacial erratic is precariously placed on a ledge.
Rock Slab Viewpoint
Location: 41.049033, -74.329065
Rock Slab Viewpoint
Location: 41.04905, -74.328982
This sheer rockface drops off very steeply.
Chikahoki Falls
Location: 41.044218, -74.332509
A nice waterfall, especially after a heavy rain or winter snow melt, although anytime of year it will still be a beauty to see.