Big Wild Empty: The Bob Marshall Wilderness
Think there's nothing wild left in the Lower 48? Don't tell the grizzlies on this traverse of the Bob Marshall Wilderness.
Heading out the door? Read this article on the new Outside+ app available now on iOS devices for members! Download the app.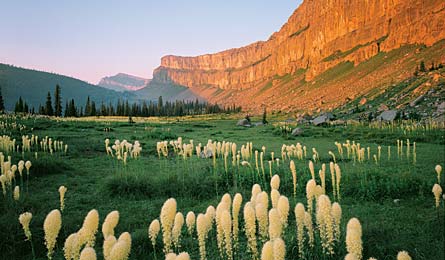 Bob Marshall Wilderness (Photo by Carr Clifton)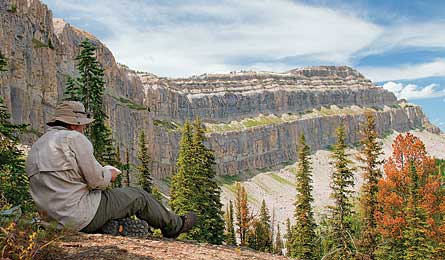 Bob Marshall Wilderness (Photo by Steve Howe)
I catch a ride from Great Falls, Montana, to the Rogers Pass trailhead with an honest-to-God Air Force nuclear missile technician. It's oddly appropriate—there are so many ways this trip could blow up in my face. I'm heading solo into the Bob Marshall Wilderness Complex, a 1.5 million-acre swath of mountainous no-man's land. I'm worried about the long and steep approach under a crushing two-week load. I'm worried about crossing tundra freshly tilled by foraging bears. I'm worried about how much I'm worrying before I even take the first step.
"The Bob," as it's called quite reverently in certain circles, comprises three contiguous wilderness parcels; Scapegoat, Bob Marshall, and Great Bear. Together, they house more than 200 miles of the Continental Divide between Helena, Montana, and the southern border of Glacier National Park. My plan is to cut a high route right up the center of it, from Rogers Pass to Marias Pass, hugging the actual Divide rather than the valley-hugging Continental Divide Trail. The trek (estimated mileage: 220, but I know it'll be more) will take three or four weeks, with two resupply stops.
Why tackle such an audacious route, alone? I need wilderness with a capital W after enduring two long years of chronic pain and four short months recovering from hip-replacement surgery. My passion—heck, my career—has always been serious backcountry adventure, and recently I've felt benched. Time to get back in the game.
Too much, too soon, too out there? I whisper a not-so-gentle mantra: Quit whining. Keep moving.
The divide snakes northward over bare summits and brush-choked saddles. Wildflowers highlight the tundra hillocks like multicolored sprinkles on God's own donut. After an eight-mile, 800-foot initial climb, I top the Divide's first summits and have a look. Creeks and wetlands ring my horizon, shimmering like mirrors in the hot July sun. The only sounds are wind, distant thunder—and the unnerving squeak from the kilo of chrome steel that is now my left hip. I alter my stride. Quit whining. Keep moving.
Over the next several days, I routinely shoo bruins off my intended course and fight unforeseen obstacles. Like now, on the afternoon of day four, looking down from the summit of 9,079-foot Flint Mountain over a surprise set of cliff bands and crumbling pinnacles. It's a dead-end requiring a two-day detour.
Official trails, unmapped trails, game trails, and bushwhacking interweave. When the routefinding gets tough, I orient by GPS waypoints bombsighted on my home computer. These lead me through dense underbrush at every saddle and across open ridges occasionally complicated by blowdown. It's slow going, but by day nine, I'm growing confident the route will work.
It's day nine already? One's perception of time warps on long trips like these, shifting from the count of days and weeks to peaks, passes, lakes, camps, and snacks. In fact, I'm daydreaming of peanut butter bagels while bashing down through chest-high foliage toward Hoadley Creek Trail and my first resupply at Benchmark when a hairy blob the color of dead pine needles stands up from the bushes just ahead. Bear!
Then a scarier sound: the scratch of tiny claws on rotten bark. A cub fires up out of the brush, climbing a trekking pole-thin lodgepole snag, and my heart falls into my boots. I'm uphill from Mama Grizzly; that, and her concern for junior is the only reason she's not gnawing on my head. She hums oddly, the cub plunges obediently in a shower of bark flakes, and the two vanish in a fade-out of crashing noises.
I move on—fast—and roll into Benchmark Wilderness Ranch two days early. I overnight in their 1921 cabin, all dark wood, cast iron, and mounted heads—and whiskey left by previous guests. I slide beneath six Hudson Bay blankets and snore for 12 hours as heavy rain pounds the roof. Tonight's mantra: No whining. No moving.
Two days later, and I can't get back to the Divide atop 8,164-foot Scarlet Mountain. Too steep. Of course, scenery this stunning and solitude this deep shouldn't come easy. I head through the forks of Ahorn Creek on trails ravaged by a 2010 fire to regain the continental rooftop farther north and camp, exhausted, on a tiny patch of tundra beneath Junction Peak. The bighorn sheep clinging to the side of it look at me like I'm the first human to ever bed down here. Who knows? The next day brings a fine gable-walk along steep ridge crests, until I'm forced to thread my way down hairy, gravel-covered ledges to reach White River Pass. A new maxim forms: Pay attention! Crawl if necessary!
From White River, I go cross-country on game trails, seeking a way up the famous Chinese Wall, a 40-mile-long, 1,000-foot-high cliff that forms the Bob's scenic centerpiece. I want to walk atop it, not beneath, but as I scan the ridges, imagineering a way, a huge smoke column mushrooms over the Flathead Alps one ridge west. Driven by high winds, the wildfire cranks up quickly. Alarmed by smoke overwhelming my position, I abandon ridgeline ambitions and boogie north until I strike the Chinese Wall Trail, a roughly 18-mile track, overlapped by the CDT, that snakes along the base of the wall's central section. After three days of tense routefinding, I'm happy to stroll the hardpack beneath these dark, 1,000-foot cliffs, ogling meadows growing thick with Indian paintbrush so red I have to squint.
Day 20: My pack feels weightless, my legs spring-loaded. If one measures wealth by alpine views, I could retire this moment and live like a king. Dean Lake at mile 155 is heaven. Pikas squeak from the shorelines, and the water is dead still. I chill my feet, staring at mirrored versions of immense Pentagon Mountain, an imposing, cliffy pyramid with ridgelines that spread like arms to embrace the lake basin.
Three days, 22 miles, and one resupply later, I ascend tributaries of the Teton River's North Fork to fogbound passes beneath Corrugate Ridge. The weather is cold, and the peaks hidden by low clouds, as I thread the narrow corridor of Gateway Pass and drop through Big River Meadow. On the East Fork of Strawberry Creek, about three days from my finish at Marias Pass, I surprise a Montana Conservation Corps trail crew. "We hardly ever see hikers," smiles foreman Case Dunn. I linger for hours at their camp, trading stories and gorging on their Oreos and fresh cherries. The crew is excited about the route I've followed. "Sounds bigger and badder than the trails we work on," says one. I smile inwardly: I'm back in the game.
Big Rewards, Shorter Hikes
Get the best of the Bob in a week or less.
Wildlife Three Sisters
In mid-summer, elk herds make a home of the high ridgelines north of Redhead Peak and the Three Sisters. Why? It's so tough to access that hikers and hunters rarely go here. From Gibson Reservoir, take the North Fork of the Sun River and Rock Creek Trails to Spotted Bear Pass. From Spotted Bear, climb cross-country over Redhead Peak and across the Three Sisters. Descend off the east ridge of the northernmost Sister to elk trails that drop to the headwaters of Three Sisters Creek. From here, climb to broad, campable flats atop the divide. Spin to return. Total mileage: 76
Best views The Chinese Wall Trail
This 65-mile point-to-point hike follows the base of the Chinese Wall, a 1,000-foot-tall, 40-mile-long escarpment. From Benchmark, due west of Choteau, cross South Fork of the Sun and hike six miles up to a bridge over the West Fork. From there, hike up the West Fork on the Chinese Wall Trail. Head north for a day to Larch Hill Pass, My Lake, and Spotted Bear Pass. From Spotted Bear, drop southeast down Rock Creek to Gates Park Guard Station. Here you cross the North Fork of the Sun and climb east up a creek and over a pass to Headquarters Pass trailhead.
Top campsite Dean Lake
Even the best short hike in this wilderness is big—and has a long trailhead approach, too. You'll need to clock 36 miles out-and-back to reach this best-in-your-life tentsite next to Dean Lake, beneath the bulky pyramid of Pentagon Mountain. Start from the Spotted Bear River trailhead southeast of Hungry Horse Reservoir. Climb 11.2 miles along the Spotted Bear River to a junction at the base of Pentagon Creek, then climb the 5.3 miles and 2,947 feet of hairpin turns to Switchback Pass. Drop northeast from the pass to the headwaters of Basin Creek, then take an obvious fork 1.5 miles northwest to Dean Lake. (Note: The enticing Basin Creek Trail, shown prominently on USGS and GPS maps, does not exist.)
Day climb Headquarters Peak
A hike up Peak 8,789 (aka Headquarters Peak) delivers quintessential Bob views. Begin at Headquarters Creek Pass trailhead and hike 2.5 miles and 1,500 feet to Our Lake. Round the lake on its northern shore and climb west across meadow and talus to a 7,800-foot saddle. Turn south to summit via the steep but nontechnical northwest ridge, staying on its western flanks. On top, peer out at Old Baldy, Rocky Mountain, and the craggy Sawtooth Range. Total miles: approximately 10
>> Check out a slideshow of the author's photos here.