Big Bend National Park: Ernst Tinaja
Explore Big Bend backcountry on this easy 1.2-mile round-trip through a water-worn canyon to a desert watering hole surrounded by towering layers of rock.
Heading out the door? Read this article on the new Outside+ app available now on iOS devices for members! Download the app.
This short trail, about 5 miles north of the Rio Grande Village on the park's east side, is an easy hike north and east from the Ernst Tinaja backcountry campground. You'll follow a rocky creekbed toward a narrowing canyon, keeping the sandy hills on your right as you cross uplifted slabs scattered with gravel and rocks. Water-eroded canyon walls reveal bent and twisted layers of rock as the trail climbs gently and narrows. Look for lizards, tadpole-filled puddles and desert plants—including the citrus-scented lemoncillo and small, desert persimmon—as you continue walking east. The trail rises into the Boquillas Formation toward the deep pool that is the destination of this hike. "Tinaja" is the Spanish word for an earthenware jug and Ernst Tinaja is the biggest in the area and has served as an important water source for humans and animals for generations. Stay clear of the tinaja's edge—animals sometimes drown in it trying to reach the water—and don't contaminate it by swimming or littering. There are several smaller tinajas furhter up the canyon, but a large arch formation chokes the trail within a few hundred yards.
The drive up Ore Road requires a high-clearance and/or 4WD vehicle and may be impassable after rain. Check conditions before heading for this trail, or consider hiking the 5-mile dirt road and making this trip an overnight.
-Mapped by Melissa Gaskill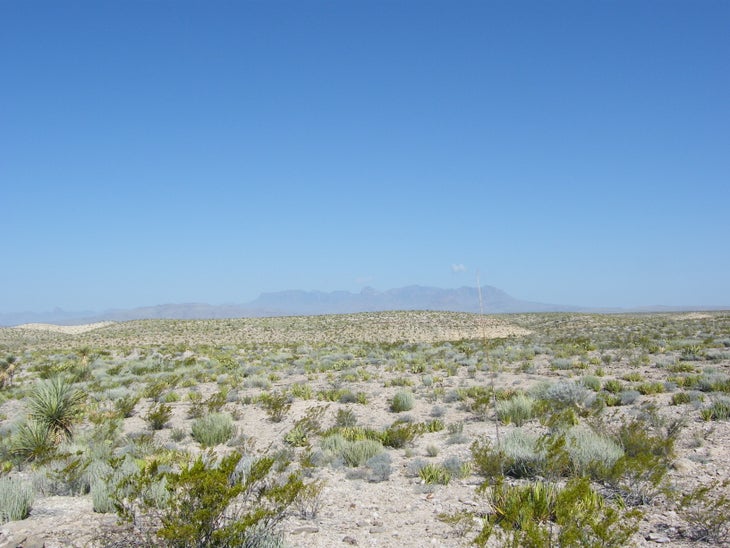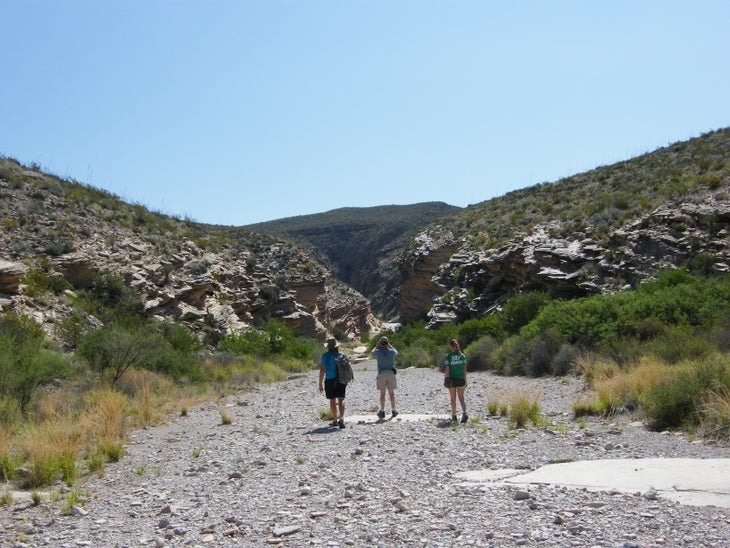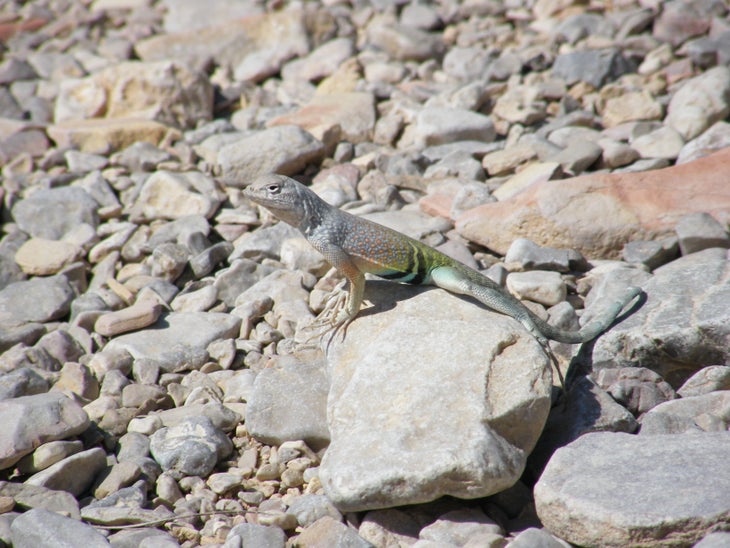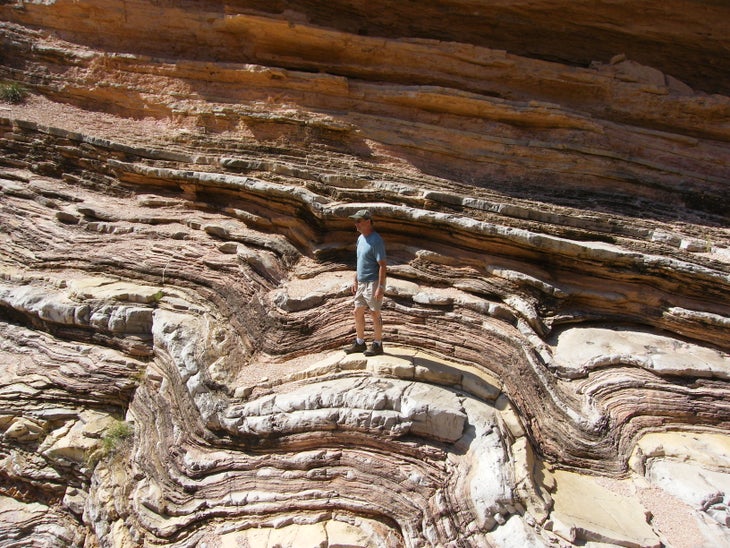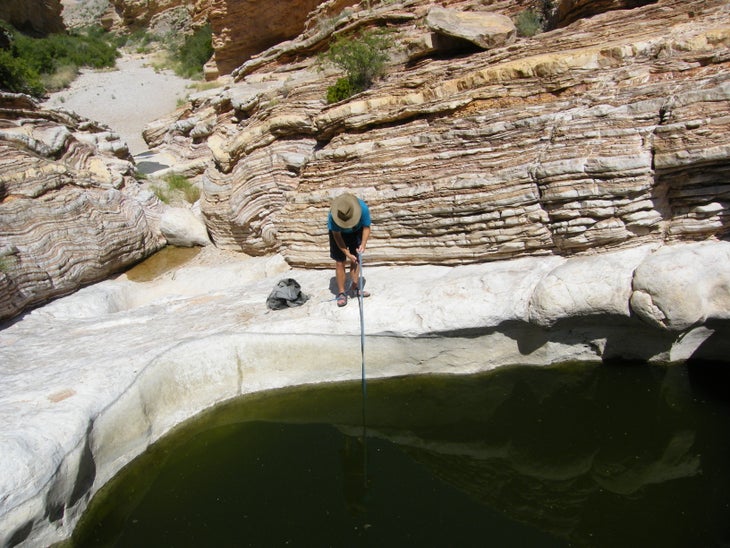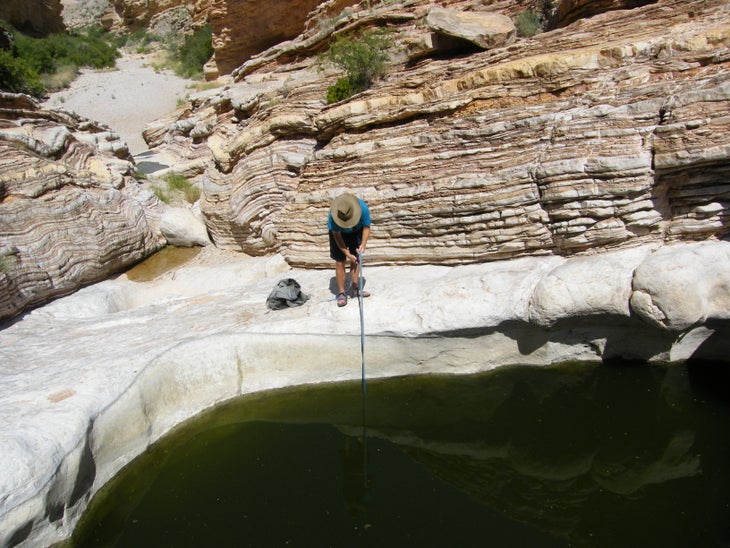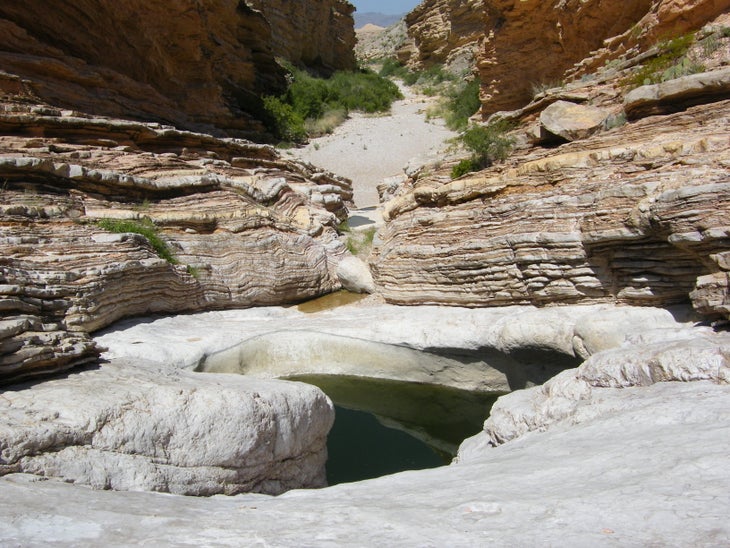 Trail Facts
Waypoints
ETJ001
Location: 29.2533053, -103.0178118
Set out toward Ernst Tinaja by turning left and following the wash from the end of Ore Road and the Ernst Tinaja backcountry campground. Bring plenty of water with you, though the tinaja is a water source for local wildlife, you shouldn't drink from it.
ETJ002
Location: 29.2553927, -103.0138958
Hiking into the canyon, you'll see bent and twisted layers of striated rock, evidence of volcanic and tectonic activity here since the Upper Cretaceous. Erosion is also at work here. Piles of rubble remain where huge chunks have dropped from the cliffs and shattered.
ETJ003
Location: 29.2569465, -103.0097544
The largest of several deep 'tanks' carved into the rock, Ernst Tinaja almost never dries up, but the water level is veriable. When the water is low, it's especially dangerous for animals that fall into the pool but can't climb out.
ENT004
Location: 29.2570775, -103.0091858
If you continue climbing past Ernst Tinaja, you'll pass several smaller pools before this natural arch formation blocks the canyon trail. Though it's possible to continue further if you're equipped for climbing, most people end this hike here.
Desert
Location: 29.253324, -103.0175972
Ernst Tinaja is a vital source of water for wildlife in this wide expanse of desert.
Creekbed
Location: 29.2538763, -103.0176187
Heading into the drainage from the campground toward Ernst Tinaja.
Lizard
Location: 29.2544098, -103.0167067
Lucky hikers may spot these colorful, quick lizards on the trail.
Rock Layers
Location: 29.2566329, -103.0104411
Angled faults and disrupted layers are characteristics of the Boquillas Formation which is the predominant rock layer in this area.
Canyon Walls
Location: 29.2568622, -103.0101728
Evidence of lifting and shifting are visible in the walls.
Ernst Tinaja
Location: 29.257012, -103.0096525
The water level in Ernst Tinaja depends on recent rainfall, but it is deep enough that it nearly always has some.
Ernst Tinaja
Location: 29.2569886, -103.0096686
Rocks and walls that are easy to clamber over provide a variety of perspectives on the watering hole.
Return trail
Location: 29.2570448, -103.0095184
Looking down the shallow canyon from the tinaja's vantage.