Big Bend National Park: Chisos Basin Trails
Combine 4 trails in the High Chisos on this challenging 8.6-mile loop that offers thigh-burning climbs, stunning views, and a vegetation transition with great wildlife viewing potential.
Heading out the door? Read this article on the new Outside+ app available now on iOS devices for members! Download the app.
From the Chisos Basin visitor center, this six-hour, 8.6-mile loop heads uphill on the Laguna Meadow trail for a panoramic view of the iconic Window—a water-carved notch between Carter Peak and Vernon Bailey Mountain—which drains water from the basin's north side.
The trail climbs nearly 2,000 feet on its first half, through a dry oak forest, past an amazing overlook and up a heavily wooded set of switchbacks before cresting a small rise to 7,172 feet, the hike's high point at mile 4.2.
The hike's second half descends the wetter side of the mountains on the Boot Canyon and Pinnacle trails—you'll see moss on rocks and trunks, and mistletoe in the branches—rounding an exposed rocky point and passing a deep canyon. Watch for black bears and plenty of songbirds on the trail after bypassing the spur to Emory Peak. The Pinnacles Trail descends steep steps and switchbacks bordered by cliffs and pinnacles as it continues downhill toward loop end.
Though this hike could be done in either direction, the Laguna Meadow Trail is exposed to harsh afternoon sun and the Pinnacles Trail is a more difficult climb from the basin which makes counterclockwise it a better choice.
-Mapped by Melissa Gaskill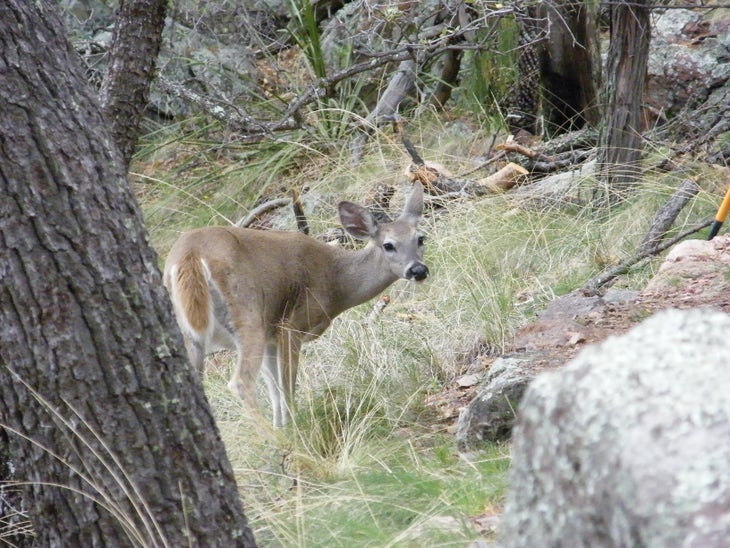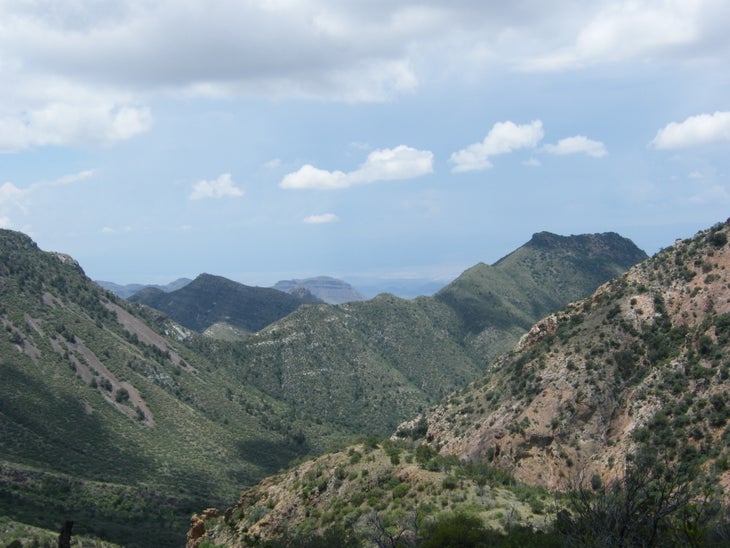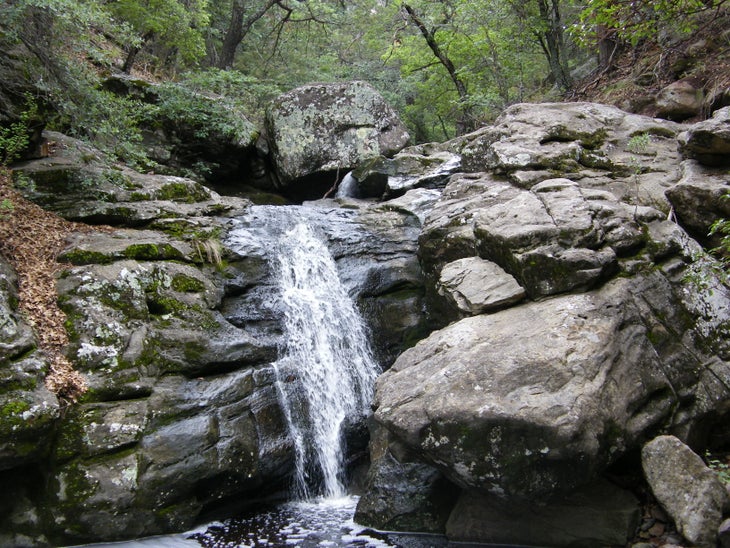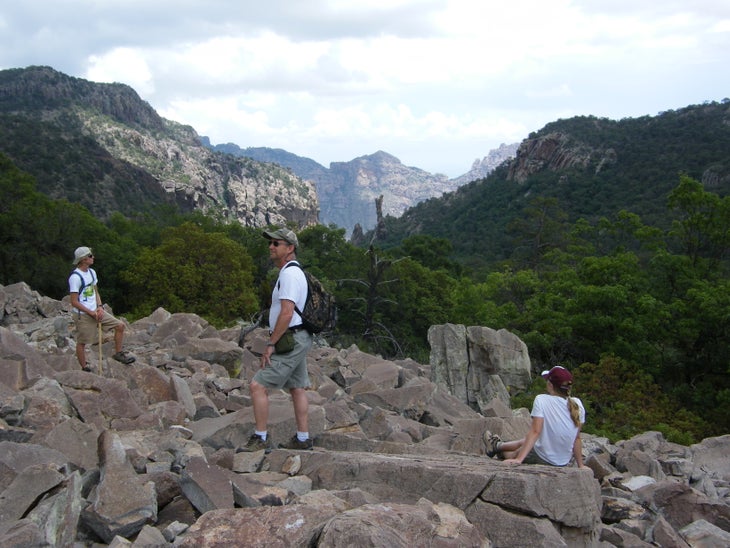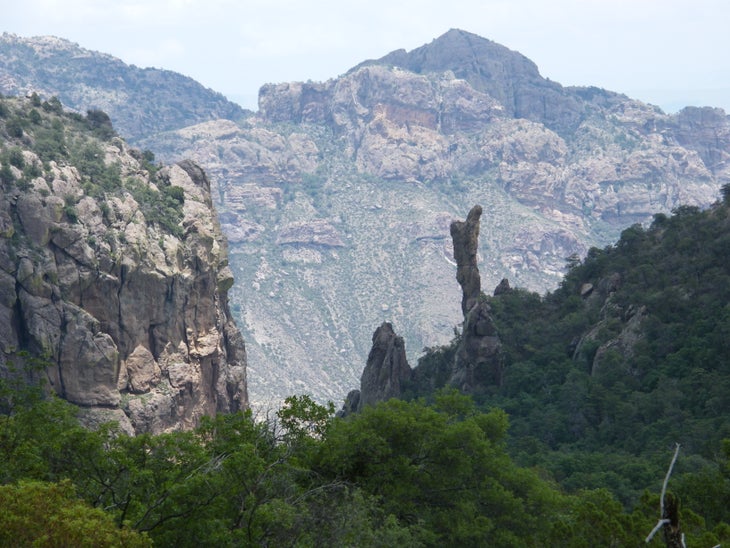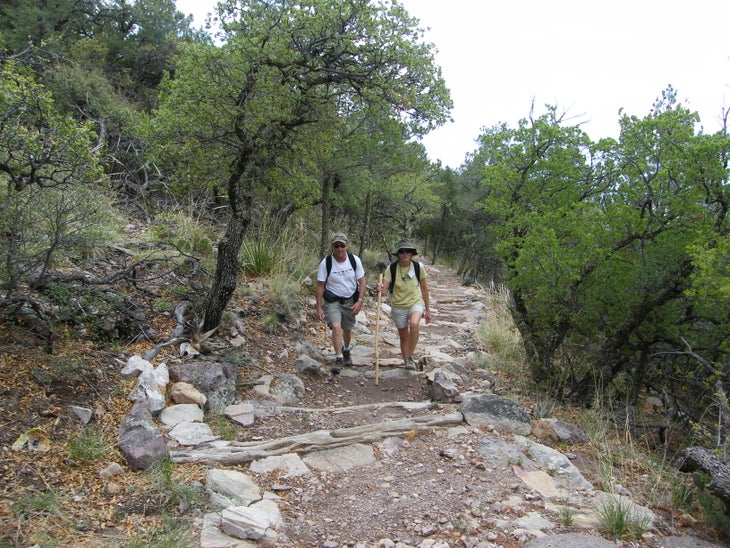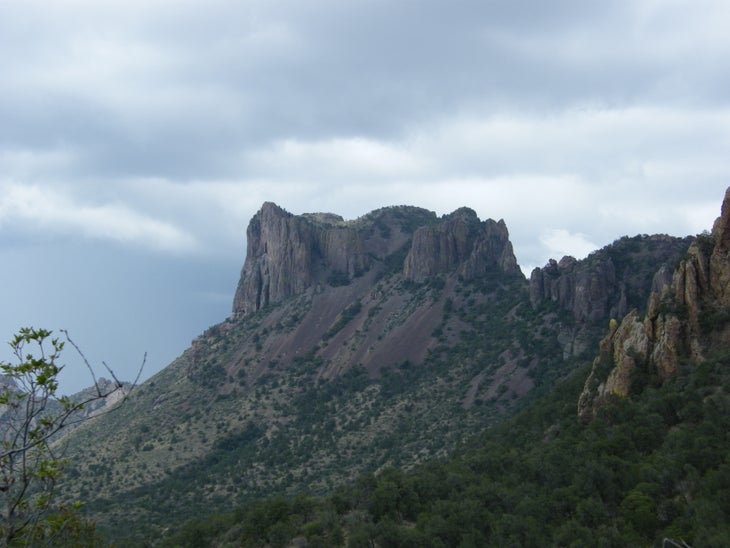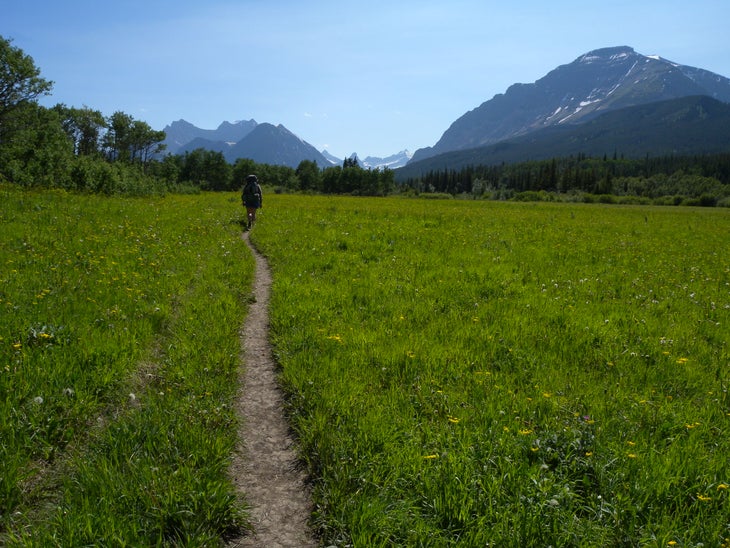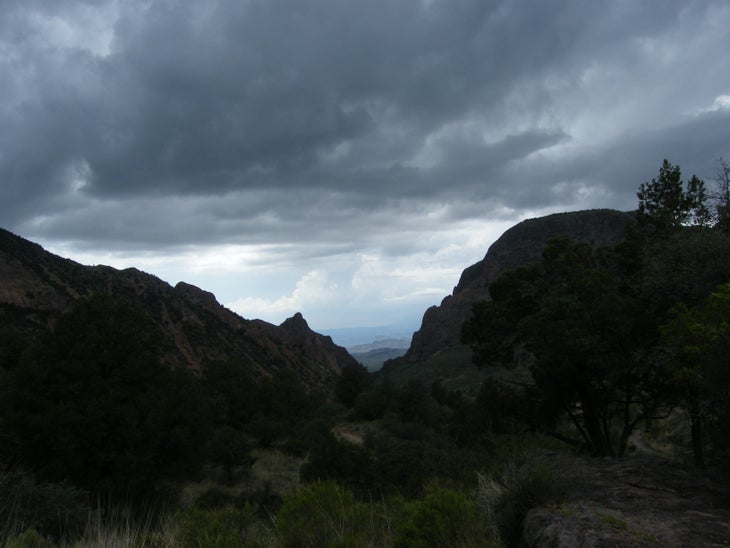 Trail Facts
Waypoints
CBT001
Location: 29.2701342, -103.3017933
Start this hike at the trailhead on the parking lot's west side and head for Laguna Meadow and the Window View trail (bypass the Pinnacles Trail). There are restroom facilities, a store and the park's only restaurant nearby if you need to fuel up before hitting the trail.
CBT002
Location: 29.2691609, -103.3035529
After several uphill switchbacks, bear right at this junction following signs toward Laguna Meadow. As you continue climbing, look right for views of the Window 1.7 miles northwest of here.
CBT003
Location: 29.2649866, -103.3056825
Stay straight on the main path and continue climbing through a dry forest toward a long series of log- and stone-stepped switchbacks with sweeping mountain views.
CBT004
Location: 29.2480632, -103.3111167
The climbing mellows after the switchbacking section of trail enters Laguna Meadow at mile 2.9. Listen for songbirds as you pass spur trails to backcountry campsites (and a composting toilet) and cruise the forested meadow heading south.
CBT005
Location: 29.2413231, -103.3100116
This Blue Creek overlook at mile 3.5 is a great place to stop for lunch. From here, you'll turn left on the trail to hike uphill on the south side of Emory Peak toward the Colima Trail.
CBT006
Location: 29.2414448, -103.3050442
Continue straight toward Boot Canyon on the Colima Trail at this mile 3.9 junction. From here you'll climb 0.3 miles of pinon-shaded switchbacks to this route's high point on a small saddle. Turning left onto the South Rim trail would add some distance to this hike and make it more like 13 to 14.5 miles.
CBT007
Location: 29.2432516, -103.2977915
Heading downhill from the saddle look for a dramatic rock slide on the trail's left side. As the grade mellows, you'll bypass a right-hand turn onto the Boot Canyon Trail heading south (consider a short detour to Boot Springs if you'd like to add another half mile). This route continues straight, following the Boot Canyon Trail as it loops north instead.
CBT008
Location: 29.2512085, -103.295871
Continue straight at this 3-way junction near mile 5.7. The left-leading spur trail climbs 1,000 feet over 1-mile to the top of Emory Peak, the park's highest.
CBT009
Location: 29.2590151, -103.2981563
There are a dozen backcountry campsites along the Pinnacles Trail between Emory Peak and the basin. You'll pass spur trails for Toll Meadows, Pinnacles, Boulder Meadow, and Juniper Flats as you descend. There is a pit toilet near the Toll Meadow trail, but no water sources near any of these sites.
The Window
Location: 29.2670457, -103.3047867
This iconic Big Bend landmark drains water from the Chisos Basin and provides an excellent sunset backdrop.
Deer
Location: 29.2463314, -103.3117926
The Carmen Mountains white-tail deer are one of 75 mammal species found in the park.
Blue Creek
Location: 29.2420346, -103.307544
Looking south toward Blue Creek from the trail below Emory Peak.
Boot Springs
Location: 29.2417163, -103.2974267
A short distance off this mapped route's loop, when Boot Spring is flowing, it might be worth the extra distance.
Rock Slide
Location: 29.2433452, -103.298521
Watch your step on loose rocks, but consider the trailside detour to this rock slide for an excellent view of The Boot.
Boot Rock
Location: 29.2441315, -103.2974911
The inverted cowboy boot shape of Boot Rock is off the trail, but is visible above the forest canopy.
Boot Canyon
Location: 29.2477075, -103.2944226
Hikers on the wide, well-maintained trail toward the top of Boot Canyon.
Casa Grande
Location: 29.2539793, -103.299551
The remains of a large volcanic stock, Casa Grande looms above the basin and is visible from the trail.
Meadow
Location: 29.2581352, -103.2994652
One of the few flat stretches along this route's downhill leg.
Thunderheads
Location: 29.264762, -103.2982206
Afternoon rains are common during the June-October rainy season. Be prepared for fast-changing weather conditions.