Best Weekend: Taylor Canyon to Upheaval Canyon
Circle through giant gorges and sleep at a riverfront campsite.
Heading out the door? Read this article on the new Outside+ app available now on iOS devices for members! Download the app.


Although Island in the Sky—the park's most accessible district—is just an hour's drive southwest of Moab, you'll feel like you're worlds away from civilization as you trek through the bowels of three hiker-dwarfing, 1,000-foot-deep canyons on this 19.3-mile overnight. Bonus: It's a loop (rare in these parts). Park at the Upheaval Dome lot (1) and follow the paved road east for 1.2 miles to the Alcove Spring trailhead.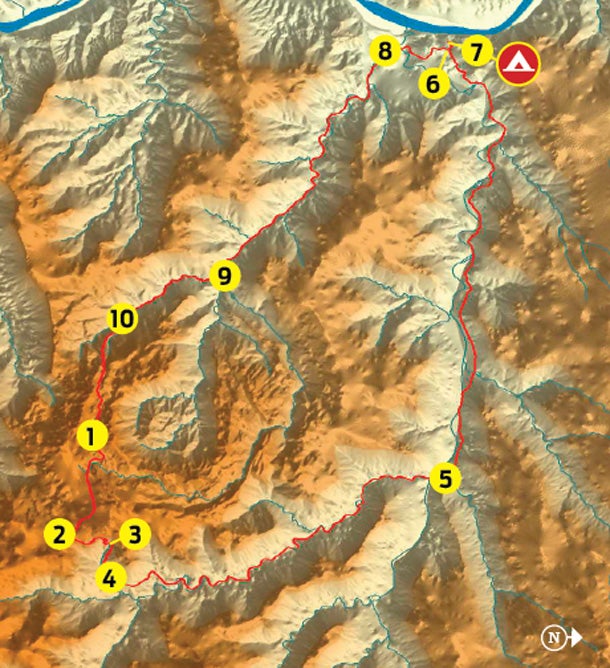 At the pull-out (2), veer left on a hard-packed sand trail that drops off the mesa top into the depths of Trail Canyon. The strenuous descent involves scrambling down ledges, maneuvering across loose rock, and routefinding when the trail grows faint. (Tip: Navigate toward the obvious sandstone fin on the north side of the canyon to avoid being cliffed out.) Scan the ground for the dog-like tracks of coyotes, which congregate at Alcove Spring (3), a small seep near mile 1.9.
The route hits bottom (4) at mile 2.1; head north 4.5 miles to where Trail Canyon merges with Taylor Canyon (5) at the base of Zeus and Moses, a blood-red, 410-foot-tall pinnacle that resembles a robed man leaning over a child with crossed arms. Turn left into Taylor Canyon and hike west 5.2 miles past vast rock gardens with RV-size boulders that slope up to the base of sheer, fortresslike buttes.
At mile 11.9, continue straight at the Taylor Rim junction (6) and go 50 feet to the Labyrinth campsite ($30; reservations recommended) (7), where the parched desert meets the Green River's lush banks. Sleep in the designated site above the grassy, cottonwood-dotted river. (Tip: Use a prefilter before purifying the silty water.)
The next day, turn right on the White Rim Trail, the park's famed 100-mile 4WD road (and popular mountain biking route). Less than a mile later, turn left into Upheaval Canyon (8) and head southeast up the talus-strewn gorge. Expect slow going: The trail fades in and out as it crosses sandpits, rocky Mars-like terrain, and narrow, steep-walled washes.
Near mile 16.2, bear right (9) up a tight and twisting wash. At mile 17.5 (10), the climb ramps up exponentially, gaining 1,300 feet in the final 1.8 miles to the rim. Look out across layered crimson mesas towering above the canyon-cut landscape before closing the loop.



GPS databackpacker.com/hikes/1718221



BUY THE PRO MAP