Best Weekend: Northern Loop Trail
See scores of wildflowers, waterfalls, and peaks.
Heading out the door? Read this article on the new Outside+ app available now on iOS devices for members! Download the app.


Three days is all it takes to notch this 33.2-mile lollipop, which visits Natural Bridge, the Yellowstone Cliffs, and Grand Park—a string of must-see landmarks bypassed by the Wonderland Trail. Hike north from Sunrise Visitor Center (1) to the Sourdough Mountains' ridgetop. Follow the ridge west into Berkeley Park's meadows (2), perched in a cirque formed by a trio of 7,000-foot peaks. In summer, Lodi Creek gushes over boulders, the sweet scent of lupine permeates the air, and Indian paintbrush blooms splash red across the fields.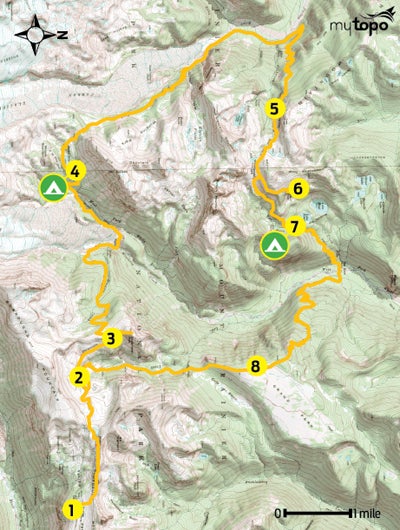 At mile 3.6, crest 6,700-foot Skyscraper Pass (3); detour .4 mile up the eponymous peak for sweeping views across the White River valley to the distant North Cascades. Four miles later, pass Garda Falls slaloming through a boulder-filled chute, cross a bridge over raging Winthrop Creek, then navigate across the West Fork White River (annual floods constantly change this crossing). Sleep at Mystic Lake Camp (4).
Next day: Wrap around Old Desolate's scree-covered slopes. At mile 14, pass the Carbon River suspension bridge and start a zigzagging climb through subalpine meadows­—blanketed with beargrass, purple lupine, and orange Columbia lilies by midsummer—at the base of the sheer Yellowstone Cliffs (5). Hike east across Windy Gap and turn left at the junction for a 1.5-mile out-and-back to 200-foot-high Natural Bridge (6). Spend the night at Lake James Camp (mile 22) (7).
Day three: After a stiff, 1,220-foot, 1.4-mile descent from camp, cross a log bridge over the West Fork White River. Look southwest on the open knoll at mile 27 for views of the river valley and Mt. Rainier. Less than half a mile later, meander through a vast patchwork of wildflowers in Grand Park (8), and continue south to finish the loop in Berkeley Park.