Best Weekend: Gorge Lakes
Hike cross-country to explore this secluded chain of hanging lakes.
Heading out the door? Read this article on the new Outside+ app available now on iOS devices for members! Download the app.

Navigate a backcountry obstacle course of boulder fields, willow thickets, rushing creeks, and waterfalls on this 10.5-mile routefinding challenge into one of the park's most solitary lake basins. From Milner Pass (1), follow the Ute Trail through subalpine spruce forest. At mile .6, turn right at the T and climb past treeline into tundra backdropped by layers of peaked ridgelines. For the next 3.6 miles, the route ascends grassy, alpine slopes just below the crest of the Continental Divide to 12,880-foot Mt. Ida. (Scan rock piles at mile 1.4 for sun-bathing yellow-bellied marmots.)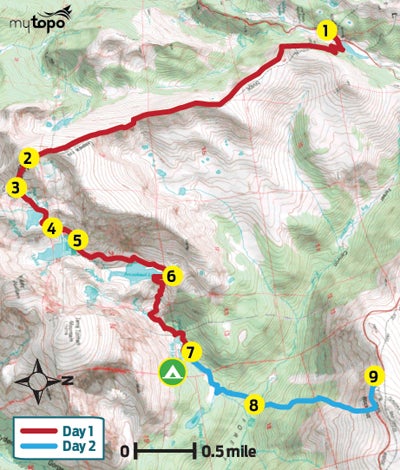 Top out on Ida's talus-covered summit at mile 4.7 (2), and preview your upcoming route down the tiered Gorge Lakes basin (with eight topaz-colored pools). Next, downclimb 500 vertical feet of class 3 boulders on Ida's southeast face to the saddle below (3), then descend scree and snowfields for another 400 vertical feet to the rock-strewn banks of stingray-shaped Azure Lake.
At mile 5.5, cross Azure's outlet creek (4) and drop down steep class 3 terrain to a lower rock bench that cups Inkwell Lake (5). Scramble across car-size boulders and rock-hop across small cascades along Inkwell's northern shoreline before descending flatter, mellower slabs into the Arrowhead Lake basin; bushwhack around the west side of the largest Gorge Lake through stunted conifers.
Near mile seven, cross the top of a waterfall (6), the outlet stream of Arrowhead Lake. From here to Rock Lake (800 vertical feet and .8 mile away), choose your own adventure down steep slopes crowded with dense willows, conifer stands, and tiered waterfalls. After crossing marshy meadows by Rock Lake, continue a quarter mile and spend the night at Little Rock Campsite (mile 8) (7).
The next day, descend northeast along the creek into Forest Canyon, negotiating stretches of downed trees. At mile 9.1, ford the Big Thompson River (8), lined with tall chiming bells and heartleaf arnica. The final grind to Trail Ridge Road scales 2,200 feet in 1.2 miles (tip: climb toward Rock Cut's fortress-like formations). Road-walk .2 mile west to your ride (9).