Best Week: Wonderland Trail
Explore Mt. Rainier from nearly every angle on this hike from Fryingpan Creek to Mowich Lake. The classic route tags the subalpine meadows of Summerland, crests 5,000-foot Cowlitz Divide, and links dozens of crystalline lakes and waterfalls.
Heading out the door? Read this article on the new Outside+ app available now on iOS devices for members! Download the app.


This 57.5-mile roller-coaster route racks up a total elevation gain of 19,301 feet (and a loss of 18,183 feet) as it wraps around Rainier's glacier-chiseled slopes­—and passes scenery that's equally grand in scale. From the trailhead off Sunrise Park Road (1), start a sustained, nearly 3,000-foot climb that parallels Fryingpan Creek. At the head of the valley, scale switchbacks into the rolling, high-country meadows of Summerland (2), then climb southwest to 6,750-foot Panhandle Gap (3), the high point of the Wonderland Trail.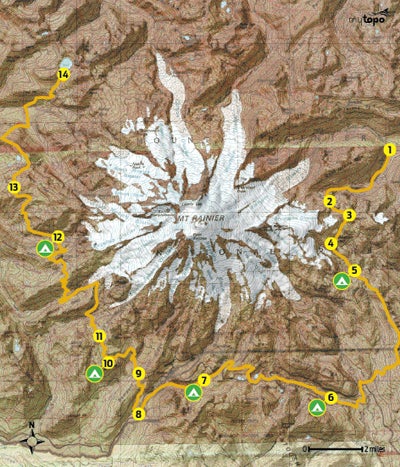 Linger at the top with resident mountain goats for views that stretch across the southern horizon to glacier-capped Mt. Adams. Descend the gap's backside and traverse small snowfields (4) that linger until fall above Ohanapecosh Park. At mile 8.3, cross Indian Bar, where braided channels of the Ohanapecosh River vein the volcanic riverbed, and cross a bridge above Wauhaukaupauken Falls. Sleep at Indian Bar Shelter (5) and look for deer and elk mingling in the adjacent meadows at dusk.
Day two: Climb 800 feet to a 5,930-foot point on Cowlitz Divide. Trace the ridge southeast for three miles before descending to Nickel Creek and Box Canyon. Sleep in Stevens Canyon (Maple Creek Camp) near mile 18 (6).
Climb out of the valley on day three, passing Sylvia and Martha Falls and Reflection and Louise Lakes. A mile later, begin the 5.8-mile descent into Paradise Valley. Pause at mile 24: Narada Falls plunges first 168 feet, then 20 feet over cliffs. Overnight a mile from here in Paradise River Camp (7).
On day four, pass back-to-back Madcap and Carter Falls on the descent toward Longmire (8). But before reaching the buildings, swing north for a steep, 1,050-foot climb up Rampart Ridge. Less than two miles later, cross a log bridge over Kautz Creek (9). Next, cross Pyramid Creek, then climb 2.2 miles to Devils Dream Camp (10).
Rise early on day five and spend some time in Indian Henrys Hunting Ground (11), a top spot to photograph deer, fox, elk, and black bears (avalanche lilies, lupine, and paintbrush bloom here in August). Next, start the 1.1-mile descent to a suspension bridge slung over Tahoma Creek. Two more climbs (and descents) later, stop at North Puyallup Camp (12).
On the last day, hike through Sunset Park (13), where black bears fatten up on huckleberries, then cross the South and North Mowich Rivers. The final 3.2 miles ascend 2,330 feet to Mowich Lake (14).
Trip Planner

Shuttle car: From Carbonado, follow WA 165 S for 20 miles to parking at Mowich Lake Campground.

To trailhead: From Greenwater, drive south on WA 410 E. In 17 miles, bear right on Sunrise Park Rd. Go 4.3 miles to pull-out.



Permit Required (free); reservations recommended ($20)



Contact (360) 569-2211; nps.gov/mora



GPS databackpacker.com/hikes/1471927