Best Week: Continental Divide Loop
Tour glacial valleys and navigate to off-trail lakes and waterfalls on this six-day circuit.
Heading out the door? Read this article on the new Outside+ app available now on iOS devices for members! Download the app.


Want to see classic Rocky Mountain National Park landmarks­ and explore hidden pockets of wilderness? Do it on this 54-mile, best-of-both-worlds trek that crisscrosses the Continental Divide, linking the park's lesser-tracked high country west of the Divide with the well-loved lakes and waterfalls on the east side. Start on the East Inlet Trail (1), roughly two miles from the town of Grand Lake, and hike east along its meandering namesake creek. Less than half a mile in, take the quick, .2-mile loop on the right to see Adams Falls, which cascades down boulders and plummets through a narrow gorge. As the trail runs up the valley, you'll skirt marshy meadows (look for moose munching in the willows in early morning) and meander through lodgepole pine and quaking aspen groves.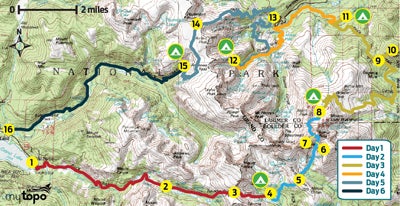 Five miles in, trace the southern shoreline of Lone Pine Lake, a forested pool protected by a cluster of 12,000-foot peaks, and climb east toward the head of the pinched valley. Pick up the user path at mile 6.4, where the maintained trail ends at Lake Verna (2), and follow it past Spirit and Fourth Lakes. From there, tackle a steep bushwhack, gaining 1,600 feet in .9 mile, to wind-blown, 12,061-foot Boulder-Grand Pass on the crest of the Continental Divide (3). Descend talus-filled gullies on the east side of the Divide and connect with the maintained trail at Thunder Lake; camp in the designated site just north of the lake (4). Rise early on day two for a strenuous day of high-altitude, cross-country travel that racks up 6,200 feet of elevation change in less than five miles.
Leave the established trail .2 mile east of the Thunder Lake patrol cabin and navigate north past your own private waterfall—watch misty Thunder Falls pour down a short cliff, then flow through a streambed of boulders. About half an hour from the Thunder Lake camp, cross the Lion Lake Trail in a spongy meadow and veer east to the granite-lined banks of Castle Lake, one of the most isolated lakes in the park (with prime northwest views of Mt. Alice's crags). Next, climb northeast above treeline to a broad, flat saddle on North Ridge (5), then descend the backside, crossing Hunters Creek at the outlet of a small pond below Keplinger Lake.
Past the lake, maneuver around boulders and bushwhack through stunted trees near timberline to the base of Keplinger's Couloir (6) on Longs's south face (mile 13). Scramble up the couloir to about 13,500 feet, and traverse northwest on a rock ramp that leads to the three-foot-wide Narrows ledge (7). (Don't miss: Scale the cracked granite slabs that rise 450 vertical feet directly in front of you to tag Longs's summit on a .1-mile round-trip detour.) Tightrope walk west, then downclimb boulders in The Trough couloir, angling north at 13,200 feet for a .3-mile traverse to the Keyhole notch and the Boulderfield (8) (sleep above treeline in one of nine campsites).
On day three, descend East Longs Peak Trail, and swing left at mile 20 near the park's eastern boundary to crest Storm Pass (9) and the 11,006-foot pinnacle of Estes Cone (10). Descend 2.9 miles farther and spend the third night near beaver ponds at Upper Wind River campsite (11). Day four: Drop into Glacier Basin, and turn left at mile 30, passing the popular Alberta Falls (crowds fade ahead). Less than a mile later, turn right at the base of Glacier Knobs, two side-by-side granite domes, and skirt the north shore of The Loch, rimmed by cliffy, granite peaks. Pitch your tent .2 mile later in a spruce-fir stand at Andrews Creek camp (12).
Hike past Chaos Canyon, Tyndall Gorge, and three more lakes (Dream, Nymph, and Bear) on day five. The last major climb (gaining 2,800 feet in four miles) starts at mile 37.7 from the eastern shores of Bear Lake (13) and ascends steadily through shady spruce, fir, and aspen stands. Stop at an overlook midway up a series of tight switchbacks to peer into the depths of Tyndall Gorge; Tyndall Glacier, one of the park's most photographed glaciers, sits at the head of the cirque.
Near mile 42, roll across 12,324-foot Flattop Mountain (14), a broad swath of alpine tundra where you're almost guaranteed the chance to hang with elk. Descend west to pick up North Inlet Trail at a three-way junction, and drop down 3.3 miles to the July campsite (15) near Hallett Creek. Close out the week with an 8.4-mile descent along North Inlet creek to your car (16).
Trip Planner

Shuttle car From Trail Ridge Rd. and W. Portal Rd. in Grand Lake, drive 1.1 miles northeast on W. Portal Rd. Turn left on CR 663. Go .3 mile to the parking area.

To trailhead Take CR 663 back to W. Portal Rd. and turn left. Drive southeast 1.2 miles to the East Inlet parking area.

Permit Required; $20

Contact (970) 586-1242, nps.gov/romo

BUY THE PRO MAP