Best Week: Chesler Park to Salt Creek Canyon
Hit up the park's highlights--slickrock scrambles, mesa-top views, and hoodoo-dotted canyons--on this seven-day trek.
Heading out the door? Read this article on the new Outside+ app available now on iOS devices for members! Download the app.


The Needles District in the park's southeastern reaches is a slickrock playground of labyrinthine canyons, hoodoo gardens, giant arches, expansive meadows, and prehistoric ruins. See the best of it on a 49.3-mile point-to-point that roller coasters from canyon bottoms to butte tops with hundred-mile views. From the Elephant Hill trailhead (1), hike south to the adjacent mesa top, climbing steadily past aromatic sagebrush and canyons with capped, mushroom-like spires. As you gain elevation, turn around for a pace-halting scene: The snowcapped La Sal Mountains rise to 12,000 feet behind distant mesas and gorges, while pink-and-white-striped rock towers line the foreground.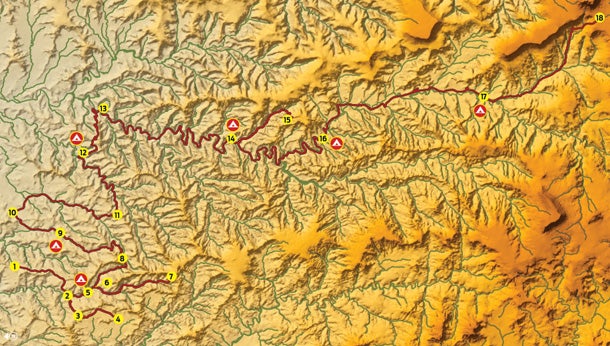 At mile 1.3, bear right before passing through two less-than-10-foot-wide gaps in the slickrock and descending to Elephant Canyon (2). Ditch your pack in the wash for a 3.6- mile side trip to Chesler Park, a sweeping meadow enclosed by spires. First, climb southwest up a side canyon and traverse a sandstone ledge above the canyon floor. Next, turn left at mile 2.4, and crest a pass (3) bordered by toothy formations. Soon after, the route enters Chesler's 960-acre expanse (4) stippled with bunchgrass and rimmed by 800-foot-tall, multi-colored spires. On windy days, you can hear the breeze whistle as it whips around the formations. Return to Elephant Canyon, then head south .6 mile to your first camp at EC2 (5), perched on a slickrock bench.
The next day, go south .2 mile to where the canyon forks (6). Leave your pack, grab dayhiking supplies, then bear right for a 4.5-mile round-trip to 85-foot-high Druid Arch (7), reminiscent of Stonehenge; backtrack to your pack. Now head southeast up the east fork of Elephant Canyon, and climb a metal ladder into neighboring Squaw Canyon (mile 11.7) (8). Traverse northeast along the exposed northern rim of the canyon for a mile, then turn left for a grin-inducing obstacle course: jump over a three-foot-wide gap, tightrope walk across logs lining the bottom of a five-foot-wide rock tunnel, then climb up a pourover to a redrock pass. Drop into Big Spring Canyon and follow it northeast 1.4 miles to your second camp at BS2 (mile 14.4) (9).
Day three: Hike northeast less than two miles to Squaw Flat trailhead (10) (take a half-mile detour to fill water in Campground B), then wind south into Squaw Canyon through a wide, hoodoo-rimmed meadow. At mile 18.4, veer left for a slickrock scramble to a 5,480-foot pass (11); carefully descend a steep pourover with loose rocks into Lost Canyon. Follow the snaking, cottonwoodlined wash northeast for 2.5 miles past pools with bullfrogs and salamanders, and turn right at the junction. Sleep at LC1 (12) 100 yards away.
On the fourth day, tackle a dizzying traverse that runs east on ledges roughly 200 feet above lower Lost and Squaw Canyons; downclimb a ladder through a claustrophobic, threefoot- wide slot; then descend stone steps into lower Salt Creek Canyon (13). In late summer, you may spot black bears snacking on the fruit of prickly pear cactus. Sleep at Angel Arch camp (14), shaded by two large cottonwoods.
Day five: Start this 9.1-mile day with a four-mile out-and-back to Angel Arch (15), named for the winged figure that seems to be leaning back on a 135-foottall arch. Next, hike south through grassy clearings with wild rose bushes to Upper Jump, a 15-foot waterfall pouring down tiered ledges. Overnight at SC3 (16) where the canyon broadens (mile 39.9).
Slow your pace on the sixth day to savor a 5.3-mile stretch of relics left by ancestral Puebloans in 1200 A.D. You'll pass a round stone-and-mortar granary, pictographs (one resembles four figures playing musical instruments), and cliff dwellings. Camp at SC1 (mile 45.2) (17).
On the last day (4.1 miles), follow the overgrown creekbed south. The lush riparian scenery transitions back to parched desert as the trail gains 1,000 feet in two miles to the rim of Salt Creek Mesa and your shuttle car (18).
Trip Planner

Shuttle car From Moab, drive south on US 191 for 40 miles and turn right on UT 211 W. In roughly 20 miles, turn left onto Beef Basin Rd./CR 107. Continue 17.2 miles to parking at the Cathedral Butte/Upper Salt Creek trailhead.
To trailhead Backtrack to UT 211 and turn left. In 17 miles, turn left on the unnamed road. In .3 mile, turn right at the Elephant Hill sign. Go 3 miles to parking.
Commercial shuttle Coyote Shuttle ($225/ two people; coyoteshuttle.com)
Permit $30; reservations recommended during peak season (spring and fall). Walk-in permits are issued one day before the trip's start date.
Water Carry in a gallon of water per person per day. Squaw Campground and Lower Salt Creek Canyon are the only reliable places to refill reserves.
Contact (435) 259-4351; nps.gov/cany



GPS databackpacker.com/hikes/1763611



BUY THE PRO MAP