These Urban Hikes Are Wild Adventures Inside City Limits
Think you need to head deep into the wild to have an outdoor adventure? Think again. Explore urban nature in these six cities, each home to outdoor community organizations, diverse history and culture, and wildlife.
Photo: ivanastar / E+ via Getty
Heading out the door? Read this article on the new Outside+ app available now on iOS devices for members! Download the app.
Who comes to mind when you picture someone "outdoorsy"? 
Is it a thru-hiker trekking the Appalachian Trail — or a hiker walking through a city forest preserve? A trail runner summiting a Colorado 14er — or a bike commuter riding to work? A rock climber completing a first ascent — or a family visiting their local park for the first time?
Reality check: It's all of the above.
"As an industry, we need to expand the idea of what it means to be outdoorsy," says Yvonne Leow, founder of Bewilder, an experiential retailer that hosts interactive outdoor-focused events for urban families. "The pandemic accelerated a cultural shift where nature isn't just an escape for epic adventures, but rather essential to our everyday lives. My personal definition of outdoorsy is when we feel connected to ourselves, to our communities, and the world around us."
Urban dwellers represent over 80 percent of the U.S. population. Combined, more than 15.5 million people live in the country's three largest cities (New York City, Los Angeles, and Chicago). Leow argues there's already a huge slice of urban adventurers getting outside and there's an even more enormous appetite for it. The thousands of urban-based families she's connected with through Bewilder Basecamps in California are proof that living in a big city doesn't inhibit interest in getting outside and exploring urban nature — it only enables it. 
"Being outdoorsy while living in a dense metropolitan city is a different culture — and it's one the outdoor industry should be investing in," says Leow. "Urban adventurers are used to creating art, music, and amazing food while being outside, and I think that's something the outdoor industry can learn from. We should be listening to and engaging with urban adventurers rather than trying to get people to travel to distant national parks or state forests."
We're even starting to see investment in urban nature by the Federal government. In July 2022, the National Park Service announced plans to distribute $192 million in grant funding to urban communities through its Outdoor Recreation Legacy Partnership (ORLP) grants program. The initiative aims to support urban communities with funding to create new outdoor recreation spaces, improve existing parks, and facilitate more outdoor connections and programming within economically underserved areas.
The team behind Chicago Adventure Therapy (CAT), a nonprofit guiding children, youth, young adults, and families within Chicago's urban wilderness, are no strangers to this work. The organization programs and partners with city-based organizations and nonprofits — from gang intervention and refugee resettlement programs to the Illinois Department of Children and Family Services and the Chicago Public Schools system.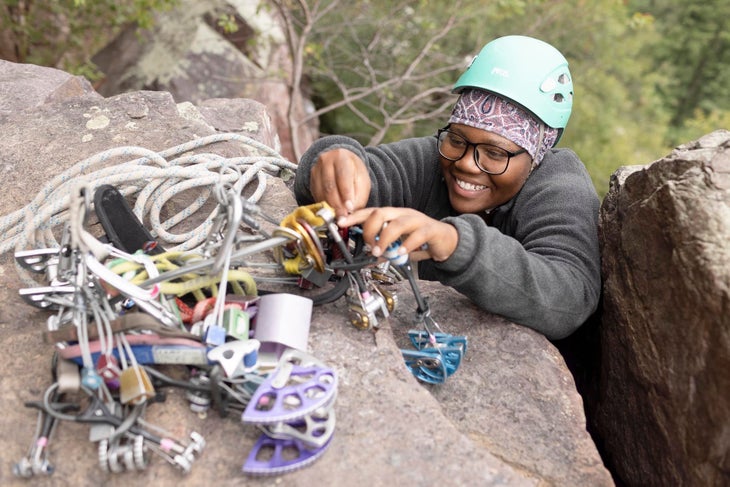 Zorbari Nwidor, a former CAT participant and now Associate Executive Director of the organization, says the nonprofit works with youth and community members who come from all sorts of backgrounds and challenges. A Nigerian refugee herself, Nwidor says helping their participants get out and explore Chicago's nature gives them the chance to disconnect and rewrite the script of what it means to be a kid again. 
"When they come out with us, they get to leave their neighborhoods and the hassle of having to fend for themselves, take care of their families, and be the protector," says Nwidor. "Most of our youngest participants have had more life experience than most adults when it comes to fending for themselves. We take them into pockets of urban nature in Chicago, like Skokie Lagoons and Jackson Park, to soak in the wonderful peace, quiet, and serenity they offer."
Nwidor herself is a supremely qualified teacher: She was the youngest African -American woman to earn her Level 1 British Canoe Paddlesports Coach certification and also holds certifications in stand-up paddleboard coaching and sea kayaking. She says it's impossible to understate just how important mentorship in the outdoors is, especially for city-based youth who have significantly less access and influence to get outside in nature.
"We feel it's so important that all who we work with know they don't have to go to Colorado or a far-away state park to be able to experience nature," says Nwidor. "Urban nature and urban wilderness are important — and valid — too."
As Nwidor puts it, "When lost in the peace of urban nature, you forget the city is just two bushes or a tree away."
You can tap into the power of urban nature too. From tucked-away forest preserves in the middle of Staten Island, New York to 2,000-plus feet of elevation gain on the edge of Santa Fe, metropolitan hubs across the country mix big city living with the opportunity to explore a more wild side of town. Opt for an urban adventure in these six cities across the country.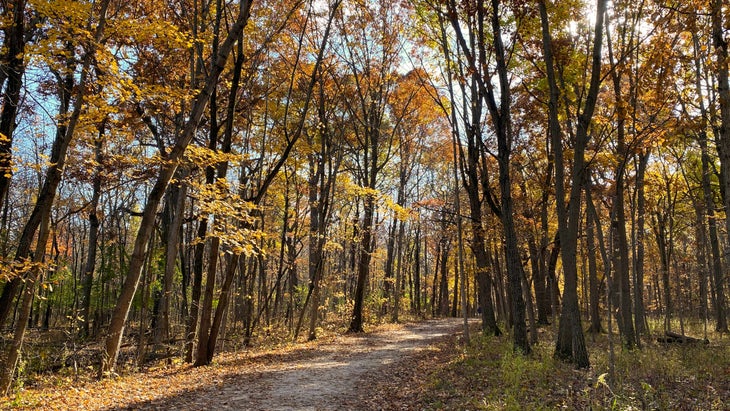 Chicago
Urban nature runs wild in the Windy City. Over 3,500,000 trees grow within city limits and 70,000 acres of protected public lands make up the expansive Forest Preserves of Cook County system. Zoom out on Google Maps, and you'll see a semi-circle of dense, green forest surrounding the city center. Many of these parks are also accessible via public transit on the "L" trains, Metra routes, and buses. You can even camp at five public forest preserve campgrounds around Chicagoland.
Roughly 350 miles of paved and unpaved trails in the Cook County forest preserves and in the Chicago Parks District give city dwellers plenty of opportunity to log miles. You can even tackle an urban thru-hike on the 210-mile-long Chicago Outerbelt. Along the route, you'll travel a contiguous loop of forest preserves and parks on a mix of dirt, gravel, and paved trails that take you through a diverse mix of Illinois landscapes like native tallgrasses in the Middlefork Savanna, thick oak, hickory, and maple forests on the Des Plaines River Trail, and the city's hilliest terrain in the Palos Trail System.
An underrated hiking spot within the city is the Burnham Wildlife Corridor, a 100-acre ribbon of urban wilderness south of downtown. Here hikers travel on paved, gravel, and woodchip paths through prairie, savanna, and woodland ecosystems. You'll likely spot dozens of migratory songbirds, like eastern phoebe and yellow warbler, during spring. Hike 5 miles north from East 47th Street through the Burnham Wildlife Corridor to Northerly Island, a 119-acre park and urban nature sanctuary. On this human-made peninsula, you'll find 150 different varieties of native plants, like white wild indigo and wild quinine, and get an unreal view of the Chicago skyline.
Other gems include Jackson Park, a 551-acre park loved by kayakers, birders, and anglers, and Montrose Point Bird Sanctuary, a hotspot for over 300 migratory bird species.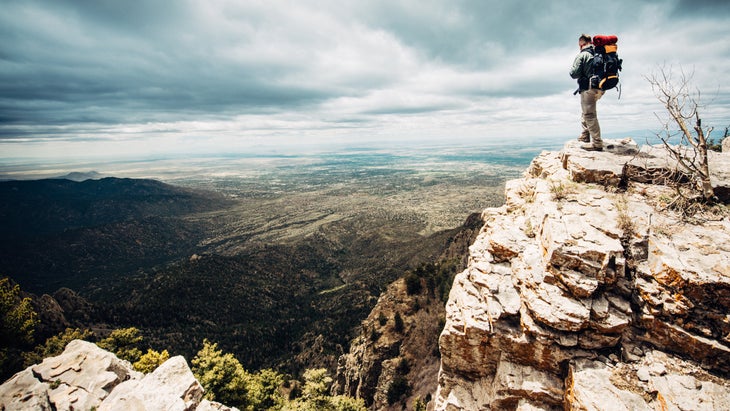 Albuquerque & Santa Fe
An hour apart by car, Albuquerque and Santa Fe are the dream team of hiking cities. With both urban centers a literal stone's throw from trailheads that ascend over 2,000 feet in elevation gain, it's hard to find urban adventure quite like this anywhere else in the southwest. New Mexico's beauty, especially high desert sunsets and the diverse wildlife and flora, shines throughout the Albuquerque and Santa Fe region. 
The benefit of hiking near these urban hubs is the chance to explore local watering holes and restaurants, cultural institutions, and Indigenous arts and history museums before and after your time in the mountains. Popular cultural stops include the Georgia O'Keeffe Museum, the New Mexico Museum of Art, and the IAIA Museum of Contemporary Native Arts near the historic Santa Fe Plaza, as well as the Indian Pueblo Cultural Center, with an optional food stop at the Indian Pueblo Kitchen afterward, in Albuquerque. 
A short 30-minute drive from downtown Santa Fe, hike to the peak of Santa Fe Baldy and the scenic high-alpine oasis at Nambe Lake. The 6.8-mile Nambe Lake Trail in the Santa Fe National Forest ascends 2,093 feet to the trail's namesake. Catch a free bus to and from Sante Fe to the Sante Fe Baldy and Nambe Lake trailheads on the North Central Regional Transit District bus (what locals call the "Blue Bus"). You'll take in views of the Sangre de Cristo Mountain range on the 30-minute drive to the trailhead. The "Mountain Route" picks up in a few spots around Santa Fe and then heads up into the mountains, stopping at trailheads in the Santa Fe National Forest along the way. Closer-to-town hikes like the 6.4-mile Atalaya Mountain Trail and the more accessible 1.6-mile Sun Mountain Trail show off expansive views of Santa Fe with less of a schlep.
Albuquerque offers town to trail transit on the Sandia Peak Tramway, all the way to the top of the Sandia Crest in the Sandia Mountain Range. Take the tram to the La Luz Trail, a 9-mile trail with 3,200 feet of elevation gain in the Cibola National Forest and National Grasslands. The trail shows off terrain ranging from high-desert, dirt-packed trails through juniper-pinyon forest to Yosemite-like rocky scrambles lined by dense stands of aspen
Prefer to see the urban greenery on foot? Skip the tram and hike one of the scenic trails in the foothills with plenty of cityscape views. The popular Paseo del Bosque Trail, a flat and paved 16-mile multi-use trail for biking, jogging, and hiking, runs north and south in Albuquerque through the Rio Grande's cottonwood bosque (forested river area). You can also peel off and venture into the small but beautiful Rio Grande Valley State Park and the adjacent Candelaria Nature Preserve, where porcupines and coyotes abound.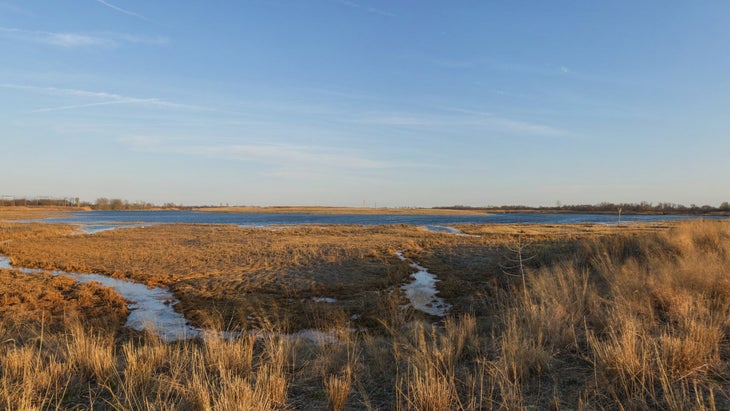 New York
There's more greenery in the Big Apple than just Central Park and the High Line. Urban green space and wildlife areas make up 14 percent of New York City. Even with its reputation as a concrete jungle, America's most populous city grants access to thousands of acres of nature within New York's five boroughs. The New York City Department of Parks & Recreation manages over 1,700 parks ranging from wetlands and wildlife sanctuaries to local pocket parks.
More than triple the size of Central Park, the Staten Island Greenbelt spans 3,000 acres of forested parkland. Over 35 miles of hiking trails offer respite from the congestion of high-energy city life with 10 protected park areas. One of the most popular hiking spots within The Greenbelt is High Rock Park, a coveted spot to view fall colors. While it isn't strenuous by any means, take a hike up Mt. Moses, a 260-foot hill in the center of the park. You'll forget you're in the middle of Staten Island with nothing but sweeping views of trees all the way to the horizon.
One of the best things about getting outside in New York City is how accessible it is. Alley Pond Park near Queens, which is home to native oak-hickory forests, and Inwood Hill Park in Manhattan, the only remaining natural forest and salt marsh in the city, both provide low-cost urban youth programming and Urban Park Ranger-led events as well as accessible hiking trails. Free courses through the Alley Pond Park Adventure program teach locals outdoor skills like how to canoe, navigate with a compass, and fish at ponds within the city.
You'll also find an abundance of urban nature throughout the Gateway National Recreation Area. The huge swath of land houses several historical landmarks and stretches from Sandy Hook in New Jersey to Breezy Point in New York City. Popular urban adventures there include biking the 28-mile Jamaica Bay Greenway that passes through Jamaica Bay Wildlife Refuge, hiking and paddling in Brooklyn's largest park, Marine Park, or exploring 10 miles of hiking trails and car-free bike path at the 407-acre Shirley Chisholm State Park on Jamaica Bay.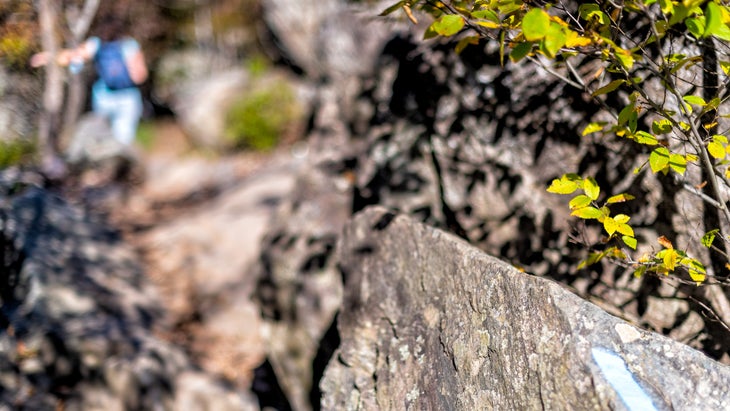 Washington D.C.
Our nation's capital is a hub for U.S. history and urban outdoor adventure. While tourists flood the National Mall to monument and museum-hop, outdoorsy locals explore urban parks, nature preserves, and wildlife areas in and around D.C. An hour and a half from Shenandoah National Park, which lies on the foothills of the Blue Ridge Mountains, D.C.'s urban lifestyle blends history and culture with the outdoors.
Three miles north of the White House, Rock Creek Park is home to a 32-mile network of trails that range from paved and wheelchair-accessible to rock-hopping stream crossings. You can create your own loop hike by cutting over your choice of one of the connector trails that run between the Western Ridge Trail and Valley Trail, both of which clock in around 5 miles. The rugged dirt trails continue within the nearby Glover Archbold Park, a state park northwest of the city. The popular 5.7-mile out-and-back Glover Archbold Trail spans the entire length of the park and connects to the Chesapeake & Ohio Canal Towpath at its south end. The historic bike and mixed-use trail follows the Potomac River 184.5 miles north through George Washington Memorial Parkway, Great Falls Park, and beyond.
You'll forget you're only 15 to 20 minutes from the city on trails like the Turkey Run Trail, a 3.9-mile loop hike in Turkey Run Park within the George Washington Memorial Parkway, and Section A of the Billy Goat Trail, a short but strenuous 1.75-mile out-and-back in Great Falls Park. Each will challenge even well-seasoned hikers with moderate scrambling, waterfall views, and stunning lookouts over the granite-strewn and rocky terrain. Scott's Run Nature Preserve is another urban adventure favorite. Locals escape here to view wildflowers covering the rocky crags and steep bluffs come spring, relax streamside next to Scott Run, or pit-stop while biking, hiking, or paddling along The Potomac Heritage Trail, a 10-mile portion of the longer 825-mile Potomac Heritage National Scenic Trail that connects Georgetown in D.C. to Cumberland, Maryland.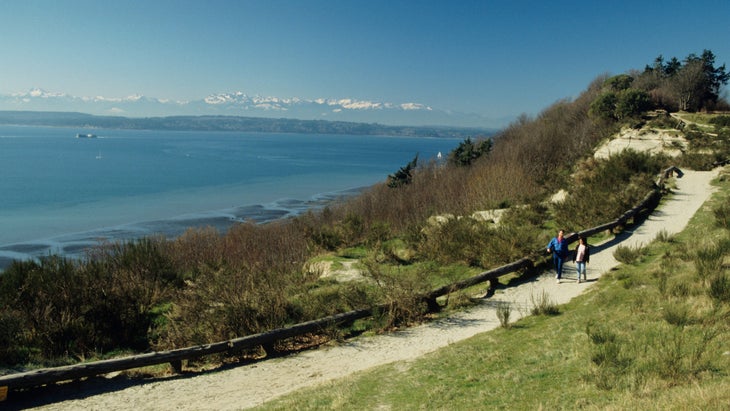 Seattle
It's hard to separate the Pacific Northwest from outdoor adventure. That's true even in Seattle, a bustling metropolitan area bristling with skyscrapers You don't have to venture hours from the city to Olympic National Park or Mount Rainier National Park to get your nature fix. Wilderness areas, managed forests, and protected parks in and around Seattle provide more accessible access to nature just minutes from the city. 
Seattle Parks and Recreation manages over 480 public parks, including the 300-acre Seward Park, with 5 miles of trails on the peninsula that juts into Lake Washington. Nonprofits and community-led organizations like the Seattle Green Spaces Coalition continue to fight to keep native forest and wetland areas protected from corporate development, so that public land continues to remain a public benefit. The West Duwamish Greenbelt Trails is a tried-and-true urban forest area and the largest contiguous forest in Seattle. Over 500 acres of dense forest sit between Pigeon Point to Westcrest Park, with several miles of hiking and biking trails throughout. 20 minutes south of downtown Seattle in Burien, hike 5 miles of primitive trails at Salmon Creek Ravine Park. The mostly unmaintained park is reminiscent of a time when cedar, maple, and fir-dense forests covered most of the Seattle-Tacoma region. 
Seattle also offers the opportunity to pair museums, public gardens, and Indigenous learning with your adventures. North of Capitol Hill at Interlaken Park, a heavily-wooded and hilly park with 2 miles of dirt trails, you're a short 15-minute walk from cultural institutions like the Seattle Asian Art Museum, Washington Park Arboretum, and the Seattle Japanese Garden. At the 534-acre Discovery Park, Seattle's largest park located 20 minutes northwest of downtown, you can hike the 4.4-mile dirt-packed Discovery Park Loop Trail and stop in to support the Daybreak Star Indian Cultural Center, a land base and community center for Native people in the Seattle area.