10 Craft Beers You Need to Drink on the Pacific Crest Trail
The PCT doesn't just have some of the country's best scenery—it has some of its best brews, too.
Heading out the door? Read this article on the new Outside+ app available now on iOS devices for members! Download the app.
Blazing World, Modern Times Beer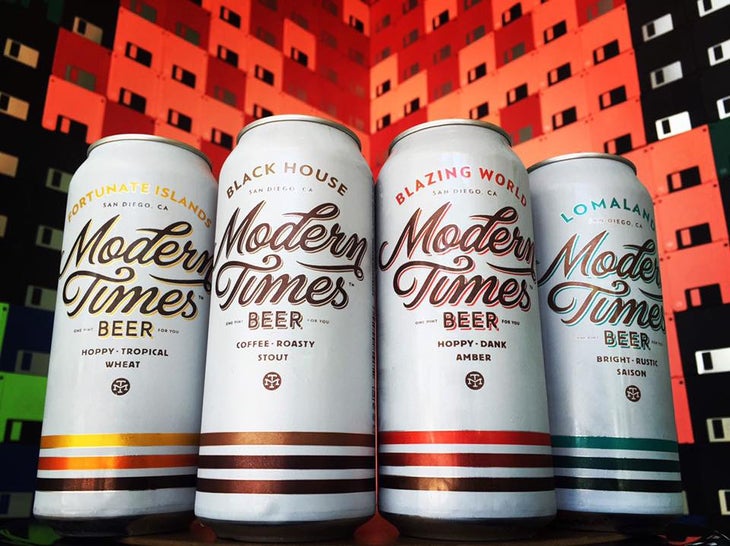 San Diego, California
You won't find many accessible breweries in the Mojave. But if you want to pack a single beer to toast yourself after your first day on the trail, we suggest Blazing World. The beer from San Diego's Modern Times a real gem in a town that is full of them. Although classified as an amber, this sticky brew is both sweetly malted and loaded with the dank flavors and aromas of Nelson, Mosaic, and Simcoe hops. Bonus: The sixteen-ounce can means there's plenty to help soothe your aching feet. 
Apple Pie Ale, Nickel Beer Company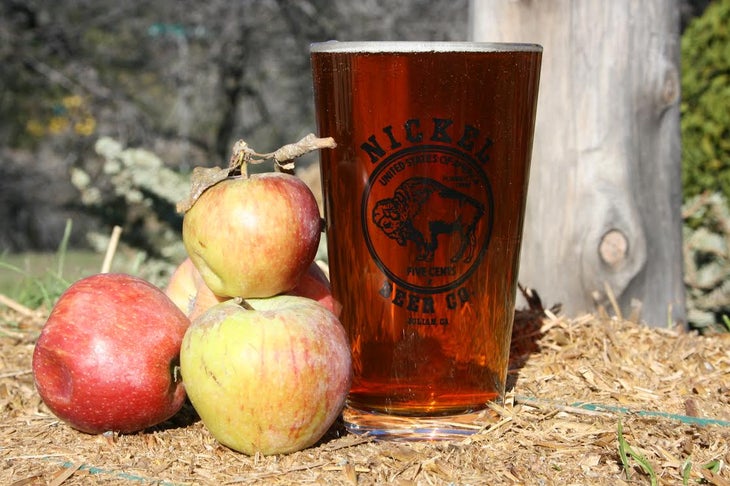 Julian, California
A former mining town, Julian is known today mostly for its apple orchards and its bucolic mountain setting. There are a couple of campsites in town that thru-hikers can stay at to shower and rest. About 11 miles from Scissors Crossing, hitch a ride to Nickel Beer Company, which was founded in 2013 by Tom and Lindsey Nickel, a longtime professional brewer. Try Take a Hike if you feel like staying on theme; it's a 5.8 percent ABV pale ale brewed with Cascade, Citra and Mosaic hops. Or, splurge on the Apple Pie Ale, a 5.6 percent ABV beer/cider hybrid made with locally grown apples, as well as cinnamon, ginger, nutmeg, allspice and clove.
Blueberry Gose, Local Craft Beer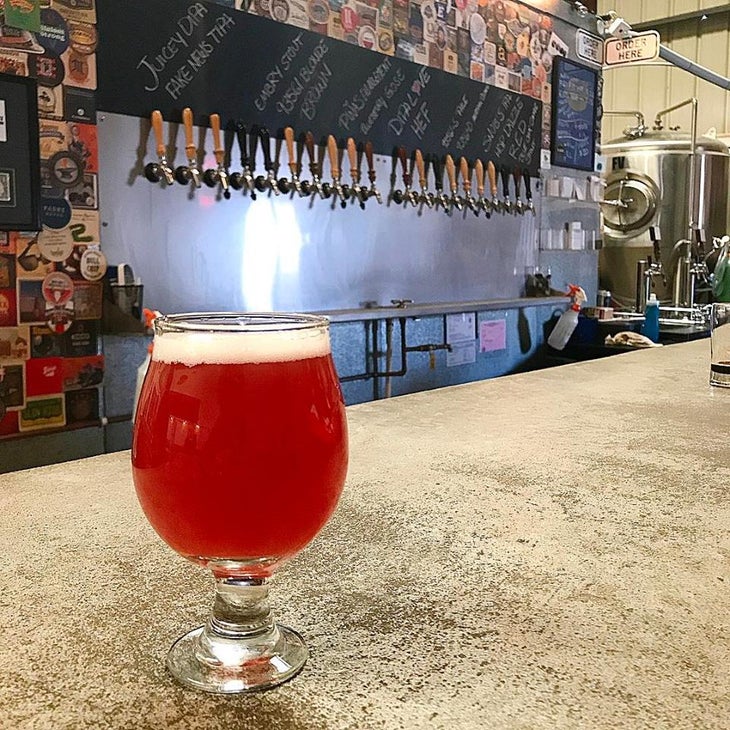 Tehachapi, California
California's central valley can get mind-numbing after a while: It's really hot, and really, really boring. Even the enormous wind turbines don't entertain for long. Feeling frisky? Get a ride from one of a couple of crossings into the town of Tehachapi, about ten miles from the trail, and have a beer or three at Local Craft Beer, a cozy spot with a surprisingly wide variety of beer styles. They specialize in hazy, cloudy New England-style IPAs, but the Blueberry Gose, tart, salty, light on the alcohol and full of fruit might be better to wash away that Central Valley dust. 
Pro tip: Heading north out of Agua Dulce (about seventy miles south of Tehachapi), California, is a 24-mile stretch of the PCT where some hikers drink 24 beers in 24 hours. Thomas suggests refraining from the 24-24-24 Challenge: "This is in the one of the hottest, most exposed parts of the desert. It's dangerous."
Summer Triple, Mammoth Brewing Company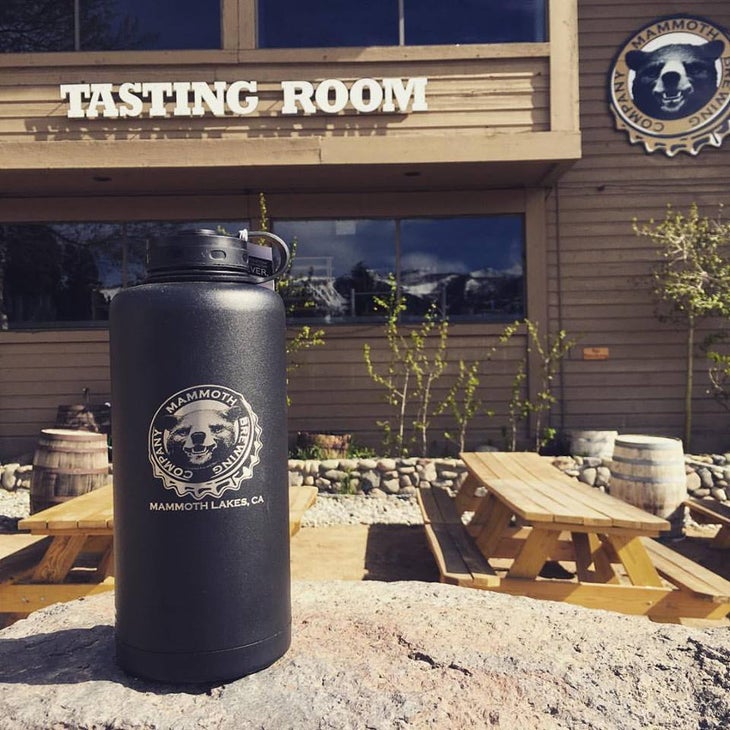 Mammoth Lakes, California
Mammoth Brewing Company loves to brag that it is "the highest brewery on the West Coast," at 8,000 feet above sea level, and you'll feel it. Serving suds for more than twenty years, Mammoth Lakes loves to play the classics, from pale ales and browns to saisons and kolsches. Since you'll be there in the summer, though, try the seasonal Triple, a fruity, estery beer with flavors of orange, cloves and coriander. And if you want to do a short brewery crawl, a thirty-minute walk gets to you Black Doubt Brewing, a young upstart making Belgian styles, sours and barrel-aged beers.
Pro tip: For $7, you can catch the shuttle from Devil's Postpile National Monument, right off the trail, into Mammoth Lakes, says Thomas. And it's worth the trip. "Mammoth is one of my favorites. It's a nice break in the Sierras."
Easy Company Belgian White IPA, Dunsmuir Brewery Works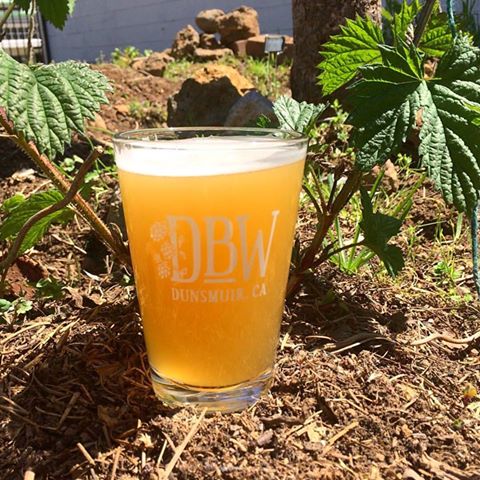 Dunsmuir, CA
The trail takes its toll after a while, and hikers tend to fall into Dunsmuir rather than take it by storm. But that's fine, because the town is a quiet place, perfect for showers, laundry and a beer and dinner at Dunsmuir Brewery Works. Located about five miles north of where the PCT crosses under Interstate 5 along Soda Creek Trail, Dunsmuir Brewery serves a nice variety of beers, along with a filling menu of burgers, sandwiches, brats and other pub food. If your feet are really hurting, try Barley Legal, an enormously hopped barleywine that weighs in at a whopping 10 percent ABV. If you're in the mood for something lighter, go for the Easy Company Belgian White IPA. This lower-alcohol white ale has intense flavors of juicy grapefruit to complement the dank hops.
Hopportunity Knocks IPA, Caldera Brewing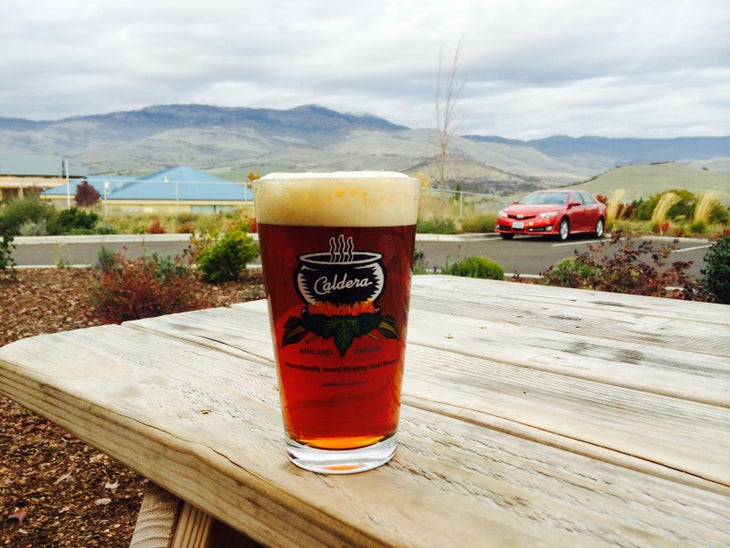 Ashland, Oregon
There's no better place to pause and celebrate finishing your first state than Ashland, Oregon, which is just north of the California border. About twelve miles from a PCT access point at the Green Springs Highway, this legendary trail town is usually teeming with hikers in late July and early August, all looking to stock up, get clean and down some suds. The first place to do that as you are hitching in is the Caldera Brewery & Restaurant, one of the two branches of Caldera Brewing, just off the intersection with Interstate 5. You'll find 45 choices on tap, along with pizza and other dishes. Not surprisingly, Caldera is known for its Pacific Northwest-style IPAs. Try them all, or stick with Hopportunity Knocks, a big, piney 7 percent ABV brew made with Centennial hops. 
PCT Porter, Crux Fermentation Project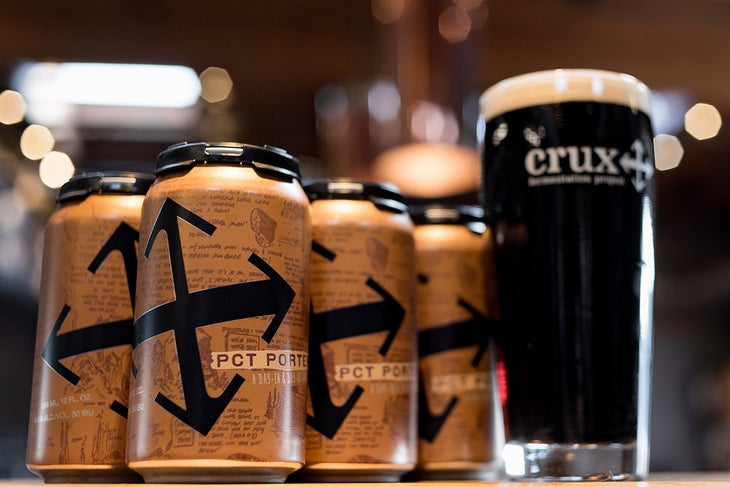 Bend, Oregon
Hitching into Bend takes some time and some planning, since it's about forty miles from the trail. But almost everyone does it, says Thomas, "because the town is so cool and breweries are so good." That's high praise, but it's well-deserved: Bend had 23 breweries at last count, including some famous ones, like Deschutes, Boneyard and Crux Fermentation Project. Earlier this year, Crux debuted PCT Porter, a roasty dark beer that not only pays homage to the PCT, but pays to support the Pacific Crest Trail Association as well, since Crux is an association sponsor. In addition, the can features artwork by thru-hiker Kolby "Condor" Kirk.
Pro tip: Guard your heart if you want to finish: Not only is Bend a popular spot for long-distance hikers, but many of them also live there, Thomas says. She should know: She fell in love with it on the trail and then returned later.
Sojourner Bavarian Hefeweizen, Thunder Island Brewing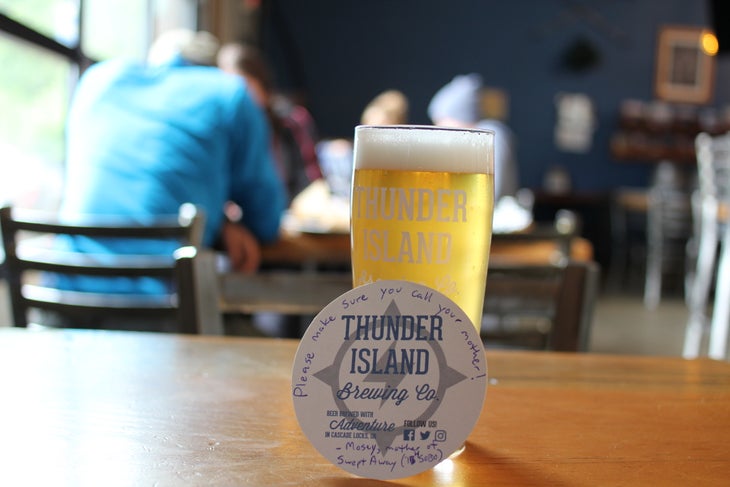 Cascade Locks, Oregon
If you only visit one brewery over the course of the PCT, wait for Thunder Island, which is perhaps more dedicated to thru-hikers than any other brewery in the country. Situated just a few blocks from the trail, which crosses the Columbia River at Bridge of the Gods, Thunder Island sees gobs of PCT thru-hikers. As such, owner Dave Lipps lets customers and hikers pay it forward by gifting pints of "trail magic" to those who come after them; he's served more than 1,200 of these since 2014, when a customer got things going by laying $20 on the bar and saying he wanted it to go to the next hiker who needed a beer. Last February, Lipps unveiled the Trail Magic Meter, which tracks these beers. One to try: Sojourner Bavarian Hefeweizen, a 5.8 percent ABV German-style beer with notes of banana and clove.
Pro tip: Thunder Island is a "must-stop" brewery. But for the craft-beer dedicated, Thomas points out, there are enough breweries along the river to fill up a nice zero day.
Homo Erectus, Walking Man Brewing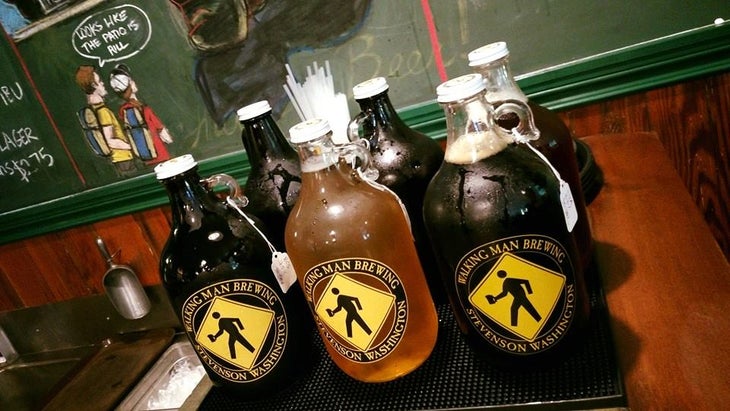 Stevenson, Washington
The town of Stevenson is just across the bridge from Cascade Locks on the Columbia River, which separates Oregon and Washington. But the suds are so good here that it makes sense to take a break. Just 2.5 miles from the trail, Walking Man is already near and dear to hikers' hearts. Celebrate the evolutionary steps that let us hike with Homo Erectus. The Northwest-style double IPA has notes piney, resinous flavors.
Spring Pale Ale, Dru Bru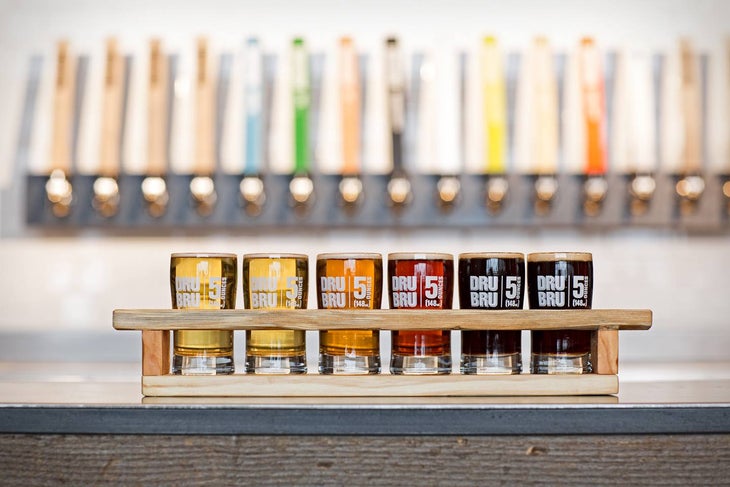 Snoqualmie Pass, WA
When in the Cascade Range, drink beers with Cascade hops. That's what you'll find in Spring Pale Ale, a medium-bodied beer that was brewed to honor the PCT, which winds its way across the Summit at Snoqualmie, the ski area that rises above Dru Bru. Founded in 2014 by Dru Ernst, the brewery is less than a mile from the trail—at a point where it dumps out onto a trailhead parking lot just off of Interstate 90—so it sees its fair share of thru-hikers, many of who need a beer as they embark on one of the most rugged, up-and-down sections of the trail. And they deserve one: At this point, they're only about 260 miles from journey's end. 
It gets blazingly hot in Southern California's Mojave Desert—so hot that the only thing a thru-hiker's parched brain can think about after a while is a cold beer. A thousand miles to the north, in the alpine forests of Oregon, it gets cold and rainy—so rainy that the only thing a thru-hiker's frozen bones will long for is a robust stout to heat them up from the inside out.
Welcome to the Pacific Crest Trail, the long trail that doubles as the world's most committing brewery crawl.
"Do I think about beer? Yeah, like all the time," says triple-crowner Liz Thomas. Over the past decade, Thomas has backpacked more than 15,000 miles and holds the unsupported women's speed record for the Appalachian Trail. (She's also the instructor of Backpacker's Thru-Hiking 101 course.) "When you are a day from the next town and it's raining and people are slogging through it, someone will say, 'c'mon, let's get a beer.' It's a pretty common refrain."
Thomas knows her porters from her stouts. In addition to her life in the wild, she visited all 61 breweries in Denver during an eight-day, 88-mile "urban brew-thru."
Finding good brewery close to the trail in Southern California can be a challenge. But once thru-hikers reach the mountains of the northwest, breweries are almost as common as mosquitos. Here are ten beers to tick off your list along the way.