Best Day: Mt. Rainier, Camp Muir (Summer Route)
Trek to a lofty, iconic basecamp on Rainier's snowy slopes.
Heading out the door? Read this article on the new Outside+ app available now on iOS devices for members! Download the app.


Experience this world-class, glaciated peak in a day on an 8.4-mile out-and-back that climbs 4,600 feet to a high-altitude camp above the Muir Snowfield. From the Paradise Jackson Visitor Center (1), follow the Skyline Trail through Paradise Park (2), where a spider web of trails crisscrosses the wildflower meadows (blooms peak in August) and hoary marmots keep watch from boulders.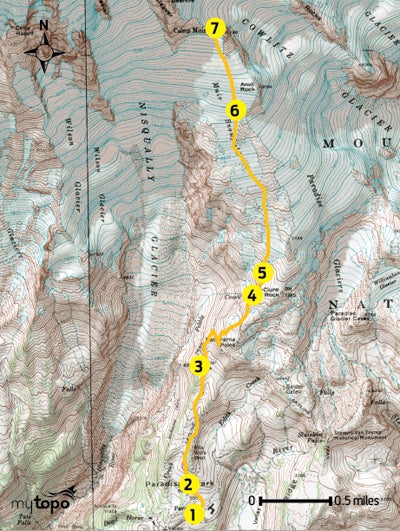 At mile 1.1, bear left and crest Glacier Vista (3) for views of thinly braided waterfalls flowing out of Wilson Glacier and plummeting down cliffs. Half a mile later, turn left at the junction, then rock hop across Pebble Creek (4) at mile 2.1. Keep 7,385-foot McClure Rock, a pyramid-shaped pile of slabs, to your right as you climb north. The official trail ends near 7,300 feet (5), and the remaining, upward trudge crosses snowfields interspersed with rock, sand, and piles of pumice and volcanic ash that turn the snow a muddy red in places.
At mile 3.2, round a rock promontory that connects to 9,584-foot Anvil Rock. Keep this ridge to your right as you climb past the mounded island of boulders called Moon Rocks (6). (Tip: During whiteouts along this stretch, remember the compass bearing from Pebble Creek to Moon Rocks is 355° true north.)
Give a wide berth to the two- to five-foot-wide crevasses that are exposed by the end of August, especially after a dry winter and warm spring (look for wire wands marking the best route); listen for the cracking sounds of ice calving off the Nisqually Glacier half a mile away.
The climb ends at 10,080-foot Camp Muir (7), which consists of a ranger station, public shelter (first-come for campers), guide shelters, and composting toilets­­—and bustles with climbers and hikers. Stake out a patch of rock and savor views of 12,281-foot Mt. Adams's flat-topped summit and the Tatoosh spires to the south.