Best Day: Horseshoe Canyon
Wind through an isolated gorge with ancient art.
Heading out the door? Read this article on the new Outside+ app available now on iOS devices for members! Download the app.


The small bands of nomadic tribes that hunted and camped in and around this secluded canyon 2,000 to 8,000 years ago used its sheer rock walls as giant canvases for their elaborate paintings and etchings. To gain entrance to this age-old gallery—one of North America's best-preserved prehistoric art exhibits—head to the park's detached 4,000-acre Horseshoe Canyon Unit five miles west of the Island in the Sky district. The 7.1-mile out-and-back winds through a quiet sandstone corridor to four ancient panels of petroglyphs and pictographs, which archaeologists believe could have been created for shamanistic rituals.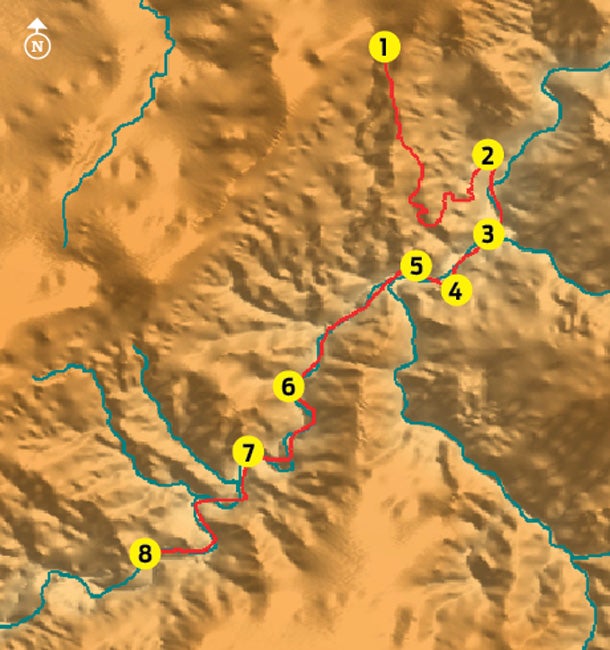 From the West Side trailhead (1), meander south through sand oak, desert olive, and juniper flats backdropped by ruddy buttes and mesas to the east. The path crosses slickrock slabs and pockets of ankle-deep sand as it runs toward the western lip of the canyon and descends 600 feet to the canyon bottom (typically 10 degrees hotter than the rim). At the end of the descent (mile 1.3) (2), turn south along the dry, flat, and sandy Barrier Creek wash (carry in at least three liters of water per person), and walk past sandstone streaked with black desert varnish.
At mile 1.5, pass an unnamed gorge (3) on the left, and continue a quarter of a mile to where the creekbed curves west. Climb a sandy slope on the east side of the ravine for elevated views of High Gallery (4), the first rock art site. Hanging roughly 40 feet above the floor, the panel shows armless, elongated figures with bulbous, horned heads next to creatures with intricate patterns on their torsos. Less than 500 feet later, pass Horseshoe Shelter (5), featuring a group of triangular-shaped figures with long, pencil-thin necks and a couple of dogs with upturned tails.
Next, follow the curving corridor southwest through willows and cottonwood groves (leaves turn amber in October) to more art at Alcove Gallery (6). After passing a domed overhang (7) at mile 2.8, round three more bends to reach the grand finale: a 300-foot-long mural called the Great Gallery (8). Stare up at three- to 8.5-foot-tall, mummy-like figures and hollow-eyed ghosts hovering 60 feet above the ground. In one scene, two white-eyed spirits watch over a herd of bighorn sheep that appear to be running toward two men with spears. Backtrack to the trailhead.