The 10 Best Trails to See Bears
Nothing gets the heart pounding like seeing a wild bear up close (but hopefully not too close). Strap on your pack, grab your camera, and hit one of these ten trails where bruins roam free.
Heading out the door? Read this article on the new Outside+ app available now on iOS devices for members! Download the app.
Brook Falls Trail, Katmai National Park, AK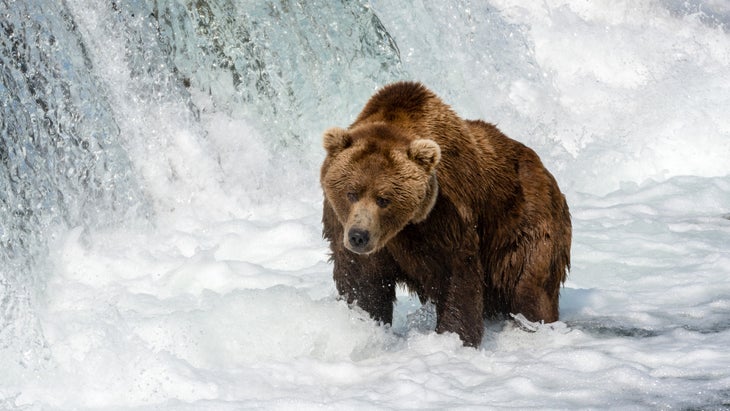 While Katmai National Park is home to moose, gray wolves, caribou, and whales, it's the brown bears that run the show. Katmai is best known for its mighty bruins, and the is one of the best places in the world to watch them fish for salmon, especially in July. Take the 1.2 mile Brooks Falls Trail, which ends on a viewing platform overlooking the Brooks River.
Half Dome Trail, Yosemite National Park, CA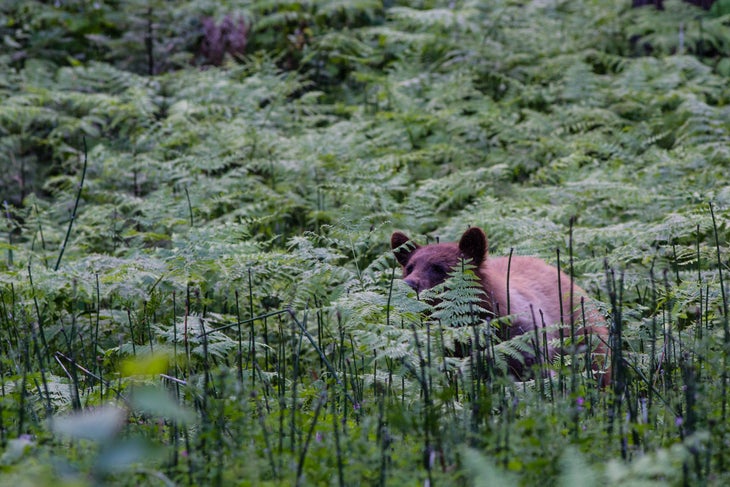 Between 300-500 black bears live in Yosemite National Park. If bruins scare you as little as heights, the Half Dome Trail provides a great challenge and chance to see the big guys. The 14- to 16-mile trail, which gains 4,800 feet in elevation by the end, takes between 10-12 hours on average, so make sure to start your day early. Snag a permit through recreation.gov ($20 total). 
Abrams Falls Trail, Great Smoky Mountains National Park, TN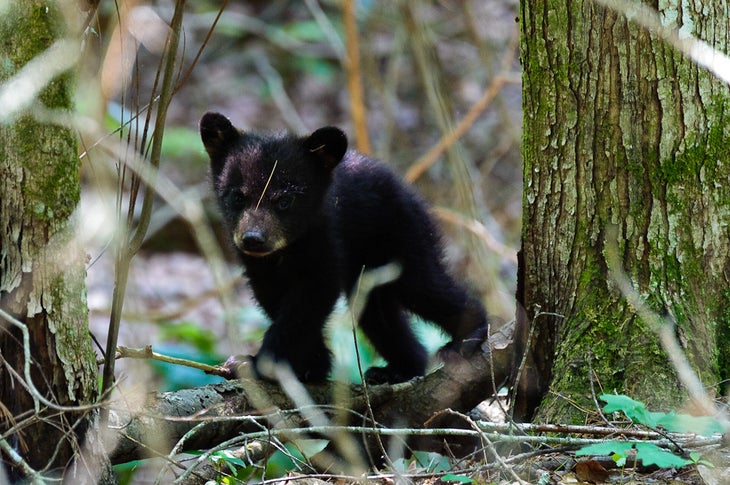 Around 1,500 black bears roam Great Smoky Mountains National Park, so bear encounters are not uncommon here. Cades Cove, one of the park's most popular areas, is a good spot to find black bears, as well as ground hog, coyote and other animals. Follow the 5-mile Abrams Falls Trail, where bears are sometimes active. Note: While it might be tempting, don't climb on rocks around the waterfall.    
Ptarmigan Lake Trail, Glacier National Park, MT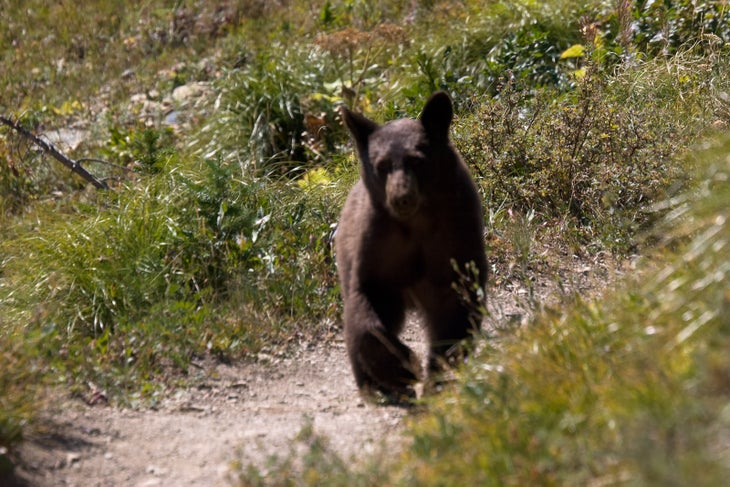 Glacier's black and grizzly bears only add to the rugged, wild beauty of this Montana national park. Hike the 4.3-mile Ptarmigan Lake Trail in the park's Many Glacier Valley to Ptarmigan Lake, and you might just see some travelling bears along the way. 
Slough Creek Trail, Yellowstone National Park, WY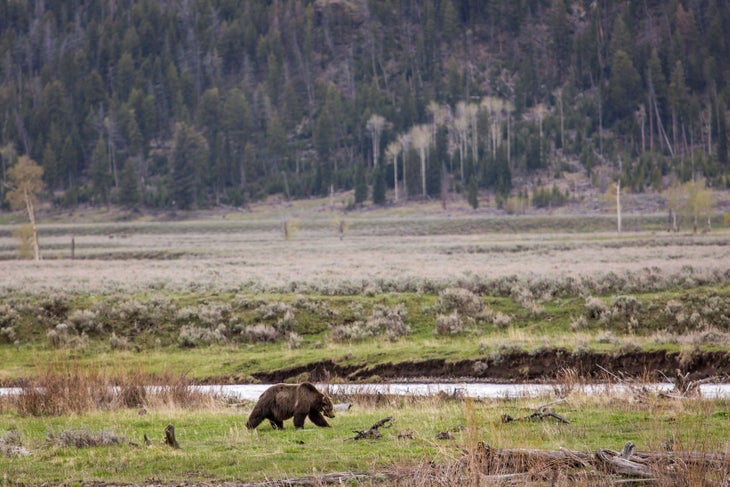 If you want to spot a grizzly at Yellowstone, the park's Tower-Roosevelt area is a good place to try your luck. For a 3.4-mile option, take the Slough Creek Trail to the first meadow through the Lamar Valley, a prime grizzly, black bear and wolf hangout. Turn around at the first meadow, or continue to the second meadow for a 8.6 mile round-trip.   
Jenny Lake Loop, Grand Teton National Park, WY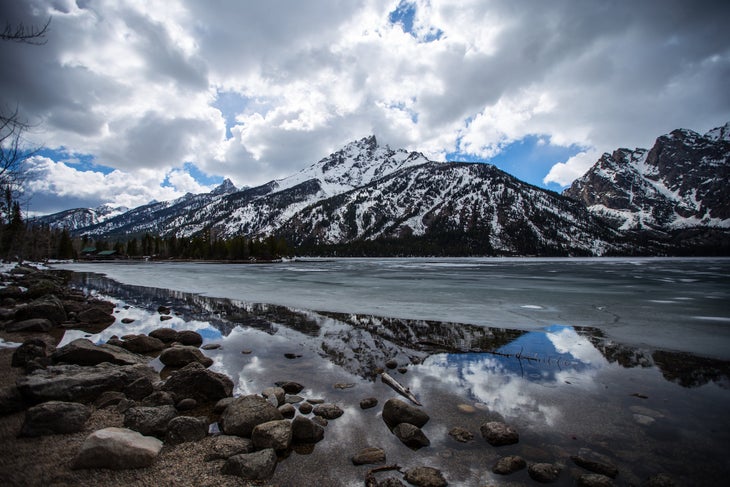 While Grand Teton National Park is often overshadowed by its nearby neighbor, Yellowstone, the park is a must-visit for hikers and bear enthusiasts alike. The park's Jenny Lake district is a hot spot for bears, as well as moose, elk and eagles. The 7.1 mile Jenny Lake Loop is a moderate hike with fantastic views of Jenny Lake, the central Tetons and wildlife.   
Rose River Loop, Shenandoah National Park, VA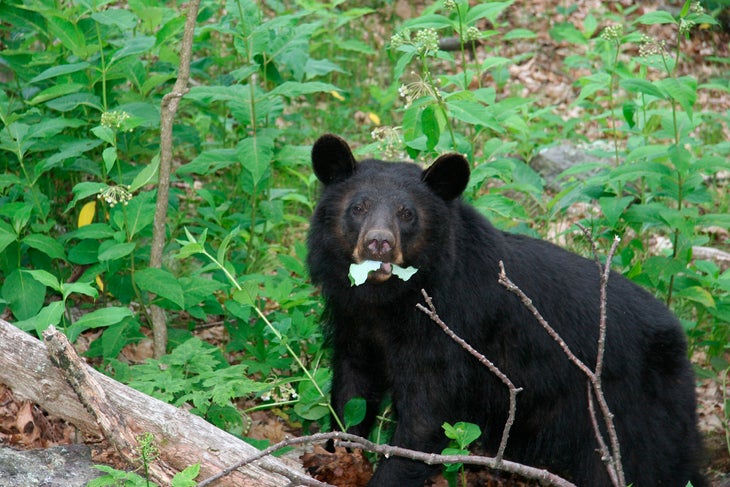 About 75 miles west of the nation's capital, Shenandoah National Park is home to hundreds of black bears. The park's Big Meadow Area is the ideal place to find them, not to mention an abundance of wildflowers Follow the 4-mile Rose River Loop for potential bear sightings, taking in the gorgeous Rose River Falls along the way. 
High Divide Loop, Olympic National Park, WA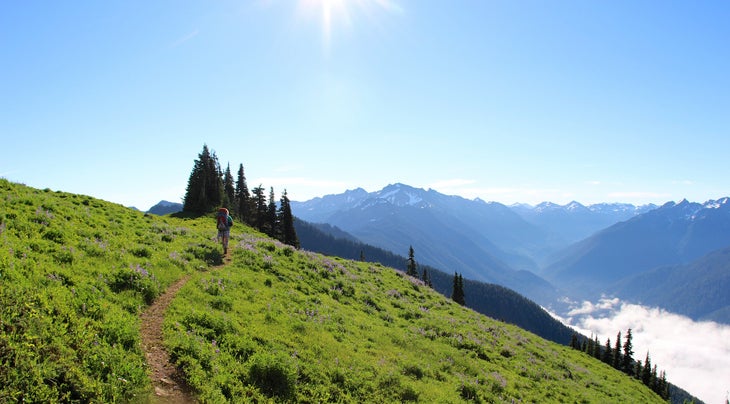 Just 70 miles west of Seattle, Olympic National Park's nearly 1 million acres of wilderness is home to a wide range of animals, including big predators like black bears, cougars and bobcats. The park's Seven Lakes Basin area offers incredible views of Mount Olympus to boot. Hike through this bear country on the 18.2-mile High Divide Loop, and don't forget to bring a park-approved canister for food, scented items and garbage. Permits are $8/person/night; obtain them at the Port Angeles Wilderness Information Center.   
Sandy Ridge Wildlife Trail, Alligator River National Wildlife Refuge, NC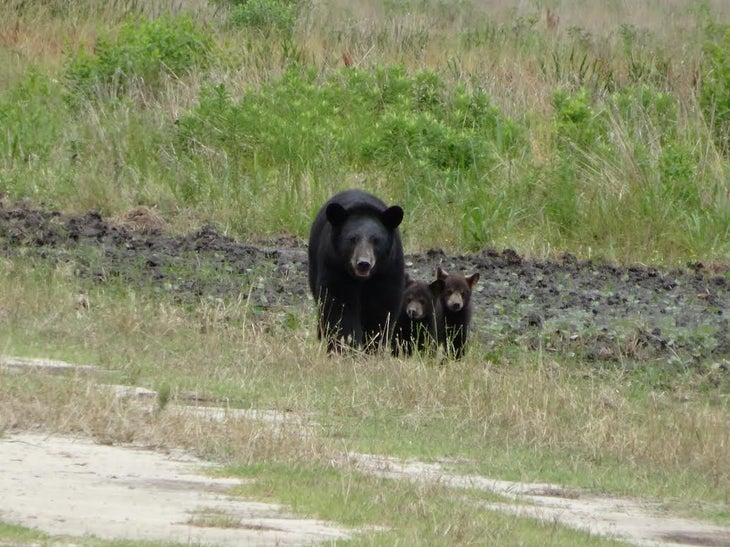 Alligator River National Wildlife Refuge is in the heart of eastern North Carolina bear territory, where some of the bulkiest black bears in America reside. Take the one-mile round trip Sandy Ridge Wildlife Trail to view bears, as well as otters, great blue herons and more.
Savage River Loop Trail, Denali National Park, AK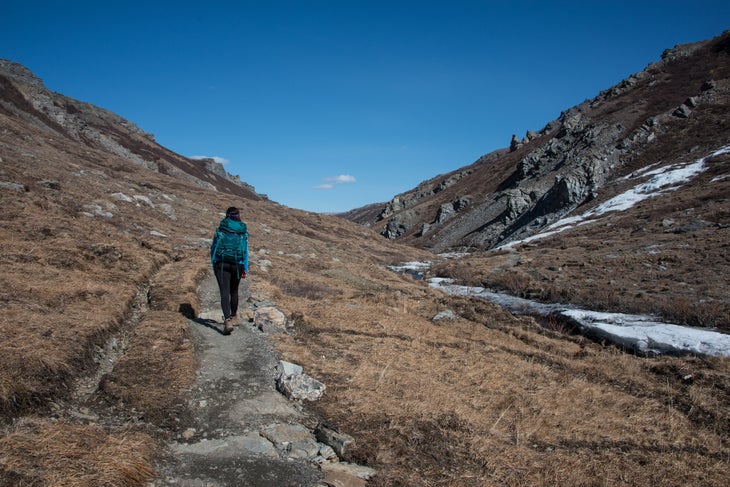 Stretching an impressive six million acres, most of it trailless, Denali National Park boasts one of the country's most impressive populations of black bears and grizzly bears. Take the 1.7-mile Savage River Loop Trail near the Savage River for a shot at spotting the big guys, along with moose and other fauna   
When you see a wild bear on the trail, wilderness takes on a whole new meaning. We picked the ten best trails in America to see a black or grizzly bear in the flesh. (As always, treat bruins with respect, bring bear spray, and follow safety rules in bear country.)