The 15 Best Backcountry Ski Zones for Beginners
Take it easy in these 15 accessible, mellow areas for some of the best backcountry skiing in the Lower 48.
Heading out the door? Read this article on the new Outside+ app available now on iOS devices for members! Download the app.
Making the jump from resort skiing to the backcountry is an intimidating step: venturing outside the boundaries of a patrolled, avalanche-controlled ski area means taking your safety into your own hands. But while there's no eliminating the hazards of the backcountry, it's possible to minimize them. These 15 ski spots are easy, low-risk places to start exploring wild snow. —The Editors
Johnson Canyon, Truckee, CA
Skip the crowds of the resorts and the popular Donner Summit without sacrificing lake views and low-angle glades. This amphitheater is a low-risk, high-reward basin for novice Tahoe backcountry enthusiasts.
Bigelow Mountain, ME
Bigelow Mountain was planned to be one of the bigger ski resorts in Maine and a contender to host the 1967 Olympics, but never got off the ground. Today, ski through pockets of hardwood forest and open slopes below the peak's rocky summits.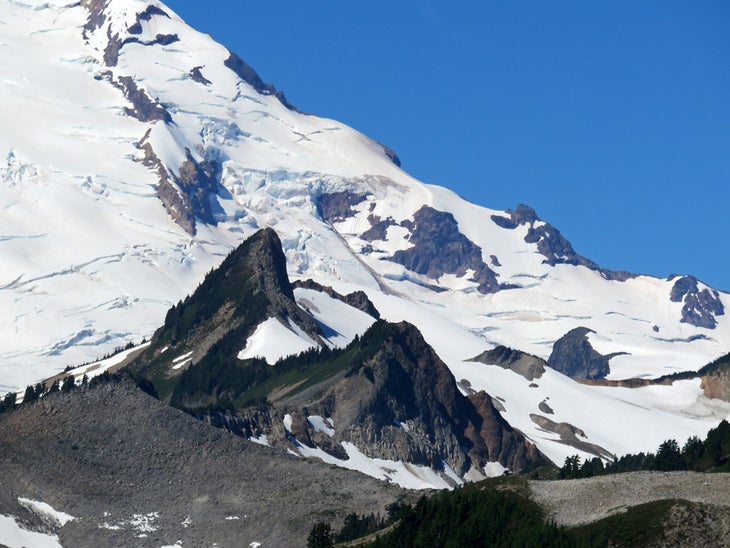 Mt. Baker, WA
The massive backcountry surrounding Mts. Baker and Shuksan is a North Cascades playground for skiers of all levels, but Swift Creek's drainage features mellow, short laps for the impatient. Climb higher toward picturesque Artist's Point for the more difficult Blueberry Chutes.
Hidden Valley, Rocky Mountain National Park, CO
A former ski area within Rocky Mountain National Park, Hidden Valley is one of the easiest-to-get-to spots in the Front Range. Stay low and in the trees for easier skiing or safer conditions, but on a good day head above Trail Ridge Road for an alpine feel.
Plan your trip on Gaia GPS Premium and get access to all its base maps, including slope angle shading.
Gulf of Slides, Mt. Washington, NH
This broad, mellow bowl features a handful of tree-lined slide paths radiating from the bottom up toward the Mt. Washington alpine zone. It's perfect for days when the notorious weather is beating the mountain above treeline.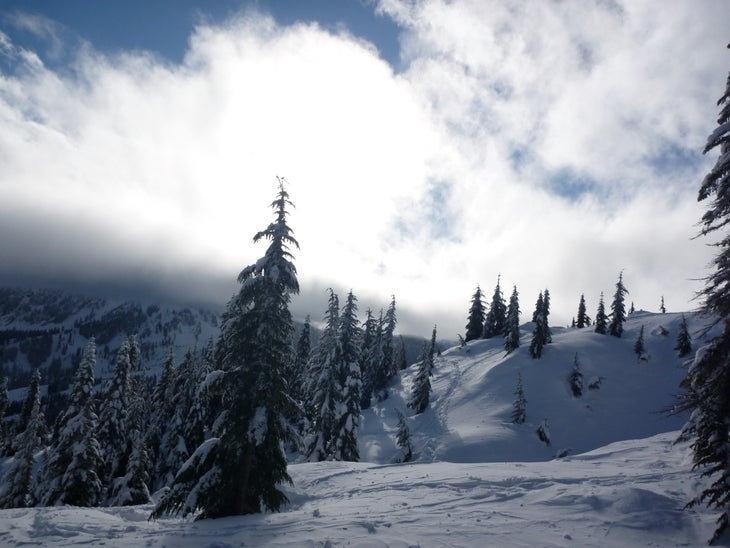 Stevens Pass, WA
If you're in need of a quick escape into the backcountry from Seattle, head to Stevens Pass's Skyline Ridge to cut turns 800 feet down to an old logging road, which makes for a quick approach and exit to your car.
Mineral Fork Drainage, Wasatch Range, UT
Tucked between Kessler Peak and Santiago Ridge, the Mineral Fork drainage features everything from wide meadows to deep chutes, but its slightly longer approach keeps most of the crowds at bay.
Galena Summit, Ketchum, ID
While lots of the Sawtooth Mountains require long approaches, Galena Summit provides everything from easy glades to scary faces, all a short walk from the car. For the quickest laps, head to Cross or Titus Ridges.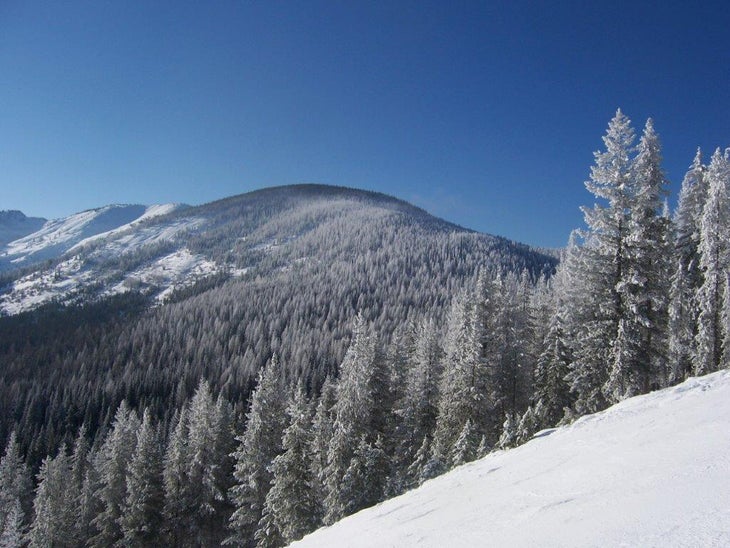 Lookout Pass, ID
Take a one-time lift to the top of the ski area, then descend to a ridge that straddles the Idaho/Montana state line. From there, tour up the ridge to whichever treed slope you fancy before descending to the parking lot. (You need a permit yo ski in the national forest.)
Tony Grove, Logan, UT
Ski down toward Tony Grove Lake, hopping through meadows and cliff bands in this early-season hotspot. The Early Bowl is low-angle and free of rocks, making it a popular destination from late fall through late spring.
Edelweiss, Teton Pass, WY
The upper part of Edelweiss features a broad, grassy bowl, while the bottom includes a narrow gully, a handful of steeper faces, and a collection of glades, which means you can get everything in at this local hotspot.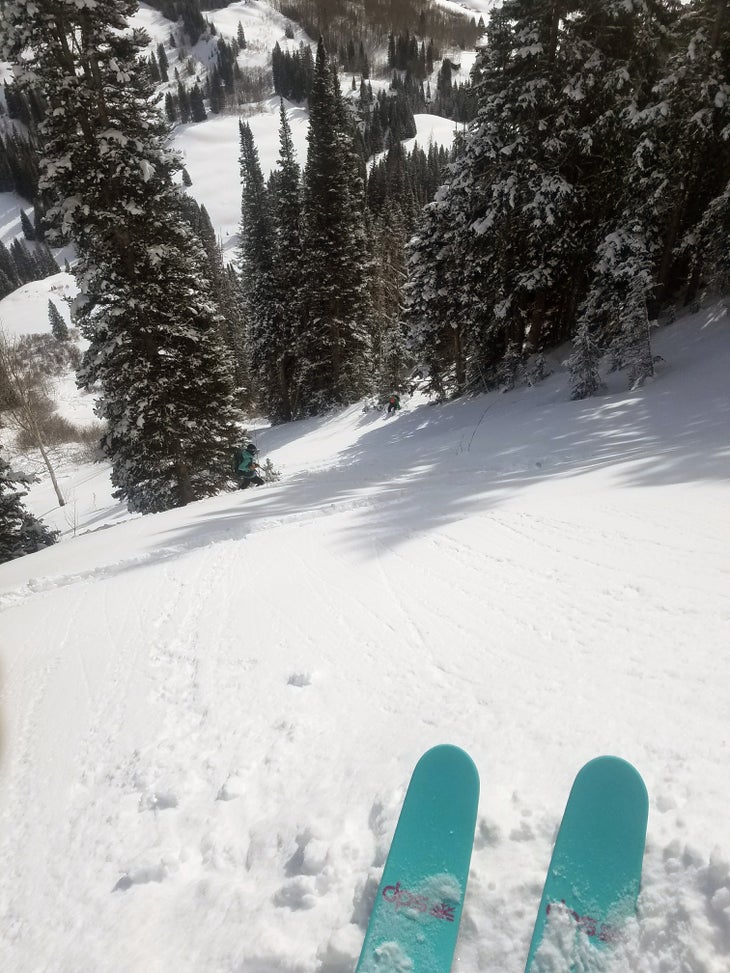 Snodgrass Mountain and Gothic Mountain, Crested Butte, CO
Crested Butte features a slew of backcountry terrain just outside the resort, but Snodgrass Mountain, with its series of northeast-facing chutes, are some of the easiest to access. If you're looking to get a little farther out and see a Crested Butte icon up close, take a tour out to Gothic Mountain, which is cloaked in expert lines.
Wright Peak, Adirondack Mountains, NY
Climb up Wright Peak's Ski Trail for a taste of traditional Northeast backcountry skiing: narrow, windy roller coasters through the trees. From higher up, more experienced skiers can head to one of the peak's northeast-facing slide paths.
Telemark Meadows, Yellowstone National Park, MT
A fast skin and short climb yield gentle fields and easy terrain with views of the Gallatin and Madison Ranges. Spy the rest of Yellowstone while you skip from meadow to meadow.
Tumalo Mountain, Bend, OR
Climb one of Oregon's smaller volcanoes to get views of nearly all the larger ones (including Mt. Bachelor, right across the highway) before you ski 500 feet down an east-facing bowl to your car, making the skiing here a good bang for your buck.
Backcountry Skiing Safety
The first step to staying safe in the backcountry: get educated. Taking an AIARE Level 1 class will give you the skills you need to begin to assess risk, and teach you how to maximize your friends' chances of survival in the event you have to rescue them. Familiarize yourself with your local avalanche center and check its reports before you head out. Carry a beacon, probe, and shovel, and don't let your guard down, even on shallow slopes: It's possible to remotely trigger steeper pitches even when you're not standing on them. —The Editors