The 20 Best Backcountry Lakes to Hike This Summer
Stay cool: These 20 backcountry tarns, lakes, ponds, and other assorted bodies of water are perfect year-round, but come into their own as temperatures heat up.
Heading out the door? Read this article on the new Outside+ app available now on iOS devices for members! Download the app.
What's better than sitting by (or jumping into) a backcountry lake? Go ahead, think about it—we'll wait. Whether you're looking for a placid picnic site, a chance to bust out your fly rod and hook some fish, or a cool summertime dip, there are too many reasons to count to plan a hike to a wilderness lake. Here are 20 of our favorites, spread across the U.S. and Canada. —The Editors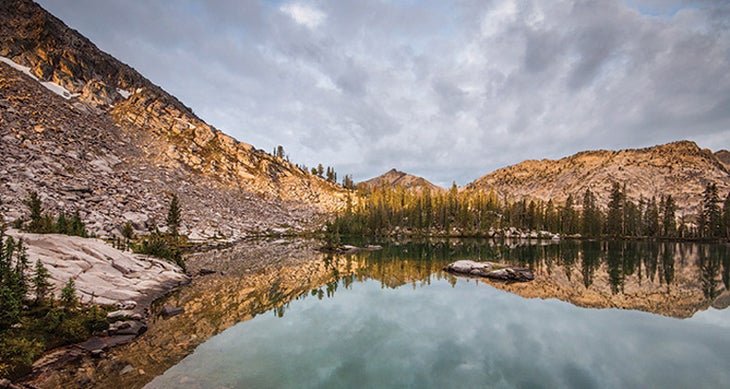 Rock Slide Lake, Idaho
If you're not already hooked on the electric feel of a wild trout taut on the line, you will be after the 32-mile Queens River Loop, which may as well be a pilgrimage through the land of the almighty cutthroat. The circuit skirts half a dozen lakes in Idaho's Sawtooth Wilderness, and Rock Slide Lake is the inner sanctum for both its healthy population of cuts and its sheer beauty. Jagged peaks frame the pool, so you'll have a lot to look at if the trout make you wait. To get there, tack on a 4-mile side trip from the north end of the Queens River Loop on Benedict Creek Trail (#462). "There's a primo camping spot on a peninsula on the southern side of the lake," says longtime Northwest Field Editor Michael Lanza. "Stand on the edge of it, and you can see cutthroat swimming in the clear water below your feet." Give yourself at least five days to knock out the entire loop.
Trailhead Queens River Campground Season June into October, but aim for late summer for warmest weather, fewest mosquitoes, and blooming high-country flowers. Permits Get a free, self-issued permit at the trailhead. Contactfs.usda.gov/sawtooth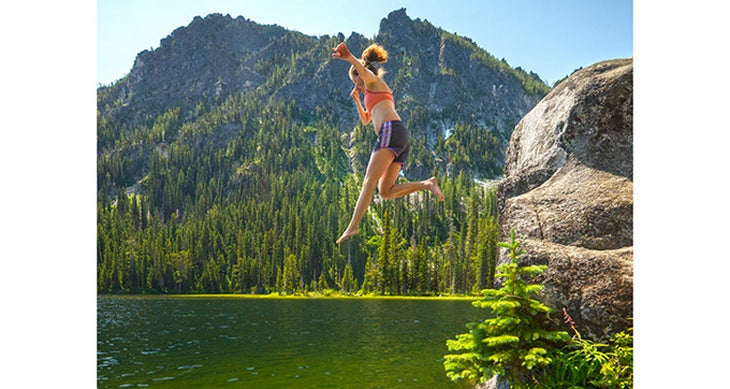 Stuart Lake, Washington
Clear water ringed by green larches, and granite boulders worn smooth from glaciers, all under a horizon of toothy peaks— the Enchantments in Washington's Cascades are justifiably popular for scenes just like this. For an intro, trek 4.5 miles to Stuart Lake on the trail by the same name. Go for the day, or camp there with a permit (it's under the Core Zone's quota system). Contact bit.do/AlpineLakesWild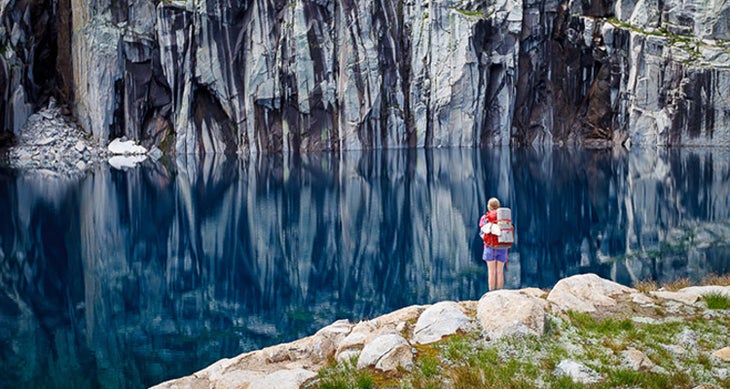 Precipice Lake, California
Sure, Precipice Lake is a beauty—Ansel Adams agreed when he made it famous in his iconic photograph. But location counts a lot, too, and icy Precipice, which sits at 10,300 feet inside a bowl of sheer granite, couldn't be better situated: at the end of a 19.5-mile trek through the hot and dusty Sierras. Ice can persist on the 44-acre pool's surface into summer, making it an ideal site for a cliff-jumping polar plunge (get safety tips on page 70). And, since it's so remote, you can expect it to be as pristine as it was when Adams was there in the 1930s. Take the High Sierra Trail 19.5 miles from Crescent Meadows, across miles of cliff-edge trail and through a natural tunnel. Smart itinerary: Divide the hike into two days, stopping in Bearpaw Meadow (mile 11.3) the first night, then searching for the perfect campsite along the cliffs above Precipice the second night. Dave Miller, owner of California Alpine Guides, says the best campsites face away from the lake. "Take a quick jaunt west off the High Sierra Trail, and you'll find campsites on bare granite with massive views of the Valhalla Cirque of granite domes below."
Trailhead Crescent Meadow Season Late summer (after the snow has melted) through October Permits $20 park entrance fee per vehicle, and you'll need a wilderness permit ($15 per group). Contact nps.gov/seki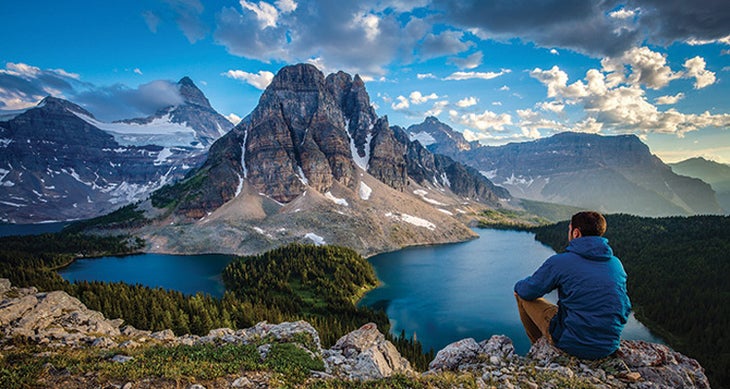 Sunburst Lake, Cerulean Lake, and Lake Magog, British Columbia
This one's a threefer: Trek 17 miles to Lake Magog (far left) via Assiniboine Pass or Wonder Pass, then visit Sunburst Lake (near left) and appropriately named Cerulean Lake (right) on a 1.4-mile spur. Camp beside Magog (first-come, first-serve). Photographer Callum Snape recommends breaking up the trek with a night at Marvel Lake near the midpoint. Contact bit.do/MtAssiniboinePark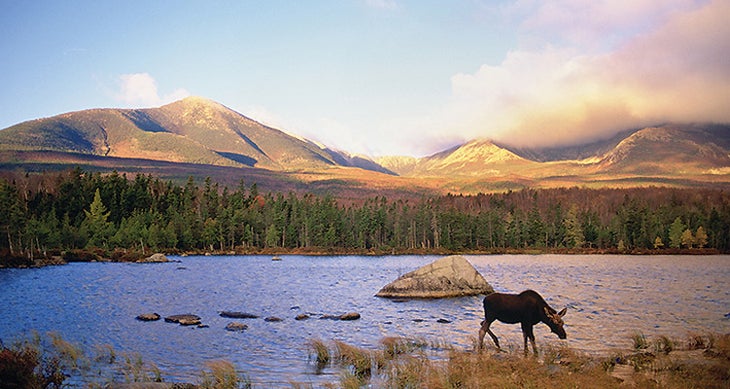 Wassataquoik and Little Wassataquoik Lakes, Maine
Hemmed by the green peaks of the Wassataquoik and South Pogy Mountains and frequented by lumbering moose, this 178-acre lake and its little cousin couldn't be more Maine. Even better: You can explore their islands by boat without portaging (reserve a canoe before leaving, get a key, and pick it up at the backcountry rental outpost). Find the Wassataquoik duo tucked into the heart of 200,000-acre Baxter State Park, where they're accessible only by a 9.9-mile hike that passes a number of smaller ponds along the way. The lake's lean-to (sleeps four) allows for ultralight, tent-free loads, and from it you can explore mossy, multitiered Green Falls on an easy, .1-mile side trip. Back at the lake, have your camera ready to capture the nesting loon that has virtually taken over the island in the middle of Wassataquoik. Cast for arctic char, a fish species dating from the Ice Age, in the 75-foot-deep lake. And, of course, keep an eye out for mega- fauna. "It's easy to see moose in this part of the park," says Baxter naturalist Jean Hoekwater. "But seeing them at night is a thrill. At night, there's a good chance you'll see moose in the water."
Trailhead Roaring Brook Campground Season Mid-May to mid-October; fall is the best (when the moose are frisky and the leaves are changing). Permits Park entry is $14 per car; campsites and lean-tos are $20 per night (reserve up to four months in advance) Boat Rentals $8 per day from the park Contact baxterstateparkauthority.com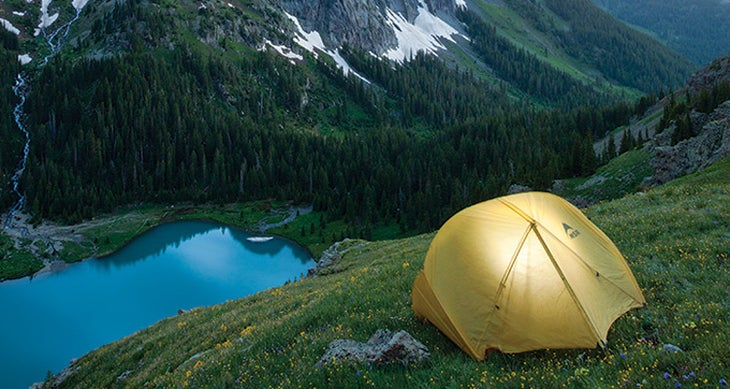 Little, Middle, and Upper Blue Lakes, Colorado
Glacial tarns are a special subset of lakes—the surrounding peaks are sharper, the water is bluer, the air is thinner. Case in point: Upper Blue Lake. Seated below Colorado's 14,150-foot Mt. Sneffels, the turquoise pool drains a glacial cirque in the San Juans. In summer, wildflowers bloom in the surrounding meadows, which you can camp in (find an established spot). To get there, take the Blue Lakes Trail (#201) 3.3 miles along Dallas Creek to Lower Blue Lake. Transition from spruce woods to talus as you trek another .8 mile to Upper Blue Lake at 11,720 feet. If stormy weather makes above-treeline camping iffy, find a protected spot on the north shore of Lower Blue Lake. At the Blue Lakes basin, the Sneffels summit is a must: Continue 2.4 miles on the Blue Lakes Trail to the pass by the same name, then take the class 3 ridgeline .8 mile to the summit. "You don't need climbing gear," says Brad Wallis, the Wilderness Trail Coordinator for the Ouray Trail Group, "but be careful of loose rock and exposure. Some sections require handholds." (Also: Start early to avoid afternoon thunderstorms.)
Trailhead Blue Lakes Season Late June through mid-October (wildflowers bloom mid-July) Permits Grab a free, self-issued permit at the trailhead. Contact bit.do/MtSneffelsWild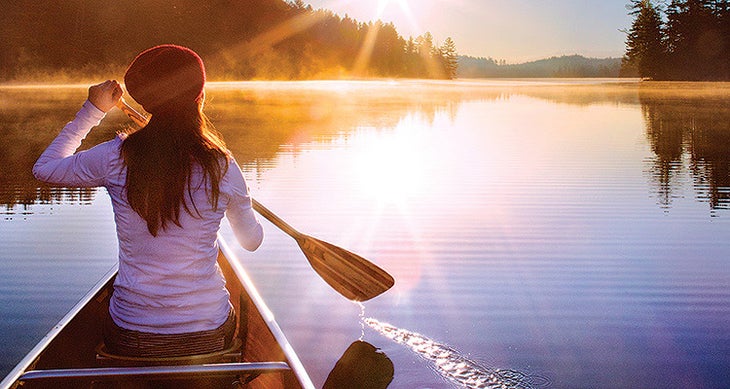 Fish and Long Ponds, New York
When your paddle slices through glassy water as the morning mist lifts from the surface, revealing a golden sky, you know canoeing was the right choice—even if you had to carry the boat on your shoulders for 5 total miles. There's nothing easy about this pond-hopping route through the northern Adirondacks (known by locals as "The Nine Carries"), but during the 10 miles you're actually in your boat, you'll get myriad quiet lakes to yourself—as well as fishing opportunities and a soundtrack headlined by coyotes, crickets, and frogs. Start from the boat access on Little Clear Pond, heading counterclockwise. Spend day one at Fish Pond for, you guessed it, fishing (for brookies), then bed down in the east-facing (hello, sunrise) lean-to on the pond's north end. Day two, continue on to Long Pond, where you can cast a line for smallmouth bass from a sandy beach on the northeast end and camp on a peninsula nearby. Go-getters will knock the trip out in a few days, but Dave Cilley, owner of St. Regis Canoe Outfitters, says to give yourself four (spend an extra night at Long).
Trailhead Little Clear Pond Season June through October Permits Required (free) for trips longer than three nights Boat St. Regis Canoe Outfitters (starting at $49 per day; canoeoutfitters.com) Contact bit.do/StRegisCanoeArea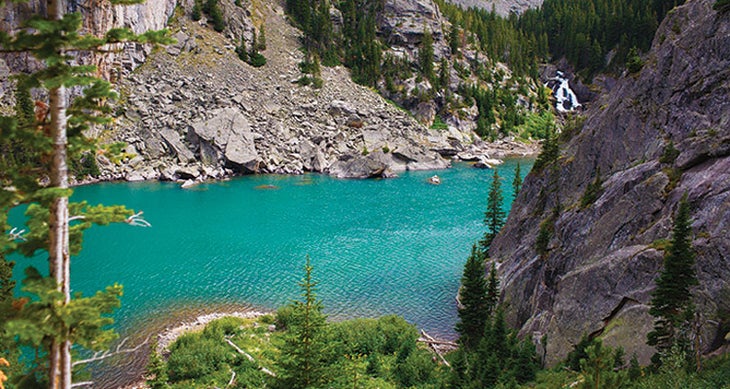 Rimrock, Rainbow, and Martin Lakes, Montana
If you're an angler, you'll find what you're looking for at Rimrock. If you're an angler and a photographer, look no further than turquoise Rainbow Lake a little ways on. If you're an angler, a photographer, and a peakbagger, you won't be disappointed with Martin Lake, the exclamation point at the end of this 9-mile route through the High Lakes Region of the Beartooths. Set up camp at the end of the line in a meadow beside sapphire Martin, which is hemmed in by 12,000-footers. Stay awhile and make this tarn your staging area for summit missions. Or, swim out to the island. Or, cast a line for brookies and cutthroat. Or do all three. Don't leave without bagging 12,083-foot Snowbank Mountain, though. "It's the best side trip," says Austin Hart, owner of Beartooth Mountain Guides. "It's a nontechnical, class 3 scramble over boulder fields to a plateau-like summit with incredible mountain views." To reach the lake trifecta, follow East Rosebud Trail for 7.5 miles to Rimrock, then another .5 to Rainbow. From there, hop on an unimproved path that climbs 600 feet over a mile to Martin.
Trailhead East Rosebud Lake Campground Season June through October Permits None Contact bit.do/CusterGallatin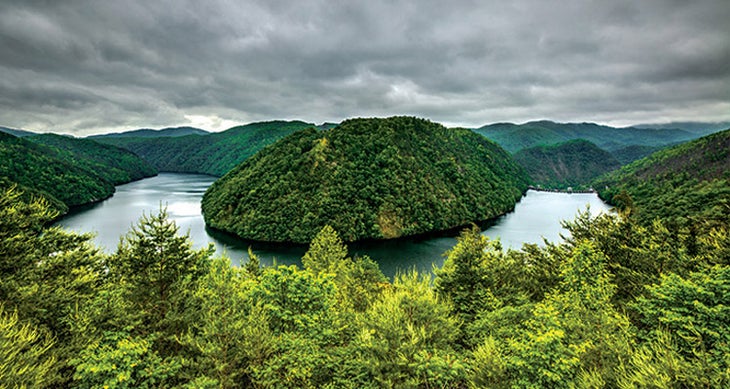 Calderwood Lake, Tennessee/North Carolina
Get a taste of the country's most-visited national park—without the crowds—at this "finger lake," which pools in the southern Appalachians just outside the boundaries of Great Smoky Mountains National Park.
You could hike to Calderwood's deserted shores, but paddling there affords better opportunities to explore and set up a basecamp. Start by canoeing a mile from Magazine Branch Boat Ramp to the mouth of Slickrock Creek, where you'll find your ideal basecamp nestled beneath the green mountainsides. From here, the possibilities are endless. Either hike the Slickrock Creek Trail 1.5 miles into the Joyce Kilmer-Slickrock Wilderness to Wildcat Falls for cliff jumping, or hop back in your boat and paddle farther west on Calderwood (the lake is 7.5 miles long). Its banks are streaked with rock outcroppings, one of which houses an abandoned, half-submerged train tunnel. "You can paddle straight through," says Jeff Wadley, a boater and hiker who grew up in the area. "It's like paddling through a cave."
Trailhead Magazine Branch Campground Season Year-round Boat rentals Santeetlah Marina ($125 per day or $345 per week) Permits None Contact bit.do/JoyceKilmer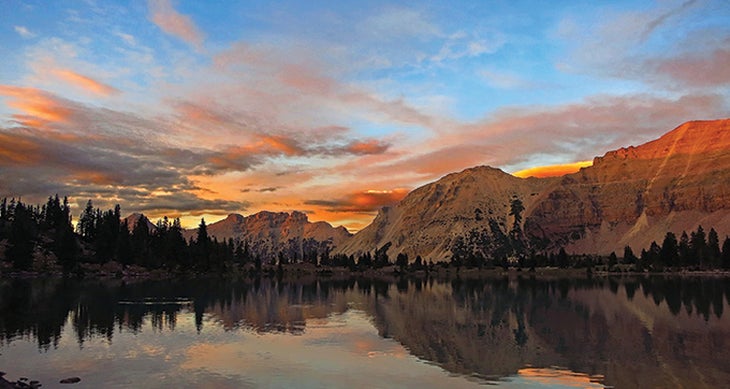 Priord Lake, Utah
There's no such thing as a bad backcountry sunset, but when the soft light turns the rock an otherworldly shade of burnt sienna, that's the best kind. Hikers—especially those with a penchant for photography—will find that at 12-acre Priord, where a wall of sheer, striated peaks ring its milky-green water on one end, and the other end looks downcanyon to the High Uintas. If you're more interested in climbing mountains than snapping photos of them, then you'll have your work cut out for you, as most of the surrounding peaks—Priord, Lamotte, and Yard—are accessible only by faint sheep trails and off-trail scrambling. For the most adventurous side trip, Nick Woolley, founder of Backcountrypost.com, recommends the 4-mile boulder-hop to Allsop Lake. "It requires advanced nav skills, but the difficulty is part of the reward," he says. Take the rough, 10-mile Priord Trail to get to Priord. If the weather turns, find more sheltered sites at nearby Norice Lake, below treeline.
Trailhead East Fork Bear River Campground Season July to October (late summer for flora) Permits $3 parking fee Contact bit.do/HighUintas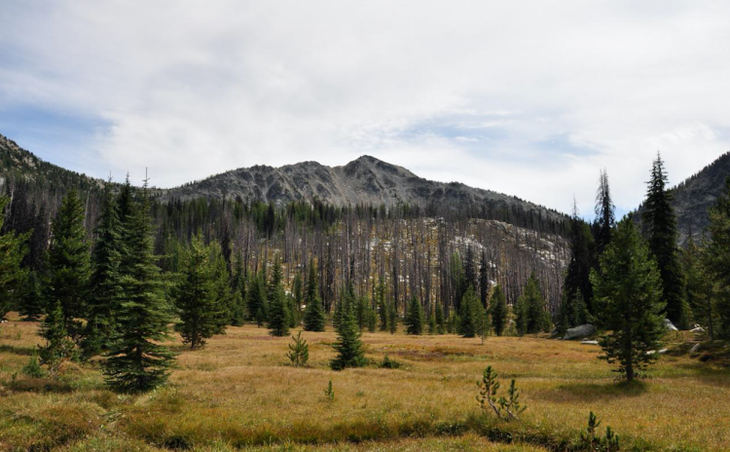 Meadows in the Pasayten Wilderness. (Photo by araddon/Flickr)
Buckskin Lake, Washington
Most people on the Buckskin Trail will be headed to Silver Lake, a perfectly lovely (if rather popular) backcountry tarn. Sure, stop and snap a picture, but you're heading for the trail's namesake: a narrow, emerald specimen flanked on one side by grassy slopes peppered with evergreens and on the other by steep scree. Foot-long cutthroats roam its waters, and you're likely to have it to yourself thanks to the grueling approach. Arrive at Silver Lake after a 5.5-mile hike through hills-are-alive meadows with long-range views that include shots of 10,781-foot Mt. Baker and the North Cascades. "Then, be ready for a steep climb and some routefinding, as the trail gets thin after Silver Pass (mile 8.4)," says Anna Roth, with the Washington Trails Association. "But the solitude you'll find at Buckskin Lake is worth it." Find the best campsite in the tall pines on the southeastern corner of the lake. It's wide and flat, with a big view of the lake and 7,850-foot Pasayten Peak and 8,096-foot Mt. Rolo to the south.
Trailhead Hart's Pass Season Late June through October; the wildflowers bloom in summer, but in fall, the larches turn gold and the hawks arrive. Permits National Recreation Forest Day Pass required ($5/car per day; wta.org) along with a free, self-issued wilderness permit Contact bit.do/MethowValley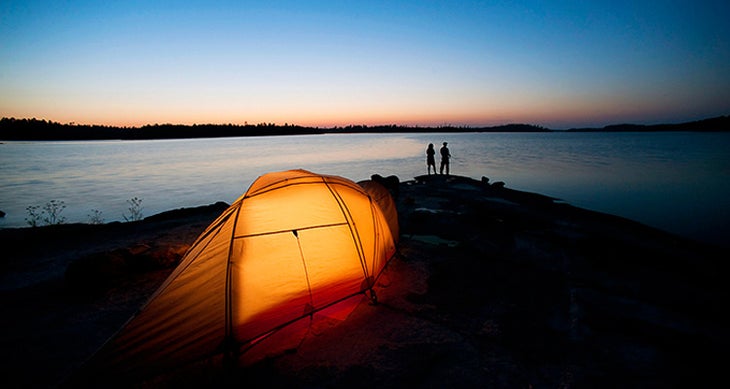 Land Of 10,000 Lakes, Minnesota
You can't reduce this labyrinthine, 1.3-million-acre watery expanse to just one lake. While we guarantee you'll have a life- list trip if you visit Lac La Croix (pictured), you'll also create an unforgettable trip if you take the three-day, 38-mile route from Trail's End to Hunter Island. Get an itinerary perfect for you at backpacker.com/boundarywaters. Contact bwca.com