Hike to the Best Backcountry Hut in the World
New Zealand's Ivory Lake Hut is a true gem. All you have to do is get there.
Heading out the door? Read this article on the new Outside+ app available now on iOS devices for members! Download the app.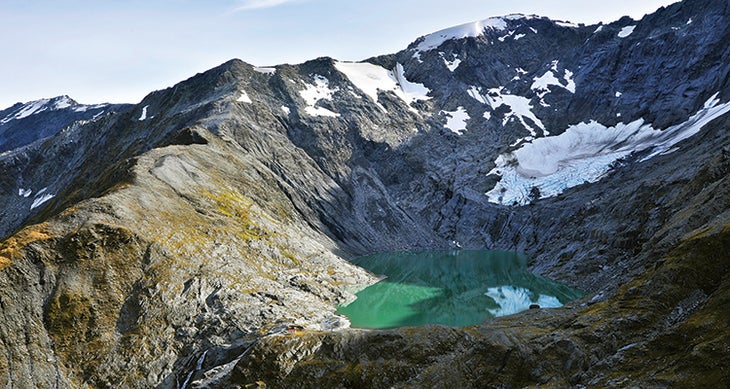 New Zealand's Ivory Lake Hut. The Best Hut in the World (photo: Hagephoto)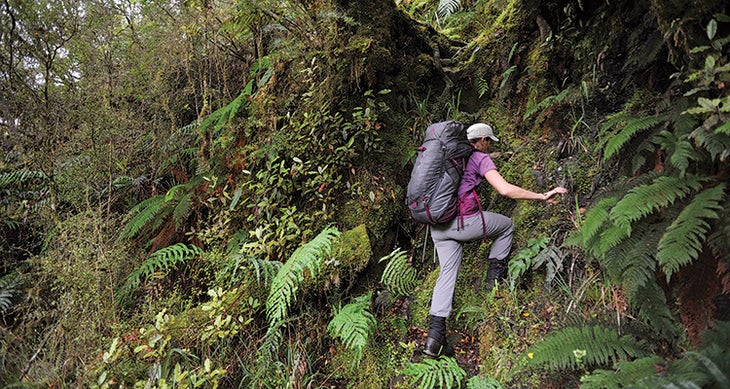 Climbing the vertical jungle up New Zealand's Dickey Spur.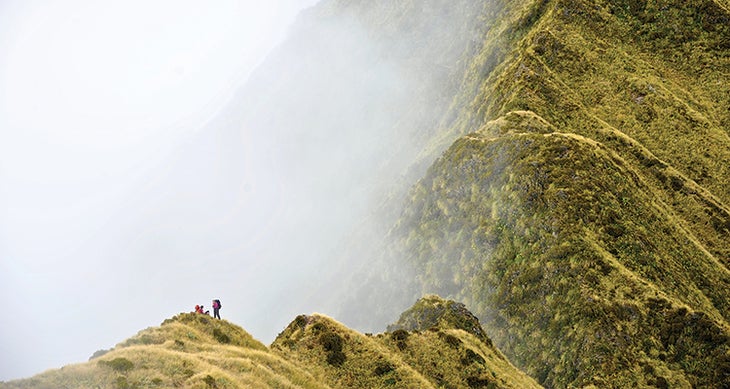 Mist rolls in on New Zealand's Dickey Ridge.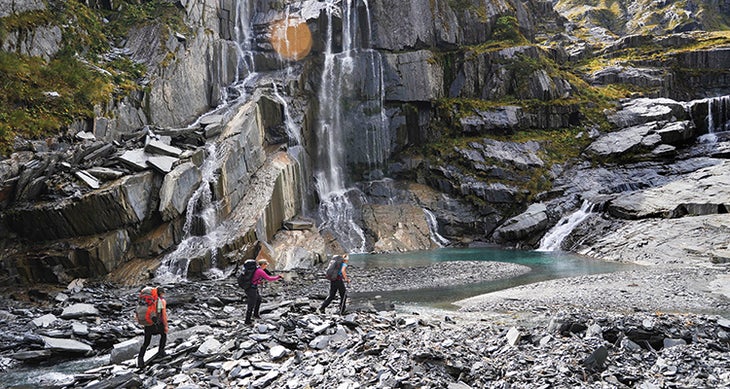 A trio of waterfalls greets hikers as they approach the cliffs below Ivory Lake. (photo: Hagephoto)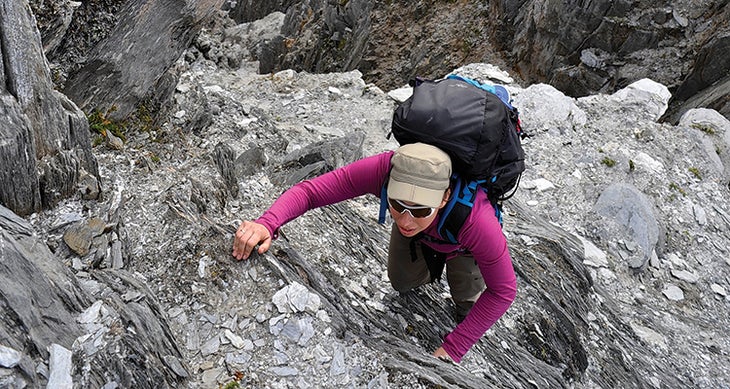 Senior Editor Rachel Zurer scrambles up gray, cornflake rock on New Zealand's Dickey Ridge. (photo: Hagephoto)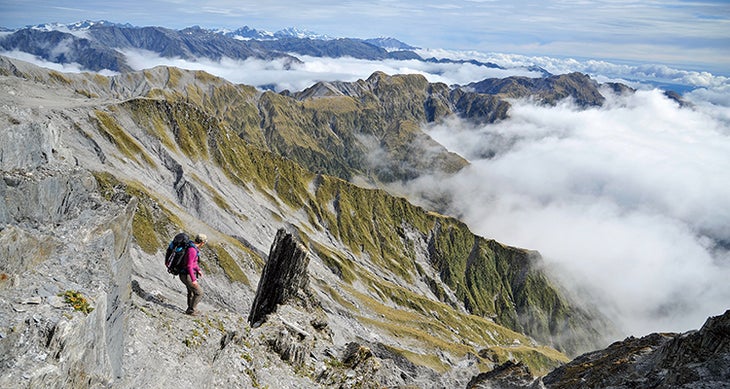 New Zealand's Mt. Cook hangs in the distance from the Dickey Ridge traverse. (photo: Hagephoto)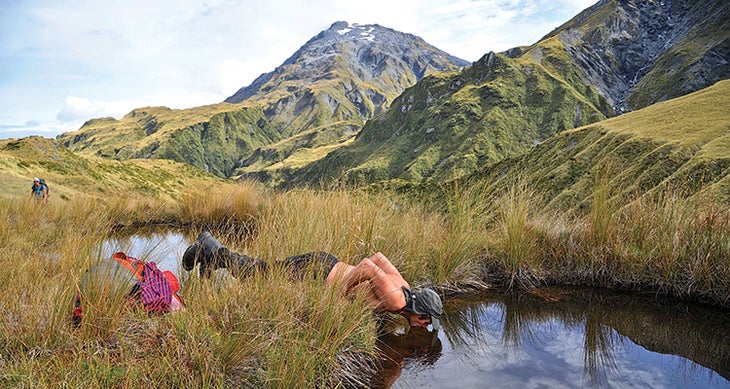 Andrew Buglass demonstrates Kiwi water filtration technique. (photo: Hagephoto)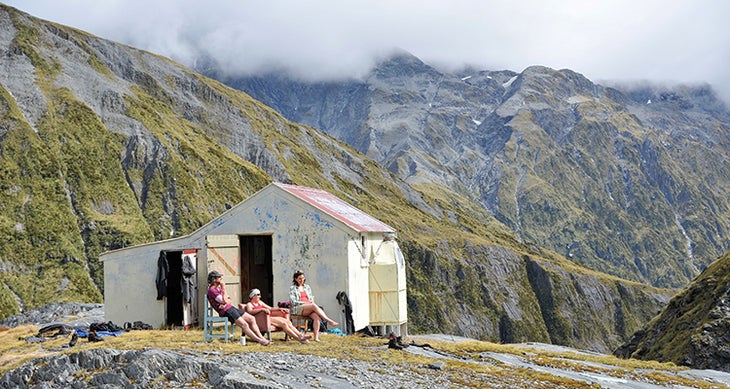 Ivory Lake Hut's charm's include 360 degrees of rugged mountain views (photo: Hagephoto)
We are hiking an hour outside of Hokitika, on New Zealand's famed West Coast, when the vertical jungle slams me on my ass. A cloud of ferns closes in around my knees, obscuring the "trail" beneath. I misjudge a step, slip on a wet root, and my feet shoot forward, friction-free and fast. I thud backward, dislodging an extra rain shower from the dripping foliage and a whiff of something like rotten cabbage. As I stand, I scan my body. Bum ankle? Fine. Knee? Stable and strong. Pride? Deteriorating fast.
Behind me, my companions—an ultrafit pair of American adventure photographers and a sharp-faced Kiwi acting as our unofficial guide—deliver the requisite encouragement. "You've got this!" says Agnes Hage, 31, one of the photogs. "Happens to the best of us," agrees her husband Matt, 41. Andrew Buglass just nods. Easy for you to say now, I think. We'll see what you're saying when it's dark and I'm still trying to climb this jungle.
This voice is the fifth member of our entourage, present whenever I feel inferior, but especially vocal on the trail, if I feel I'm holding others back.
From everything I've heard, this hike will be among the hardest I've done in my life, with long distances, lots of elevation change, and treacherous off-trail terrain. And yeah, I'm a bit nervous, but I was spoiling for an unforgettable trip that would push me. I just hope I didn't plan this route at the expense of my body—or my ego. I seek challenge, but prefer to avoid total collapse. And total collapse in front of strangers? Even at 31 years old, something about the dynamics of hiking in a group can carry me back to the emotional cesspool of middle school. It's enough to make me want to stay down on the ground where I've fallen, crawl up under a bush, and hide.
* * *
The hike to New Zealand's best hut might be tough, but deciding where to go was surprisingly easy. The country has 900-plus backcountry shelters, ranging from 100-year-old stone shacks to state-of-the-art mini-lodges, in an area the size of Colorado. Shepherds and miners built the first ones, a natural response to quick-changing, unforgiving weather. Later, rabbitters and deer cullers hunting the island's invasive mammals operated out of government-built huts. Those seeds eventually blossomed into a robust network geared mainly toward recreation, which has a reputation as the best hut system in the world. Most Kiwi "tramps" center on one or more of them.
But I didn't just want to visit a good hut: I wanted the best. That meant a postcard-worthy, breathtaking setting; a cozy, intimate shelter with a rich history (nothing decrepit, sterile, or brand-new); and a realistic chance at solitude. Oh, and the hike in had to be worth doing on its own. I read tramping forums, talked to the editor of New Zealand's Wilderness magazine, and contacted Shaun Barnett, the author of several tramping guides and a book about the history of the huts. I heard about Syme Hut, in Egmont National Park on the North Island, perched on the flanks of a dormant volcano with views of the sea. And I had a fleeting interest in the Barker Hut, in Arthur's Pass National Park on the South Island, when I saw a photo of it looking like a little red schoolhouse just below a towering peak. But only one kept recurring everywhere I looked: Ivory Lake Hut.
"One of the coolest hut locations," Barnett said. "It's perched on the shore of a small lake beneath a remnant glacier in the heart of the remote and rugged West Coast mountains on the South Island." Others called it a "holy grail." I learned it was built in the 1970s to help scientists study the small glacier nearby, and a decade's worth of researchers had added countless personal touches during their summers there.
But as soon as I set my sights on getting there, everyone else set theirs on talking me out of it. "I don't think that Ivory Lake Hut is a good idea—it is too difficult an objective," said a different guidebook author I contacted. The tourism bureau thought it "not advisable." Even Barnett backpedaled in an email: "I can't emphasize enough how tough the terrain is, and how much travel in the area is weather-dependent. Even for experienced trekkers, it can be as slow as 1 kilometer per hour and side creeks can easily become impossible to cross during rain. In a few places, you might have to crawl."
"Consider me warned," I wrote back. Sure, the trek sounded like a potential slugfest, but not scary or obviously dangerous. I did have one question, though: "Is it really worth the torture?"
Barnett's reply sealed my resolve: "Yep … it's one way cool place. If I haven't put you off … go for it!"
My next step was finding a local to guide me through the off-trail terrain—even good map skills can't substitute for deep experience with a foreign ecosystem. I connected with Andrew Buglass via his website, remotehuts.co.nz, a repository of status and route information on 63 of the South Island's less popular, more isolated shelters. As soon as I proposed the journey, he agreed to take time off from his job as a mental health counselor to come along. He said he loves any excuse to go wander the mountains—especially those mountains. He grew up in Hokitika, the closest city to our trailhead, and he'd been to Ivory Lake Hut twice before.
We budgeted six nights, and if all went perfectly, expected to reach Ivory Lake on the third day, via two nights at other huts. "The weather is crucial for this trip," Andrew explained as we firmed up our plans. "We need at least two or three fine days to get in and two fine days to get out. That's a big ask for the West Coast"—the area typically receives 9.5 feet of rain per year, and the country's record of 41 inches in 48 hours was set just two valleys over—"but autumn is your best bet for settled weather." We settled on the first week of April, prime time for fall hiking in the Southern hemisphere.
On the day before our trek,Matt, Agnes, and I arrived at our motel in Hokitika a few hours ahead of Andrew. We bought some topo maps at the local Department of Conservation (DOC) office, and spread them out on the table in the Hages's room. Matt eyed them, estimated distances with his finger, then declared we could get to Ivory Lake in two days. "It'll depend on what Andrew can do, but I bet we could bang this out fast-and-light, American-style," he said conspiratorially. He'd spent a few months tramping around New Zealand before, and hinted that the 56-year-old Andrew might be of the Kiwi Old School—all heavy gear, mutton on spits, and never seeing a hut he didn't want to sleep in, even if meant silly-short days.
"Maybe?" I ventured, not wanting to disappoint Matt a half-hour into our week together, and also flattered by his first impression of me, and also terrified by that same thing. Here's the deal: Despite my job as an editor of this magazine, despite the semester-long NOLS course I completed in college and two years of trail work I did afterward, despite the half-Ironman triathlon I'd finished a few months earlier, I'm still a desk-jockeying weekend warrior, and I've never been anything like fast. In triathlons, swim races, or 10K runs, I gun for the finisher medal. Individual sports make it easy to embrace the enlightened goal of self-improvement without comparing myself to others. But backpacking in a group is more like a team sport: My performance would directly affect everyone else's experience. Now, Matt had basically declared that we were playing to win. My shoulders tightened.
And so, before our team even came together, we were divided: fast-and-light versus old school; cool kids and dweebs; hares and tortoises. I went back to my room and combed over my gear yet again, looking for anything else to ditch. My pack was slim already, as we weren't carrying tents or pads. But if Matt was expecting fast, I'd need every advantage. I removed a layer, some snacks, a couple magazines, and even a few tea bags.
The next morning, when Andrew came to breakfast in a patched pink-and-blue polypro shirt, a bulging 70-liter pack, and gaiters held together by bailing wire, my heart lifted. Maybe Matt was right!
* * *
Matt was wrong. After hiking just a couple of miles with Andrew, it's clear there's nothing "old school" about the way he moves. He glides upward like a mountain goat, big pack and patched gear be damned.
I, on the other hand, am moving more like an ox. I can't tell which is soaking me faster: the light rain filtering through the canopy, or my own sweat as I trudge forever up the stair-steep path. Our first day is technically on "maintained track;" in practice, this means that every 20 feet we search for the next orange plastic triangle marking our general direction under the rimu and miro trees. Matt and Agnes have disappeared ahead, as it's too dark and wet for good photography, and thus there's no reason for them to stick with me. In true guide fashion, Andrew stays a few steps behind me, letting me set the pace.
Slow and steady, I tell myself. This isn't a race. And remember, the tortoise won. Then my 13-year-old self pipes up: That's just something the sorry-ass tortoises tell themselves to forget they're not good enough. Kids can be so mean. I focus on the things I can control: I am hydrated; I am not hungry. Though soaked, I am nevertheless warm, thanks to the light, long-sleeve wool shirt Andrew hinted might be a better choice than the synthetic tank and button-down I wore to breakfast. I was miffed at the advice this morning, as if I don't know how to pack. By this afternoon, I'm grateful. "You're doing well," he tells me as I turtle up the 4,000-foot ridge. "A steady engine is the best way."
The only upside of being stuck in the back with Andrew is that it makes for good conversation. I learn he has a degree in botany as he tosses off the Latin names of the exotic plants I wonder about. I hear about his 14-year-old daughter who would rather play video games than hike. ("So it goes," he says.) And he explains how he worked with a web-savvy friend to start his Remote Huts website back in 2003, when the DOC was threatening to remove several of the huts he loved. Since then, it's grown into the definitive resource on hard-to-access huts, and a hub for community volunteer groups who maintain some of them (none of his key huts were removed). He's a modest, quiet, unlikely leader, but his slow-burning passion for the wildest parts of the island still comes through.
Finally, three hours and about 5 miles later, we pop out onto a high, grassy ridge. The trail is easier to follow up among the golden, knee-high tussock grass. But I'm feeling, to use Andrew's word, "knackered." At last, a small beige hut emerges from the mist. I've seen bigger garden sheds, but after a full day of pruney fingers and squelchy boots, I race inside and strip off my soggy layers. I immediately appreciate why the Kiwis love their huts. Like all the shelters on our route, this one has bunk beds with foam mattresses, a table, and access to nearby water, but no stoves or other amenities, besides the oddities left by other hikers. Yet, thanks to the little four-bunker with its roof and walls, I have nothing more to worry about besides picking which meal to rehydrate for dinner.
At least for tonight. Matt's talking big again about pushing all the way to Ivory Lake tomorrow. Gloomy weather would force us to stick to Andrew's original plan, descending just a few miles to a hut in the Tuke River Valley. I pop four ibuprofen and massage my aching hip flexors. Can I keep up? Can I keep going? When I crawl into my bag and shut my eyes, I secretly hope for rain.
The clouds refuse to decide the matter. They dance around all morning, sweeping in close as Andrew dries his socks and heats his coffee over a fire just outside the hut (no mutton in sight), backing away again as we cringe into our soggy layers and wring tiny streams out of our boot laces. I feel sore and creaky as we pack up, dreading the coming game of catch-up.
But by the time we reach our decision spot, about 30 minutes from the hut, the sun has burned away both the mist and my cobwebs. I can finally see most of the impending terrain. To the west, the Tasman Sea looks like it leads to the edge of the world. The Tuke River Valley climbs to the southeast, hemmed in from the west by cupcake-wrapper Dickie Ridge and on the east by muscular green spurs that thin to the gray wall of Galena Ridge. Ivory Lake sits on the other side of the imposing sawtooth cliffs at the head of the Tuke Valley. I haven't been here long enough to know what quintessential New Zealand scenery looks like, but I can sure understand how everyone falls in love with this place, and why Andrew keeps coming back. Our choice now: drop down into the Tuke to the next-closest hut (our original itinerary, Plan A), which means another 12,000 feet of elevation change between here and Ivory Lake and the risk that a storm could raise stream levels and turn us back, or stay high on Dickie Ridge, past the distant sawtooths, all the way to Ivory today (Matt's ambitious Plan B, which would certainly make for better scenery).
"I just thought of a third option," Andrew offers. "We could go to a different hut by taking Dickie Ridge a ways, then dropping south to the Waitaha Valley. From there, it'd be only three or four hours to Ivory Lake tomorrow, and we could do it even in clag weather."
Everyone looks at me. To the victor goes the spoils, but to the slowpoke goes the route decision.
"You really think I can make it that far?" I ask Andrew.
"It's a lot of up and down," he says. "It'll be a long day. The weather might not hold. But sure, yes, probably. You did great yesterday."
Maybe it's his faith in me, my warmed-up muscles, the sunshine, or maybe all or none of those things, but whatever it is, it helps my confidence.
"Plan C," I announce.
* * *
The ridge walk, which began as a series of grassy knolls lolling up and down, has turned rocky and exposed. For a while the clouds threatened to kill our visibility, but now, after lunch, they seem to have stabilized into a bubble bath of mist below us and a ceiling of gray overhead. We're in an enchanted middle zone, reserved for those who dare to stay high. Once in a while, over our shoulders, we can see 12,316-foot Mt. Cook, the country's highest peak, 60 miles away. The walk has been tiring so far, but also surprisingly fun. Matt and Agnes stop often to snap photos, which evens out our pace more than yesterday. And now, as we face our toughest obstacle yet, I have reason to reconsider my weakest-link status.
"This is effed," Matt says, staring down to a foot-wide, knife-edge saddle at the bottom of a 30-foot, super-steep rock chimney. On either side, deep gullies drop away in near-vertical slopes. Andrew and I have already navigated our way to the other side, where we stand waiting for Matt and Agnes. I'd managed to pass the exposed, fourth-class spot in less time than it's taking the photographers—who are experienced climbers and mountaineers—to get started.
As I stand spectating from across the abyss, I'm filled with pride that I'm finally better at something than the Hages. Not that I like feeling good at their expense (I blame that same inner 13-year-old), but it's nice that the universe has leveled the playing field. Apparently even a slowpoke can be comfortable with heights.
"That was effed," Matt says again as he and Agnes finally join us on the far side. "That exposure was serious. A no-slip moment for sure."
"I hope that was the tricky notch you remembered," I say to Andrew. He last took this route a decade ago.
"Me too," he says.
It isn't. Over the next few hours, Matt pronounces something "effed" another hundred or so times as we trust our lives to the crumbly cornflake rock. In between the scary spots, we savor the views: The ocean glows beneath the clouds as if lit from within; a four-tiered waterfall slides down Galena Ridge across the valley; and soon a floating citadel of a peak comes into view nearby, looking like a home to the gods themselves. I still struggle to keep up, mostly alone at the back, as Andrew scurries ahead to scout the best route, but it feels different now. My slow-and-steady mentality is actually an advantage for the exposed bits—I'm able to stay focused and deliberate—and while my pace may not be blazing, it's fast enough, and I'm able to hold it steady as the hours click by.
Finally, we reach the spot on the ridge we've been aiming for. With just three hours of daylight left, there's no discussion of continuing all the way to Ivory; it's too far, across terrain that's potentially even more exposed, and everyone's nerves are raw from the last few hours of gonzo hiking. "It's simple and straightforward down to Top Waitaha Hut from here," Andrew promises. I should know better by now than to think his version of "simple" and "straightforward" means "easy." We descend 3,000 snow-sliding, scree-hopping feet to the Waitaha River Valley. The clouds close around us, and we have to trust that Andrew is leading us the right way—our maps are useless in the fog. He starts down a near-vertical, jungle-filled gully ("gut," in Kiwi parlance), where the only thing to do is grab the plants tight and let my feet slide, all while trying to avoid our latest vegetal nemesis, a huge, yucca-like speargrass that lurks amid the flax and tussock and stabs like a frightened cat.
I am out of water, and whether because of dehydration or because of exhaustion or because the 13-year-old is back, I start fighting back tears as I lag farther and farther behind. It feels like every man for himself. I hated holding them back, but now they're abandoning me! I thought I just proved myself, but clearly no one even cares if I'm OK back here…
Just then the mist parts. There, maybe 200 yards away, an orange-roofed rectangle, larger than last night's hut, sits a quick boulder-hop and river ford away. The relief is instant, and my sadness transforms into giddiness. "I see the hut!" I yell from the back, dancing across the creek.
This one's painted in cheery chartreuse and orange, and we luxuriate in the space of six bunks and the job well done to reach them. We're only 9 miles as the crow flies from our trailhead, but today proved how easy crows have it. The logbook shows that only four groups have stayed here in the past year. The fist of stress in my heart is replaced with excitement about what we've done and what's to come. I've stopped wondering if the trip will be worth it. The adventure, the scenery, the challenge, the variety of terrain—this is already a trip to remember, and we still have five days' worth of food. Ivory Lake Hut could be a shack by a dried-up mudhole, and I wouldn't care.
The next day, with nothing to stop us from reaching the hut, we seem to slow, as if to draw out the hike. As we amble across the tussock benches above the Waitaha River, we keep inventing reasons to stop and dawdle. The canyon narrows and deepens as we head upstream, and by early afternoon we reach a spot where waterfalls surround us on three sides. One is rather ordinary, a 10-foot-wide curtain in the middle of a creek, spilling straight down about 15 feet. But the other two are stunners. They tumble in tiers off the blocky, 100-foot cliffs above us, splitting and joining as they negotiate each set of rock-candy protrusions.
Andrew informs us that Ivory Lake sits just above, out of sight because of the steepness of the valley walls. All we have to do is switchback up the cliffs and the hut is ours. But without discussing it, we savor this moment, enjoying the occasional flash of sunlight through the high clouds and marvelling at the good fortune of yet another dry day. Andrew reclines on the rocks, shirtless, patient, waiting for us to snap our fill of photos.
Eventually, we shoulder our packs again. "You first," Andrew says, as if he's been able to hear the up-and-down turmoil in my head. I lead the way up the final stretch, which feels tame after the exposed scrambling we did yesterday.
It's probably dangerous to carry such high expectations to a place. How often do we glamorize the unknown, only to end up disappointed? Yet, Ivory Lake Hut delivers.
I see the glacier first, a gum-smear of blue looking both ancient and vulnerable, cradled in an amphitheater of gray rock. Next I glimpse the lake, its milky blue surface ruffled by a slight breeze. It looks large enough to be a good challenge to swim across. And then to my left, backed as far away from the lake as possible: There it is.
The towering slopes around us make the hut seem precarious as it clings to gray slickrock slabs on the edge of the 100-foot cliffs we just climbed. Across the narrow Waitaha River gorge, steep slopes spined with green and gray swoop up into the clouds, creating a lavish backdrop for the exterior's weathered red and white paint. It occurs to me that I've never seen a place quite like this spot, with its sampler-platter of high-country tableaus: We're in an alpine cirque, but we can also look down into a steep river canyon, complete with roiling creek and waterfalls, up the valley to a second cirque, and down-valley to rows of veined ridges and peaks.
The hut itself is the same size as last night's six-bunker, about 15 feet across, but a storage room attached to one side gives its roofline a jaunty look, like a seaside shanty. As we approach, I let out a yell of triumph, which echoes off the valley walls. The Hages high-five each other. We open the peeling wooden door and race inside like children eager to explore. The interior is wood-paneled, and, in addition to the usual bunks and mattresses, we find wonders. Old cast-iron pans and kettles. Vials full of what look like tiny insect skeletons. A wooden desk. Best of all, a '60s-era, modish armchair, all right angles and threadbare red fabric. We drag it outside just as the sun breaks through the clouds, and take turns posing for portraits in it as we pass the whiskey.
We have earned our layover day, and it is glorious. The others head off to climb the primary dayhike target from here, 7,600-foot Park Dome. Without a single pang of self-doubt, I decide to spend the day alone, moving slowly, if at all. I wander down to the creek and up toward the second cirque, and briefly consider pushing toward a pass. But then I think of my aching knees and the long hike out, and decide that after making it to the world's best hut, I'd better spend some time there. On my way back, I strip for a dip in a sun-warmed pool near the lake's outlet stream, then pick my way back half-naked and barefoot.
Thus begins an afternoon of true leisure. I settle into the modish chair and soak up sunbeams and self-satisfaction as I page the last 30 years of hut log books (average annual visiting parties: around 10, including people stopping in on dayhikes from Top Waitaha Hut). I add my name to the list. Then I fall asleep in the sunshine, feeling completely and utterly content.
It's just like Andrew tried to tell me that first day: When passing through such beautiful terrain, there's no better pace than slow. ■
Senior Editor Rachel Zurer invites you to climb the Grand Teton with her next summer—slowly. Check out backpacker.com/sfs for details and to register.
New Zealand Hut Hike Planner
Get there Fly to Hokitika, then drive 30 miles to the Mikonui River trailhead. Beta remotehuts.co.nz/huts/ivory