Bend, OR: Smith Rock Loop
Hike a 3.9-mile loop around, and over, Oregon's most popular rock climbing destination; with closeup views of the Monkey Face pillar, panoramas of the Central Cascades, and a knee-crunching descent of Misery Ridge.
Heading out the door? Read this article on the new Outside+ app available now on iOS devices for members! Download the app.
With over 1,800 climbing routes of every degree, Smith Rock State Park draws climbers of all abilities to its sheer, volcanic walls. For those less vertically inclined, the park also contains numerous hiking trails along the Crooked River and around many of the towering spires and rock formations.
Hike the Smith Rock Loop
Access to Smith Rock's trails starts at a viewpoint near the picnic shelter, with a wide track making an easy descent to the Crooked River. A quicker set of short switchbacks called "The Chute" leads to the same point, but bypasses some of the farther views. After crossing the bridge, turn right (west) and begin on the River Trail. For 2 miles, this level trail meanders along between the Crooked River and many of the named climbing walls (Morning Glory, The Dihedrals, Christian Bros.) passes beneath Asterisk Pass, and rounds the back side of the Smith Rock Group.
After passing below Asterisk Pass from the other side, the trail forks; left to continue along the Crooked River, and right up the Mesa Verde Trail to the base of Monkey Face, a 350-foot rock pillar boasting the "Just Do It" route, one of the most difficult 5.14c climbs in the world. Take the right fork (northeast) for 0.3 mile and cast your gaze skyward, looking for climbers. As you gain elevation, the views start to open up. At the crest of the Mesa Verde Trail, come to a junction with the west side of the Misery Ridge Trail and start climbing.
Quickly gain 400 feet on a series of switchbacks to the trail summit atop Smith Rock, offering panoramic views of the Central Oregon Cascades, including Broken Top, Three Sisters and Mt. Washington. To achieve the actual summit 60 feet higher, look for a faint use trail through the brush to the top; or for a face-to-face with the Monkey Face, sidetrack on a short, steep trail to the edge of the outcrop directly opposite. After taking in the view from the top, contour around to the east side and the upper reach of Misery Ridge. The rapid descent from here is steep on narrow, rocky steps and switchbacks, passing beneath Red and Picnic Lunch Walls, and finally depositing you at the bridge junction where you started.
From here, further exploration can be had on the Wolf Tree and Homestead Trails, or simply return to your starting point via the same route.
MORE INFO: Oregon State Parks
-Mapped by Eli Boschetto, Bosco Mountain Photo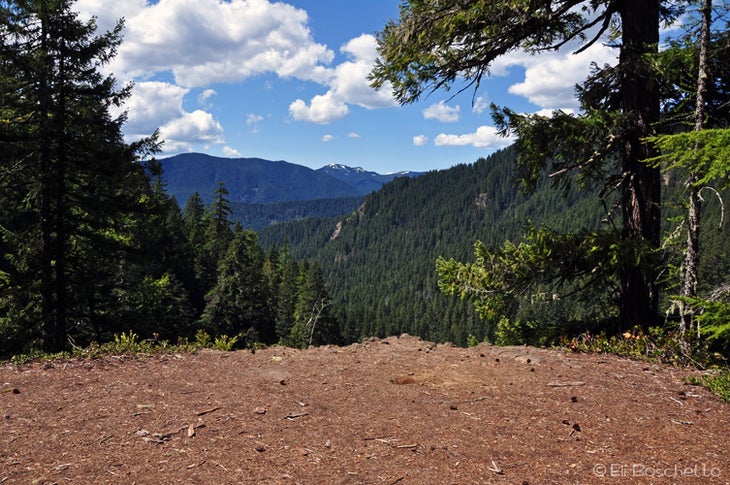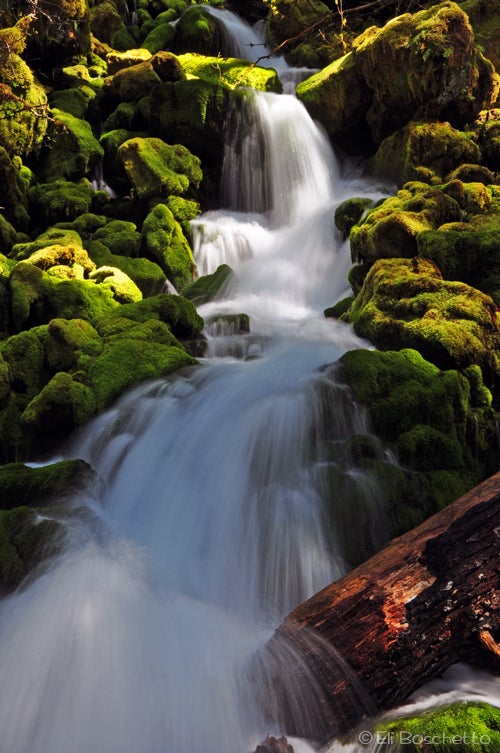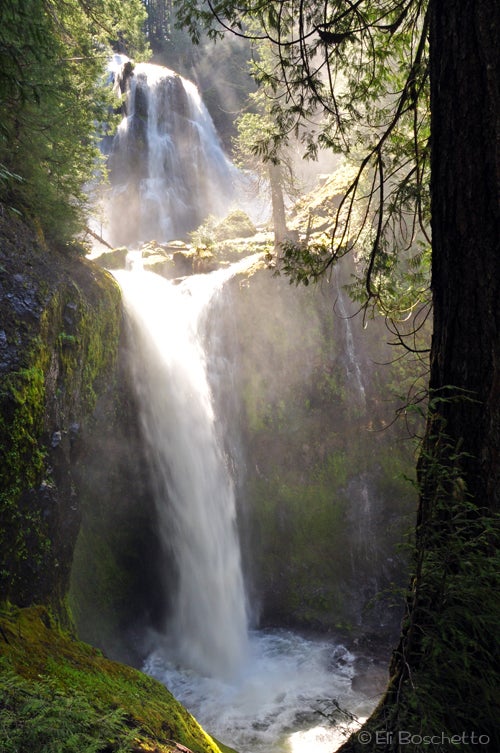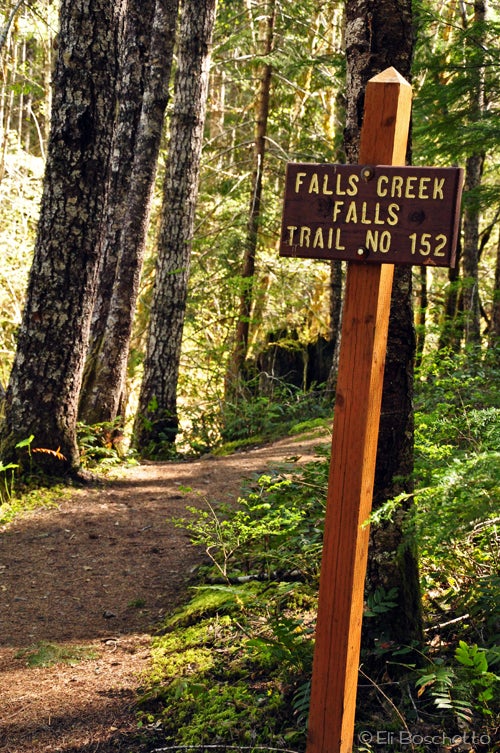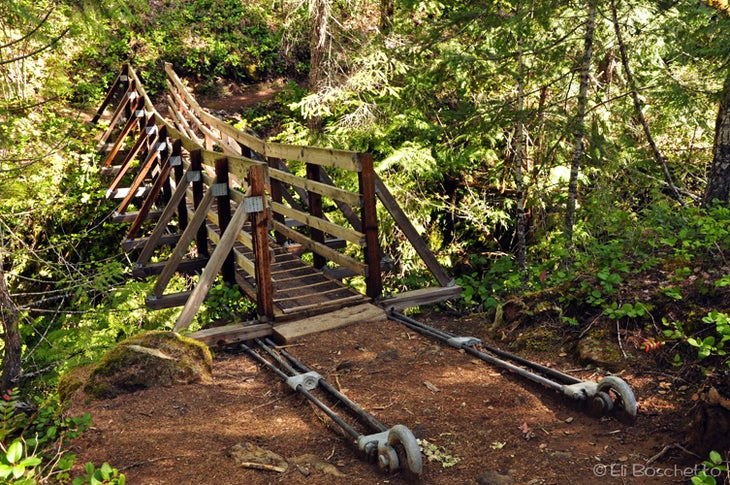 Trail Facts
Waypoints
FCF001
Location: 45.908159, -121.947354
Upper trailhead for Falls Creek Loop at turnaround on FR 3062.
FCF002
Location: 45.908099, -121.946579
Bridge crossing to upper loop; continue straight (E) for lower loop to falls.
FCF003
Location: 45.906429, -121.938898
Spur to lower loop parking area.
FCF004
Location: 45.907191, -121.936722
Suspension bridge crossing.
FCF005
Location: 45.912138, -121.920905
Spur to upper falls trail; continue straight (E) to falls.
FCF006
Location: 45.911966, -121.917063
Bridge over nice cascade.
FCF007
Location: 45.910224, -121.914249
Falls Creek Falls. Return to upper spur connector and turn right (N).
FCF008
Location: 45.913064, -121.922021
Turn right (E) at T-juntion to head to top of falls. On return, continue straight (W) past spur.
FCF009
Location: 45.909279, -121.911861
Near creek, look for faint trail spur on right; proceed to end.
FCF010
Location: 45.909682, -121.912644
Top of falls; nice campsite with spectacular view.
FCF011
Location: 45.908754, -121.945999
Divert left (S) on narrow trail to river crossing; right at junction to return to trailhead.
Falls Creek Trail
Location: 45.908047, -121.946096
From the lower parking area, the Falls Creek trail meanders 2.3 miles to Falls Creek Falls.
Creek Crossing
Location: 45.906674, -121.936398
Suspension bridge crossing over a narrow gorge on Falls Creek.
Falls Creek Trail
Location: 45.910794, -121.924682
Wander amid old-growth fir forest en route to Falls Creek Falls.
Falls Creek Falls
Location: 45.910257, -121.913953
Spring runoff on Falls Creek Falls fills the valley with cool mist.
Cascade Crossing
Location: 45.911929, -121.916914
Cross this pretty cascade en route to Falls Creek Falls.
High View
Location: 45.909779, -121.913009
The spur trail to the top of Falls Creek Falls offers a small campsite with valley wide views.
Forest Giant
Location: 45.911003, -121.930561
Large old-growth Douglas fir inhabit the upper Falls Creek trail.