Bend, OR: Flatiron Rock
Stroll through Central Oregon's Badlands amid 1,000-year-old juniper trees and crumbling lava outcrops to an ancient hollowed-out lava plateau.
Heading out the door? Read this article on the new Outside+ app available now on iOS devices for members! Download the app.
The Oregon Badlands, just 12 miles east of Bend, are comprised of two ancient shield volcanoes. Features throughout this arid region include sagebrush, a variety of wildflowers, inflated lava formations, and stands of juniper trees, some over 1,000 years old. A network of trails explores the area. In the warmer months, wear sun protection, and bring plenty of water.
Hike to Flatiron Rock
For the Flatiron Rock Trail, begin at the trailhead turnout just off Hwy 20. At the trailhead sign, pick up a map, and take the left fork, beginning on the Ancient Juniper Trail. This 2-mile stretch of trail winds among stands of juniper trees, sprinkled with wallflower, larkspur, and Oregon sunshine. At the T-junction, turn left (north), passing the Homestead Trail junction, for 1.6 miles to the Flatiron Rock spur, and turn left (west) for the short, sandy climb into the rock. Veer right to circumnavigate the interior of Flatiron Rock. Within, you will find numerous lava features, including a rock arch, and several "windows" offering views over the Badlands and Central Cascades.
As you make your way around the Flatiron, keep left at a couple junctions until you return to where you began the loop, then descend back to the Flatiron Trail and start your return along the same route. When you arrive back at the Ancient Juniper Trail junction, instead of turning, continue straight ahead (south) for a change of scenery for the final 1.2 miles back to your starting point.
MORE INFO: Oregon Natural Desert Association
-Mapped by Eli Boschetto, Bosco Mountain Photo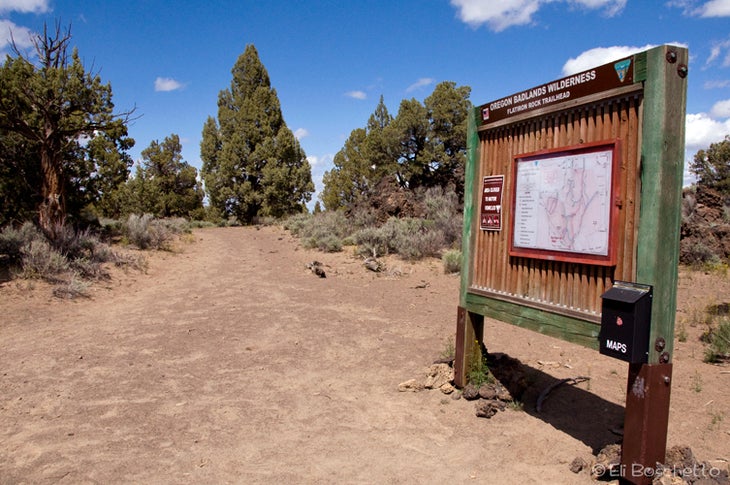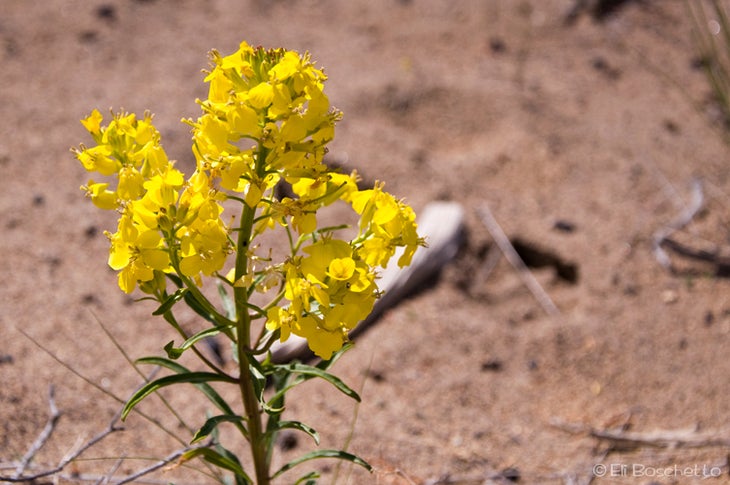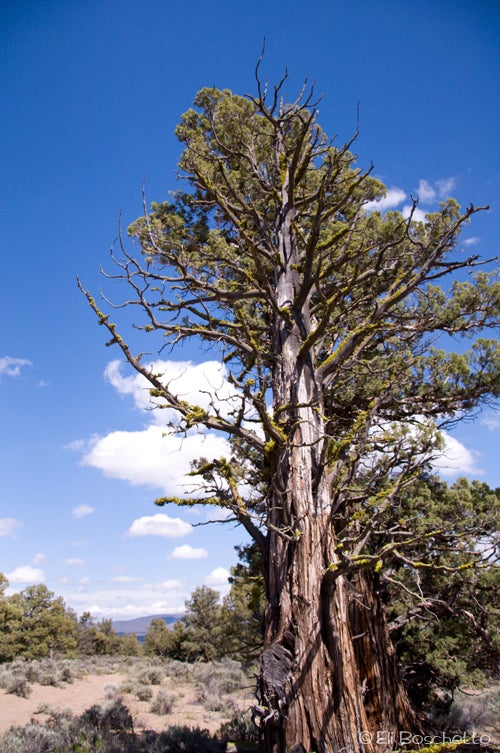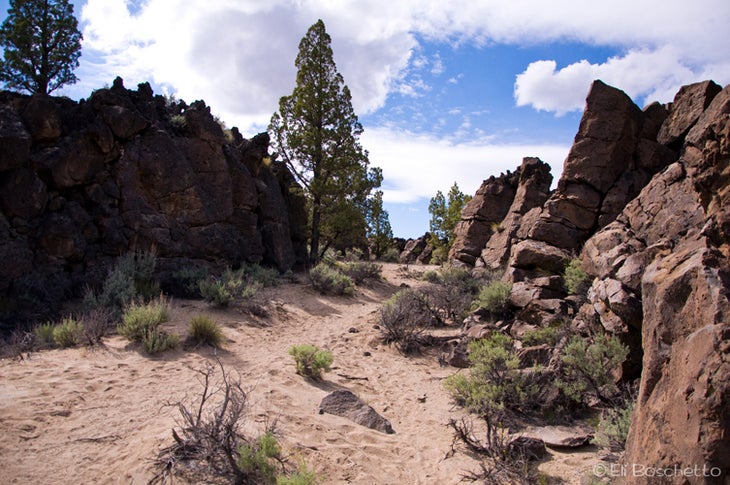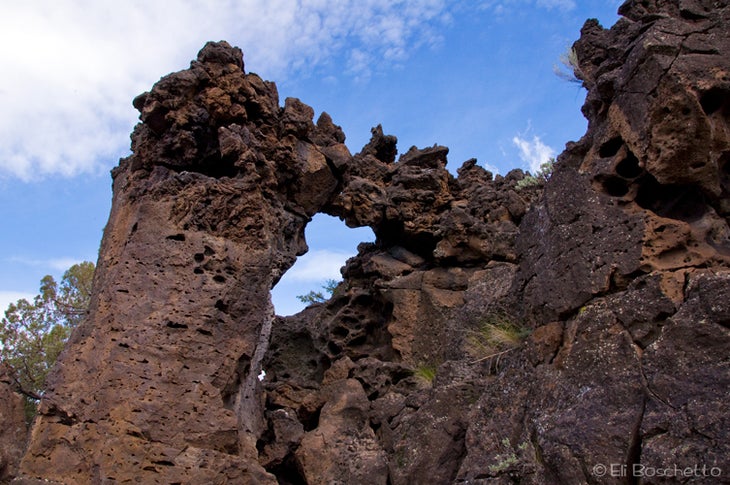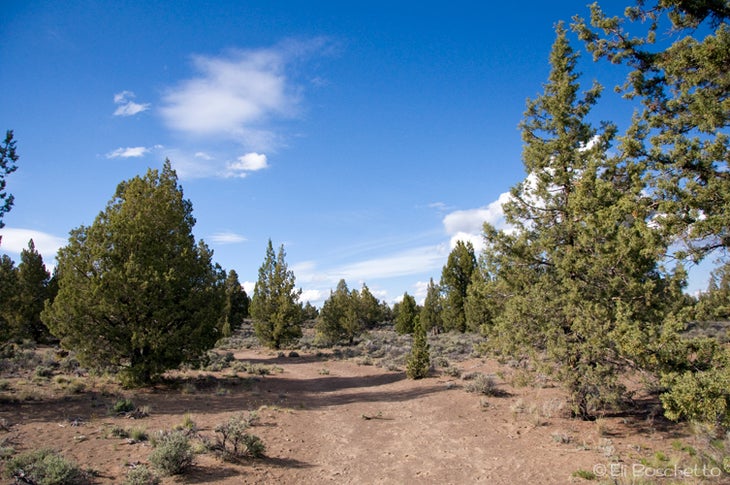 Trail Facts
Waypoints
FLT001
Location: 43.957576, -121.051487
From the trailhead, turn left on the Ancient Juniper Trail.
FLT002
Location: 43.970164, -121.040207
Turn left (north) onto Flatiron Trail. On return trip, continue straight (south) at this junction to finish on Flatiron Trail.
FLT003
Location: 43.970766, -121.039778
Junction with Homestead Trail; continue straight (north) on Flatiron Trail.
FLT004
Location: 43.989408, -121.045702
Junction with Flatiron Rock spur; turn left (west).
FLT005
Location: 43.989279, -121.046323
Top of Flatiron Rock: Circumnavigate either direction. Return by same route.
Badlands
Location: 43.957607, -121.051118
Pick up a map for the Badlands trails, including Flatiron Rock, at this interpretive sign at the Flatiron Trailhead.
Wallflower
Location: 43.962874, -121.050797
Find small clumps of bright yellow western wallflower along the Flatiron Trail.
Ancient Juniper
Location: 43.968604, -121.049831
The arid Badlands area is dominated by sagebrush and juniper, some over 1,000 years old.
The Flatiron
Location: 43.989418, -121.046677
Flatiron Rock, an eroded lava formation, contains a a sandy "moat" allowing visitors to circumnavigate the inside of the formation.
Lava Arch
Location: 43.989295, -121.048672
Look for a variety of lava formation within Flatiron Rock, including this lava arch on the western side of the loop.
Flatiron Trail
Location: 43.964311, -121.044488
The trail to Flatiron Rock explores Oregon's Badlands, an ancient shield volcano.