Houston, TX: Turkey Creek Trail
Hike through three ecological zones in east Texas's carnivore country.
Heading out the door? Read this article on the new Outside+ app available now on iOS devices for members! Download the app.
Looking for long stretches of tumbleweed-strewn ranges to practice your thousand-yard stare? Look elsewhere. This 15-mile point-to-point tracks through slough, slope forest, savannah, piney uplands, and some of the greatest diversity of plant life in the world (500 species per square mile, compared to fewer than 200 in most other places). This patchwork habitat houses gators, carnivorous plants, and 185 species of birds—but not a single longhorn.
Park in the lot off Farm to Market Road 1943, and enter the uplands on the wide-and-flat trail. Reintroduced longleaf pines join shortleaf and loblolly varieties to quilt a thick canopy. At mile 2.9, turn right to stay on the Turkey Creek Trail, or continue straight onto the Pitcher Plant Trail, a .8-mile horseshoe winding through mixed pine forest to the edge of a wetland savannah. From April to November, the pitcher plant's slick-walled cavity traps and drowns insects.
Return to the Turkey Creek Trail, dipping into swampy sloughs, their brown waters skewered by cypress roots. Cross Hester Bridge Road at mile 6.2, and begin a 2.7-mile stretch through the pines to Gore Store Road. Turn right for a .2-mile road-walk before regaining the trail on the south. Pull your cache jug out of the brush and walk 1.1 miles through thick yaupon holly-hedged trail to a dispersed campsite.
Next day, you'll cross the first of three oil pipelines at mile 11.1. (Hey, this is Texas.) At mile 12.9, continue straight onto the Sandhill Loop Trail, or take the .8-mile detour between tall loblolly pines with an open understory laid thick in pine needles. Rejoin (or continue on) the Turkey Creek Trail, crossing a metal footbridge over the namesake creek. Keep right at the four-way intersection to wind west through cypress slough toward Kirby Nature Center—or continue straight on the Kirby Nature Trail to see the slope forest's beech and magnolia.
Shuttle: From Beaumont, take US 287 north 30 miles, turn right on Farm to Market Rd. 420, and park at Kirby Nature trailhead in 2.6 miles.
Gear up: Whole Earth Provision Company, 2934 S. Shepherd Dr., Houston. (713) 526-5226; wholeearthprovision.com
Permits: Required (free); self-register at the trailhead.
-Mapped by Charlie Williams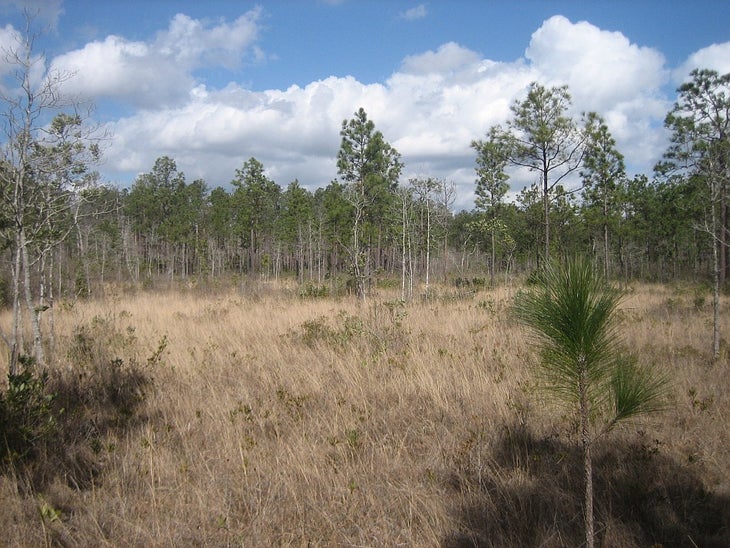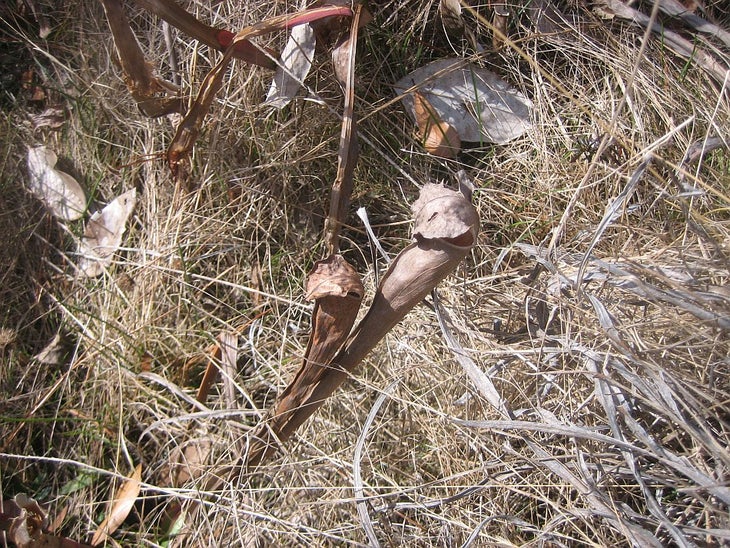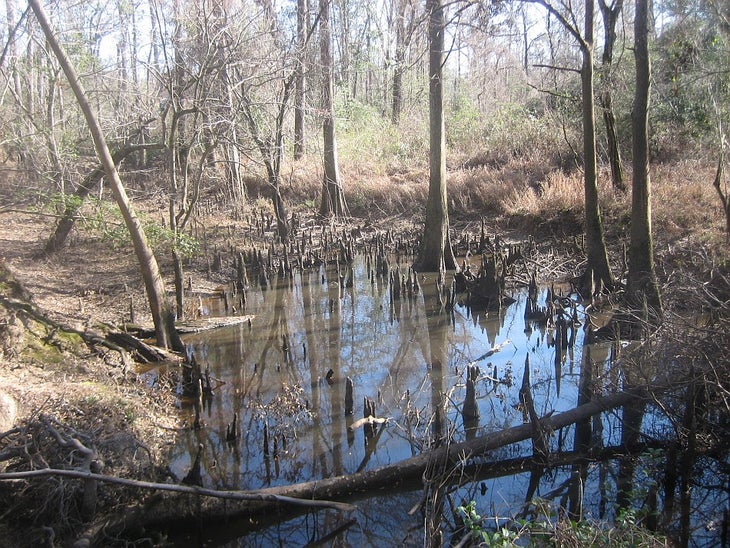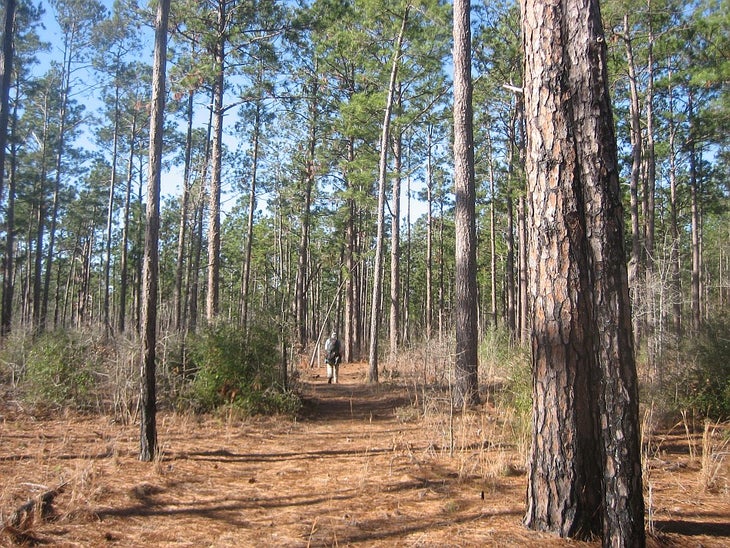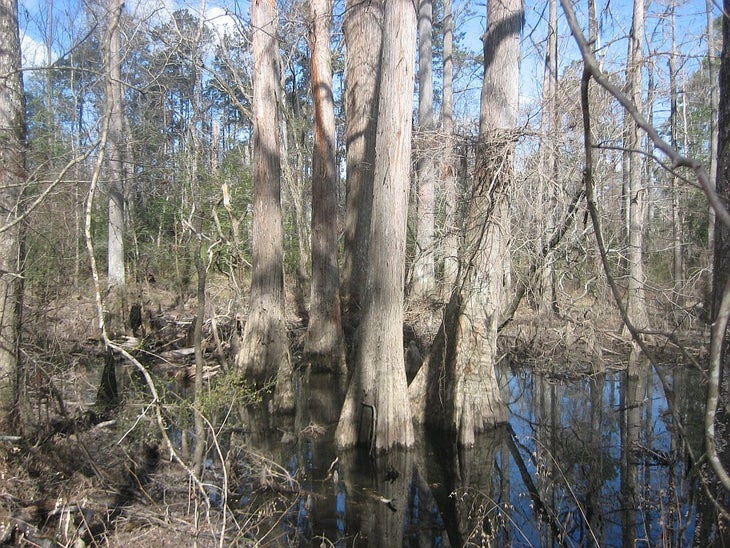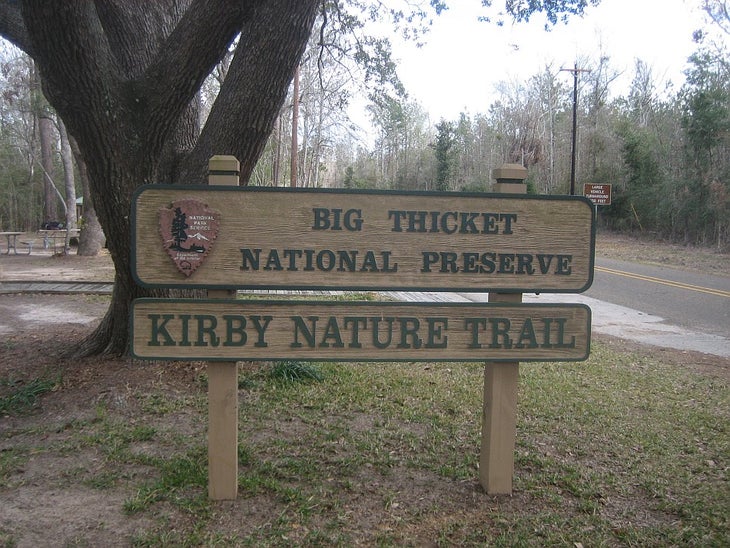 Trail Facts
Distance: 24.1
Miles from city center: 105
Waypoints
TUR001
Location: 30.613462, -94.344337
Begin at the Turkey Creek's northernmost access point, one of four along the trail. Follow the well-marked wide, flat trail into the uplands.
TUR002
Location: 30.608801, -94.345701
Continue straight at this 3-way junction just 0.4 miles from the trailhead.
TUR003
Location: 30.585763, -94.341639
Take a right to head south on the Turkey Creek Trail. To add just over a half-mile (and to spot one of four carnivorous plant species in Big Thicket), consider the straight-ahead detour on the Pitcher Plant Trail. It loops 0.8 miles back to the Turkey Creek Trail up ahead.
TUR004
Location: 30.583225, -94.341093
Continue straight on the main trail, or rejoin Turkey Creek here after the Pitcher Plant Trail detour from TUR003.
TUR005
Location: 30.552919, -94.330366
Hang a right onto Hester Bridge Road's dirt surface and rejoin the trail by turning left after the bridged creek crossing up ahead.
TUR006
Location: 30.550987, -94.332615
There is another trail access point and parking area on the west side of the bridge, but this one doesn't have any toilet or picnic facilities nearby.
TUR007
Location: 30.52192, -94.346837
A woodsy three mile stretch precedes the Gore Store Road picnic area where there is parking, a toilet and several tables. Turn east and follow the blacktop east for 0.2 miles before turning back onto the trail.
TUR008
Location: 30.521014, -94.343698
This trailhead is a good place to cache water before beginning this hike. Though camping here is at-large, expect to walk another mile or so before thinning underbrush allows for a decent spot.
TUR009
Location: 30.499843, -94.33528
At mile 11.1, the trail crosses the first of three oil pipelines. The trail follows the second pipeline (0.7 miles ahead) for a few hundred yards and tops the third pipeline 1.2 miles south of this point.
TUR010
Location: 30.479635, -94.338473
Continue straight on the Turkey Creek Trail. Turning left at this junction adds 0.8 miles along the Sandhill Loop Trail, which has plenty of prime camping.
TUR011
Location: 30.475782, -94.341357
Continue straight on the main trail. This junction is where the Sandhill trail reconnects with Turkey Creek. There is a substantial metal bridge over the creek up ahead.
TUR012
Location: 30.470021, -94.346789
From this point on the south side of Village Mills Creek there is a network of trails leading south toward the Kirby Nature Center. Head right at this 4-way junction to follow the most scenic trail to the route's end. The Kirby Nature Trail also leads to the nature center.
TUR013
Location: 30.46248, -94.350148
The trail ends at the Kirby Nature Center. Here, find facilities, parking and the park's Environmental Education Center.
Savannah
Location: 30.585982, -94.339728
This savanna area just east of the main trail is home to pitcher plants. © Charlie Williams
Pitcher Plant
Location: 30.586019, -94.340072
Though shriveled and brown in February, pitcher plants are one of four carnivorous plant species in the park and are easily visible alongside the Pitcher Plant Trail. © Charlie Williams
Slough
Location: 30.471091, -94.346724
This stump-ridden slough precedes the crossing of Village Mills Creek. © Charlie Williams
Sandhill Loop
Location: 30.476935, -94.335222
Classic east Texas piney woods on the Sandhill Loop offer plenty of great camping. © Charlie Williams
Cypress
Location: 30.471239, -94.350007
Loop options near trail-end pass through this cypress slough. © Charlie Williams
Kirby Nature Center
Location: 30.462362, -94.350071
The nature center at the southern end of the Turkey Creek Trail. © Charlie Williams