Bandelier National Monument: Capulin Canyon
Dip into river-cut canyons and explore the homeland of the Ancestral Pueblo on this 19.8-mile trip in New Mexico's Bandelier National Monument.
Heading out the door? Read this article on the new Outside+ app available now on iOS devices for members! Download the app.
Once the stomping ground for the Ancestral Pueblo, the sloping mesas and steep canyons of Bandelier National Monument are now home to 70 miles of trails. This 3-day lollipop loop begins near park headquarters and climbs 1,100 feet from the base of Frijoles Canyon to its rim trail. Just before mile 5, turn south and dip 400 feet into Alamo Canyon and 700 feet into Capulin Canyon before settling into camping zone B on night one.
Day two continues downhill through Capulin, bypassing the trail toward Painted Cave—a worthwhile 5-mile out-and-back—and looping back toward Alamo Canyon. If Painted Cave isn't an option on this trip, consider adding the 1.3-mile out-and-back to the rock-pile ruins of the Yapashi Pueblo to your hike. The route's loop closes at mile 12.5 and dips into Alamo again before the climb toward another camping area on the mesa. From here, it's an easy 5.1 miles downhill toward the trailhead on day three.
Note: Relative low altitudes make this a good option for spring, fall, and sometimes winters. Though water is usually available at the Upper Alamo and along most of Capulin, expect to carry it for camping at 1702 and double check conditions when you pick up your (free) backcountry permit.
-Mapped by Bill Velasquez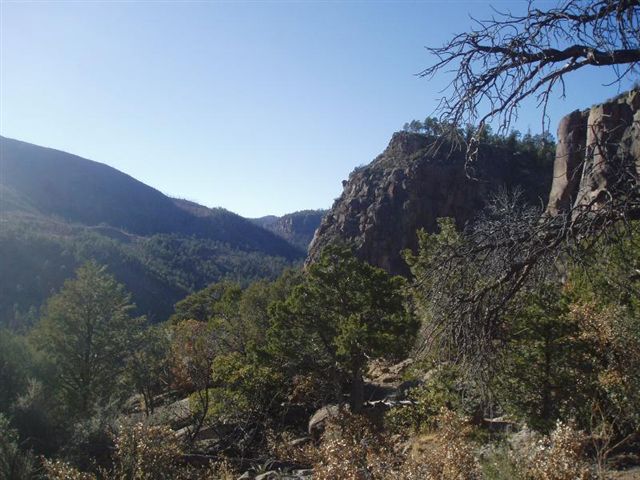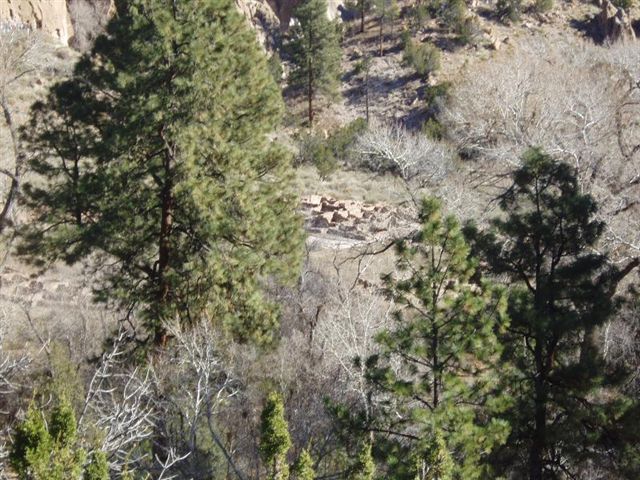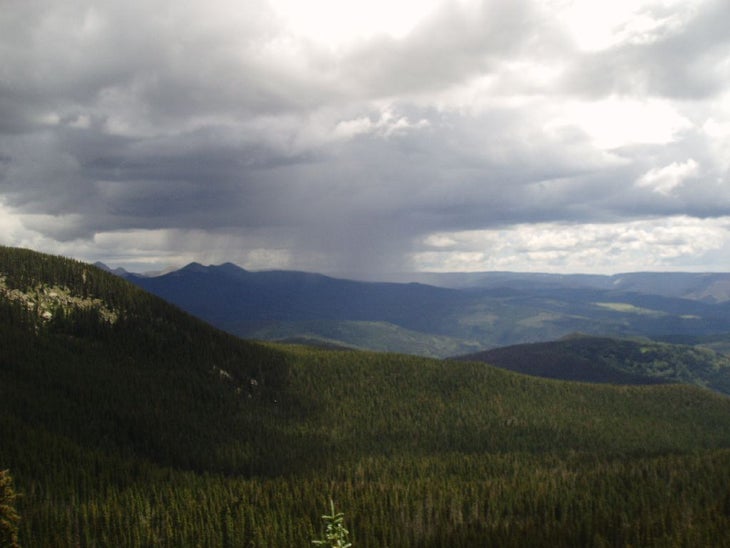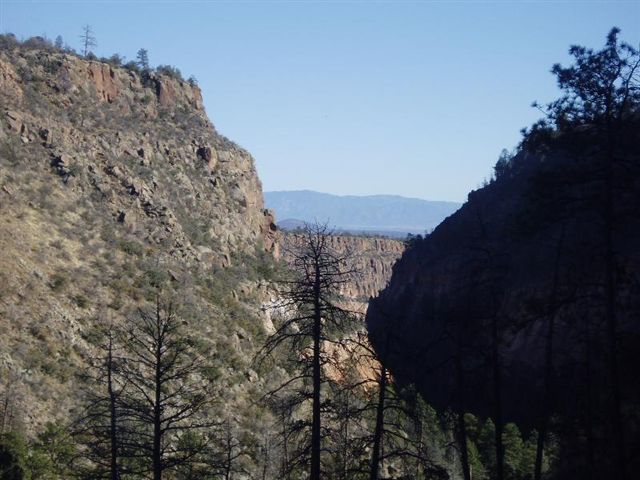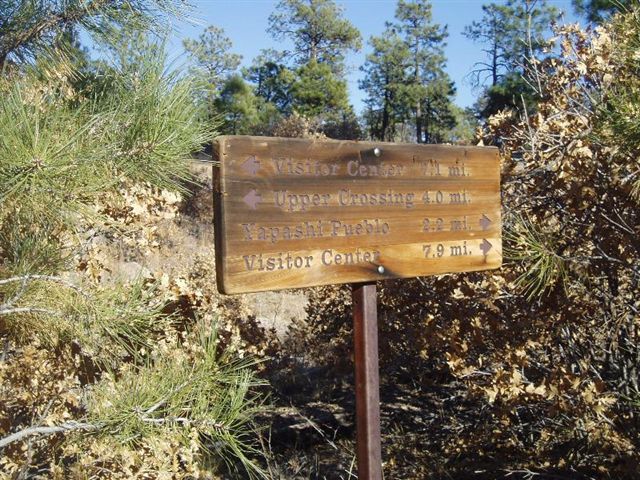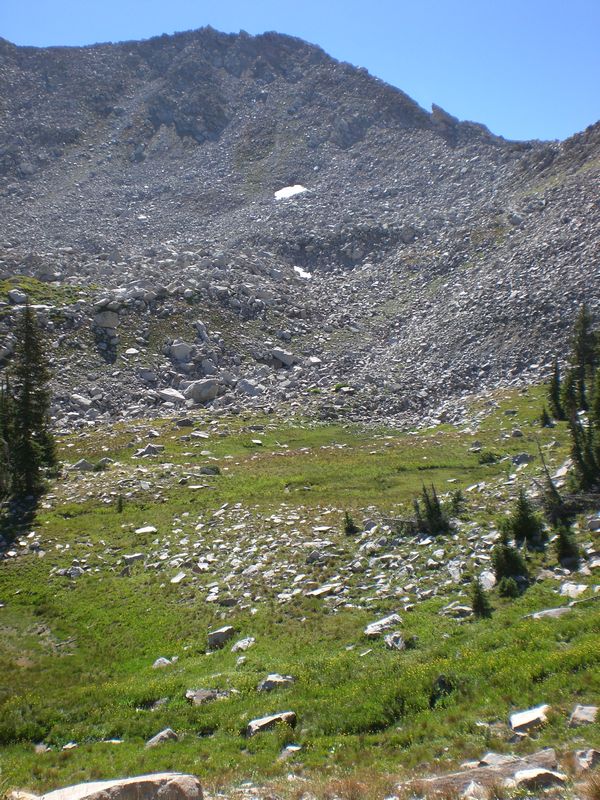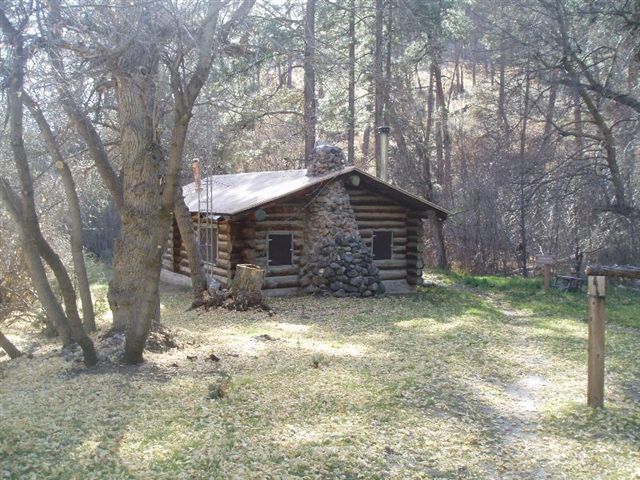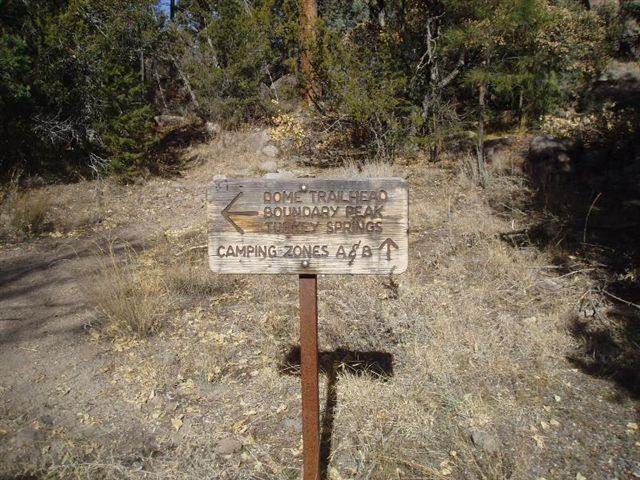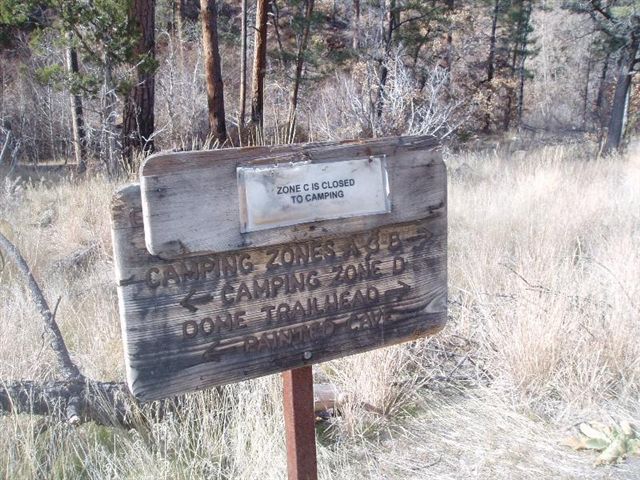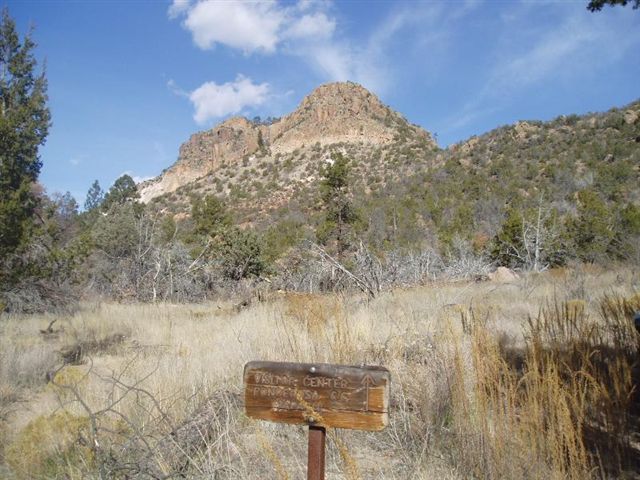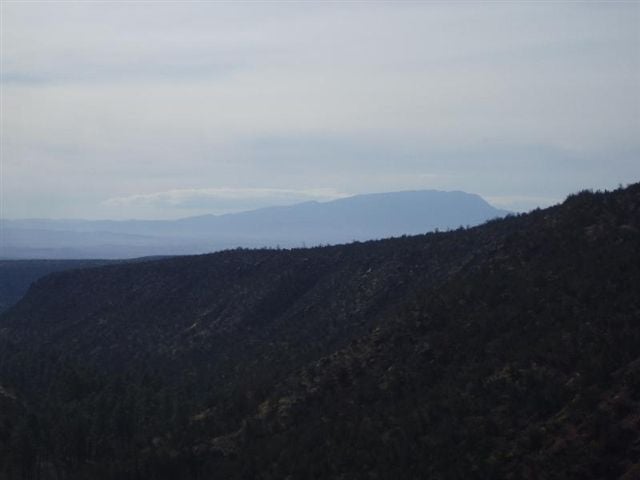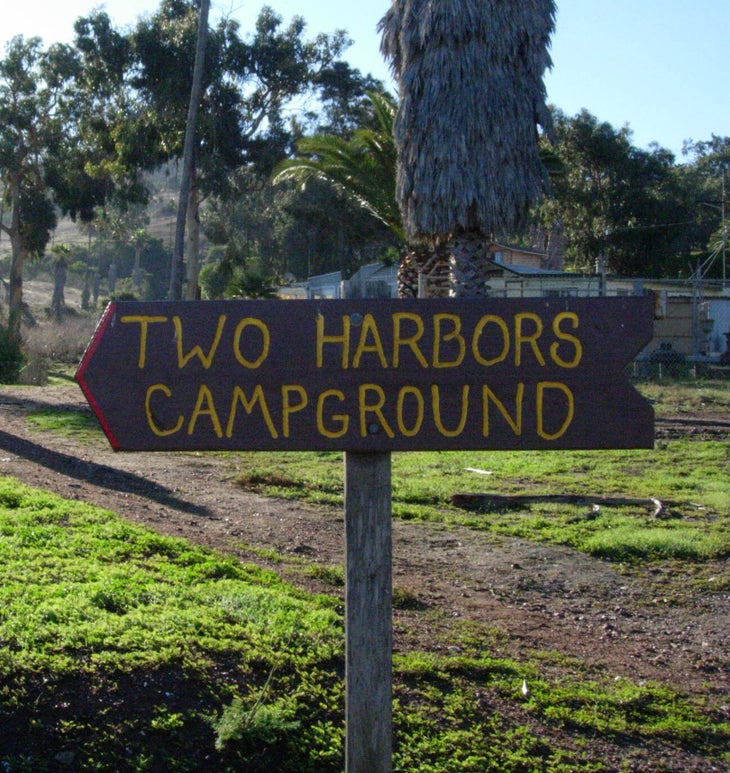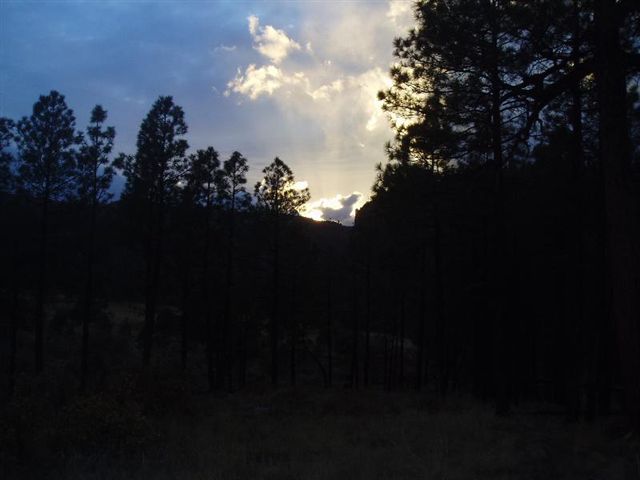 Trail Facts
Waypoints
BAN001
Location: 35.7782626, -106.2709504
This lot near the Visitor Center is reserved for backcountry campers. The trailhead is just a short walk north of here.
BAN002
Location: 35.7861824, -106.2869415
Continue straight toward Upper Crossing, bypassing this left-hand trail to the Upper Alamo.
BAN003
Location: 35.8023605, -106.3432465
Turn left at this junction near mile 4.8 and head south toward Alamo Canyon. The main trail continues straight toward Upper Crossing and into Upper Frijoles Canyon (a popular dayhike).
BAN004
Location: 35.8001747, -106.3460083
Continue straight at this junction and remember this point. On day three, you'll rejoin the trail at this point. Camping zone 1702 is just south of here.
BAN005
Location: 35.7925987, -106.3508453
This wet crossing in Upper Alamo is one of the semi-reliable sources of water on this route. On day two, you'll have to carry water from here for camping and cooking. After a brief flat along the canyon bottom, you'll turn uphill.
BAN006
Location: 35.7813759, -106.3395386
This point marks the beginning of this route's 5.5-mile loop. From this point, the trail dips over one small hill before switchbacking almost 700 feet into Capulin Canyon.
BAN007
Location: 35.7740707, -106.3439865
The bottom of Capulin Canyon is also the dividing line between camping zones A and B. Turn left and begin looking for campsites away from the main trail and along the canyon bottom.
BAN008
Location: 35.7701325, -106.3379252
This well-established site just past mile 8.5 is a great spot to spend the night. Though this route follows the canyon bottom another 1.5 miles, the camping zone extends only half that distance.
BAN009
Location: 35.7609569, -106.332593
Find a spot before you get to the border of the camping zone. There is no camping south or east of here.
BAN010
Location: 35.7581253, -106.3299103
Stay straight on the trail as it bypasses the access to the Dome Trailhead and skirts a ranger cabin near the base of this peaceful valley.
BAN011
Location: 35.7549408, -106.3258123
Turn left to begin climbing out of the canyon. From this point, it's 2.3 miles (one way) to the Painted Cave, but check camping area closures before making the decision to add an extra night for the trip.
BAN012
Location: 35.765358, -106.3241196
It's just 2.5 miles round-trip from this point to the rocky ruins of Yapashi Pueblo. If you don't have time to hit the Painted Cave, consider this shorter side-trip to another of the park's important archeological sites. Next, the route continues straight, bypassing the side trip (and the 7-mile trail to the Visitor Center.
BAN013
Location: 35.7670074, -106.3242888
Bear left to head back toward Alamo Canyon and to close the loop. The trail on your right is where you'd rejoin this route if you took the side trip.
BAN014
Location: 35.7986625, -106.3476992
Bear right at the top of Alamo Canyon to find a campsite in camping zone 1702.
BAN015
Location: 35.797218, -106.3456392
There are several good campsites in camping zone 1702, but there isn't any water. Plan ahead and carry water out of Alamo Canyon on day two. Next, head north to reconnect with Waypoint 4, then retrace your route back to the trailhead.
West Capulin
Location: 35.7777839, -106.3422489
Awesome views westward into Capulin Canyon await along the switchbacking descent.
Frijoles Canyon
Location: 35.7818226, -106.2762451
Take time to enjoy the views west into Frijoles Canyon at this switchback near mile 0.5.
Pecos Wilderness
Location: 35.7982884, -106.3165426
On a clear day from the top of the Frijoles Rim, you'll have 35-mile views of the Pecos Wilderness to the east.
Alamo View
Location: 35.7902473, -106.3453817
Enjoy this eastern views as you climb out of Alamo Canyon.
Loop Junction
Location: 35.7813351, -106.3395452
This sign points northwest toward Upper Crossing and southeast toward Yapashi Pueblo and the Visitor Center.
View
Location: 35.7766001, -106.3429356
An eastern view from Capulin's north side on a clear, November day.
Zone B
Location: 35.7740236, -106.3438797
There is plenty of good camping in Zone B. Find a spot as far down as you feel like walking.
Cabin
Location: 35.7580664, -106.3297927
There is a ranger station in this peaceful spot near the base of the canyon.
Dome Trailhead
Location: 35.7580055, -106.3296747
This sign marks the path to Boundary Peak on the National Monument's western edge, and the Dome Trailhead just outside.
Camping Closures
Location: 35.7549582, -106.3257694
Camping Zone C was closed due to overuse. Check camp-zone conditions before planning your trip.
VC Trail
Location: 35.7550192, -106.3258553
Follow the Visitor Center Trail out of Capulin Canyon.
Sandias
Location: 35.7585105, -106.3263917
The Sandia Mountains, 35 miles south, are visible on the climb out of Capulin.
Sign
Location: 35.7653533, -106.3240421
Though this trail is signed, this broken marker is one reason to upload this trip before your hike.
Sunset
Location: 35.7972093, -106.3455212
From the Mesa Top, on a clear day, you will have wonderful views of the Pecos Wilderness, Jemez Mountains and the big, New Mexico sky.